Ice Skating On Frog Pond
We have Not Yet Posted This Year's Information for This Event Yet
If new information for this event is already available for this year, please let us know
.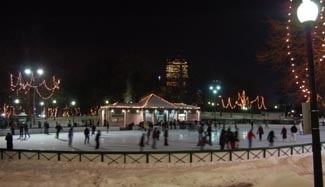 A hopping spot for ice-skating is Frog Pond on the Boston Common. Although dependent on the weather, Frog Pond has its own ice-making system. It also offers skate rentals and hot cocoa at the Pond Cottage.
The prime location of Frog Pond makes it easy to squeeze in just an hour or so of ice skating. Why not go skating while waiting for a movie at the Boston Common Loews Theater? Or go skating to relax after a crazy day of shopping in the nearby Downtown Crossing. And for the hopeless romantics out there, go skating under the starlit sky.
The 2012-2013 Frog Pond hours of operation are Sunday to Thursday, 10 a.m. to 9 p.m. (except Monday when the rink closes at 4 p.m.), Friday and Saturday, 10 a.m. to 10 p.m., closed Thanksgiving Day and Christmas Day, open Christmas Eve 10 a.m. to 5 p.m., New Year's Eve 10 a.m. to 8 p.m., and New Year's Day 12 noon to 5 p.m.
Introduced last season, the Frog Pond continues freestyle skating on Tuesdays, Wednesdays, and Thursdays from 7:45 a.m. to 9:45 a.m. for $12 a session.
Individual season passes are available for $100, family passes with children ages 13 and under are $150, and lunch passes good Monday through Friday, 11 a.m. to 3 p.m. (holidays excluded), are available for $60.
The Skating Club of Boston at Frog Pond will be offering expanded year-round passes valid for public skating at the Frog Pond in the winter months and at The Skating Club's indoor facility located at 1240 Soldiers Field Road in Boston during the months when the Frog Pond skating rink is closed. Individual year-round passes are available for $150 and family year-round passes for $225.
The Skating Club of Boston's Frog Pond Skating School has greatly enhanced its skating lessons program this year and will be offering a variety of group and private skating lessons throughout the season for skaters of all levels and ages, from raw beginners to those aspiring to be figure skaters and hockey players. The Skating School is also offering skating lessons for special needs skaters as well as special skating school scholarships for individuals and public school groups.
Holiday Hours
Closed Thanksgiving Day and Christmas Day,
Open Christmas Eve 10:00 a.m. to 5:00 p.m.,
Open New Year's Eve 10:00 a.m. to 8:00 p.m.,
Open New Year's Day 12:00 noon to 5:00 p.m.
For more information, call 617-635-2120.
---
Mondays, 10:00am-4:00pm
Tuesdays, Wednesdays, Thursdays 10:00am-9:00pm
Fridays & Saturdays: 10:00am-10:00pm
Sundays, 10:00am-9:00pm
Freestyle Sessions: Tuesdays, Wednesdays & Thursdays, 7:45am-9:45am, closed Thanksgiving Day and Christmas Day, open Christmas Eve 10 a.m. to 5 p.m., New Year's Eve 10 a.m. to 8 p.m., and New Year's Day 12 noon to 5 p.m.
---
Skating is free for 13 and under, $4 for 14 and over. Skate & locker rentals available. Adult Skate Rentals: $9.00 Kid Skate Rentals: $5.00 Locker Rentals: $2.00
---
Boston Common, Boston, MA
map
Park Street Station on the Red and Green Lines.
| | | |
| --- | --- | --- |
| Facebook Comments | | Top |
---
| | | |
| --- | --- | --- |
| Recent Reviews | | Top |
---

Quality Of Ice At Frog Pond
I've always enjoyed the experience of ice skating at Frog Pond in the Boston Commons. Skating outdoors in a downtown park is exhilarating! I was somewhat disappointed, though, when skating there on New Year's Day (2008) and finding the ice was severely chopped and gouged, making for a difficult hour of skating. I hope the maintenance staff can find a way to improve the ice quality and make the experience as fun as it always used to be (maybe it was just a bad day).

Brings New Meaning To 'crowded,' But Still Great Fun
When I took driver training in high school, the instructor quipped that a 'thickly settled district' was a place where, 'between every two houses, there's another house.' The Frog Pond is a thickly settled district. I went on a Saturday night. Surely I thought the crowds would thin once it started to get late for the youngsters, but that never happened. There seems to be a pent up demand for this sort of thing, and why not. I adore skating, and doing it outdoors on nice ice adds to the thrill. Sure, pond skating is the most romantic and idyllic, but you won't have to dodge twigs and debris on the Frog Pond, and you sure don't have to worry about falling through. Now, the ice doesn't stay nice for long with all that traffic, but for the abuse it takes, that ice surface cleans up pretty well. The crowd was well behaved, and people were just in a good mood. There's a snack bar and plenty of tables and chairs for watching it all go by. The pop music on the PA was fun to skate to and appropriate for all ages. If you're not a strong skater, avoid an obviously crowded time like a weekend evening. Unlike the people at other public rinks, Frog Pond skaters do not seem to have the inexperienced in their crosshairs, but it's still a freak-out situation if you're a beginner -- how DO that many people end up on one ice rink?
| | |
| --- | --- |
| Related Links | Top |
---
We make best efforts to update information, but it changes frequently, so we cannot warrant it. Please call to check Ice Skating On Frog Pond schedules, fees, and directions before making the trek. We help you, please help us. Report an Error if you find one.