Horseneck State Beach
Other Ideas:
Crane Beach
;
Wingaersheek Beach
;
Castle Island & Carson Beach at Fort Independence
;
Good Harbor Beach
;
Cape Cod National Seashore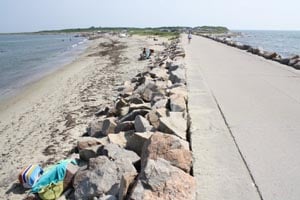 Spread across nearly 600 acres of barrier beach and salt marsh, Horseneck Beach is one of the most popular facilities in the Massachusetts State Forests and Parks system.
This gorgeous 3 mile stretch of sandy beach is located at the western end of Buzzards Bay. It's southwestern shore location ensures a refreshing breeze all year round, providing excellent wind surfing and a dependable respite from sweltering inland temperatures every summer.
Features a bathhouse, snack bar, picnic tables, hiking, great windsurfing, and a campground next to the beach. Swimming is good - but be careful at low tide as the sand bars tend to dropoff a bit more than usual.
Behind the dunes near Gooseberry Neck (a rocky headland at the eastern end of the Reservation), is a 100-site campground. You may contact the campground by calling (508)636-8817.
Things to know before you go…
:
The campground office hours are 8am–10pm; the regular camping season is from mid-May through mid-October. Swimming is only permitted at designated beaches in the reservation, and pets are not allowed at beaches and swimming areas. All the sand dunes are protected-entrance prohibited.
---
Parking
$13.00 day for MA residents
$15.00 for non-residents
(Memorial Day - Labor Day)
---
John Reed Road, Westport, MA
map
From Boston: Rte. 93 south to Rte. 128 north. Follow Rte. 128 north a short distance to Rte. 24 south. Follow Rte 24 south to Fall River and the intersection with Rte. 195 east. Follow 195 east to exit 10 and Rte. 88 south. Follow Rte. 88 south 11 miles to the end and follow the signs.
From Providence, RI: Follow Rte. 195 east to exit 10 and Rte. 88 south. Follow Rte. 88 south 11 miles to the end and follow the signs.
From Cape Cod: Take 495 north to Rte. 195 west. Follow 195 west to exit 10 and Rte. 88 south. Follow Rte. 88 south 11 miles to the end and follow the signs.
---

Our Yearly Visit
My family and myself have been traveling to cape cod for 21 years for the last 17 years its the cenh it ter the fun. we talk all year about the beach, we talk about it and dream, we have talked all the way there yearly and thought great thoughts all the way home. years ago my youngest took a baggie of sand home with her and slept with it under her pillow for about 6 months... said it was her dream get away. and as for myself I agree! Thank you so much for the great place, we stay at father-in-laws, east wareham mass, and drive daily to get there for three hours everyday. Kevin J Glenn
| | |
| --- | --- |
| Related Links | Top |
---
We make best efforts to update information, but it changes frequently, so we cannot warrant it. Please call to check Horseneck State Beach schedules, fees, and directions before making the trek. We help you, please help us. Report an Error if you find one.