Spring Brook Park Swim Area
Other Ideas:
Walden Pond State Park
;
Stage Fort Park Beaches
;
New England Botanic Garden at Tower Hill
;
Boston Harbor Islands National Park Area
;
Rose Kennedy Greenway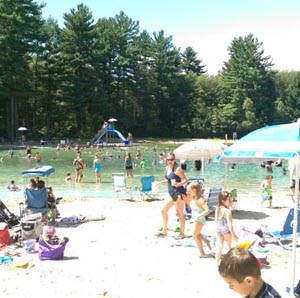 New for 2016 - Spring Brook Park is now open to Bedford Residents and Members ONLY. ay passes are no longer available to out-of-towners. (Residents of Bedford can still purchase a day pass).
Springs Brook Park is located on Springs Road just before the V.A. Hospital. It is a man-made, filtered swimming facility surrounded by sandy beach, grassy picnic area and wooded areas.
There are picnic tables, grills, food concession, small basketball court, mini-golf, volleyball, tetherball, water slide, lap swimming lanes, sprinkler park, dock, concessions stand and playground equipment.
New for 2016
Several new features have been added to the park area, including standup paddleboards (SUPS) and kayaks, a toddler playground, water spray features in the shallow pond area, and a gaga pit (a form of dodge ball) for young children.
There is a staff of 20 lifeguards/swim instructors who are certified in Water Safety, Lifeguard Training, First Aid and Professional Rescuer C.P.R.
Springs Brook Park is also a smoke-free swim area. Smoking is not permitted anywhere on park grounds, including the parking areas.
Visit the
Bedford Recreation Department
for a listing of year-round events and activities for children & families.
---
Springs Brook Park is open Monday-Friday only (no weekends) from 10:30-7:00 PM (*Gate closes promptly at 7:30 PM)
---
view membership info.
---
www.bedfordma.gov/springs-brook-park
---
Springs Road, Bedford, MA
map
Phone: 781-275-1392
---

Best kid friendly 'beach' around
We love SBP! I have 3 kids and a pretty big age gap,I can bring all 3 to SBP and they all love it and have fun! The lifeguards are trained. You dont want a life guard to sit and chit chat while on a shift watching the water (which I might add is crowded!) you want them to watch the water!!! Cleanliness is very important to us and this is top notch! the sprinker park is great and very entertaining for all ages! To us, its worth the $$ to know your going somewhere thats clean, fun and safe!
---

Great place for kids and kids at heart
This water park is the best place for toddlers, unlike the beach where the waves get rough this place is ideal for little kids to splash around on a hot summer day. This is one of the cheaper places in MA and parking is free thats a plus. Everyone that I have recommended to this park love it and keep on passing the info on to their friends. I love this place
---

Great Job for the staffs and Lifeguards
My family and I were at the park today, and witness a job well done by all the staff and lifeguards trying to locate a missing person. I love this park, we've only been there twice, but both times we've enjoyed ourselves. I agree with the prices and the rules. I would trust bringing my kids a million times compared to few other similar places/locations in massachusetts. Its very convenient and close to home. Great job to the town of Bedford for staffing such fine people to look over your guests and to all the rules kept in place to keep everyone safe. I would recommend this park to everyone I know...especially with small families.
---

A littler costly but
I agree that Spring Brook park is somewhat expensive, but it is safe and clean and that costs money. As a nonresident of Bedford, I don't pay any taxes toward this park, so I don't know why the taxpayers of Bedford should pay for me. For those on a limited budget, Walden Pond is free, other than the cost of a yearly parking pass ($35), which is a super deal. I also think to go in at 4:30 at a very reduced price and stay for 3 hours iwith a picnic supper is a good idea. If I experienced some of the treatment noted by others by rude lifeguards/attendants, I would mention it to the Beford Park and Rec to see what type of custoemr service training the lifeguards are getting, not just on this site, if that is the case.
---

Love this park
My family loves this park. Great for kids of all ages. Can't wait to go back again. It is so safe and clean!
---

Worth every penney
Springs Brook Park is worth every cent you are charged to get in. While many complain about the admission price I challenge them to find a place that is cheaper with more to do. My family enjoys everything Springs Brook has to offer. In the hustle and bustle of this complicated life it is so nice to have a place so close to 'get away'. Of course there are rules, many of them.... but I would prefer to be somewhere there are rules, where my children are safe than the alternative. OK.... so the burgers don't compare to let's say McDonald's but please what do you expect. The director and staff are available at every moment for assistance to anyone who needs it. What some describe as mindless robots I see as focus. I don't expect the lifeguards to be my friend...I expect them to remain focused and do their jobs and this is exactly what I have seen every time I have visited SBP. As for the bored teenagers at the gate...again please what do you expect? Have you spent 5 minutes with a teenager lately? Today I questioned the director about the procedure when a patron is missing. At first it can seem quite scary but it is wonderful and all the staff should be commended for watching out for our children as if they were their own. The director also told me that the entire staff goes through extensive training every Tuesday morning, running drills for 'what if' situations. Let's face it that is what we need them for the 'what ifs'. As for the previous review that says SBP is only interested in the revenue...are you serious? Have you gone anywhere in this state recently that is more affordable...a movie? a Red Sox game? the beach? I think SBP does a great job keeping their costs down while not sacrificing staff. training or amenities. With all of this said no place is perfect and we all see things that can be inproved upon when we frequent public places. SBP gets my vote on being one of the best family places I have been to. I am not looking for perfection but instead a fun, safe family place where I can spend time with friends and family. This is what Springs Brook Park and it's exceptional director and staff offers to patrons. They should all be commended for their hard work.
---

Absolutely a great safe fun place to take young children
I just recently brought my 4 year old daughter and my 9 month old to this park for the first time. We had a wonderful time. Very clean and many lifeguards paying attention to everything going on. Yes, you need to follow some rules but its for the safety of children and that is what the park is for,children and keeping them SAFE!!!!!!!!!! Concession food, dont recall any concession food anywhere being good so pack a cooler. They allow you to bring your own food in and supply you with a grill. Many parks do not allow that. $7 a person during the week $25 max on a family. i feel thats a great price for a family to spend a day. Many beaches in this state charge $25 just to park your car. We will be going back to Spring Brook Park as much as we can this summer. Keep up the great work!!!!!!!!!!
---

For this price I expect to have EVERYthing available
The park is clean and well maintained w/ nice amenities. Whoever is in charge of running this place must be former military or similiar because it is definitely has the 'look but don't touch or disturb anything' feel. Too many rules to list. I am a parent and all for safety but the rules are never ending. Ok, the kids who take your money are just bored teenagers who NEVER smile or make any kind of pleasant conversation to greet you. They never greet you - just tell you the price, fill in the form and make change - expressionless! The lifeguards are just little robots as well....there to enforce the RULES. My biggest complaint is that if you are going to charge these outrageous entrance fees than I expect to have access to everything all the time. The water slide should be open all the time not just for a 30 minute window every couple of hours. The same with the dock. It's crazy to come to a place who charges so much and have to wait for a 30-minute window to enjoy the slide or dock. This park is clearly more interested in the revenue than providing recreation to the community.
---

Great Summer Fun
I have been bringing my children to this park for many years and have had the pleasure of watching this park evolve. This park is a wonderful and safe place to be with many things to offer. The lifeguards have weekly trainings and are more than prepared to deal with any situation that aries. The staff is extremely friendly and courteous. The summer memberships are reasonably priced and there is a family rate of $25 dollars on the week days. Although some may consider the weekend rate expensive, there is no where around here that you can find with this much to offer all in one place that is cheaper. Bedford residents can also purchase a family rate for the weekends at the recreation department in advance. I have also had parties and received a group rate of $5.00 per person as long as I booked in advance. The snack bar is very cheap and there are many things to do with young children (playground, dock, spray park, ect.) All of the rules are posted on many signs around the park. I think that we need to remember that the rules are in place for ours and our childrens safety. I also think that we need to remember that we as parents are responsible to watch our childre at all times. The lifeguards are there in case an emergency happens but you wouldn't believe how many times I have sat there and watched parents turn their backs while their children go off into the water. It is ultimately the parents job to watch their children. Can we ever be 100% pleased with anything? Probably not but for my family Springs Brook Park has come pretty close. Do I wish they didn't have to clear the water 15 minutes early? Do I wish the hamburgers tasted a little better? Do I wish some people didn't ruin it for others? Of course I do but it is all relative. Having a safe, happy and affordable place to be together with my family is far more important than all of the petty complaints.
---

Wow The Cost Per Person Is Outrageous
How sad, that everything costs money....Isn't there anything that is free here in Mass? I think the cost $9 PER person is outrageous....I can see if they charge half that or less per person or by the group...but come on....I know they town has to make money, but it's just gouging people.... Not worth paying that for anything, I'm sorry. Parks and recreation within a town should be free....or very low cost.
---
Info changes frequently. We cannot warrant it. Verify with Spring Brook Park Swim Area before making the trek. If you find an error, please report it...