Wingaersheek Beach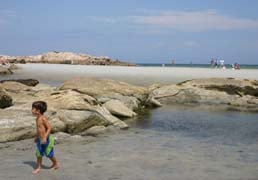 Situated in the western part of Gloucester on Atlantic Street off Rte. 133 and Concord Street, this beautiful beach is along the Annisquam River and Ipswich Bay.
Wingaersheek Beach has white sands, crystal clear waters, and huge rocks in the water that you can climb around at low tide.
The beach goes on forever at low tide and the water stays shallow for a long time. The tide pool formations are perfect places for kids to get up-close-and-personal with snails, tiny fish & shrimp, hermit crabs, and other creatures.
View our Wingaersheek Beach photo guide
for more info.
There are no real waves to speak of, so it's great for little kids. No boogie boards are allowed.
New for 2022 - Advance Parking Passes (Required)
The city of Gloucester is launching "Yodel", a new system that will let non-residents reserve and pay for parking at city beaches ahead of time.
Visitors can grab a spot through Yodel's website up to 10 days before they hit the beach, a move that will guarantee them a prepaid spot if spots are available. As for residents, there is no reservation required.
Learn More
Tide Charts
With tide pools to explore and lots of rock formations for climbing, Wingaersheek is a favorite for families with children. Low tide is actually a great time to visit Wingaersheek Beach.
Check the tide charts
here to see when low tide will be when you visit.
Amenities
There is a concession stand, rest rooms and showers. Packing a cooler with snacks, drinks, and lunch is a good idea. Sometimes, you can find a vendor on the beach selling italian ice from a cart.
This is a carry-in/carry out beach. You must take your trash with you. 'Nothing should be left behind but your footprints'.
Dogs are not allowed on the beach from May 1 - September 15.
Parking Lot Access
Gates opened April 1 to October 31 annually
Gates closed November 1 to March 31 annually
Parking Fee Schedule
Parking fees may be collected from May 1 to September 30. The beach recently expanded the parking lot area to accommodate more vehicles, however the parking here is still somewhat limited so it is best to arrive early, especially on weekends.
Parking Tips
Parking is somewhat limited at Wingaersheek Beach, especially on weekends. It is best to arrive before 9:00am on sunny weekends to ensure a spot. Weekdays provide a better chance at nabbing a spot, but it's best to arrive before 10:00am.
Nothing worse than driving all the way here expecting a wonderful beach day, only to be turned away because the lot is full. If this does happen, Gloucester has additional options like
Good Harbor Beach
, that aren't too far away, and if you are lucky, they might still have some parking available.
There are actually lots of
beaches near Boston
to explore - take a look at our guide to the best beaches in the Boston area for more ideas on where to plan your next beach outing!
Find lots more ideas for
fun things to do in Boston
, and
things to do in Boston with kids
.
Finally, stay in the know about family friendly
Boston events
and by subscribing to our free
weekly events newsletter
.
---
Open Daily in Season (April 1 - October 31):
Gates opened at 8:00am and locked at 9:00pm
---
8:00 am – 5:00 pm $30.00 weekdays, $35.00 weekends, holidays
Parking is limited. Both Concord and Atlantic Streets are narrow roads with many curves. Please drive carefully and observe the speed limits for your own safety.
---
www.gloucester-ma.gov/299/Beach-Information
---
Atlantic Street, Gloucester, MA
map
Phone: (978) 281-9785
Take Rte. 128 to Exit 14. At the bottom of the ramp, take a right onto Rte. 133. About a mile on the left you will see a small traffic island with a sign saying Wingaersheek Beach. Take this left. This is Concord St. Follow until you reach another traffic island on the corner of Concord and Atlantic St. Take a right. Follow this along to the beach.
You can also take 128 to exit 13 and make a left onto Route 133.
---
You can often purchase Italian ice from a vendor on the beach
---

wingersheek beach
I grew up on this beach and always loved it. I live in Gloucester and what suprises me is that my kids like Goodharbor better for the big waves but as a parent going to this beach at low tied u can sit back and rest easy. The water stays up to ur ankles foever and u can find lots of sea creatures like sand dollars and starfish and crabs u name it. I love it and always will. An Island Girl!
---

Get there early Food is good
Last weekend we got there at 11:30AM and the parking lots were full and non-residents were turned away. A huge disappointment for our kids since they love this beach so much. This weekend we arrived at 10:30AM and was able to park in the closest parking lot. So, lesson is: get there early! We usually pack a lunch, but we bought lunch from the concession this time. Must say that we were surprised that the food was good and not pre-made. Price for soft serve ice cream was outrageous, though.
---

weekdays w the kids
Although the price is steep the beach is worth it; the waves, the rocks, & exploration of crabs & shells can't be beat! The kids ask all the time - when can we go back. The life guards, I find the life gaurds have been really great too! The bathrooms seem rank and ok on my scale, defintely not the cleanest or the worst.
---

Spectacular
East Coast or West coast...a more beautiful beach, I have yet to find. Witness the huge rocks, half-mile long sandbars, endless curvy shoreline and gorgeous sand dunes, as well as the little inlets and the beautiful castle across from the main inlet...all this make for a unique and spectacular beach. This beach is pristine, immaculate and untouched. Bathrooms are clean, showers are available, and the food stand is homey and serves wholesome foods. The parking money is obviously going to the upkeep of this beautiful beach. For the pleasure Wingaersheek Beach delivers to me and my family, the parking fee is a bargain.
---

Sunday At The Beach
Gorgeous beach - i understand the $25 because the beach is really nice. The one thing that I have to admit is frustrating is the lack of a foot shower or a garden hose to wash off - if there were one at the end of the walkway leading to the beach, it would be so wonderful. I have 3 young children, and handling them in the bathrooms is hard when all you need is a quick rinse of the sand off the feet. Add this and there is no comparable beach.
---

Spectacular PristineImmaculate
A more beautiful beach I have yet to find and that includes beaches on the west coast. So much natural beauty to explore. This was my childhood beach and I made sure it was that of my children, too. Always was and will be a family favorite. The sand and water are pristine and completely clean-that is where your parking money is going.The bathroom, although not disgusting, is not immaculate and I can understand why with the amount of traffic it gets in the course of a day. The concession is fine. This is a spectacular beach, people and the concession and bathroom do not define Wingaersheek Beach.
---

The Beach
This is the only Beach i have been going to since I was a little girl, it is the one thing in life that really hasnt changed at all in some 30+ years, now I am taking my kids and neices & nephew to this place and we all have a great time. GO EARLY or GO HOME should be the motto for this place on the weekends.. IT is worth the traffic and the $25 parking :)
---

Bathrooms Were Fine On The Fourth Of July
First time at wingaersheek was July 4th, 2010. I was a little apprehensive about what we would encounter with the bathroom situation after reading the review posted in April, but I found the bathroom were quite clean, they must have addressed the problem.
---

Great Beach
We discovered this beach last summer and our children had the best time as did I.. 25 bucks for a day of entertainment for a family of 5 is CHEAP!! We packed our own lunch. I did find the bathrooms were really dirty and old.
---

Expensive Yet Not Clean
The water is fine. But I am amazed as to why is this expensive beach is not always well maintained. Showers clogged with sand. Food shack looks from the 40's. What does the town of Gloucester do with the money from parking etc?
---
Info changes frequently. We cannot warrant it. Verify with Wingaersheek Beach before making the trek. If you find an error, please report it...