All Guides
>
Seasonal Guides
> Boston Area Top Family-Friendly Hiking Spots for Families with Kids
Boston Area Top Family-Friendly Hiking Spots for Families with Kids
In June 2010, we asked our subscribers to nominate their favorite places to go hiking with kids, and then we let the readers vote on that list. We cover the top 5 most popular spots here, but you can see a complete listing of locations for
hiking with kids
in the Boston area as well.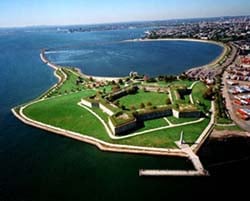 Topping the list for family-friendly hiking spots in 2010 was
Castle Island in South Boston
. One of our readers says, 'My family and I have been going here for over 30 years and it is always a favorite..' Castle Island affords great views of planes taking off and landing at Logan Airport. There is a playground that offers a nice diversion for young children, and a fort which you can tour for a nominal donation. It's also a great place to fly a kite. It makes for a fun walk because families can stroll all the way around the "castle" and the lagoon while taking in the great Boston views. If you get too hot or need to take a break, there are a few small beaches within walking-distance, or a very short car ride away.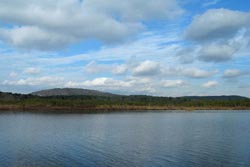 The
Blue Hills in Milton
offers great trails at any level, with lots to do as far as other activities. One of the great treats is to climb the tower at the top to see some great views of the Commonwealth. One BostonCentral subscriber says, 'It's a great Climb for all ages. My 3 and 4 year old made it up all by themselves. There is a beautiful view of Boston from the tower on top of the hill, and you can climb a rocky trail or follow the paved road up to the top.'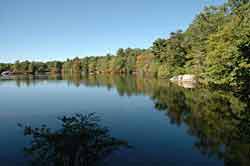 Breakheart Reservation in Saugus
offers a 3 mile paved loop, which is great for strollers and bikes, while offering many unpaved trails as well. There is a playground and a pond for swimming, staffed with life guards in the summer. Parking is free. The Ranger Station has amenities, such as bathrooms, vending machines, neat exhibits. A subscriber says, 'Breakheart is great! The main trails are perfect for the kids to bring bikes. There are a couple playgrounds along the way as well as a beach area. It's shaded so it's not too hot when you are walking.' For families with dogs, there's even a little dog park, too.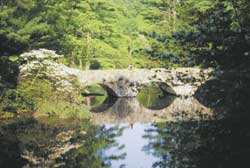 At
Maudslay State Park in Newburyport
, the hiking is moderate enough for families with kids. At times you walk by big fields so if you have a ball or frisbee you can take a break and play with the kids. A Boston-area local family says, 'We also love how scenic the hike is. At one point you get a beautiful view of the Merrimack River.' Of course, there's the added benefit of Newburyport, which offers a number of great restaurants for when you get hungry from all that hiking!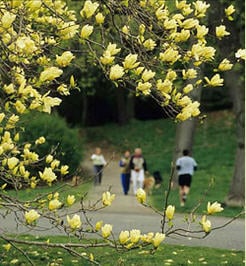 The Arnold Arboretum in Boston
offers beautiful walking trails and wide paths for bikes and strollers. There are lots of separate mini environments, shade for when it's really hot, and a creek. There are many different types of plants and flowers that vary by season. The Arboretum is T accessible as well. They also run occasional activities for kids that may include scavenger hunts, science investigations, craft activities, stories, and guided walks. The activities only occur on certain dates, so be sure to check before heading out to the Arboretum if you're planning to partake in one of these. Of course, you can always head over to enjoy the walking trails and scenery. Browse our comprehensive directory of great locations for
Hiking with Kids in the Boston area
to see more fun places to take a stroll with the kids.