Big Apple Circus: Luminosity!
We have Not Yet Posted This Year's Information for This Event Yet
If new information for this event is already available for this year, please let us know
.
Official Website:
Big Apple Circus: Luminosity!
Location:
City Hall Plaza, Boston, MA map
Phone:
(888) 541-3750
Dates:
Tuesday, March 25, 2014 - Sunday, May 11, 2014
Hours:
Hours Vary see below
Ages:
Toddlers, Kids, Teens, Adults
In/Outdoor:
Indoor
Cost:
$$ see below
Category: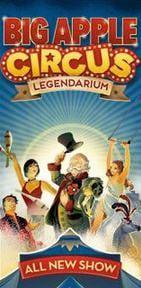 Enter the intimate Big Top circus of years gone by, where the World's Greatest Circus Artists perform spectacular feats and no one sits more than 50 feet from the ring!
See the hijinks of hilarious clowns, magnificent horses and playful pooches, soaring aerialists, flawless jugglers, astounding acrobats and a contortionist with a backbone flexible as an archer's bow!
Watch rowdy pups perform amazing tricks, double trapeze artists soaring high above, a bashful clown, an irrepressible flimflam man, and a juggler extraordinaire; teeter-board acrobats flying through the air, a cavalcade of magnificent steeds, and a couple of amazing wire-walkers suspended in mid-air.
With an affable Ringmaster as your guide, watch as an amazing inventor spins in a giant steel hoop and a fearless finambulist astonishes the onlooker.
The show runs two hours, including one intermission.
---
The performance is 2 hours and 15 minutes long, including a 15-minute intermission.
---
Tickets range in price from $25 to $100 for nights, weekends and Patriots Week (4/16 - 4/19) performances and from $20 to $40 for 11 AM weekday matinees. Tickets are available by calling (888) 541-3750 or at www.bigapplecircus.org.
---
Performances are under the Big Top at City Hall Plaza. The Big Top is heated in cold weather and air–conditioned in warm weather for all–season comfort.
---

Love the Big Apple Circus!
Our family went to the Circus last night. As always it was awesome. We had great seats although there really are no bad seats. My 2 year old is extremely active and it's often hard to keep him engaged for a long period ( more than 20 minutes), however he sat in the seat and didn't want to leave when it was over. For all of you fans of Grandma, the clown, her character is going to retire after this year's circus so you should get your family together and go and bid farewell.

Great in the past, but not this time
We have been to the Big Apple Circus every year for the past 4 years. My kids love it! We were expecting a terrific show, just like those have written about below, but were sadly disappointed. It breaks my heart to write this. The show focused more on second rate acrobats and performers (tons of mistakes, which is ok, but over and over again from people in all the groups made it painful to watch and it looked very unpolished). There was hardly any grandma, which was a huge mistake since my kids LOVE her! Some of the performers of the girl troupe could barely break a smile. Oh, I am just so sad that it wasn't good this year and hope that they make some changes to make next year's better.

Fantastic Show @ Big Apple Circus On 5/13/2010
Last night I surprised my young daughter with tickets to the Big Apple Circus. I heard from friends that this was a GREAT show! It was actually better than GREAT!!! We were totally in awe as well as entertained for 2 hours! What a fun night! Since this was a birthday gift to my daughter, I looked like the Super Dad of the century!! I will make a point of taking her back to the Big Apple Circus each year until she's at that age when it's not cool to hang around with Dad!! (5 more years???) Thank you! This was a fantastic night!! Enthusiastically !! Neil Wood, Hull, Mass

AWESOME!!
It was like a rock show! The sights and sounds blew me away. I am 40 years old and this was my first circus, as well as my 4 year old daughters. Bello and Grandma were hysterical and all the acts were entertaining. I love it and I look forward to making this an annual tradition with my family!!

Fabulous!
Bello is back and brings smiles galore! Truly one of the most entertaining performances in years. You just can't beat this circus. All the seats are so close to the action, you feel like you can reach out and touch it. Our entire group - from grandparents to kindergartners simply loved this show!

Better every year
We love this circus. There are no bad seats. And it's always different. This year an Asian acrobat who walks on a rope ---actually swings on it, standing up, no hands. As my 7-year-old exclaimed, 'You don't see that every day!' Food advisory: only hot dogs, popcorn & cotton candy for sale. Thirty steps away is a convenience store with fruit/sandwiches; also a Dunkin Donuts that closes early.

A Triumph!
The Big Apple Circus is simply outstanding - and this, the year of their 30th celebration is no exception. From beginning to end it's a top notch performance full of talent and and laughter and life. And the clowns keep the smiles and energy going througout. The acrobatic finale was spectacular. And you are so close to all the action you can't help but feel a part of it all. Three cheers!

2007 Big Apple Circus
This is our 5th year at the Big Apple Circus and our favorite to date. We have four children ranging from 2 - 1; the venue is small and intimate, yet exciting and accessible for all ages. In past years we had front row seats, but this year we sat in the back; there are no bad seats at the show so don't feel like you have to spend the money to sit at the front unless you want to be very near, or possibly part of the action. We loved this year's historical theme and some fun surprises as well -- take the train and make it even more fun for the kids.

Top Notch!!
What a wonderful evening we had! Our kids, (ages 5 & 3) were completely entertained the entire time. Pretty impressive for our jumpy 3 year old son. The clowns were very funny, and there were so many different and exciting acts and the live music really rounded out the experience. We loved the 'theatre in the round' concept. Not a bad seat in the house for sure. Hats off to Big Apple Circus!

BAC
The Big Apple Circus is great. I went there as a kid and now i work there as a teen. Its just perfect for families of all different ages everyone will be laughing and having a good time.
| | |
| --- | --- |
| Related Links | Top |
---
We make best efforts to update information, but it changes frequently, so we cannot warrant it. Please call to check Big Apple Circus: Luminosity! schedules, fees, and directions before making the trek. We help you, please help us. Report an Error if you find one.