This In-Active Profile Has Been Archived
The following profile has been archived in our database and is
no longer active
. Click the
here
to view similar profiles that are currently active and up-to-date.
---
2015 Aleppo Shriners' Circus
We have Not Yet Posted This Year's Information for This Event Yet
If new information for this event is already available for this year, please let us know
.
Official Website:
2015 Aleppo Shriners' Circus
Location:
99 Fordham Rd., Wilmington, MA
Phone:
(978) 657- 4202x
Dates:
Wednesday, April 22, 2015 - Sunday, April 26, 2015
Hours:
2:00pm & 7:00pm
Ages:
Toddlers, Kids, Teens, Adults
In/Outdoor:
Indoor
Cost:
$ see below
Category:
Special Events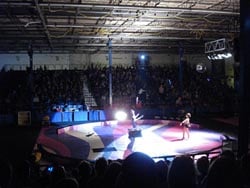 The all-new Shriner's Circus thrills, just in time for April vacation - fun for the whole family.
Enjoy elephant rides, clown photos, and all sorts of exciting acts - right up close.
All tickets are just $10/person. Reserved seating.
Call 1-800-700-0013 for tickets.
---
All tickets $10/person
---
99 Fordham Rd., Wilmington, MA
map
Shriners Auditorium is located off I-93 in Wilmington, MA.
Coming north or south, take Exit 39
Bear right at end of ramp onto Concord Street
Take first left at Fordham Road lights
Follow to end, and you will see signs to auditorium and parking areas.
---

Patience/Understanding
Some people are writing in about how terrible the performance or that it was not worth the money. I am a nurse at Shriner's Burns Hospiatal. The performers in the Shrine circus are not trained professionals. Many of them are volunteers. This is just one very small way that the hospitals try to raise funds to save the lives of horrifically burned children, not just in the Boston area, but from all corners of the world. Please consider that when writing reviews. Thank you

Great SHOW in Spring time
You should bring your family to this Aleppo Shriners Circus All tickets are just $10/person. Reserved seating.

Shriner's Circus
We went and thankfully didn't pay full price (5.00 per person with AAA disc) as it was horrible. We left at intermission, and at one point my daughter turned to me and said this show is boring! My friends went last year, and it was great then; but apparently they bring in different performers each year. Well they should go back to using the ones from last year who we heard were 'TERRIFIC!'. Bit of a disappointment!

circus fun!!!
aleppa shriner's circus was a fun and very entertaining event for my 5 yr old , we parents enjoyed it too. There were shows of every circus variety , it was a splendid evening. Not to be missed.

Fun for all ages
This was a great evening for people of ALL ages. Me and my fiance' had a GREAT TIME! I got cotton candy for 5.00 They had pictures with a snake, pictures on elephants, pictures with clowns, Sooo many activities. We had alot of clowns sign our programs, their line up of performers were awesome! I wasn't expecting to see what I saw. There was alot of variety of animals in the show. I don't remember the last time I was at a circus, but I'm glad I have the memories of this one to go home to, and compare future experiences to.

Nice Show
First time to see this circus, I brought my 3 year old son and he really enjoyed it. The elephant and pony rides were a little pricey but everything else was good. I would definitley go again

Had A Fantastic Time 4/21/10
I took my 5 yr old and 2yr old girls to this Circus and they absolutely loved it! The look on my 5yr old's face watching the costumes, glitter and animal acts was priceless. Her favorite part were the clown acts she was cracking up! Even kept the attention of my 2yr old. What a great performance and great event!

Great Affordable Family Fun
I went to the show last night with my family and had a great time. My 4 and 8 year old loved it. The performers were entertaining and the enviroment was fun. You can't beat the free parking and the convienent location. The people working at the Circus are nice and very helpful. I found out that all the proceeds go to the Shriners Burn Hospitals and that all the workers are volunteers. I was glad I could support a good cause and give my family a fun memory.

Don't Waste Your Money!
I have seen some pretty awful shows in the past, but, this past Shriner's Circus performance was by far the worst. Whether it was a performer falling or the juggler continuously dropping his balls, in almost every act something went wrong. It was embarrassing to watch! Even my 3-year old daughter turned to me at one point and asked if it was almost over!!! For the amount of money it costs to get in ($25 per person or $15 with a coupon), it was not worth it. Even the $10 elephant ride lasted seconds; if I had blinked, I would have missed my daughter riding on it.

Good Time
went to the show this afternoon. had a great time. small scale circus good time to be had. great acrobats. easy parking, easy access. price is good at $15 a head with the $5 coupon from this site, one coupon for your whole family. show started at 2:15pm, 3:15 intermission, and ended at 4:15pm. wish there were more animals. best act was the man and women who 'quick change' their clothes, and the acrobats that swing and hang from the cloth. Suggest all should go if looking for something to do this week, but it is hot inside the tent. thought the train ride price $5 was a little steep for 3x's around the small track.
| | |
| --- | --- |
| Related Links | Top |
---
We make best efforts to update information, but it changes frequently, so we cannot warrant it. Please call to check 2015 Aleppo Shriners' Circus schedules, fees, and directions before making the trek. We help you, please help us. Report an Error if you find one.