Martin's Park Boston Playground
Boston Playground honoring the memory of Martin Richard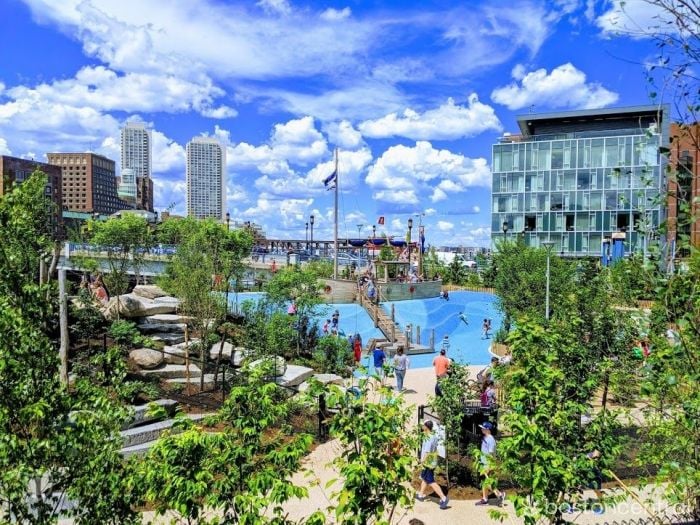 Adjacent to the Boston Children's Museum on the Smith Family Waterfront in the Seaport District, Boston Parks and Recreation Department has created Martin's Park - an inclusive park and play space that is the first of its kind in the heart of Boston.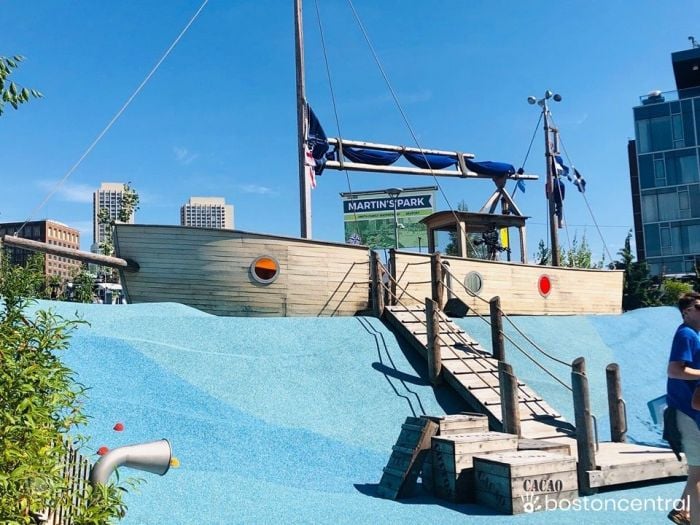 Martin's Park is a beautiful inclusive park and playspace, providing outdoor enjoyment for generations of Boston's children, families, and visitors. The open design features lots to see & explore along the wide winding paths.
The park honors the youngest victim of the Boston Marathon bombings, Martin W. Richard.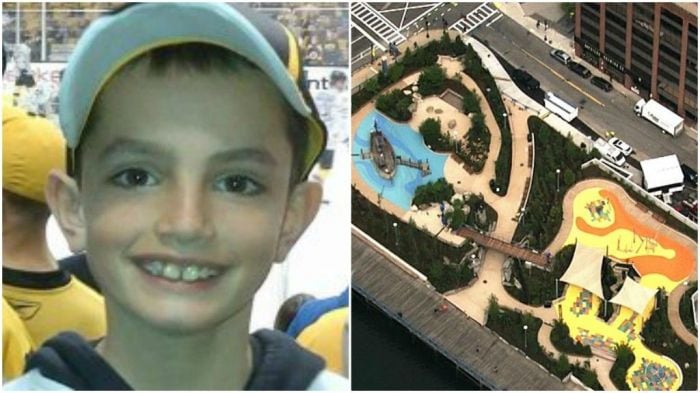 Martin's Park sits along the Fort Point Channel next to the Children's Museum, and features a lush and inviting playscape with spectacular water views and breezes. There are close to 350 trees, 700 shrubs, 9,400 ground cover plantings, and 4,400 white daffodils.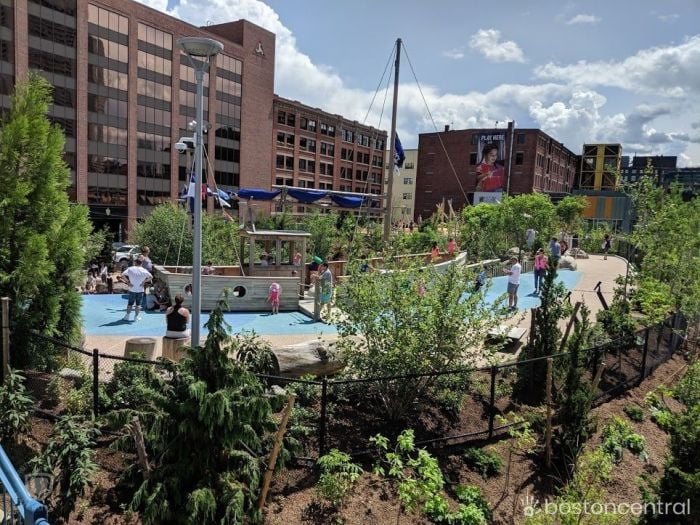 The park features unique covered slides, climbing structures, a large wooden boat, interactive musical pieces, and fun winding walkways. Wooden benches — some carved from logs — provide the perfect resting spot for parents and caregivers.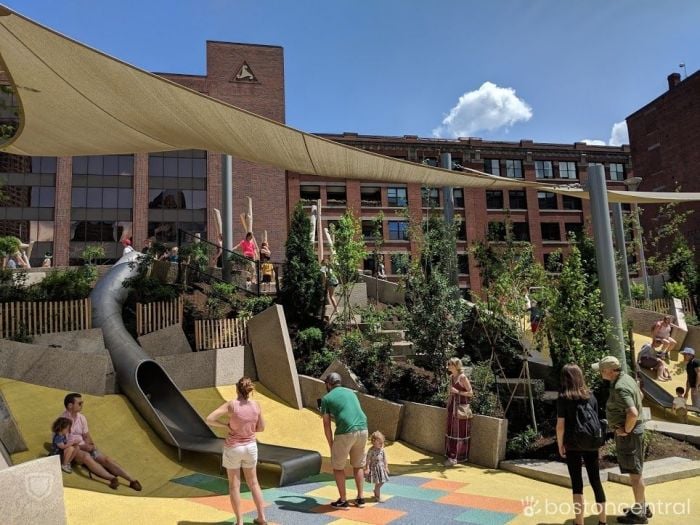 The Park is right off Seaport Blvd. which is walking distance to lots of great restaurants and snack places like Shake Shack, Ben & Jerry's and Taiyaki NYC (the cool fish ice cream cones), and lots more. If it's too hot outside, or the weather turns, you can duck into the Boston Children's Museum or Kings Bowling, or see a movie at Showplace ICON.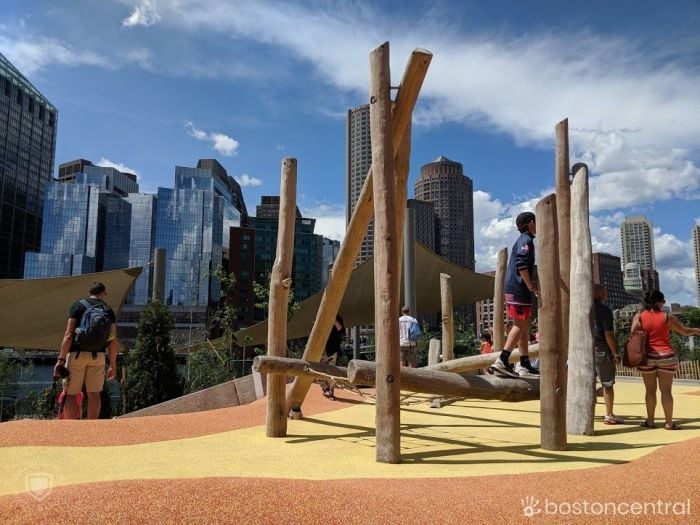 Kids can play on swings, cool tunnel slides, and a replica of a marooned ship. Visitors can also watch a puppet show in a mini amphitheater. Overhead sails provide shade and structure to the space as well.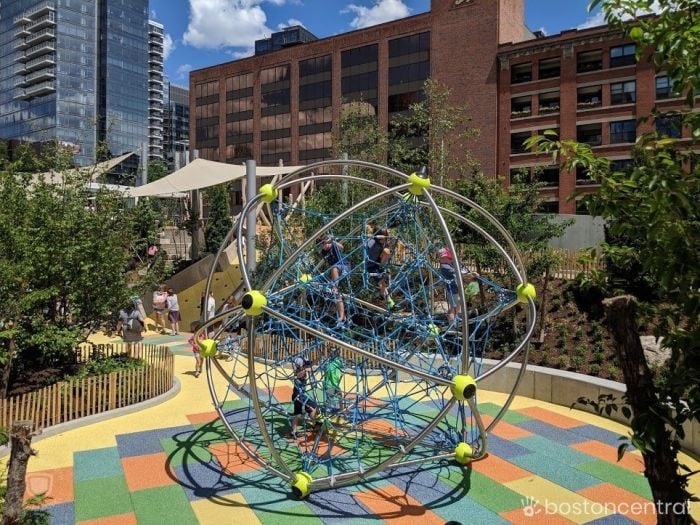 Today, the Martin Richard Foundation has given out $2.3 million to projects and programs that reflect the values Martin exemplified in his short life: sportsmanship, inclusion, kindness, and peace.
The foundation is also the inspirational force behind Martin's Park at the Smith Family Waterfront. The city and state assembled the land, while the Richard and Susan Smith Family Foundation and the Barr Foundation each gave $3 million. Generous individuals and companies also contributed.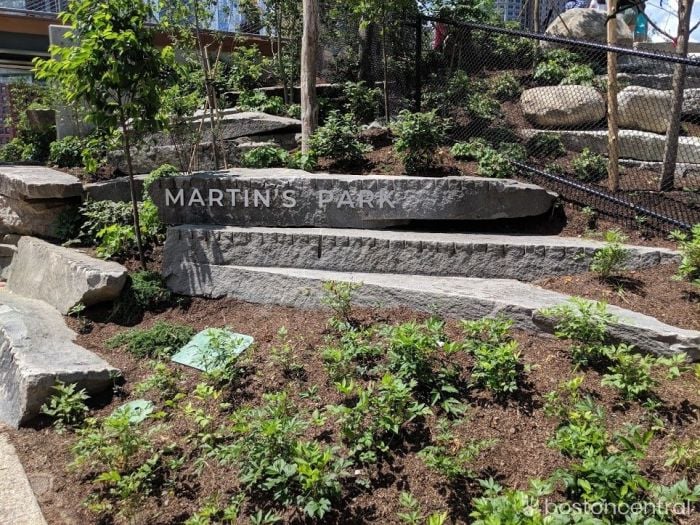 Martin's Park is a beautiful tribute to Martin Richards, and a reminder of how precious life is. The location is lovely, with views of the Fort Point Channel; and it's conveniently located right next to the Boston Children's Museum. Make a day of it and visit both venues.
Martin's Park
64 Sleeper Street
Boston, MA 02210
There are many more popular playgrounds in Boston - check out this list to find a new one to explore near you. And this helpful interactive playground map is a great resource for plotting out where your next adventure will be.
There are so many more fun things to do in Boston - check out our Boston Events Calendar for ideas on specific events, or if you are looking for a deal, check out our popular article about free things to do in Boston!