Monday, November 28, 2022
Jingle Jangle! December is right around the corner and there are lots of fun family activities to enjoy. Holiday Markets are bustling; venues are bright with Holiday Lights; Santa is busy chatting with children about wishes for the big day; Skating rinks are opening; and Seasonal Performances abound. Festive season is just beginning, and there's no better place to be than Boston.
Boston Metro
Boston Common Tree Lighting - Boston
The heart of the city will be illuminated with seasonal cheer at Bostons Official Holiday Tree Lighting. Holiday lights throughout the Public...
Thursday, Dec 1

Celebration of Holiday Lights - Marshfield, Methuen & Lancaster
Fiesta Shows, New England's largest amusement provider is hosting three new drive-thru holiday light shows featuring a mile long path transformed with over one million festive, twinkling LED lights and holiday displays. Enjoy!
Skating Club of Bostons Skating Spectacular - Boston
The Skating Club of Boston hosts their Skating Spectacular at Frog Pond at 5:00 pm. This exciting show takes place before the Boston Common tree lighting...
Thursday, Dec 1
Enchanted Trolley Tour - Boston
This year, the Mayor's Enchanted Trolley Tour will take place on Saturday, December 3, and Sunday, December 4 in neighborhoods throughout Boston....
Saturday, Dec 3 - Sunday, Dec 4
Seaport Snowport Holiday Tree Lighting - Boston
Join us on December 2nd at 6pm at the Seaport Common for the annual lighting of the Christmas tree and a stroll around the Seaport Snowport market....
Friday, Dec 2
Don't miss the ASTONISHING Little Women: The Broadway Musical at Greater Boston Stage Company!
Share the joy of the classic story with those you love this holiday season. Sisters Jo, Meg, Beth, and Amy March experience the heartache and hope of growing up in Civil War America. Soaring melodies and astonishing music highlight this truly New England tale of personal discovery, family and finding your own voice.
Beacon Hill Holiday Stroll - Back Bay
Families are invited to a festive evening of refreshments, shopping, Santa, carriage rides, caroling, and fun Wonderful for all ages.
Thursday, Dec 1
Holiday Happenings at Suffolk Downs - Boston
Join us for a very merry day at The Track at Suffolk Downs. Enjoy free photos with Santa, a hot cocoa bar, cookies and cannolis, and holiday...
Saturday, Dec 3
South End Holiday Stroll 2022 - South End
Shop at a distance, wear a mask & have some fun. Your local businesses appreciate your support more than ever Check individual businesses for...
Saturday, Dec 3 - Sunday, Dec 4

Soccer Shots: Boston's Premier Indoor Soccer Program
Kick off the winter season with Soccer Shots: Boston's premier soccer program for children 2-9 years old. We bring fun and engaging programs to indoor locations all over the Boston area. The season kicks off in December, so save your spot today!
Holiday Stroll, Coca-Cola Caravan & Santa at Boston Landing - Boston
The annual holiday stroll is a kick-off to the holiday season featuring shopping at Boston Landing retailers, crafts, carolers, Coca Cola, Santa and more!
Saturday, Dec 3
The Shoemaker & The Elves With Holly Days - Brookline
The Shoemaker and the Elves tells the classic story of a humble shoemaker in trouble: his holiday deadline is fast approaching and there's no...
Saturday, Dec 3 - Sunday, Dec 4
Boston Bhangra Competition 2022 - Boston
Come to the annual Boston Bhangra Competition. Check out some of the most explosive dancing you will see all year Team from all over North America...
Saturday, Dec 3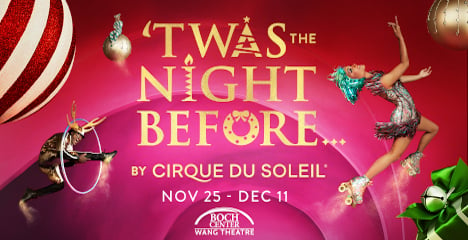 Twas the Night Before... A Cirque du Soleil Holiday - Boston
An exhilarating spin on the beloved Christmas tale. This festive show brings a flurry of love, Christmas cheer, thrilling acrobatics and hugely lovable characters that will create a new holiday tradition for families to cherish.
November 25 - December 11, 2022
Boston College Bands Presents 'A Christmas Festival' - Chestnut Hill
BC bOp | The University Wind Ensemble of Boston College | Boston College Symphonic BandPresents: A Christmas FestivalA free, family-friendly...
Sunday, Dec 4
Annual USS Constitution Tree Lighting - Charlestown
The free on-ship tree-lighting event will include a visit and photo opportunities with Santa Claus, free hot chocolate and cookies, holiday music,...
Tuesday, Nov 29
North Suburbs
Holiday Zoolights: Stone Zoo 2022 - Stoneham
This winter wonderland attracts thousands of visitors each year who get into the holiday spirit by strolling along a winter wonderland of tree-lined...
Friday, Nov 18 - Sunday, Jan 8

World Class Math Classes Your Kids Will Love - Greater Boston
Let our intensive six-week summer math enrichment program prepare your child for the year ahead, while reinforcing the work done over the year. Enroll today!
A Christmas Carol: North Shore Music Theatre - Beverly
Ebenezer Scrooge and (assorted ghosts) discover the true spirit of the holiday in this North Shore Music Theater favorite, featuring dazzling...
Fri, Sat, Sun, Dec 1 - Dec 23
for KING & COUNTRY A Drummer Boy Christmas - Lowell
The for KING&COUNTRY 'A Drummer Boy Christmas' Tour is coming to Lowell, MA. We want to celebrate it with YOU Tickets are on sale now.
Thursday, Dec 1
Model Trains & Railroads Exhibit - Wenham
Train fans of all ages delight in the Bennett E. Merry Train Gallery featuring 10 operating model layoutsin G, O, HO, N, and Z gaugeswith 21...
Thursday, Sep 1 - Friday, Dec 30
GIVEAWAY ALERT - Car Pass to Magic of Lights - Foxboro
Experience the popular Magic of Lights display returning to Gillette Stadium for its final holiday season. *Please REPLY to this email with your favorite holiday character in the subject line for your chance to get a car pass.
10th Annual Sea Festival of Trees: A Magical Holiday Wonderland by the Sea - Salisbury
Experience the joy and excitement of the Seacoasts most popular holiday tradition with glittering trees, indoor ice skating, Santa visits and...
Fri, Sat, Sun, Nov 19 - Dec 4
All the Long Echoes: A Score of Solstice Celebrations - Beverly Farms
Seven Times Salt presents their twentieth winter solstice concert: carols, dances, and wassails from 16-18th century Europe and the New World...
Sunday, Dec 4
Joppa Dance Company presents Nutcrackah - Newburyport
Evil rats are NY Yankees, and our cast of characters tour the likes of the Boston Aquarium and Frog Pond, among other beloved sites. The festive...
Fri, Sat, Sun, Dec 2 - Dec 4
Meet and Greet: Good Witch Happy Holiday Helper - Salem
Stop by the Good Witch of Salems shop at 2 North St. in Salem on Saturday 12/3 from 12pm to 2pm and meet her happy holiday helper
Saturday, Dec 3
2022 Marblehead Christmas Walk - Marblehead
Join the Marblehead Chamber of Commerce for a festive weekend including the tree lighting, Santas arrival by lobster boat, parade, artisan markets,...
Thursday, Dec 1 - Sunday, Dec 4
South Suburbs
2022 Christmas Festival of Lights: Edaville USA - Carver
Hop on board and make the holidays really special. Hundreds of lights surround you on this magical train ride. Come enjoy one of New England's...
Thu, Fri, Sat, Nov 10 - Jan 1
Enchanted Village: Jordan's Furniture Avon - Avon
Enjoy Boston's historic Enchanted Village, now on view at Jordan's Furniture in Avon. Jordans Furniture purchased the surviving pieces of the...
Friday, Nov 11 - Sunday, Jan 1
Gardens Aglow - A Celebration of Holiday Lights - Sandwich
This year Heritage will continue the celebration of lights that has become a treasured holiday tradition with a fully outdoor experience. Enjoy...
Fri, Sat, Sun, Nov 25 - Dec 23
Jingle All the Way to Holidays on the Green - Plymouth
The ever-popular Reindog Parade is back for another year of costumed canines and tail-wagging good times. Dogs from all over New England will...
Sunday, Dec 4
2022 Christmas Wonderland - Carver
Holiday fun for all ages at Edaville's Christmas Festival of Lights Come enjoy vintage amusement rides, thousands of holiday lights, visit with...
Thu, Fri, Sat, Sun, Nov 10 - Jan 1
Sleigh Bells Concert and Fair - Quincy
Kickstart festivities with a Friday evening concert and fair preview. The musical event consists of holiday songs featuring the instrumental...
Friday, Dec 2 - Saturday, Dec 3
Sweets and Treats for the Holidays - Canton
Cookie decorating, vendors selling sweets and treats, Canton Garden Club, Pictures with Grandma Sugar, vote in the gingerbread house contest,...
Saturday, Dec 3
That Holiday Feeling- Family Show - Stoughton
Don't miss out on our Annual Tradition with 'That Holiday Feeling' designed just right for all the kids So much fun for all the families
Sunday, Dec 4
West Suburbs
Maynard Christmas & Holiday Parade with Santa - Maynard
Sponsored by the Maynard Rotary Club, the parade starts at 5 PM at the Mill & Main parking lot off Sudbury St, travels down Main Street, turns...
Sunday, Dec 4
Powisset Farms Haybale Tree Lighting - Dover
Get into the holiday spirit at Powisset Farm as we celebrate the season with our annual haybale tree lighting Enjoy the beautiful holiday sounds...
Saturday, Dec 3
Boston Skyline Chorus presents HolidayPalooza - Lexington
Music and Shopping: What a beautiful Harmony We will have various performances throughout the afternoon along with vendors lining the room selling...
Saturday, Dec 3
The Nutcracker by Dance Prism - Sudbury
No holiday season is complete without seeing this beloved holiday classic, see it again or start a new tradition Young audience members are...
Sunday, Dec 4
Heritage Chorale 2022 Fall Concert: Peace and Joy - Framingham
Heritage Chorale 2022 Fall Concert: Peace and Joy, on Sunday, December 4, 2022 at 4:00 pm. Music of Ralph Vaughan Williams and Benjamin Britten...
Sunday, Dec 4
Dumpling Day - Concord
Barefoot Books and edibleBoston invite you to a Dumpling Day adventure Try a variety of dumplings, enjoy storytime, and shop our shelves. You...
Saturday, Dec 3
Gwendolyn's Nutty Nutcracker Ballet - Natick
Walnut Hill School for the Arts Community Dance Academy presents a ballet performance of the popular children's book, Gwendolyns Nutty Nutcracker...
Saturday, Dec 3
Santa's Workshop at the Arsenal Yards - Watertown
It's time to bring out your inner-elf. Meet us at the tree farm on Tuesdays for a family-friendly holiday celebration Help the elves make some...
Every Tuesday, Nov 29 - Dec 6
Winter Market 2022 - Concord
Join us for our Annual Winter Market held Dec 2-4 at The Umbrella Arts Center. Featuring work by Umbrella Studio Artists, Guest Artists and annual...
Friday, Dec 2 - Sunday, Dec 4
Holiday Mini Golf Hole In Fun - Newton
For two days only you will be able to come with family and friends and traverse Newton City Hall while playing Mini Golf for the first ever Holiday...
Saturday, Dec 3 - Sunday, Dec 4
Thank you for being a part of the BostonCentral Community
If you enjoy our events & activities...
Please recommend us to a friend :-)
Stacey Sao, Managing Director
BostonCentral.com
Contact us to Advertise on BostonCentral.
© BostonCentral 2002-2018. 6 Kendra Lane, Sudbury, MA 01776 Manage My Subscription: Subscribe or Unsubscribe