Wednesday, November 14, 2018
Boston Metro
Yale vs. Harvard Football at Fenway Park - Boston
The 135th rendition of Harvard and Yale's football rivalry will be played in front of the 'Green Monster' at the home of the Boston Red Sox on...
Saturday, Nov 17

Lightwire Theater's A Very Electric Christmas - Boston
Dancing toy soldiers and performing poinsettia's light up the stage in "America's Got Talent" semi-finalist Lightwire Theater's A Very Electric Christmas. Audiences of all ages will treasure this captivating tale of family, friendship and hope set to timeless holiday hits, including Nat King Cole, Mariah Carey and Tchaikovsky.
November 24, 2018 - One night only!
Vanessa Trien & The Jumping Monkeys Thanksgiving Show - Brookline
Boston's Parents' Choice Award-winning band, Vanessa Trien and the Jumping Monkeys, returns for their highly anticipated, annual Coolidge Corner...
Sunday, Nov 18
Gooney Bird Greene and Her True Life Adventures - Boston
Just in time for back-to-school, Gooney Bird Greene and Her True Life Adventures is an adaptation by Kent R. Brown of the Lois Lowry book that...
Friday, Oct 26 - Sunday, Nov 18
Boston International Kids Film Festival - Cambridge
Over 50 films, representing 16 countries, will be shown at the sixth annual Boston International Kids Film Festival November 16-18, 2018. Roughly...
Friday, Nov 16 - Sunday, Nov 18

How The Grinch Stole Christmas! The Musical - Boston
Celebrate the holidays with this heart-warming classic tale that will entertain the whole family. Magnificent sets and costumes inspired by Dr. Seuss will transport audiences to the whimsical world of Whoville.
November 28- December 9, 2018
A Tale of the Monkey King - Brookline
By Margaret Moody PuppetsA lively episode of the Chinese epic "Journey to the West" comes to life with traditional Taiwanese hand puppets and...
Thursday, Nov 15 - Sunday, Nov 18
Fantastic Beasts Scavenger Hunt at HMNH - Cambridge
Pick up the Fantastic Beasts Scavenger Hunt clue sheets at the Harvard Museum of Natural History, the Peabody Museum of Archaeology & Ethnology...
Sunday, Nov 18
Little Groove at the Boston Children's Museum - Boston
Join PJ Library as we jump, wiggle and dance with Little Groove at the Boston Children's Museum (308 Congress Street) in Boston on Sunday, November...
Sunday, Nov 18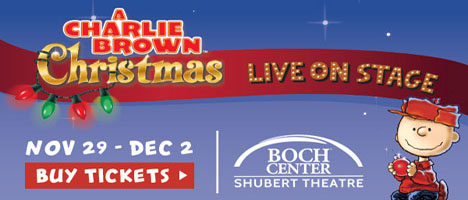 A Charlie Brown Christmas Live on Stage - Boston
A Charlie Brown Christmas will bring holiday cheer to Boston with a limited engagement at the Boch Center Shubert Theatre. This touring production features everyone's favorite Peanuts gang – Linus, Lucy, Snoopy, Sally, and more, all led by the lovable Charlie Brown – as they discover the true meaning of Christmas.
November 29 - December 2
Family Hike at Arnold Arboretum - Fairy Houses - Boston
Join an Arnold Arboretum staff member to discover the Arboretum on a guided hike for families. Come find new discoveries among the November trees...
Sunday, Nov 18
Winnie-the-Pooh: Exploring a Classic, at the MFA - Boston
Original drawings, manuscripts, proofs and early editions, letters, photographs, cartoons, and more take visitors on a journey exploring how...
Now thru Sunday, Jan 6
Boston Bhangra Competition 2018 - Boston
Come to the 15th annual Boston Bhangra Competition. Check out some of the most explosive dancing you will see all year Team from all over North...
Saturday, Nov 17

Blue Man Group Birthday Parties - Boston
Your very important birthday person will party like a rock star when you plan your celebration at Blue Man Group. The birthday party package includes discount tickets, best available seating, swag bags, a special pin for the guest of honor, and a Birthday LED message before the show.
Watson Adventures' Wizard School Scavenger Hunt - Boston
Follow in the footsteps of young wizards on a scavenger hunt at the Museum of Fine Arts in search of art that echoes the characters, objects...
Saturday, Nov 17
Trains at Science Park - Boston
This winter, visitors to the Museum of Science, Boston can marvel at the engineering wonders of the railroad with a host of exhibits and programming...
Sunday, Nov 18 - Sunday, Jan 6
Curling at the Liberty Hotel - Boston
The Liberty Hotel, one of Boston's most unique and historic hotels, is bringing outdoor curling to the Hub, and now Bostonians can learn why...
Mon, Wed, Nov 12 - Feb 27

Mayor's Holiday Special 2018 - Boston
Experience the magic of Boston this holiday season, with tickets to holiday shows up to 50% off with Mayor's Holiday Special.
November 1 - December 31
Choreographic Objects Exhibit at the ICA - Boston
The ICA presents the first comprehensive American exhibition of performative objects, video installations, and interactive sculptures (yes! interactive!) of the internationally celebrated choreographer William Forsythe.
Now thru February 21, 2019
North Suburbs
Methuen's Festival of Trees - Methuen
Holiday festival features more than 200 decorated Christmas trees that are on display for 2 weeks and then raffled off to attendees. Lots of...
Saturday, Nov 17 - Saturday, Dec 8
Aleppo Shriners Feztival of Trees - Wilmington
Get into the holiday spirit while walking through a Winter Wonderland of themed trees being raffled off, music, Santa pictures, a raffle room...
Fri, Sat, Sun, Nov 16 - Nov 18
The Skating Club of Boston Skating Academy - Boston
New England's premier ice skating school, offering top-quality instruction and small group ice skating lessons for age 4-adults using the Learn to Skate USA curriculum endorsed by U.S. Figure Skating and USA Hockey.
Saint Joseph School 35th Annual Christmas Craft Fair - Wakefield
Fun for the whole family Get your Christmas shopping started, get pictures with Santa in plenty of time for your cards, and enjoy a delicious...
Friday, Nov 16 - Saturday, Nov 17
Tapestry Dance Performance - Beverly
Experience the adrenaline-infused and emotionally charged choreography brought to life by fiercely talented modern dancers in Tapestry. Tapestry...
Sat, Sun, Nov 17 - Nov 18
NERF Adventure Night: Dodge, Dip, Dart, Duck, and Dodge - Burlington
Join us for monthly Nerf Wars, Nerf Games and Nerf events at Guard Up in Burlington MA. Bring your blasters or use ours Hope to see you and...
Friday, Nov 16
Community Boating Junior Sailing Program - Boston
Join Community Boating Inc's Junior Program and learn sailing, kayaking, windsurfing and more. CBI's boathouse, conveniently located on the Esplanade, is the best place for fun in the sun this summer!
North Shore Food & Gift Emporium - Ipswich
Join us, again, at the gorgeous and majestic Turner Hill estate in Ipswich MA. It's a vibrant marketplace nestled in the rooms of a beautiful...
Sunday, Nov 18
Reeves Annual Holiday Craft Fair - Woburn
Come to our local Holiday Craft Fair at the Reeves Elementary School. Crafters, makers and independent vendors will be kicking off the holiday...
Friday, Nov 16
Princess Dance Party - North Reading
A Princess Dance Party will Belle and Cinderella Join us November 18th from 2:30-4:00pm for an exciting dance celebration with your favorite...
Sunday, Nov 18
St. Athanasius Christmas Faire - Reading
1000s of items (new and gently used): White Elephant, jewelry, toys. Also, homemade baked goods and gifts; handmade knit/crochet items; Games...
Friday, Nov 16 - Saturday, Nov 17
The Village Oasis Family-Fun Grand Opening - Beverly
Families are invited to try yoga poses, create art, and on-the-mat storytelling at the grand opening of The Village Oasis, a new kind of family...
Every Saturday, Nov 17 - Nov 18
Suzuki Strings Group Free Demonstration - Reading
Suzuki Strings Group Free demonstration for all levels and ages of violin, viola, cello and guitar Suzuki students. Learn how a group Suzuki...
Friday, Nov 16
South Suburbs
America's Hometown Thanksgiving Celebration - Plymouth
The Annual America's Hometown Thanksgiving Celebration will be held this year as it is each year at the birthplace of Thanksgiving, Plymouth,...
Fri, Sat, Sun, Nov 16 - Nov 17
Little Shop of Horrors - Easton
Little Shop of Horrors is a delectable science fiction horror musical with an electrifying 1960s pop or rock score by Alan Menken and Howard...
Thursday, Nov 15 - Friday, Nov 16
Christ Church Christmas Fair - Quincy
Do your Christmas shopping at our annual Christmas Fair. We have jewelry, brand new items, along with some older ones in our white elephant...
Friday, Nov 16 - Saturday, Dec 1
Annie - Foxboro
Annie the Musical, is presented by The Un-Common Theatre Company. There will be four shows from Nov 16-18 at the Orpheum Theatre in Foxboro,...
Friday, Nov 16 - Sunday, Nov 18
South Shore Plaza Hosts Pet Photo Night with Santa - Braintree
The popular Pet Photo Night adds a magical element to visiting with Santa, as many pet owners view their pets as important members of the family....
Sunday, Nov 18
Holiday Wonderland: Newport Mansions - Newport, RI
Experience the magic of Christmas when the opulent summer cottages of the Gilded Age are transformed into a winter wonderland. Santa, too.
Saturday, Nov 17 - Tuesday, Jan 1
West Suburbs
Paradise City Arts Festival - Marlborough
Contemporary crafts, art, and sculpture by more than 175 exhibitors from 40 states; gourmet food tent, live music, children's entertainment and...
Friday, Nov 16 - Sunday, Nov 18
Wellesley Marketplace - Wellesley
Wellesley Marketplace, which takes place the Saturday before Thanksgiving, serves as the unofficial kick-off to the holiday season Over 200...
Saturday, Nov 17
Toysinbox Holiday Season 3D Printing Show - Wellesley
This 3D printing show is a family-friendly event designed to educate and inspire the K-12 students in the fields of science, technology, engineering,...
Saturday, Nov 17 - Sunday, Nov 25
NCT's The Little Mermaid - Needham
Don't miss your chance to see The Little Mermaid, live on stage This fun-filled, timeless tale makes its Needham Community Theatre debut at...
Fri, Sat, Sun, Nov 16 - Nov 25
Music with Emily: Sing-A-Long Sunday - Arlington
Bring the whole family for this get-up-and-move, have-some-fun Sing-A-Long with Emily at Ready, Set, Kids A Family Enrichment Center (284 Broadway)...
Sunday, Nov 18
Mike the Bubble Man & Info Session - Dedham
Mike the Bubble Man brings magic to the stage with this interactive show about BUBBLES Stick around for our Info Session at 10:00am, and hear...
Sunday, Nov 18
Dallin Elementary School Rummage Sale - Arlington
The annual Dallin Elementary School Rummage Sale is taking place November 17th. Come shop for treats and treasures Free admission, 9-1pm. Rain...
Saturday, Nov 17
Harry Potter Night at The Paper Mouse - Newton
Join us for an evening in celebration of our favorite witches and wizards. We'll make magical arts and crafts, test our knowledge with Harry...
Friday, Nov 16
Schoolhouse Rock Live - Needham
Schoolhouse Rock Live is a stage show based on the popular Saturday morning cartoons of the '70 and '80 such as 'Conjunction Junction', 'I'm...
Sunday, Nov 18
Joseph and the Amazing Technicolor Dreamcoat - Watertown
Join WCT for this beloved Andrew Lloyd Webber musical production Students sing and dance the story of Joseph and his brothers as they bring...
Friday, Nov 16 - Sunday, Nov 18
Toe Jam Puppet Band Pirate Show - Hopkinton
Come in all your pirate gear and climb aboard with the Toe Jam Band and we'll have a Pirate Celebration with music and dancing perfect for kids....
Sunday, Nov 18
Fall Flaire Craft Show - Acton
Get your holiday shopping started with locally-made gifts from local artisans at the Fall Flaire craft show. Knitwear, jewelry, art, photography,...
Saturday, Nov 17
Thank you for being a part of the BostonCentral Community
If you enjoy our events & activities...
Please recommend us to a friend :-)
Stacey Sao, Managing Director
BostonCentral.com
Contact us to Advertise on BostonCentral.
© BostonCentral 2002-2018. 6 Kendra Lane, Sudbury, MA 01776

Manage My Subscription: Subscribe or Unsubscribe