Sudbury 4th of July Parade (Rain or Shine)
We have Not Yet Posted This Year's Information for This Event Yet
If new information for this event is already available for this year, please let us know
.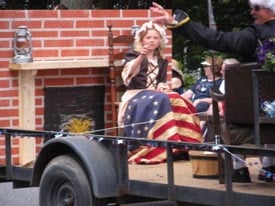 On July 4th, at 1:00 PM, come out and enjoy Sudbury's Annual 4th of July Parade celebrating our Country's Independence.
All are welcome to come and watch one of the areas best parades! (With a zip code like 1776, Sudbury's patriotic spirit is one to be reckoned with...)
Step off time is 1:00 p.m. on July 4th. Parade starts at Union Avenue and runs East along Rte 20 to Concord Road North, ending at Town Center.
The parade route is approximately 2 miles long. Union Avenue will be closed to the public (parade participants only) at 11:30 and Rte 20 and Concord Road will close shortly before the start of the parade.
Start Time: 1 p.m. on July 4, 2012 – Rain or shine!
Parade Theme: Sudbury: 'Sudbury Through the Eyes of Children'
End Time: Roughly 2:30 p.m. Depending on where you sit on the route the parade will take about an hour to pass.
Start Location: Corner of Union Ave and Route 20.
End Location: Sudbury Town Hall.
Judging Time: Judging for all floats will begin at noon
Spectators are allowed to stand or sit anywhere along the parade route. What is so great about this parade is there really are no bad seats! Don't forget to bring your lawn chairs, water bottles and sunscreen!
Road Closings and Detours
Just prior to the parade beginning, at approximately 12:45 PM, the following roads will be closed as well; Boston Post Road (RTE 20) from Nobscot Road to Landham Road, Concord Road from Boston Post Road to Plympton Road, and RTE 27 from Water Row to Peakham Road.
Anyone travelling through the area between 12:45PM and 4:00PM should expect extensive delays and/or seek an alternate route. The finish time may vary depending on the length of the parade. The roads will remain closed until participants have safely traversed the parade route. We apologize for any inconvenience, but hopefully forewarning motorists will provide them with the opportunity to plan accordingly.
---
Boston Post Road, Concord Road, Sudbury, MA, 01776
map
Start Time: 1:00 PM on July 4, 2013 – Rain or shine!
Parade Theme: Sudbury Through the Eyes of Children
End Time: Roughly 2:30 PM. Depending on where you sit on the route the parade will take about an hour to pass.
---

Sudbury July 4th Parade
We have enjoyed watching the parade for many years from the vantage point of the corner of Union and Route 20. It was very upsetting this year to watch how unresponsible people were. While I know that the candy throwing is a big hit with the kids, it was out of hand at this year's parade. The kids paid no attention to the marchers or floats in their rush to get candy. Sometimes interferring with the flow of the parade. We watched the crowd of the Sudbury Plaza side of Route 20 creep closer and closer into Route 20, narrowing the path for the parade. There were two Sudbury policemen on duty on that side and they did very little to keep the crowd back. Several times walking participants of particular floats had to ask the crowds to step back. With so many little children running into the center of the road to get the candy, we were surprised that no one was hurt. The suggestion for the future parades would be to put up the saw horses or some type of barrier closer to the curb on the plaza side of Rt 20 and also the blocked off portion of Rt 20 to keep the crowds behind them.
| | |
| --- | --- |
| Related Links | Top |
---
We make best efforts to update information, but it changes frequently, so we cannot warrant it. Please call to check Sudbury 4th of July Parade (Rain or Shine) schedules, fees, and directions before making the trek. We help you, please help us. Report an Error if you find one.