Boston Common Tree Lighting Ceremony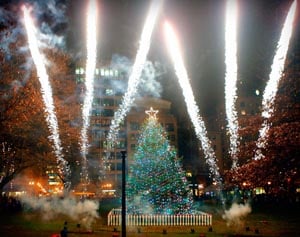 Enjoy the 73rd annual lighting of Bostonís Official Christmas Tree provided as a gift by Nova Scotia.
The holiday decorations throughout Boston Common and the Public Garden, including the City of Bostonís official Christmas tree from Halifax, a 47-foot white spruce donated by John and Ethel Ann MacPherson of Purlbrook, Antigonish County, Nova Scotia, will light up in sequence shortly before 8 p.m. when Mayor Martin Walsh and the Honourable Andrew Younger, Minister with the Government of Nova Scotia, are joined by members of the Royal Canadian Mounted Police and Santa Claus. The show will close with a pyrotechnic display by MagicFire, Inc.
WCVB TVís Anthony Everett and JC Monahan will host Channel 5ís live broadcast of the event beginning at 7 p.m. featuring comedian Jimmy Tingle, cast members from Motown The Musical,
The Voice contestant Brittany Butler, the New England Patriots Cheerleaders, Nova Scotia band The Stanfields, the Floorlords dance troupe, and the Holy Tabernacle Church Christmas Cantata Choir.
The annual holiday display includes the official Christmas tree from Halifax and trees throughout Boston Common with ten additional trees around the Frog Pond skating rink sponsored by The Skating Club of Boston.
The holiday lights throughout both parks will light up in sequence shortly before 8 p.m. when
Mayor Walsh is joined onstage by Premier McNeil, members of the Royal Canadian Mounted Police, and Santa Claus. The show will close with a pyrotechnic display by MagicFire, Inc.
Refreshments and additional support will be provided by promotional sponsors Dunkiní Donuts, DAVIDs TEA, Polar Beverages, Geico, and the New England Dairy Board.
This is the 43rd following the December 6, 1917, explosion of a munitions ship in Halifax Harbor. Within 24 hours of the disaster a train loaded with supplies and emergency personnel was making its way from Boston to Nova Scotia. In addition this year, Nova Scotia is donating smaller trees to two Boston charities, the Pine Street Inn and Rosieís Place.
For more information please call (617) 635-4505, go to www.cityofboston.gov/parks, or visit us on Facebook. For Boston Common parking information go to www.massconvention.com/bcg.html.
---
Lighting Festivities: 6:00pm - 8:00pm
See it Live on Chronicle from 7pm-8pm.
---
| | | |
| --- | --- | --- |
| Facebook Comments | | Top |
---
| | | |
| --- | --- | --- |
| Reviews by Grown-ups & Parents | | Top |
---

Always a great time!
I've gone to this ceremony for the past five years now and I've always enjoyed it. It's a great way to get out and enjoy the holidays with friends and family while being surrounded by people doing the same. This year in particular the short fireworks display after the tree lighting was phenomenal. Such a great event for both children and tourists alike. Not to mention it's completely free. There's not much to dislike about this, just a good old community event.

Pathetic!
So poorly organized this year, so pathetic, boring, especially empty stage for 20 minutes in the middle of the concert. That band, packed in the plastic cube, could barely be seen and heard in such a big place and with such a big crowd. People around were complaining a lot!!! The only performance, which saved the whole thing was a band of guys with drums from Nova Scotia. Non stop bla-bla-bla about Boston Ballet followed by a Bear Dance for a few minutes... will not come next year.

Fun Times :)
Very fun, just great to be out with so many other people excited about the Christmas season. I got there at 6 and the front lawn closest to the stage was pretty sparsely populated. I went to grab some fried dough & lingered for a while checking out free sample stuff and returned to the lawn at 7. It was completely packed and even the upper lawns were getting cramped! So, advice - get on the front lawn at 6! You can't really see much on the back lawns, so you want to be closer. Wear warm stuff so you don't freeze, and don't worry about getting out - there were no problems or jams, since the Commons are so wide open. I highly recommend it!!
| | |
| --- | --- |
| Related Links | Top |
---
We make best efforts to update information, but it changes frequently, so we cannot warrant it. Please call to check Boston Common Tree Lighting Ceremony schedules, fees, and directions before making the trek. We help you, please help us. Report an Error if you find one.