Fall Foliage Adventures for Families and Kids in New England
Fun things to do in the Fall with kids in MA, CT, VT, NH & Cape Cod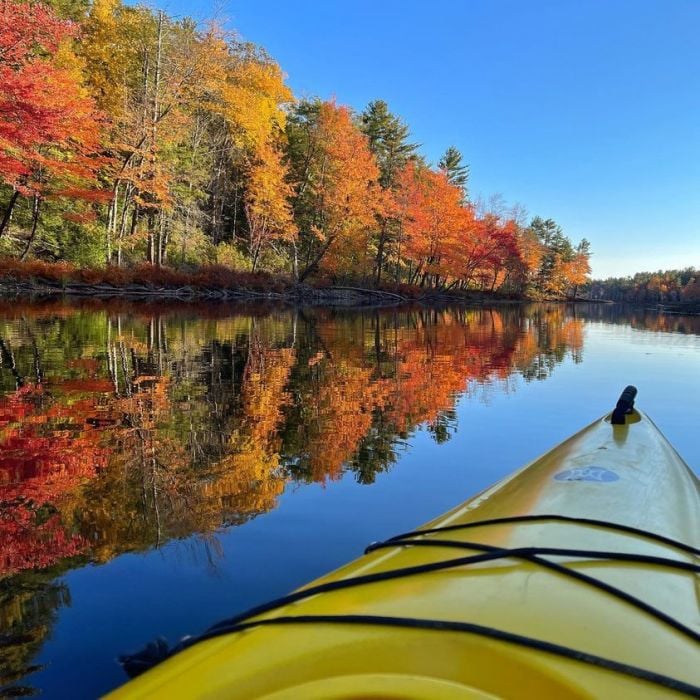 Fall Foliage Adventures in New England
Kid-Friendly Hikes

The Flume – Concord, NH

Enjoy a 2-mile stroll through moss-covered granite walls that rise 90 feet, covered bridges, glacial pools, and waterfalls. The natural granite gorge extends 800 feet at the base of Mount Liberty and is a must see of the White Mountains. It's a good idea to make Reservations in advance online as in-person availability is not guaranteed. Popular hour blocks or days could sell out.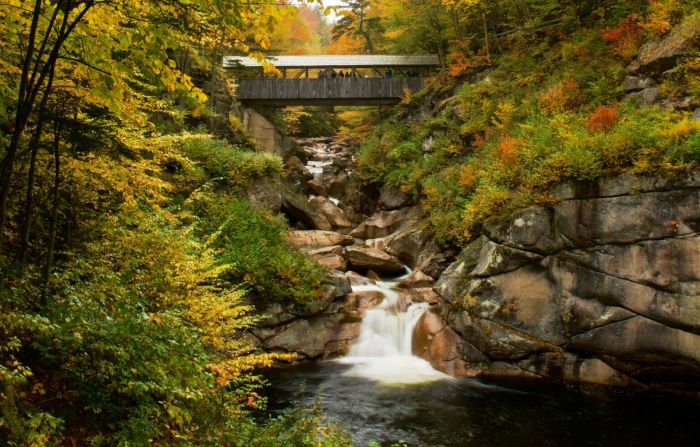 photo credit: Michael Paixio


Hike Wachusett Mountain - Princeton, MA

Hiking to the top of Wachusett Mountain is a great family activity - and especially beautiful in the fall. This outdoor outing provides moderate, rocky terrain and easy to follow, well marked trails, trail map, a viewing tower at the top, as well as free parking and an optional sky ride back down.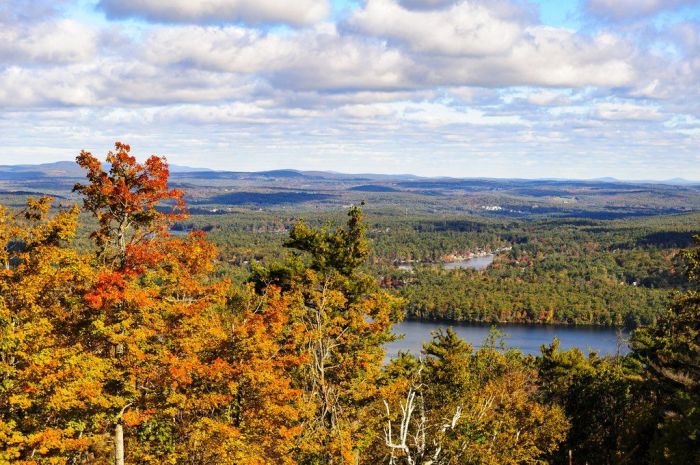 photo credit: KimKim


Sleeping Giant Tower Trail – Hamden, CT
The mountaintop that stretches 2 miles and resembles a sleeping giant inspired this park's name. Although it was hit by a tornado a few years ago, things are getting back to normal. The Sleeping Giant Tower Trail is a moderate, well maintained walking trail with wildflowers and a castle-like lookout tower that provides spectacular views of the surrounding region.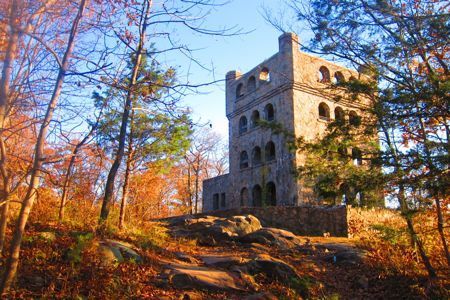 Monument Mountain – Great Barrington, MA
If you are looking for a kid-friendly hike with the reward of great views on the end, hit Monument Mountain in Great Barrington. Follow the 1.5-mile Indian Monument trail for a leisurely ascent, or the 0.7-mile Squaw Peak trail for a steep, shorter climb that includes some exciting rock scrambling.


Fall Foliage Adventures in New England
Scenic Train Rides


Hobo Railroad – Lincoln, NH
This family owned and operated tourist train ride travels 15 miles through through a natural woodsy landscape. Depart from Hobo Junction Station along the shoreline of the Pemigewasset River and allow the fall colors to take center stage,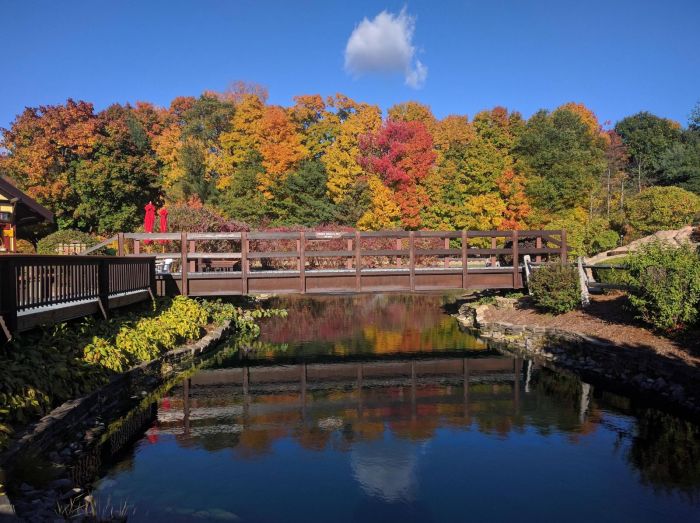 photo courtesy of Nordic Village Resort / Hobo Railraod


Essex Steam Train & River Boat – Essex, CT
Start your journey at the historic 1892 Essex Station where you will hop aboard a steam locomotive and enjoy a train ride into the heart of the picturesque Connecticut River Valley. When you arrive in Deep River, guests are escorted onto the riverboat for a cruise back down the Connecticut River. Take in all the sights from the boat's multiple decks.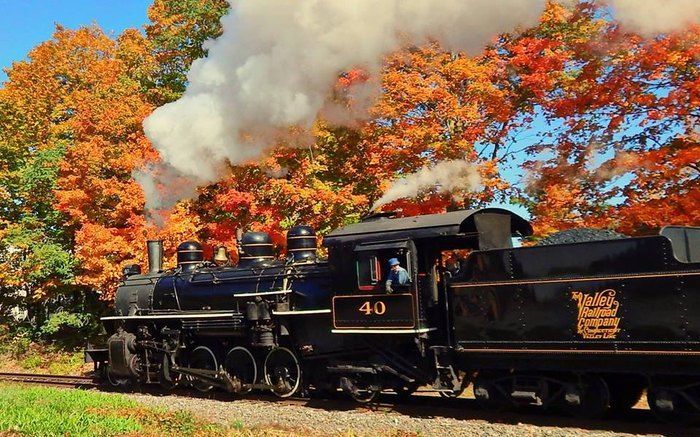 photo courtesy of Essex Steam Train


Cape Cod Central Railroad – Hyannis, MA
Head through marshes, cranberry bogs, dunes, and the natural beauty of Cape Cod. Although there is no specific train ride dedicated to foliage, the Cape Cod Central Railroad offers stunning views through coastal forest and the Cape Cod Canal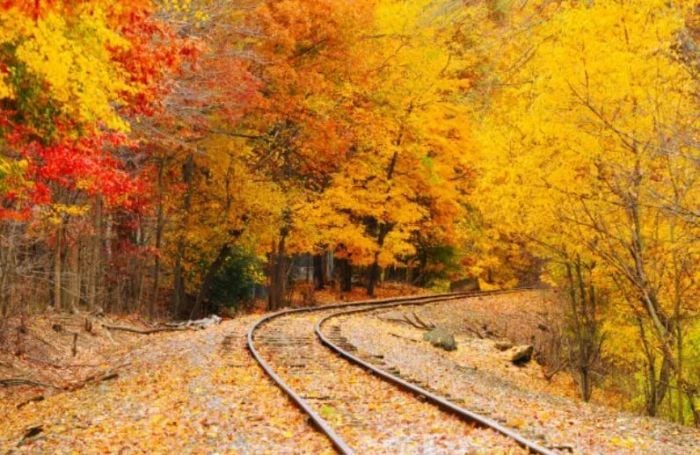 Mount Washington Cog Railway – Bretton Woods NH
For more than 150 years, visitors have taken a ride up Mount Washington in the first of its kind cog-railway. The railway ascends on the average grade 25% – that's pretty steep! Throughout the fall, guests can a Steam Train to the summit and enjoy about an hour enjoying the views and the State Park at the Summit.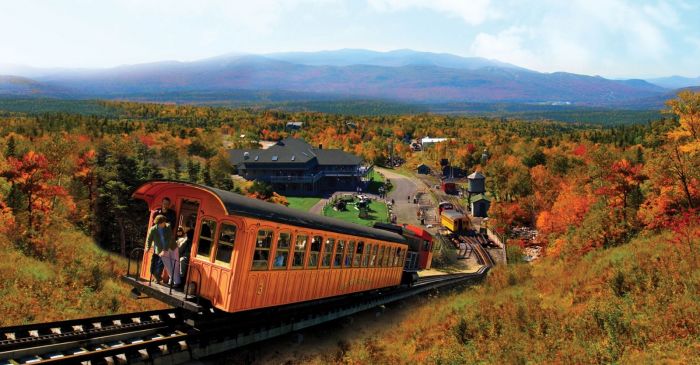 photo courtesy of Mount Washington Cog Railway


Fall Foliage Adventures in New England
Ziplines & Coasters
Adventure Park – Storrs & Bridgeport, CT
The Adventure Park offers some of the largest forest climbing parks in Connecticut. Platforms are secured in the treetops along with ropes and ziplines. Trails are available with tons of different zipline options on multiple levels of elevation (and difficulty).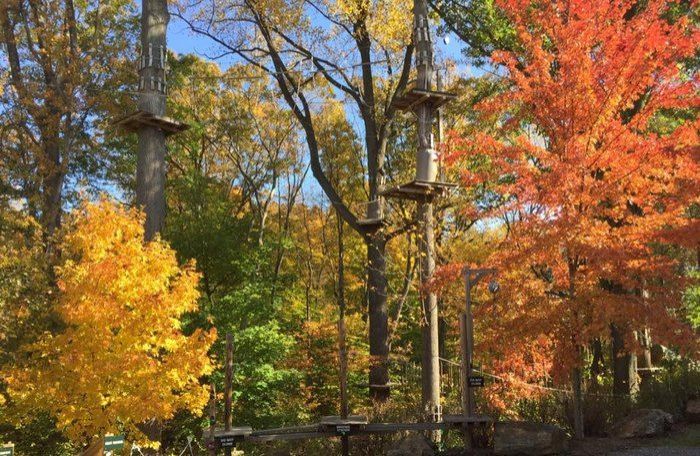 ArborTrek – Jeffersonville, VT
The ArborTrek Tree Top Canopy Adventure Course offers a variety of different ways to soar through the trees. From ziplines to an aerial obstacle course, spend the whole day exploring the trees (and fall foliage!)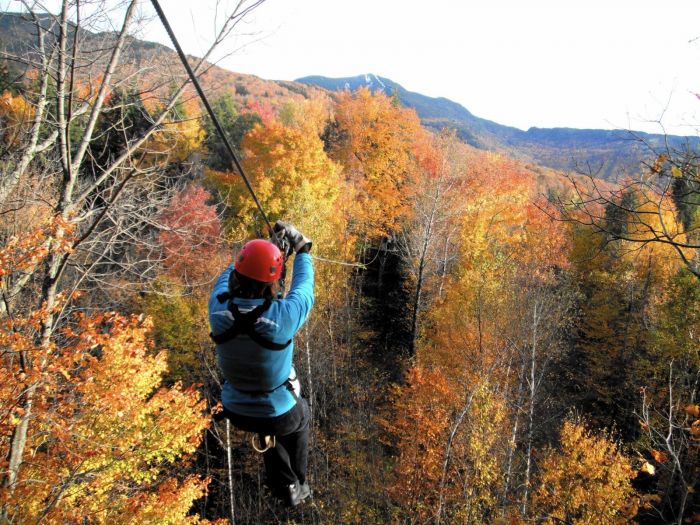 Timber Ripper Mountain Coaster - Okemo, VT
The Timber Ripper Mountain Coaster at Okemo Mountain Resort is a four-season coaster that is fast, fun and, most importantly, safe. Sled-like cars carry two passengers in comfort but can be handled easily by one alone. The riders are in control of the speed, and this gives them a unique hands-on experience, encouraging repeat visits.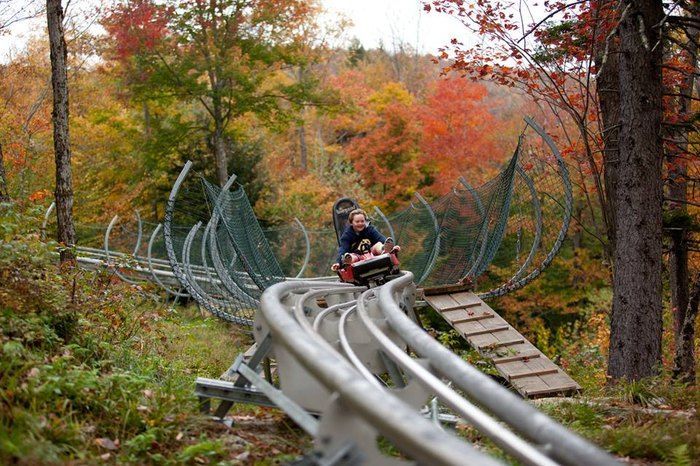 Beast Mountain Coaster – Killington, VT
Get the rush of racing down the mountain without ever putting on a pair of skis via the Beast Mountain Coaster. Riders over 36 inches tall will enjoy a thrill ride down the 4,800 foot-long track that twists and turns through the woods at is located at the Snowshed Lodge on Killington Mountain.


Highflyer Zipline – Mashantucket, CT
Enjoy some of the greatest foliage views in Connecticut while soaring through the sky about the tree line at nearly 60mph. Although not for the faint of heart, Foxwood's Highflyer Zipline offers a one-of-a-kind foliage experience.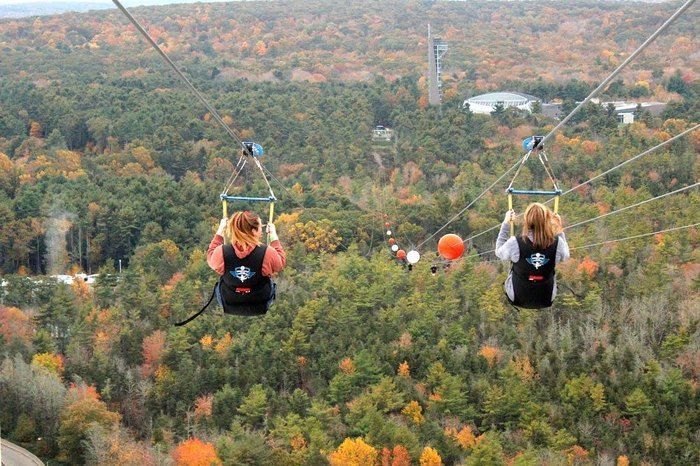 photo courtesy of High Flyer Zipline


Scenic RailRiders – Concord, NH
If you can bike, you can operate a rail bike, and enjoy the views along a beautiful stretch of abandoned railroad tracks. Travel through woods, farm lands, and over a few bridges along the Merrimack River.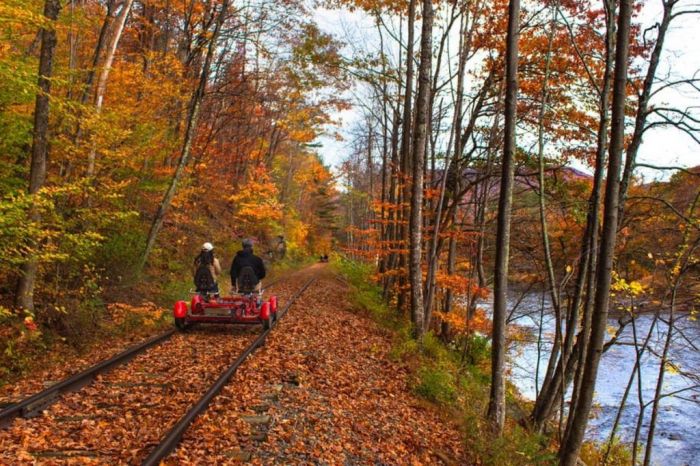 Visitor's can choose from a 2 or 4 person railbike to pedal along the 6.4 mile trail. Multiple bikes can be linked together to accommodate larger families & groups.
More Fall Things to Do
You can find more things to do in September and October activities in our handy guides to fall family fun - and , you can always visit our Boston events calendar or this week's events newsletter for additional ideas.
Up for a challenge? Grab a few friends and see if you can find your way through one of many local corn mazes near Boston! Or you can go a more traditional route and find a few new great spots for apple picking in the area, or a charming farm for choosing your perfect pumpkin at a local PYO pumpkin patch. Don't miss this year's impressive Jack-o-Lantern displays & pumpkin festivals, where you just might find a clever new idea for carving your own pumpkins this year.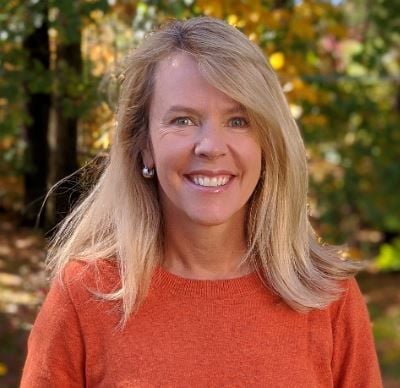 ~~
Stacey Sao has been the Managing Director of the family-friendly events and activities website, BostonCentral for over 20 years. She continues to enjoy discovering and exploring new places to visit in the Greater Boston area.