Boston Children's Museum's Magnificent New Playspace for Babies & Toddlers (0-3)
Brand new space for little ones and their caregivers at BCM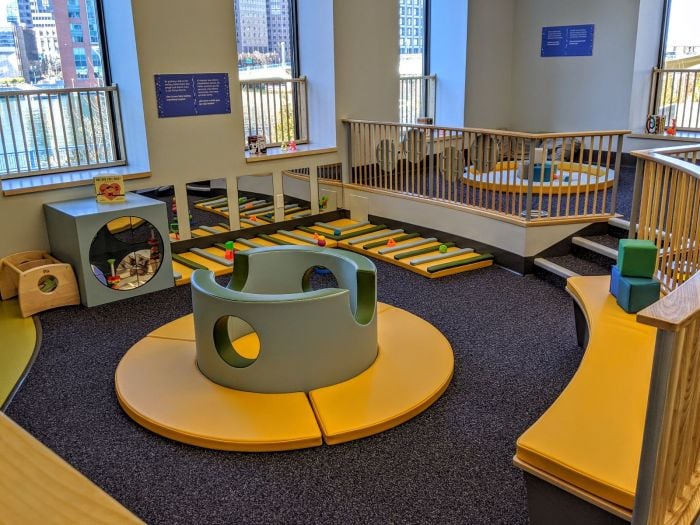 photo credit: BostonCentral
The Boston Children's Museum just upped it's game with the exciting launch of it's new playspace for young children ages 0-3 and their grown-ups. The space has been completely re-designed from it's original pioneering vision, and brings to a new and even more robust life, to longtime advisor, Jeri Robinson's idea of a playspace exhibit for young children from the earliest days of BCM.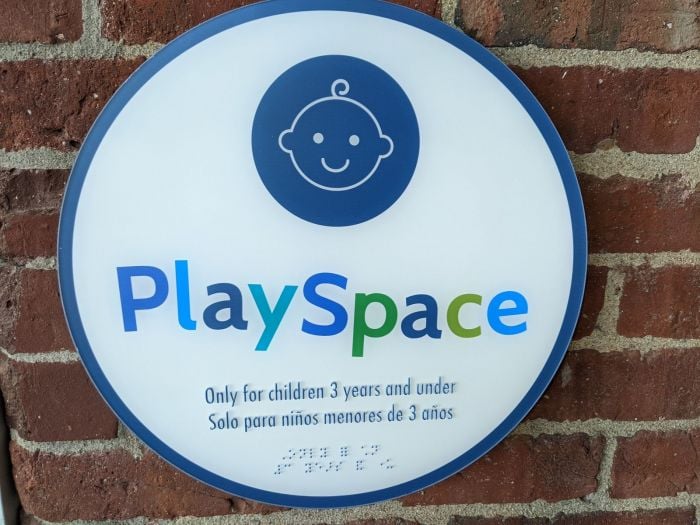 The Playspace
Designed for young children and parents to play, explore and develop, the 3200 sq. ft. space is a marvel to behold.
Welcoming in every way, with areas both open in feel, yet secure with closeable gates - parents can relax and truly enjoy an experience with their young child as they explore, crawl, toddle, climb and learn from a plethora of new experiences.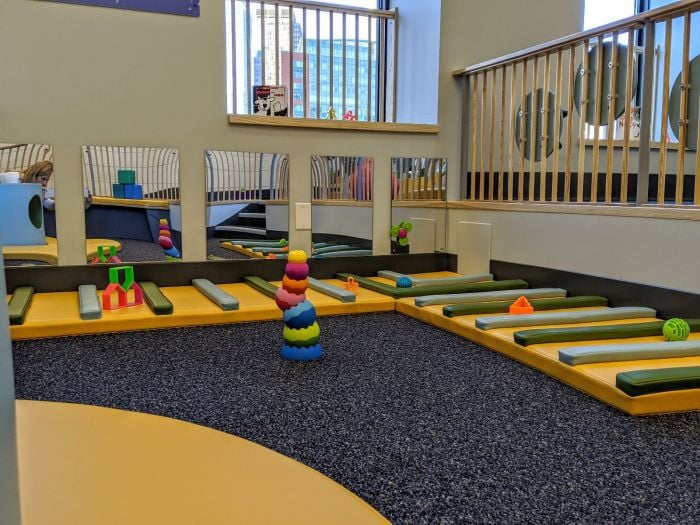 photo credit: BostonCentral
Baby Scape Area
As you enter the bright new space, the baby area (for those not yet walking/toddler free) is immediately to your left. Rich in color and soft cushiony floor mats abound to roll, stretch and crawl on; along with lots of colorful toys and interactive mirrored stations along the walls.
An easy slope and three gentle steps are two ways to navigate to the accessible second level. Parents can feel free to let their baby roam and explore in a safe and well thought-out environment.

photo credit: BostonCentral
A quick clambor up the three small stairs brings crawlers to the second level where they'll encounter more soft cushy mats, mirrored wall areas, soft blocks, colorful toys, and impressive views to the outside world.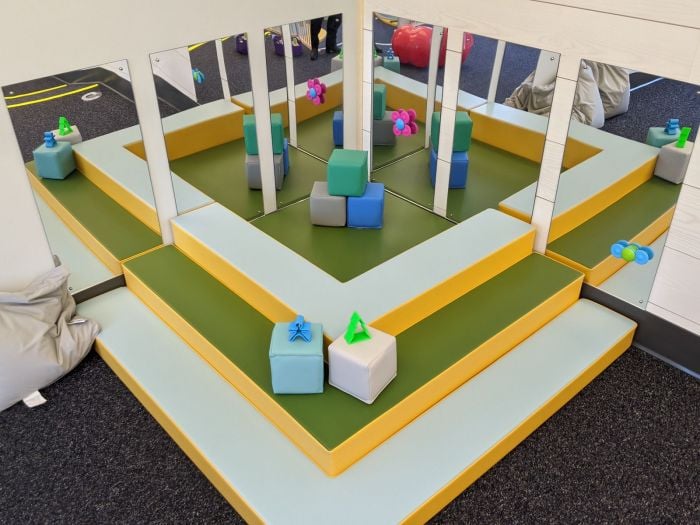 photo credit: BostonCentral
Parents & caregivers will enjoy both observing and interacting with their babies, as well as making a new friend or two as you enjoy the space together.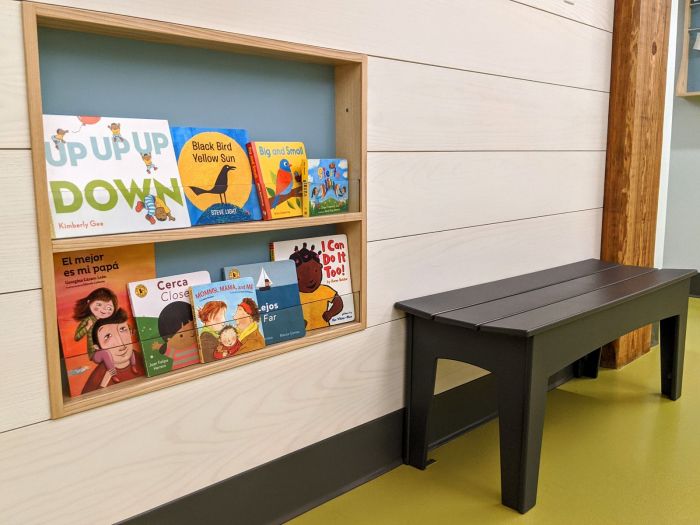 photo credit: BostonCentral


Toddler Scape - Main Space
The rest of the area is open to all - and is especially wonderful for toddlers who are ready to explore & pretend.
The main walkway is equipped with some really cool interactive stations that include colorful balls that spin round and round as you add them to an enclosed spinner;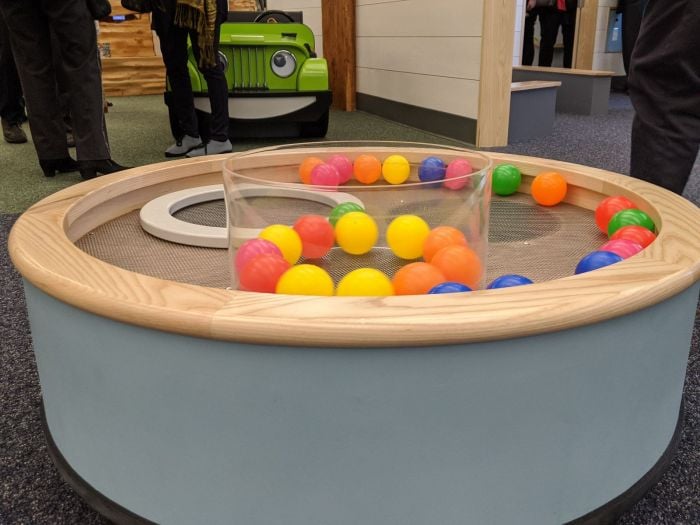 Photo credit: BostonCentral
An engaging light table with bright, colorful shapes to manipulate; and a backlit interactive pegboard invite young hands to come explore color, light and dimension;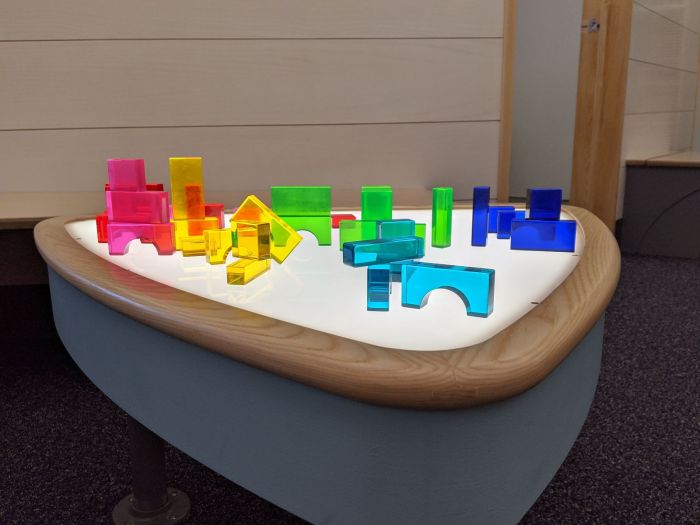 photo credit: BostonCentral
and, a station filled with colorful scarves that you send up a clear chute is super fun - blowing air sails them up and out the top. Even the grown ups will have fun.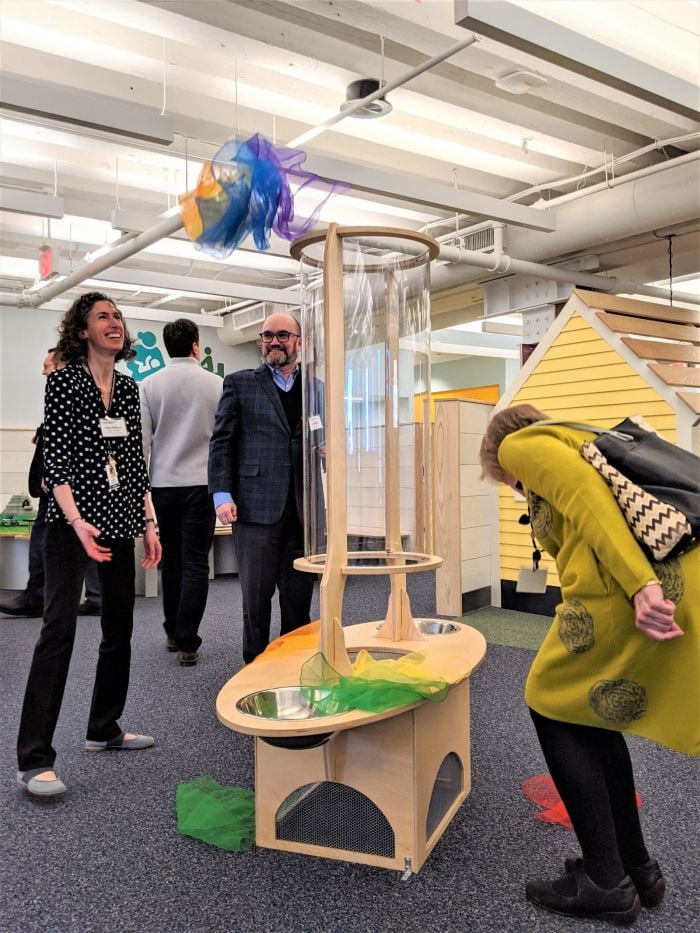 photo credit: BostonCentral
Toddler Scape - Backyard, Cave & House
To the right, of the walkway the outdoor scape features a magnificent wooden cave that has lovely suprises within (adorable dioramas of happy mouse and rabbit families), and a starry skyscape as you look up.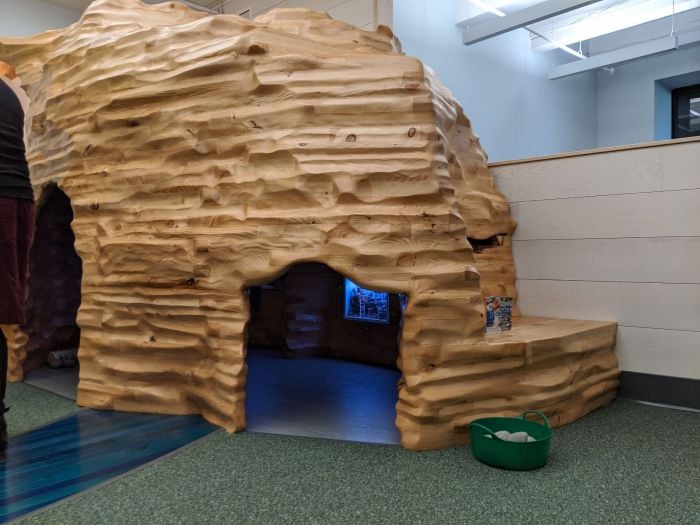 photo credit: BostonCentral
There is a toddler entrance as well as a grown up entrance - make sure you go in! This grown up really enjoyed the experience - and I know you will too.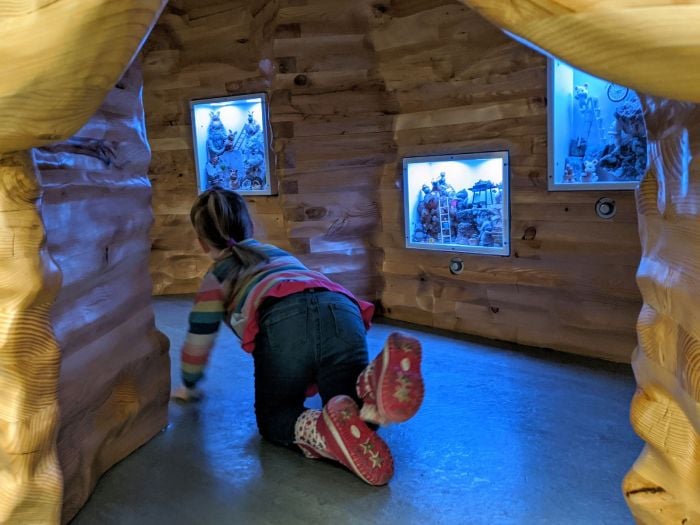 photo credit: BostonCentral
The outdoor section also includes a dress up area, with steps leading up to an owl's nest reading or lookout nook. There's a realistic hollow log with stuffed forest creatures to play with, stepping stones to help young adventurers cross the "river" in the floor, and of course, materials to make a pretend campfire togerher.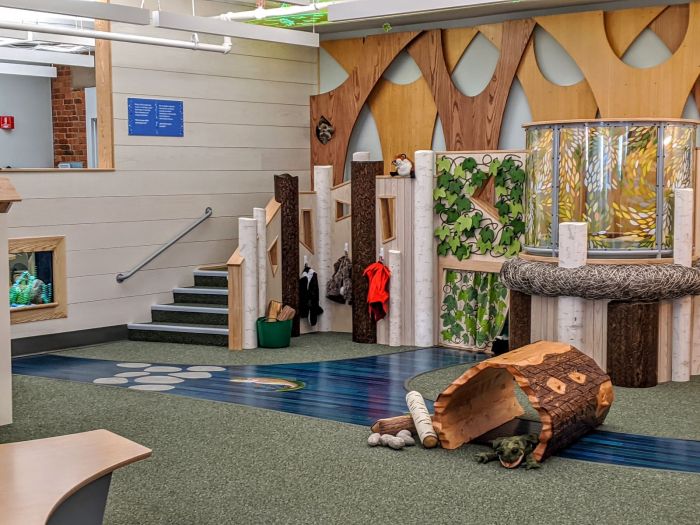 photo credit: BostonCentral
Finally, an open-designed house features a pretend kitchen and homey atmosphere - with an open beamed roof so parents can watch their little chefs and homemakers at work.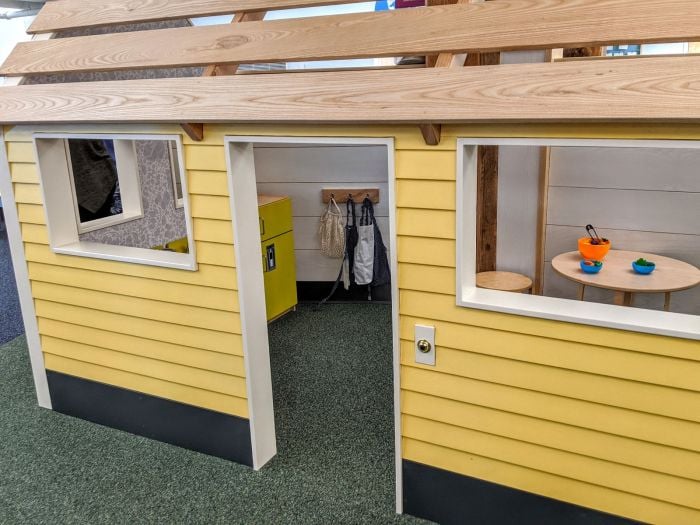 There is also plenty of room to have a seat inside, and see what sorts of culinary delights your child can prepare just for you. Have them try on an apron for a cute photo op.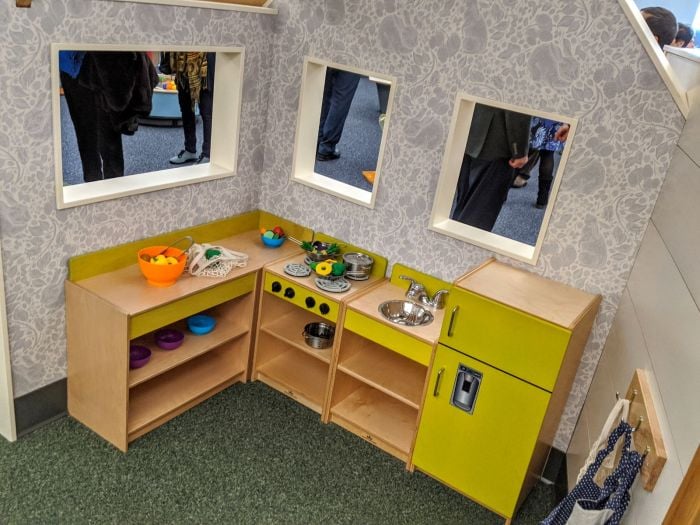 There is also an area up front with small puzzles, balls & chutes, balls & ramps, and small trucks & cars. In the spirit of cleanliness - they event have recepticles for toys that have been in a child's mouth, so they can be sanitized. Nice touch!
Toddler Scape - Climbers, Bridges & Slides
Next up, toddlers will enjoy testing their balance and clambor around the inviting space filled with unique steps with toddler height railings, ramps, rope ladders, balance bridge, and of course a slide to get back down.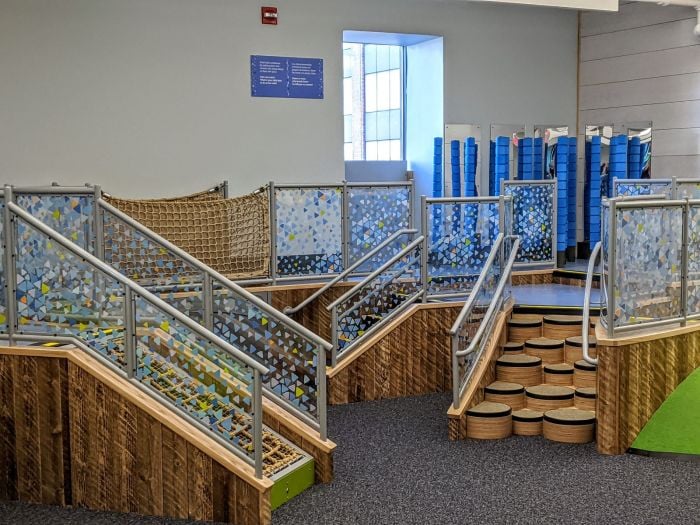 photo credit: BostonCentral
All structures are low enough to provide stability and confidence in a toddler as well as their caregivers. Each area is also equipped with a gate that can be closed upon entry if you wish to keep a better eye on your child.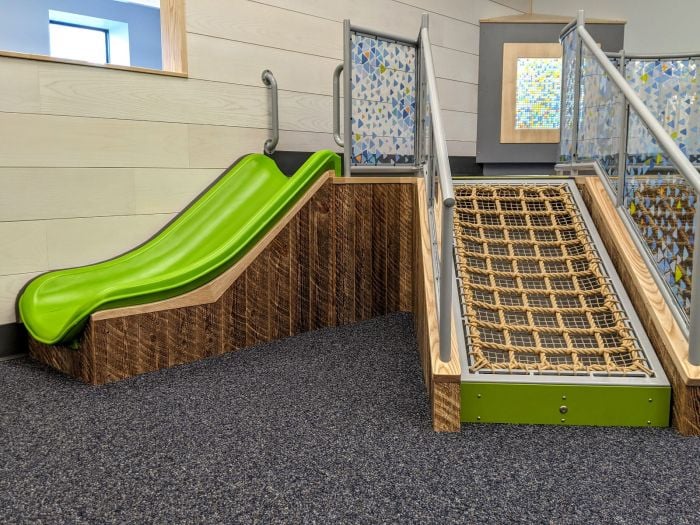 You can almost hear the laughter of young children at play. As mentioned earlier, each piece is designed especially for toddlers - small obstacles with the perfect level of challenge for even the newest of toddlers and walkers. Take a look at the super cool stairs!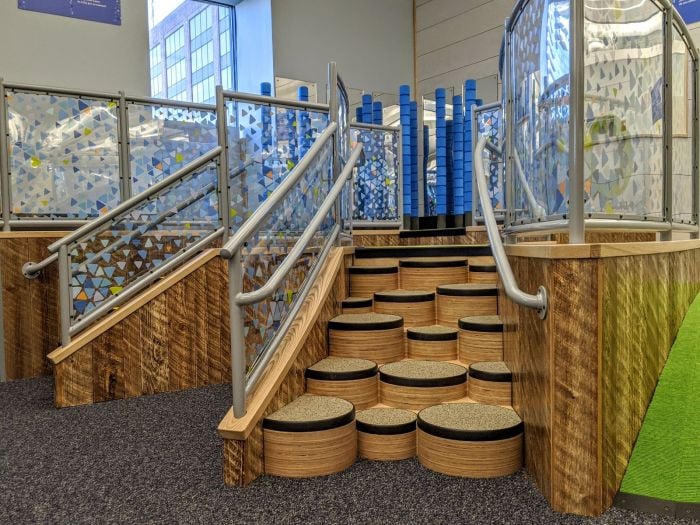 photo credit: BostonCentral
Toddler Scape - Water Play
Who doesn't love to splash and play in a water table? Bright yellow smocks are hung up on wall hooks, and available for those who wish to use them. This space features two toddler height tables filled with fun water toys, sieves and colorful objects to play with.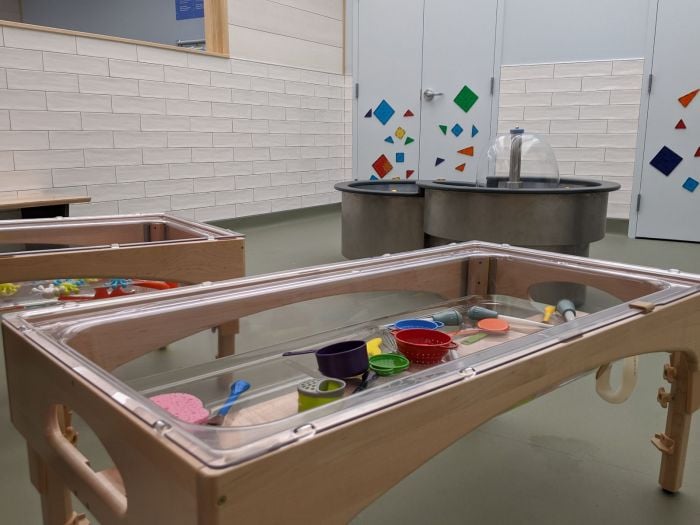 A third table features a domed water fountain that is mesmorizing to look at and even funner to play in. The velvety feel of the water running over your hands is both calming and invigorating at the same time.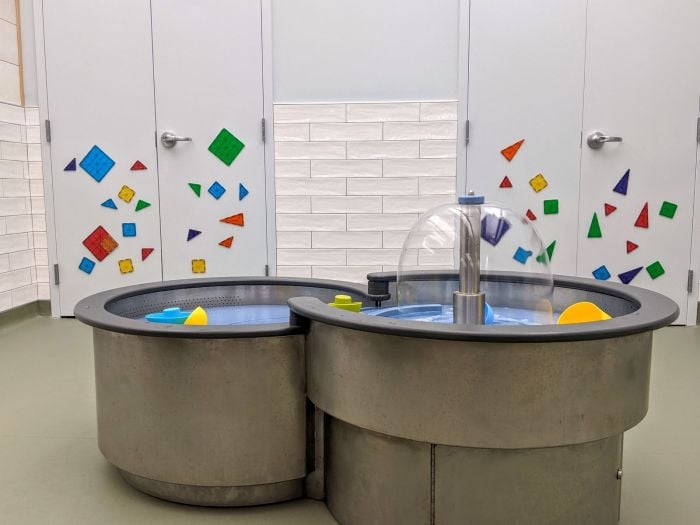 photo credit: BostonCentral
Adorning the magnetic walls are loads of magna-tiles for manipulating into geometric 2-dimenstional shapes and structures.
A Very Cool Train Table
One of the coolest and most unique train tables we have ever seen, this one includes terraced mountains and ponds along with bridges and tracks encouraging the imagination in the land of pretend.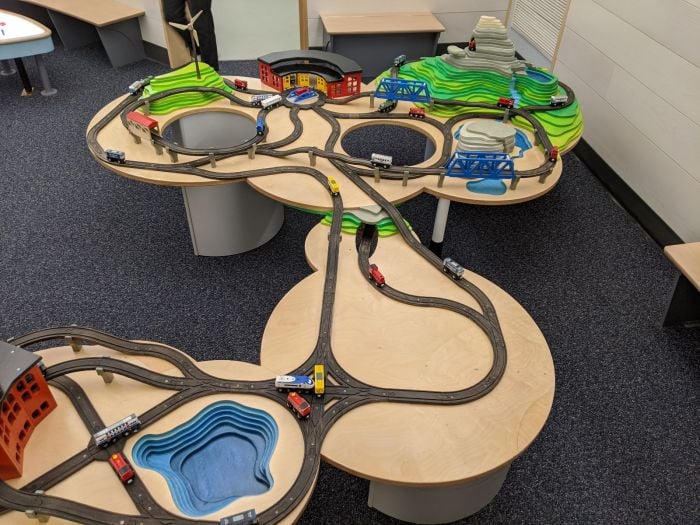 photo credit: BostonCentral
The train table is designed for maximum interactive space so many children can enjoy a chance to play together at the same time. I like the 2 porthole cutouts inside the table so tots can crawl under and play from within the table for a whole different experience..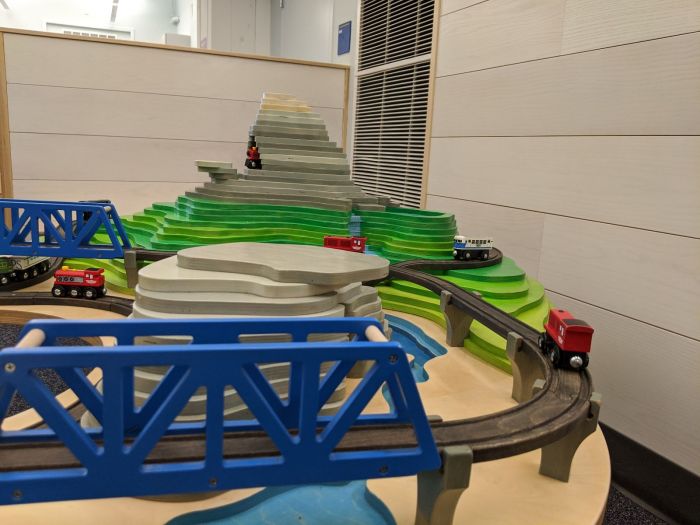 Just off to the right, you'll find a handy kitchen and snack area with just-right toddler-sized tables, high chairs, and a functional kitchen space equipped with 2 microwaves, a sink, a small refrigerator and a dishwasher.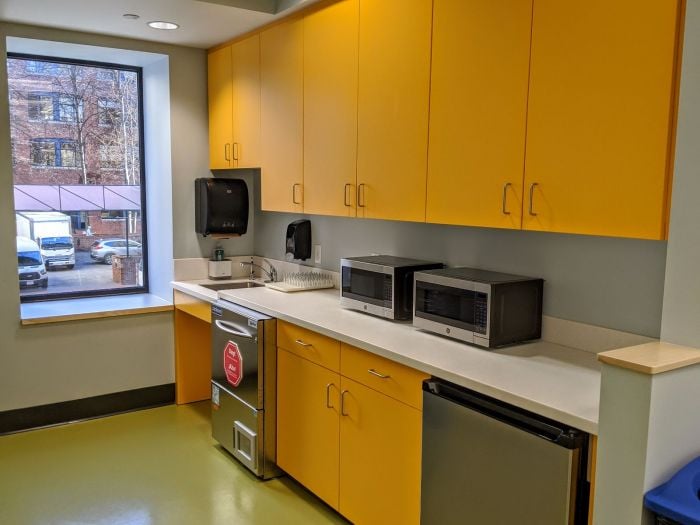 There is no food or drink allowed 'within' the placespace - but you can come in here and enjoy a quick snack. The walls have fun shadow boxes filled with toys and colorful balls - as well as a relaxing fish tank.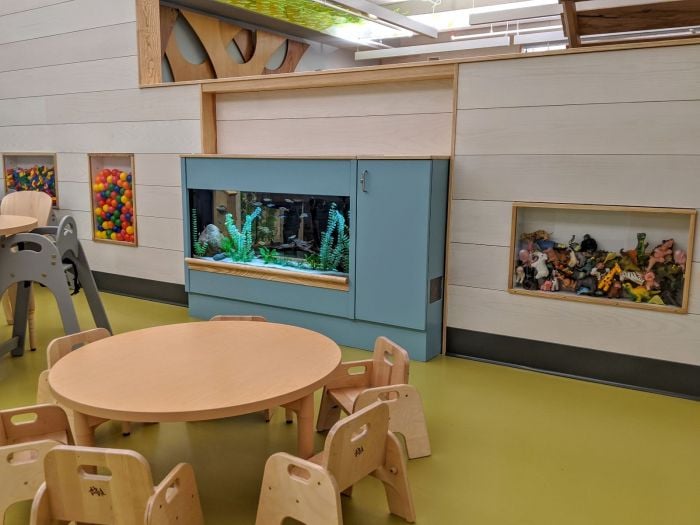 Also available in this area is a restroom, diaper changing area and sitting bench. Convenient charging stations can be found along the walls that include cushioned seating, reading nooks, a toddler height fish tank and more.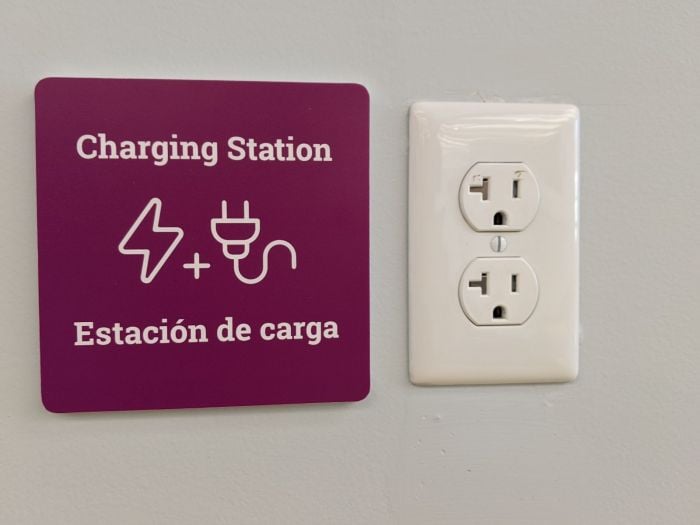 photo credit: BostonCentral
Overall
This newly imagined space is amazing. It most definitely encourages open play, exploration and wonder. It's big and open enough that it doesn't feel clausterphobic - yet small enough where you won't feel panicked that you can't find your kid. Each area is it's own section - with one designated for babies only. In a phrase - it's "just right".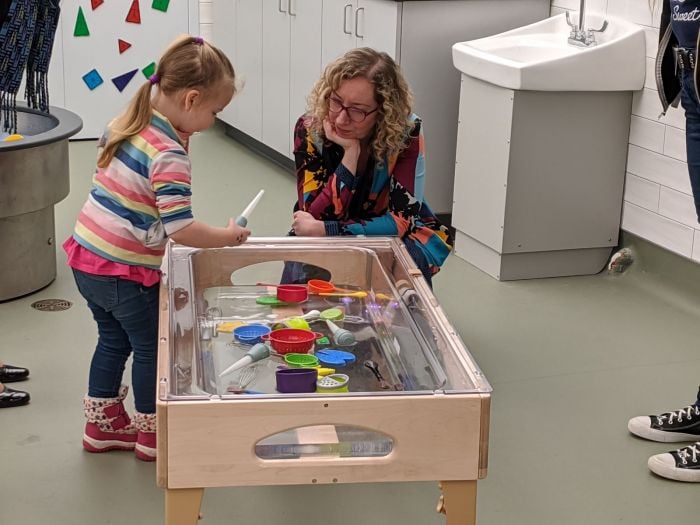 The open feel of the space is highlighted with large windows and stunning views of the Boston skyline, the Fort Point Channel and Martin's Park. It's as if it was designed for happiness. On nice days - you can take advantage of the playspace as well as the wonderful amenities that await you outside.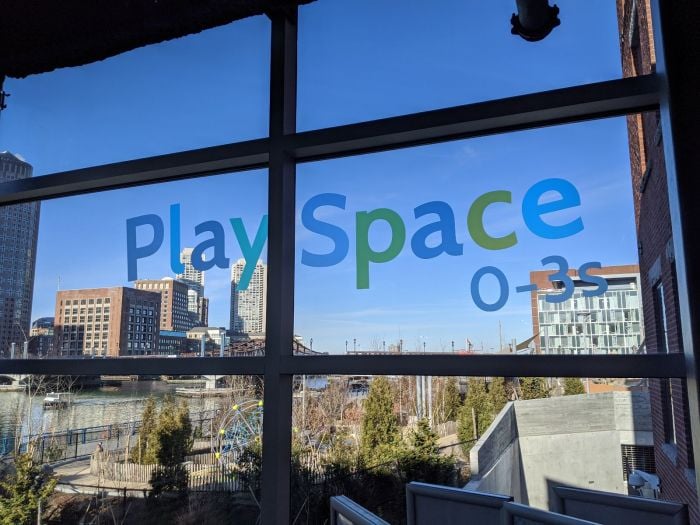 photo credit: BostonCentral
There is more than enough for kids to see & explore for quite awhile. Parents will really enjoy being here too. It certainly made me want to play and see the world like a child again. Well done!
The Boston Children's Museum is just one of many amazing Boston Museums. A visit to each one will reveal it's very own adventure every time.
For more great ideas about more playspaces in Boston, or on things to do in Boston with kids, visit our popular guide to family fun with the family. And to stay in-the-know about family-friendly events and happenings in Greater Boston, join the fun and subscribe to our free weekly events newsletter!
Boston Children's Museum
308 Congress Street
Boston, MA 02210