View Boston: Prudential Center's Observation Deck
Enjoy Some of the Best Boston Views at the Top of The Pru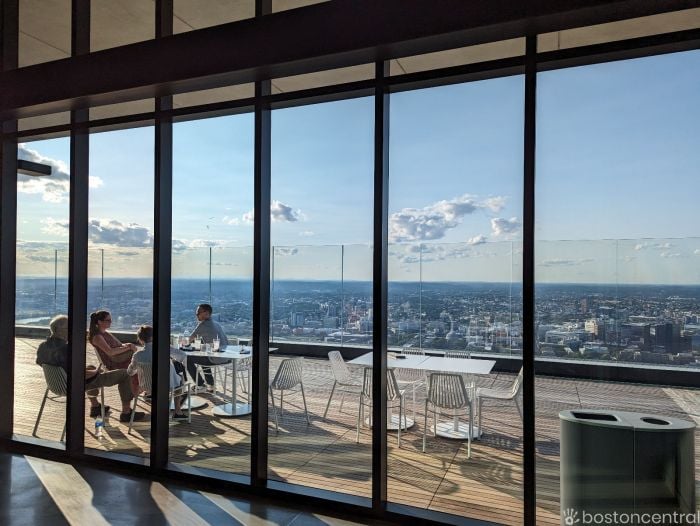 View Boston is a 360° observation deck offering breathtaking views of Boston atop one of the tallest buildings in New England. Whether your are new to the area or a seasoned local, you'll enjoy discovering historic venues from a brand new birds-eye vantage point.
The 52nd floor: Upon arrival at View Boston's entrance inside the Prudential Center mall, visitors will take dedicated elevators up to an indoor observatory on the top floor with panoramic views.
The 51st floor: One floor down is a wraparound outdoor roof deck, plus an indoor/outdoor cocktail bar with drinks and small plates.
The 50th floor: The final stop includes an array of interactive exhibits, including a projection-mapped 3D model of Boston and an "immersive theater" with a 270-degree screen.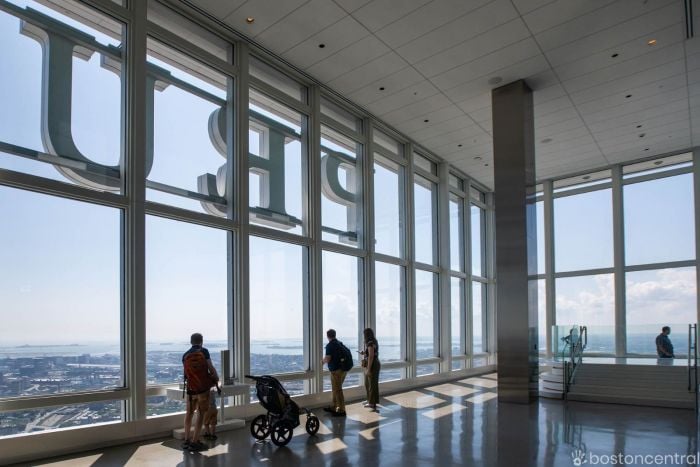 View Boston's three story 360 degree observation deck offers spectacular views from high above the heart of Boston at Prudential Center. The venue, that opened to the public June 15, 2023, occupies the 50th, 51st, and 52nd floors of the iconic skyscraper.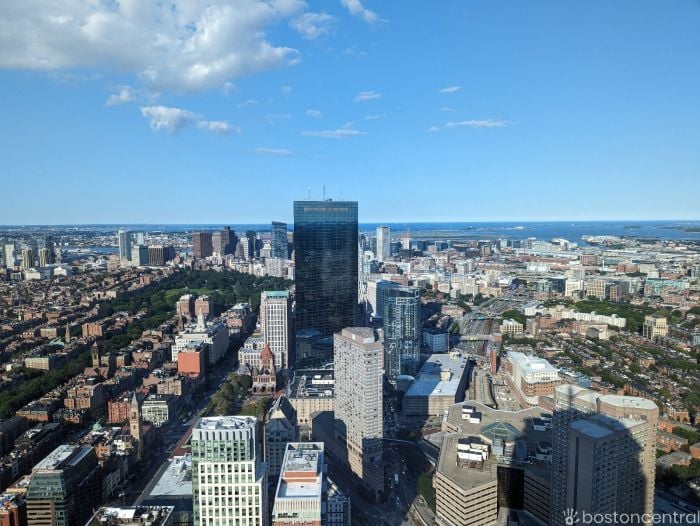 Once home to 'the Skywalk' and 'Top of the Hub', the redesigned space includes impressive panoramic views, photo ops, interactive exhibits, video presentations, a bar, outdoor seating, and a restaurant serving new American cuisine.
The View Boston entrance is located inside the Prudential Center near Eataly and the South Garden. Visitors can purchase timed-tickets in advance or at the ticket booth.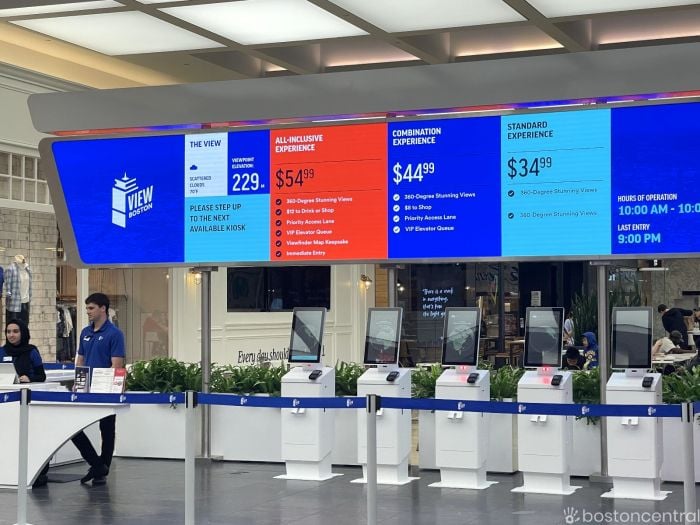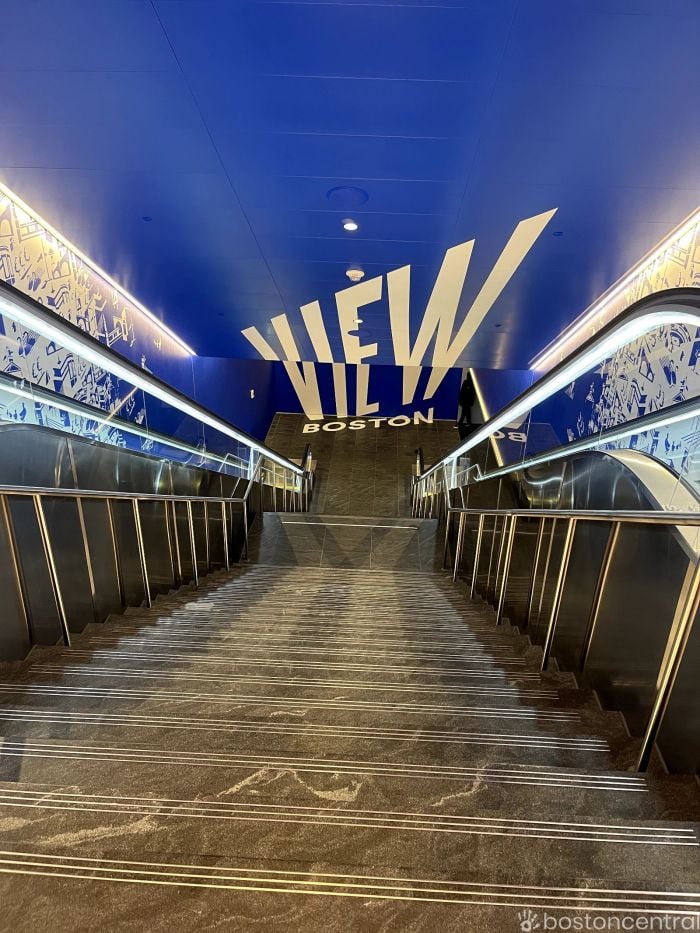 Once you get your ticket and pass through security you will walk through a series of queues and escalators to an elevator bank where you will be transported to the top of the Pru for your View Boston Experience to begin.
You are free to stroll around the deck taking in views of the four main vistas of the city.
Can you locate Fenway Park? Boston Harbor? The South End? Boston University? The airport!?
There's a lot to observe and take in - so take your time - take lots of pictures and enjoy the view!
Boston is a pretty incredible city with many unique neighborhoods and things to do..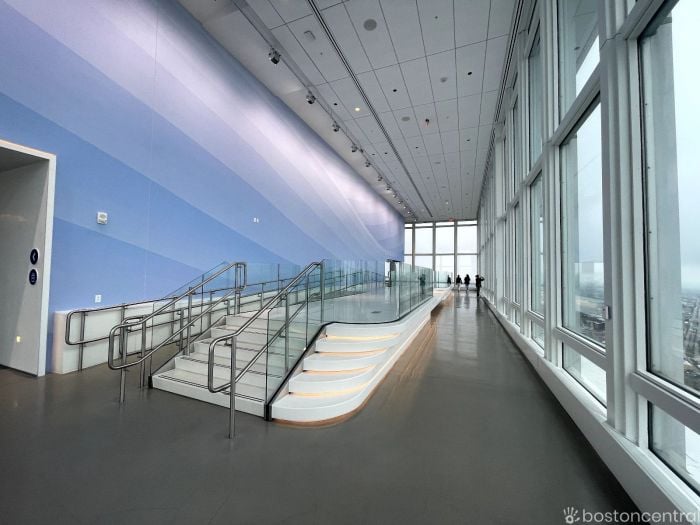 As pictured above, the 360 degree observation deck leads to an elevated platform known as The Lookout. This area features Virtual Viewers that will zoom in on specific neighborhoods in Boston to provide additional info about each area.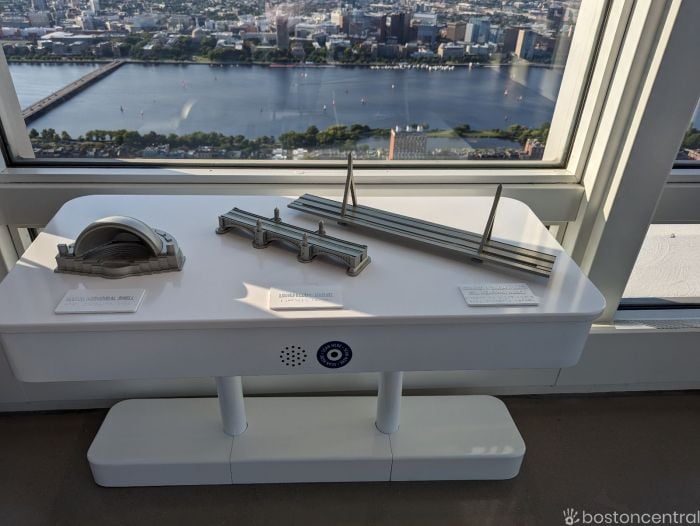 View Boston designed the statues of landmarks like MIT, Trinity Church, and Fenway Park in collaboration with Perkins School for the Blind, allowing visually impaired visitors to touch and explore these iconic sites.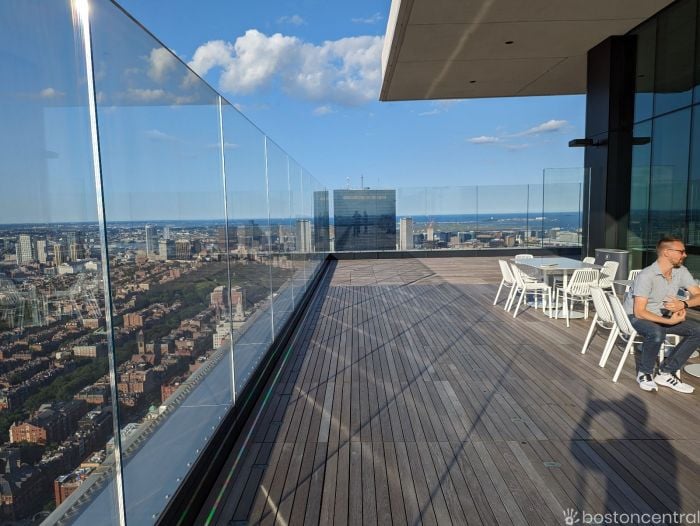 Featuring a 360-degree open air roof deck on the 52nd floor, the Cloud Terrace definitely features plenty of photo opportunities. However, as you can see below, cloudy days aren't the best, but you can still see the sights.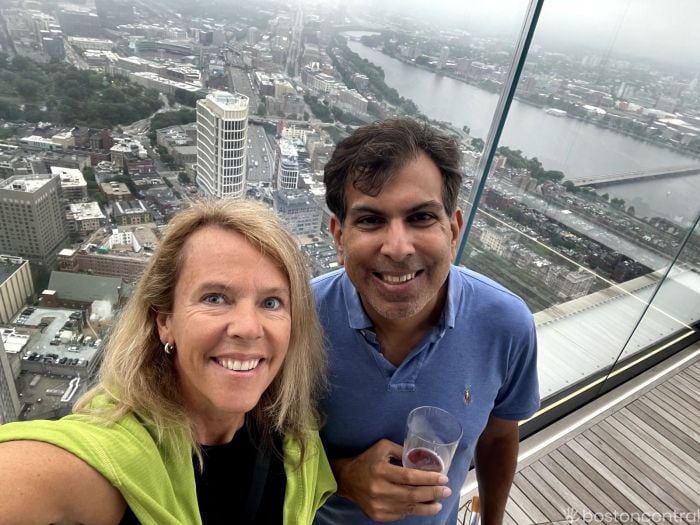 Clearer days provide some pretty amazing views of many parts of the city. It's fun to see how many popular venues you can identify from this high up. Below you can see Longfellow Bridge and Community Boating, along with the Museum of Science.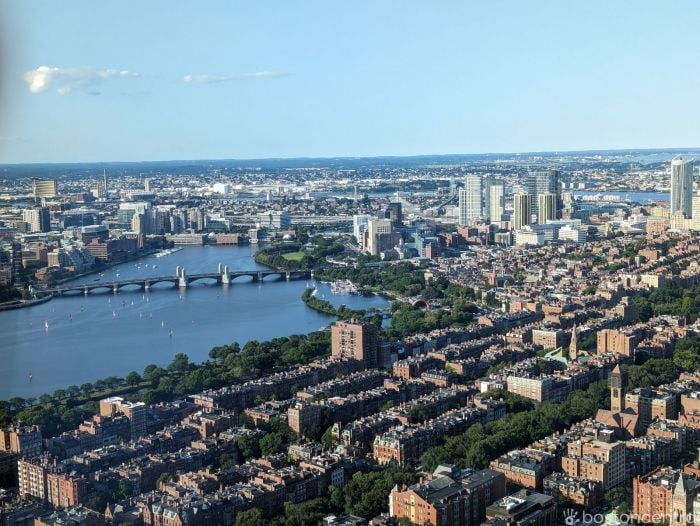 This side of the terrace shows off good ol' Fenway Park. Go Sox!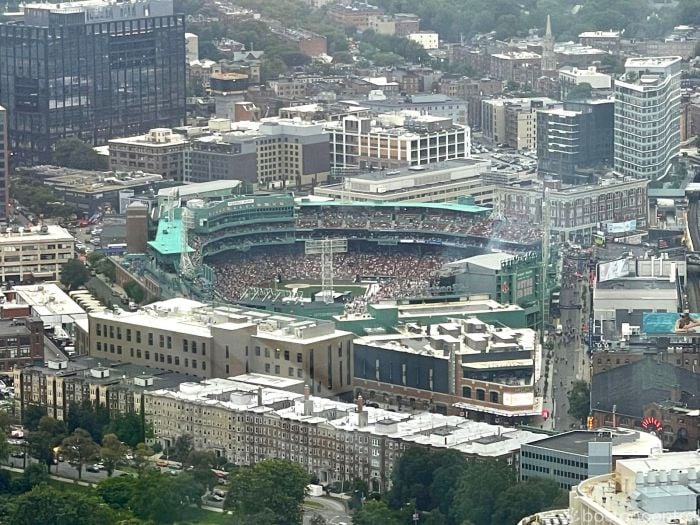 It's particularly interesting to to see how the city blocks are laid out in the various neighborhoods. You can spend lots of time just figuring out where places are from this very different vantage point. We found ourselves saying "wait, now what's that over there!?" a number of times.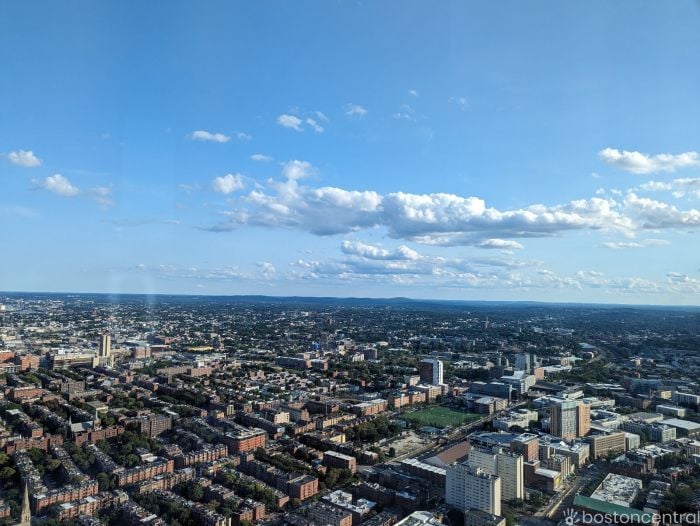 Keeping with the Cloud Terrace's theme, visitors can opt to dine at an indoor/outdoor cocktail lounge called Stratus. Stratus features seasonal drink menus, signature cocktails, local beers, and shareable small plates.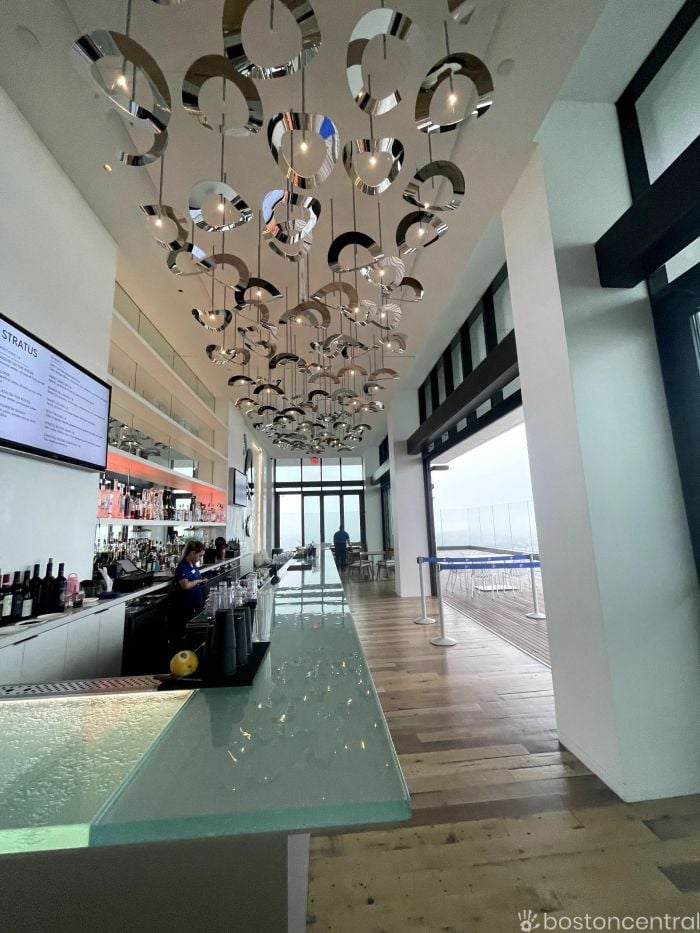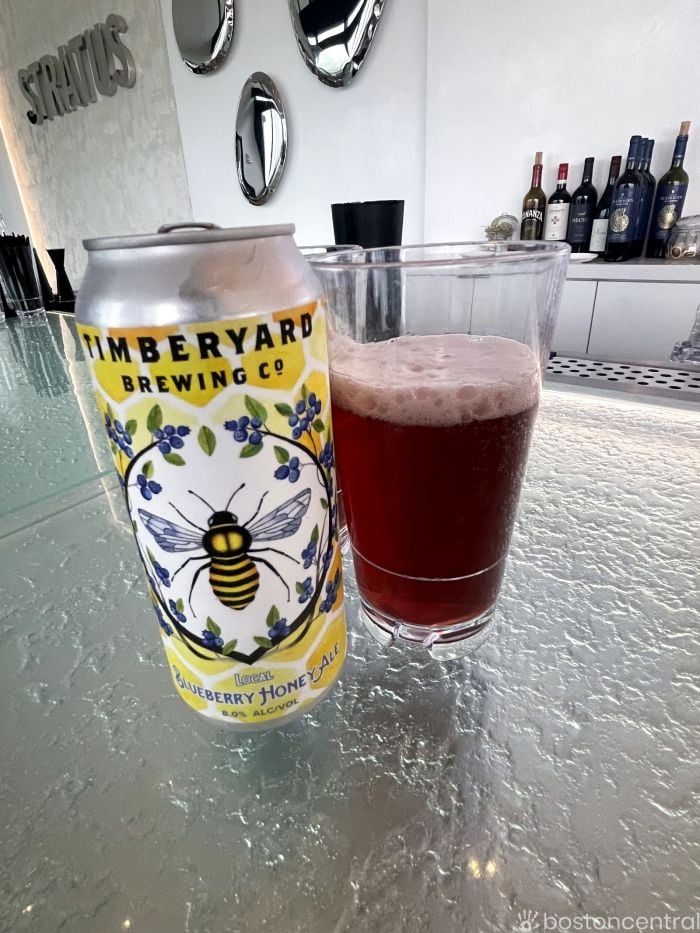 In the Stratus bar area, you'll find an area with indoor/outdoor seating and inviting couches where you can sit back and relax as you take in the breathtaking views.
After visiting, the Cloud Terrace and Stratus, head down 1 flight to the 50th floor, known as The City, which includes a hub of interactive exhibits, including:
Boston 365, a 3-dimensional model of the city


Explore Boston, an interactive neighborhood discovery tool that lets guests find attractions tailored to their personal interests


An immersive theater with a 270-degree screen that plays a short film offering behind-the-scenes perspectives of the city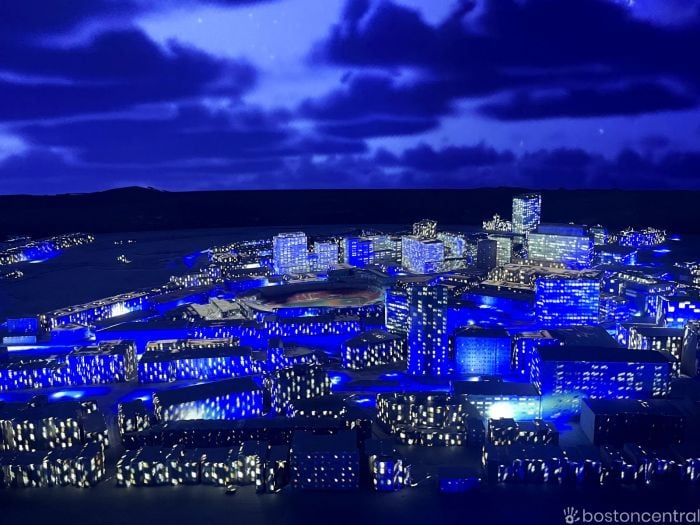 In Boston 365, visitors will enjoy a huge 3D model of Boston created in minute detail stands on display. In addition to an engaging display of 'sunrise to night lighting' over the model city. It's a really cool display that you may want to watch more than once.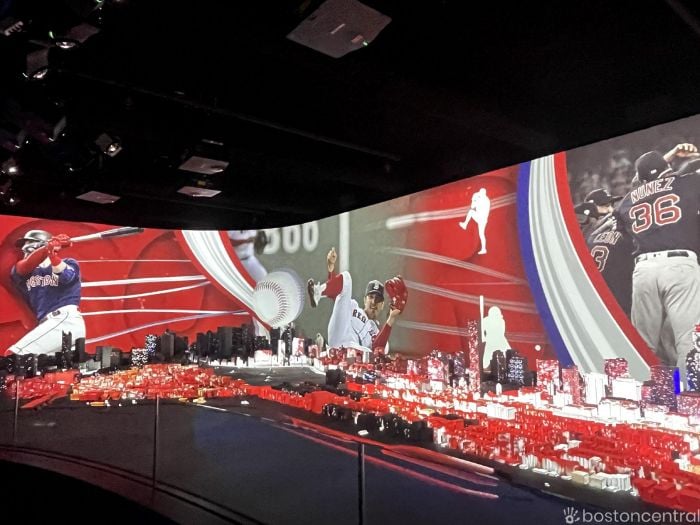 In addition, a rotation of videos featuring events like the Boston Marathon and memorable sports moments play in the background, while various landmarks light up. It's pretty cool and can certainly sweep you up in the Boston spirit whether you are from here or not.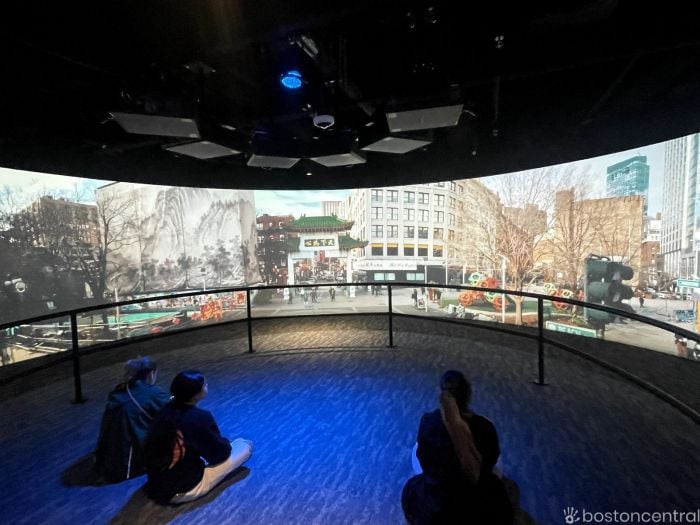 The immersive theatre plays on a continuous loop highlighting some of Boston's most iconic scenes and venues. Visitors can stand or take a seat on the carpeted floor.
In the attraction's final room, Explore Boston (especially nifty for tourists), is an interactive neighborhood discovery tool that lets guests find attractions tailored to your personal interests. You can learn about activities that you might be interested in checking out.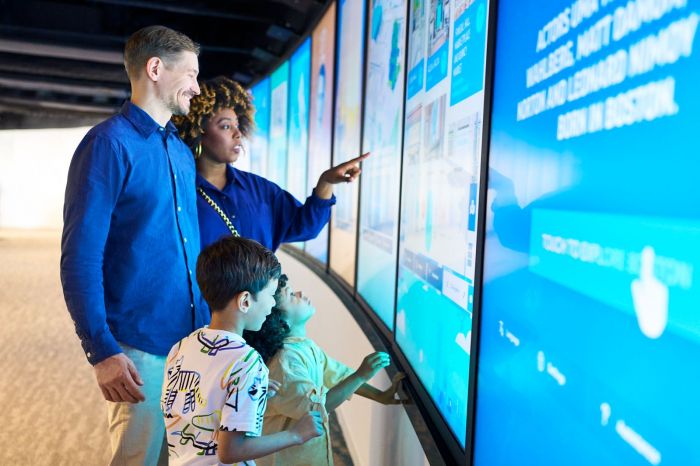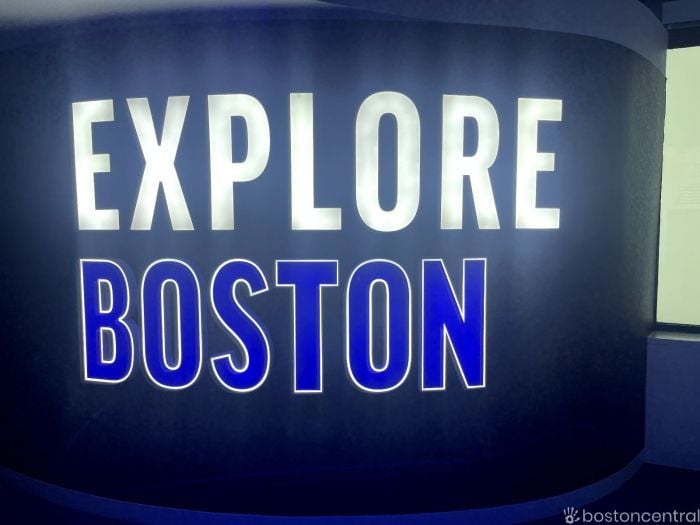 Simply scan your ticket; enter the length of your stay in Boston; and a screen will compile all the sites you've scanned creating a personalized itinerary for you for when you return to street level.
Of course, no attraction would be complete without a gift shop. Yes, you can buy stuff up here to commemorate your pricey visit in the sky. You can also grab a cold beverage from the vending.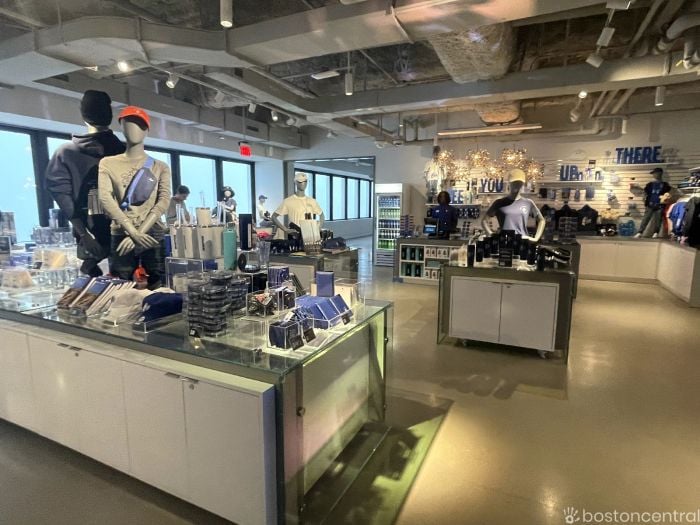 The Beacon Restaurant
Featuring The Beacon, a restaurant on the 50th floor; the bistro features 33 miles of breathtaking views, a 22-seat window facing bar and seasonal beverages and bites. Certain ticket packages include this dining experience. (Otherwise, separate paid admissions are required to access the restaurant for a la carte dining).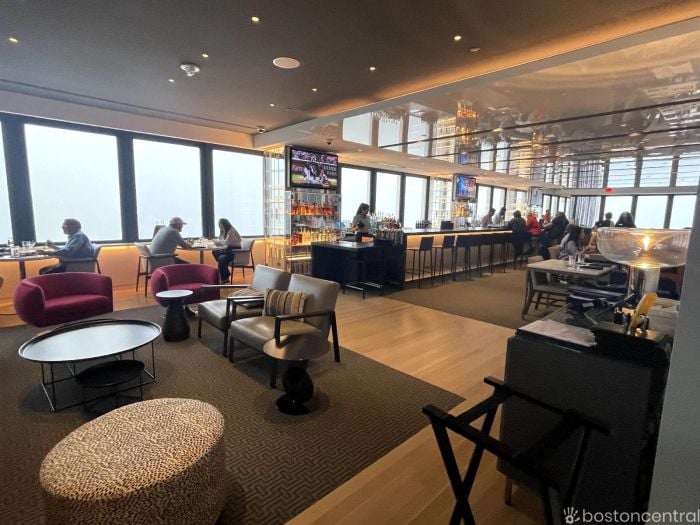 Overall, View Boston offers some pretty spectacular views of the city. On clear days you can see as far as the airport, and the Boston Harbor Islands.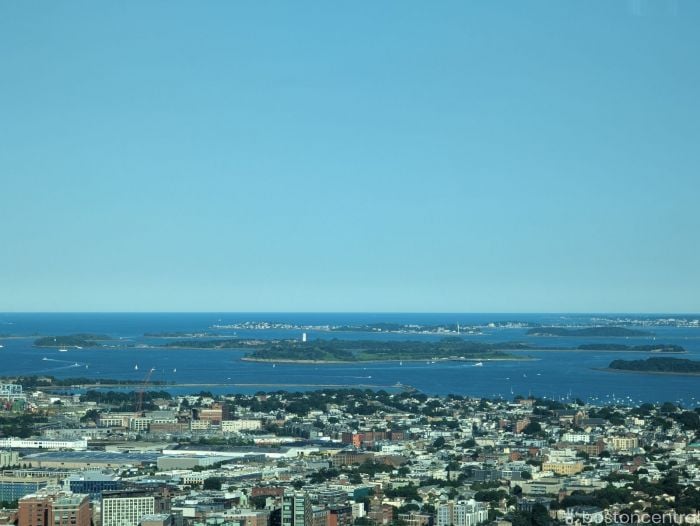 However, not all days are great for spectacular views....
Insider Tip: Be sure to check the weather for clear skies! We've visited several times, once with brilliant blue skies, and another when an unfortunate fog bank blew in (see photo below). I'm here to tell you that a clear forecast is the way to go, as there are no refunds.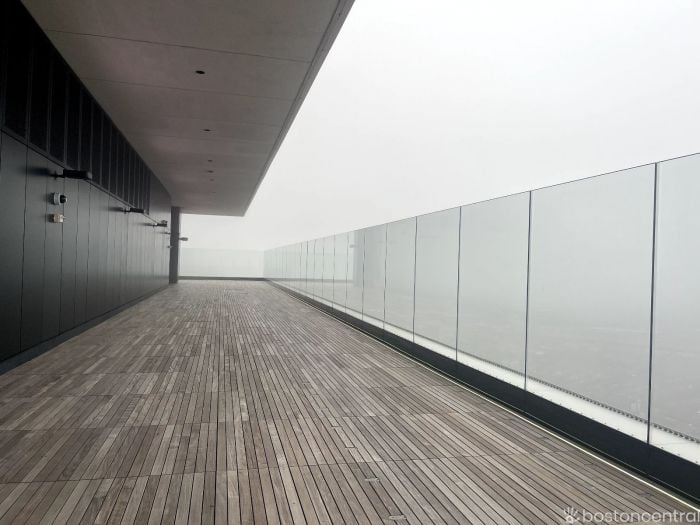 In a nutshell, cloudy and foggy days are to be avoided. As you can see above - there is nothing to see but white when The Pru is enshrouded in clouds. Do your best to visit on a clear day (as seen below) and your views will be spectacular.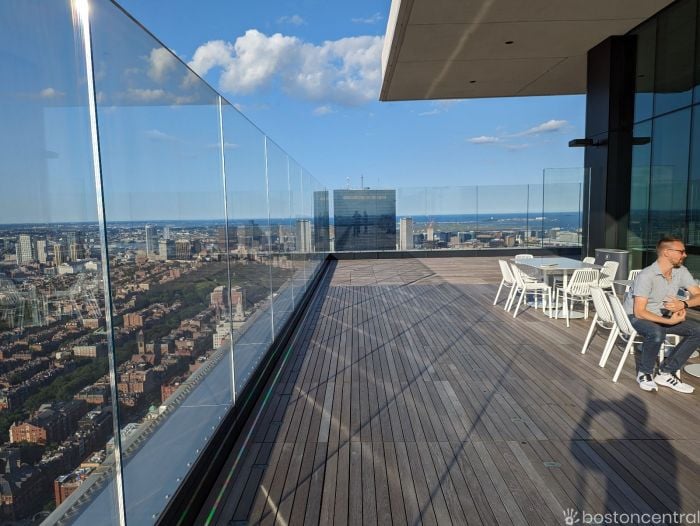 Admission & Pricing

Tickets start at around $30 for general admission, but can range up to $150 for a window table reservation, food and drink. They can be purchased online or in-person at the Pru.
For tourists, and first-timer locals alike, the View Boston ticket prices are a bit steep in our opinion - but perhaps it's worth it for a one-time memorable experience.
View Boston at Prudential Center
800 Boylston Street
Boston MA 02199
10:00 AM - 10:00 PM
For more ideas about things to do in Boston, visit our insider guides and our Boston events calendar to stay in the know. Another option for great views of the city is the Marriott Customs House over near the Rose Kennedy Greenway about a block from the Aquarium.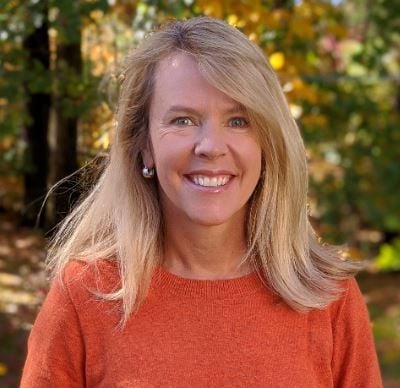 Stacey Sao has been the Managing Director of the family-friendly events and activities website, BostonCentral for over 20 years. She continues to enjoy discovering and exploring new places to visit in the Greater Boston area.