Museum of Fine Arts, Boston (MFA)
Other Ideas:
Boston Museum of Science
;
Paul Revere House
;
Concord Museum
;
Children's Museum & Theatre of Maine
;
New Bedford Whaling Museum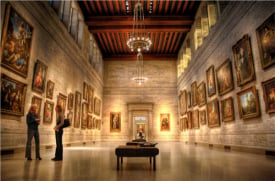 The Museum of Fine Arts (MFA) is an elegant and impressive space filled with captivating masterpieces from around the world. The museum offers several hands-on art and drop-in programs for families and children.
The MFA is one of the most comprehensive art museums in the world; the collection encompasses nearly 450,000 works of art. The museum welcomes more than one million visitors each year to experience art from ancient Egyptian to contemporary, special exhibitions, and innovative educational programs.
This museum is quite family friendly, with changing tables in most ladies rooms and a nursing room just outside the Lane Gallery of 20th Century Art.
Guide to Visiting the Museum with Kids
. Most of the museum is relatively child proof, with most exhibits in protective casings or well out of reach of little hands.
The New MFA
The New MFA comprises a new wing for Art of the Americas; renovated art of Europe galleries; improved conservation and education facilities;The Linde Family Wing devoted entirely to contemporary art; and a new, larger public space—the Ruth and Carl J. Shapiro Family Courtyard.
The original MFA opened its doors to the public on July 4, 1876, the nation's centennial. Built in Copley Square, the MFA was then home to 5,600 works of art. Over the next several years, the collection and number of visitors grew exponentially, and in 1909 the Museum moved to its current home on Huntington Avenue.
The Boston MFA is closed on New Year's Day, Patriot's Day, Independence Day, Thanksgiving, and Christmas.
Other attraction that are between 7-15 minutes away include
Quincy Market
,
Old North Church
,
Boston Children's Museum
,
The Institute of Contemporary Arts
(ICA)
Boston Tea Party Ship & Museum
,
The USS Constitution
,
Boston Public Garden
,The
Boston State House
,
The Museum of Fine Arts
, and
Fenway Park
.
Find lots more ideas on
fun things to do with the family in Boston
.
---
Monday and Tuesday 10:00 am - 4:45 pm
Wednesday and Thursday 10:00 am - 9:45 pm
Saturday and Sunday 10:00 am - 4:45 pm
West wing only: Thursday and Friday 5:00 pm to 9:45 am
See more info on Museum hours
---
Adults $25
Seniors (65+) $23
Students (18+) $23
Youths 7–17* FREE on Weekdays after 3 pm, weekends, and Boston public school holidays; otherwise $10.
Children 6 and under FREE

Wed. after 4:00 p.m.: voluntary contribution.
Entrance fees include 2 visits within a ten-day period.
---
Visiting the New Art of the Americas Wing


Enter at the Huntington or State Street Corporation Fenway Entrance; a valid membership card or ticket is required for admission. Head for the Sharf Visitor Center to pick up a map, get information, or meet a tour.


Take a moment to orient yourself and begin your journey through the galleries from the Shapiro Family Courtyard.


The wing tells the story of the art of the Americas from the indigenous cultures of the Ancient Americas through the third quarter of the 20th century. The 53 galleries are organized according to culture, period, region, style, artist, maker, and theme.


You can journey through time, from the first millennium BC—the date of the earliest art on Level LG (Lower Ground)—to the 20th century on Level 3, on the top floor.


If your time is limited you can enjoy a "broad brush" introduction to the wing by visiting just the central galleries on each floor. Or you can explore an artist, period, or style in greater depth in many other galleries and period rooms.
| | | |
| --- | --- | --- |
| Facebook Comments | | Top |
---
| | | |
| --- | --- | --- |
| Reviews by Grown-ups & Parents | | Top |
---

MFA
I have been going to the MFA for forty years off and on. When I was younger and single it was always a very pleasent experience. As I grew up even more spectaclar with my maturity. We have children whom we take on free days and and days where paid admission is required especially for featured exhibits. The MFA is truly a world class museum. I read these reviews from folks who receive free admissions for themselves and their whole family and they complain. Well don't go again. We faithful patrons will enjoy it without the freeloading complainers.

MFA OPEN HOUSE AND TAHITIAN GARDEN PARTY
While a trip to the MFA is always a pleasure, this open house was not. The tickets for the Tahitian exhibit seem to have been given to a select group. We arrived and tried to get tickets and were told all were sold out, but others arrived after us and were given tickets. No cricket.

Not So Open Openhouse
We arrived at 2:00 for this free event and not only was the Gaugin exhibit sold out, the primary reason for coming, but we had to pay $17.50 for parking. It turned out to be a not so free, not so open house. We made the most of it.

Free Admission Was Nice But Kids Did Not Enjoy It.
I took my three youngsters and husband to the MFA on Memorial Day for the free admisision, Tahitian dancers, the Tahitian party, and what we thought was going to be a free look at the Gaugin exhibit, according to the write-up on BostonCentral.com. We were disappointed that the exhibit was NOT in fact free, as as a matter of fact was sold out before we arrived. However, free admission into the rest of the museum made up for that. We attempted to see the dancers but the space was so narrow that we could not get close enough to see anything at all. I thought that there would be actual hands-on activities and projects for the kids to do but there was only an activity pack available that did not interest the kids much. They would only give out one per adult and since my husband was off with the baby looking at art, they would only give me one pack for my two older children to share. The workers giving out the activity packs were slow and too busy chatting with each other. The activities basically consisted of cards with art work shown on them and the idea was to find the pieces in the museum. My kids were bored with it. They did however include a small pad of paper and some colored pencils, so that gave the kids something to do (at least for a little while). We did not attend the Tahitian Party as my husband thought it would end up being a disappointment, which I guess it was. Because there was not enough to interest the kids, they eventually got unruly and we had to leave.

Tahitian Garden Party Turned Fleet Promo, NOT A PARTY Review
I'd been looking forward to a Tahitian Garden Party all week. My daughters dressed up in flowery dresses, and we sat out for Boston's MFA. Everything was so packed that it was hard to move. I walked up to the activity pack table, stood in line fifteen minutes and once at the head of the line, stood there five minutes before anyone switched to English and told me what was going on. They weren't busy with other people, they just weren't attentive. During that time waiting, I had a chance to watch the other kids and parents in the rotunda with the activity packs, who looked bored. The extent of the gallery activities appeared to be limited to a small piece of paper and a pencil. Nothing that would fly by my kids, so I declined on the activity pack and asked where the garden party was. It wasn't for a while, so we went to another garden to look at the fountain that wasn't running, but had space for kids to walk around in circles. There was a dancer inside nearby, but the space she was performing in was inaccessible to most, despite the crowd of people peering in the window from the ledge, or crowding the stair at the back of the room, trying to see. Hands on Exhibits for kids meant a pencil and a swatch of paper are allowed in the gallery. The write up of the event included a free admission to the Gaugin exhibit, but that was a separate ticket I would have known to get if I hadn't read it was a part of the kids garden party. Getting a ticket meant waiting several hours which children don't do. The so-called 'party' was no party. It was a Fleet promo. There wasn't any thing but a few minutes of dancers, a *long* announcement of Fleet's give-away trip to Tahiti, and then more of the same. Stand in line fifteen more minutes if you want some cookies and juice. Nothing. No party. The tent was tantalizing, but there was nothing inside. No flower leis for the girls, or making of anything. I couldn't think of a better way to avoid having fun. I took my young children who love art and music and dance, and we kept waiting to see if anything good was going to happen. We waited several times in lines for hopes that something would be worth our attention. We eventually gave up and left for a park to play in. I never thought that I could go to the MFA in Boston and feel like I'd been spoiled in smaller and more rural museums.
| | |
| --- | --- |
| Related Links | Top |
---
We make best efforts to update information, but it changes frequently, so we cannot warrant it. Please call to check Museum of Fine Arts, Boston (MFA) schedules, fees, and directions before making the trek. We help you, please help us. Report an Error if you find one.