Discovery Museum
Other Ideas:
Old State House Museum
;
Museum of Science, Boston
;
MIT Museum
;
Louisa May Alcott's Orchard House - Home of the Alcotts
;
Boston Tea Party Ship & Museum (for kids and adults)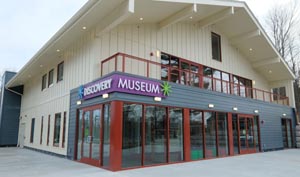 The expanded and completely renovated museum has twice the exhibit space of the original museum and includes significant new galleries for STEAM (Science, Technology, Engineering, Art, and Math) experiences including water; air; tinkering, design, and engineering; early brain development; math; light and color; and sound.
It also includes re-imagined visitor favorites from the original buildings including a Diner, Train Room, and Ship Room, along with other beloved exhibit components such as a giant amethyst and radar magnet.
In keeping with museum pedagogy, all exhibits are hands-on, low-tech, open-ended, and interactive, to encourage play, exploration, and experimentation by all.
Read our photo-journal write-up about Discovery Museum here
Signature new museum exhibits include:
da Vinci Workshop
– Using recycled materials, off-the-shelf supplies, and tools and technology ranging from saws and hammers to circuits and robotics, visitors can use tools, tinker, design, build, and invent like the artist, scientist, engineer, and inventor Leonardo da Vinci. A vertical airstream allows experimentation with aerodynamics principles and engineering flying and hovering prototypes.
Brain Building Together
– A dedicated space for children aged birth through three and their parents and caregivers, this exhibit was designed based on the latest in early brain development research to support playing, exploring, and experimenting.
Simple Machines Gallery
– Visitors explore balls, ramps, gears and cogs, inclined planes, screws, and pulleys to see and feel how these simple machines use mechanical advantage to accomplish a task. Children can create and set off a chain reaction and use gears to flap the wings of the giant da Vinci ornithopter—an aircraft that flies by flapping its wings—overhead.
Sound Gallery
– The amazing properties of sound become visible and hands-on for all. Visitors will explore and experience sound by seeing, hearing and feeling waves and physical vibrations.
Yes, It's Math!
– This gallery of fun, hands-on activities uses real world, visual interpretations of math concepts to show that math is all around us, every day, and we are naturally good at it.
A-Mazing Airways
– This 13'-foot-tall interactive pneumatic sculpture of tubes and blowers allows visitors to test and demonstrate the incredible power of air. It is the only free-standing exhibit of its kind in North America.
Water Gallery
– Laminar Flow, Double Open Vortex, Morphable Stream, the Coanda Effect—the fascinating scientific principles of water are pure, wet fun through hands-on experimentation in this all-new exhibit.
Light & Color Gallery
– This visitor-favorite exhibit on the properties of and relationship between light and color has been reimagined and recreated using LED technology to be more vividly engaging for all.
Bessie's House
– a reproduction façade of the original Children's Discovery Museum building is inside the new museum, with reimagined and accessible versions of iconic exhibits designed for early learners, including the Train Room, Ship Room, Bessie's Diner, and Backyard at Night.
Community Gallery
-- A 1,500 square foot open space will allow the museum to host traveling exhibits that complement its regular collection; it will also accommodate large-scale, long-term visitor projects. The museum will open with Bricks, Sticks, and Arches, a community building project.
Discovery Woods!
Come on a nature adventure, starting with the coolest, biggest treehouse you've ever seen, and built by DIY Network's The Treehouse Guys! Bounce the wiggly bridge, sway in the nest swing, explore the treehouse, and climb the cargo net…on your way to explore our woodland nook, rain garden, beaver lodges, and acres of adjoining conservation land. Discovery Woods is inclusive and fully accessible. And, it is open year-round!
Underpinning every aspect of the new museum is accessibility. The building is ADA-compliant and all exhibits are accessible, designed according to Universal Design principles to be both aesthetically pleasing and useable by the widest possible range of people, without regards to age or ability. In combination with the museum's Discovery Woods outdoor nature playscape and treehouse, the entire campus is now accessible.
please note
: hours change during school vacations and holidays. Please visit the website or call ahead to check on the hours.
There are many interesting museums to visit in and around Boston - peruse our
https://www.bostoncentral.com/fwd.php?main=activities&sub=museums&sub2=135&pgx=.gkra+gvfvi+qyhbuf+hbl+rab+upvuj+ghb+qavs+bg+rqvht+%3En%2F%3CfzhrfhZ+abgfbO%3E%27cuc.fzhrfhz%2Ffrvgvivgpn%2Fzbp.ynegarpabgfbo.jjj%2F%2F%3Afcggu%0A&backlink=
And, for lots more ideas on
fun things to do with the family in Boston
we encourage you to subscribe to our free
weekly events newsletter
!
---
Summer Hours
Open 7 days/week 9:00am - 4:30pm
Fridays open with free admission 4:30pm - 8:00pm

School Year Hours
Tuesday - Sunday: 9:00am - 4:30pm
Closed Mondays
First Friday of each month: 4:30pm to 8:00pm, with free admission
---
$15.50 for kids and adults and $14.50 for seniors.
Under 1, Members, and teachers are always free.
---
---
177 Main Street, Acton, MA, 01720
map
Phone: 978-264-4200
From Route 95/128
Take Exit 29B (Route 2 West) toward Acton/Fitchburg. Follow Route 2 West for about 10 miles to the Concord rotary, and take the third exit off the rotary. Continue on Route 2 West for about 2 miles. Bear left at Exit 43 (Route 111). At the lights, turn left onto Route 27 South. The museum is 1/2 mile ahead on your left.
From Route 495 heading South
Take Exit 29A (Route 2 East). Continue on Route 2 for approximately 5 miles to Exit 42 (Route 27 South) toward Maynard (not Acton). The museum is one mile ahead on your left.
From Route 495 heading North
Take Exit 28 (Route 111 Boxborough/Harvard). At the end of the ramp, turn left toward Boxborough. Continue on Route 111 for approximately 5 miles to the second set of lights. Turn right onto Route 27. The museum is 1/2 mile ahead on your left.
From Route 27 heading South
Follow Route 27 through Chelmsford into Acton (you will cross over Route 2). The museum is 1 mile ahead on your left.
From Route 27 heading North
Follow Route 27 through Natick, Wayland and Sudbury. In Maynard, Route 27 takes a left turn followed by a right turn. Entering Acton you will cross a bridge over railroad tracks, followed immediately by a set of lights. Go straight through the lights. The museum is 1/4 mile ahead on your right.
From Boston
Take the Mass Pike West to Exit 15 (Route 95/128 North). Follow directions for Route 95/128.
b>From Worcester
Take Route 290 East to Exit 26 (Route 495 North) toward Lowell. Follow directions for Route 495 heading north.
Commuter Rail
The museum is .4 mile from the South Acton commuter rail station. From the station, head East on Railroad Street to Route 27. Make a left onto Route 27 and walk 7-8 minutes. The museum will be on your right.
---
---

LOVE The Discovery Museums
THIS REVIEW IS FOR THE OLD DISCOVERY MUSEUMS. THE NEW MUSEUM OPENED IN MARCH 2018. The Discovery Museum is a wonderful way to introduce children to many versatile, tactile experiences. From the water table and color room to the kitchen and 'ship', all of the rooms allow children to explore at their own pace and interests. As an educator, I can appreciate the activities from an academic standpoint. As I mom of five and three year old children, I can appreciate the FUN! We love it.
---

This place annoys me
THIS REVIEW IS FOR THE OLD DISCOVERY MUSEUMS. THE NEW MUSEUM OPENED IN MARCH 2018. Not sure why, it's fine and all. Just everytime I go I ask myself 'why did I come here again?'. It's smaaaall. And on days that it's crowded, it's clausterphobic. It's hot. Of course it is, it's an old renovated victorian house with three floors. And they charge $8 per person - which as an adult, really fries me. To take my two children, that's $24 to get in the door. There's hardly anywhere for an adult to sit, and again, if it's crowded, it's really unenjoyable. Lastly, I don't like their attitude. For instance, when my son turned 1, I thought it would be a fun place to take him for his actual birthday. So upon arrival, they asked how many children and I said just 1, (my 3 year old daughter) and then today is my son's first birthday! He just turned 1 so we are here to celebrate!' So the woman looked at me and said okay, so that's $24 for the thre of you.... I was stunned. I was like - TODAY is his birthday. He turns 1 today and I chose to come here to celebrate that - you are actually going to charge me? After hemming and hawing, she let him in for the under 1 free. But still - am I the ony one that would have annoyed?
---

Good Fun
THIS REVIEW IS FOR THE OLD DISCOVERY MUSEUMS. THE NEW MUSEUM OPENED IN MARCH 2018. Ample parking space,friendly,fun and helpful staff. No food service or snack counter, but lots of benches to eat outside (weather permitting), so you can bring your own food. The science museum is fun for kids at least preschool and older, also fpr adults. In fact they encourage grownups to get hands on. Lots to do and learn, but watch out, lots of magnets around! Be careful with your credit card, car key remote, cellphone, camera etc. No strollers allowed in. It is definitely a place to go once, and plan to reach when they open, as you will definitely need the whole day, and sometimes if it is crowded, you have to wait. Also kids get to make a lot of stuff, which they can carry home. The childrens museum is more of a big toy land, with a neat stuff like the ship on top floor, bubble elongator, & train room.
---

My Kids Loved It
THIS REVIEW IS FOR THE OLD DISCOVERY MUSEUMS. THE NEW MUSEUM OPENED IN MARCH 2018. Visting from California last year, we went to the museums one day on a 10 day visit. My kids enjoyed it so much, we went back 2 more times. The Children's Museum is in a big old Victorian, and there are all kinds of neat things built into nooks an crannies throughout. Fun for kids and fun for adults, too. We're going back to Mass for Christmas, and my 5 year old daughter was just asking tonight if we can go back to the museum every day we're back.
---

Disappointed By The Childrens Museum Enjoyed The Science Museum
THIS REVIEW IS FOR THE OLD DISCOVERY MUSEUMS. THE NEW MUSEUM OPENED IN MARCH 2018. The children's museum was very small, didn't have much to it, and was very hot. It also didn't have an elevator and you weren't allowed to bring strollers inside from what I remember, which is pretty inconvenient if you have a baby. We brought out of town visitors and made the trek to Acton and really wished we had gone downtown instead. The science museum was much more spacious than the childrens museum and the kids seemed to like that better, although it was still much smaller than any other science museum I have ever been to. I guess I expected these museums to be similar to other children and science museums I have been to, and they were very small museums. A single day is more than enough for both of these museums, we went through both of them in less than a couple hours. Our kids ranged from baby to 5 year old.
---

fun new 'sensations room'
THIS REVIEW IS FOR THE OLD DISCOVERY MUSEUMS. THE NEW MUSEUM OPENED IN MARCH 2018. I took my 3 year old and 1 year old again and was pleasantly surprised at the new sensations room (designed for the younger set, but still entertained the 3 year old well). It is a new colorfully decorated room with lots of sensory objects, magnets, bead mazes, small carpeted stairs for little ones to figure out the stair concept safely, a music station, a big mirrored wall and lots of little handmade sensory books. It wasn't crowded the afternoon that we went which made it extra fun. The kids always enjoy the 'ball room' and the third floor oceanic room as well.
---
Info changes frequently. We cannot warrant it. Verify with Discovery Museum before making the trek. If you find an error, please report it...