Things to Do in Boston for Free
The Ultimate Guide to What You Can do in Boston for Free Today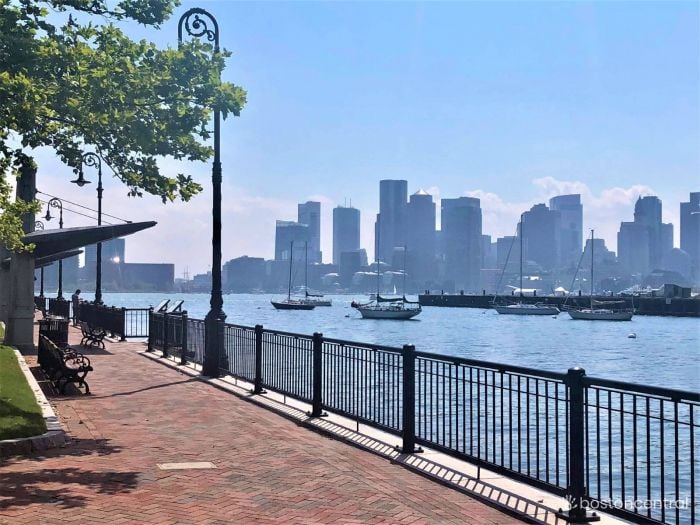 Free Things to Do in Boston with your Family
You don't have to spend a lot of money to enjoy quite a bit of what Boston has to offer. Some of the best things in Boston really are free, (or at least pretty cheap).
Places that you might take for granted can actually be big hits for all ages, like walking the Freedom Trail, exploring The Rose Kennedy Greenway, the Esplanade, or the Boston Public Garden. Taking a Swan boat ride, frolicking in Frog Pond, visiting our ancient cemeteries, and grabbing a delicious bite in the North End with all the money you just saved.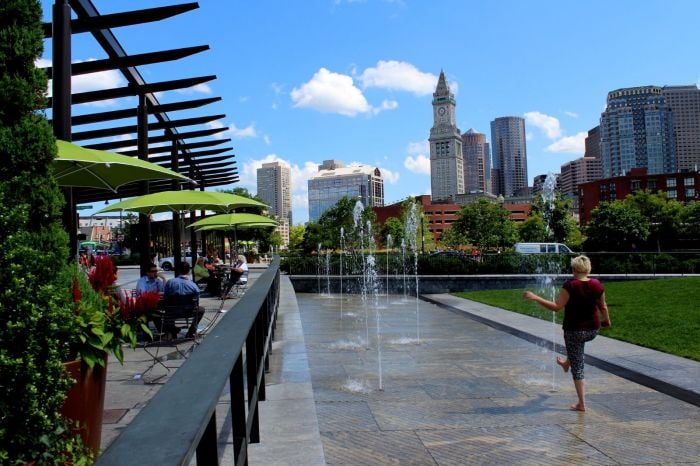 photo credit: Greg Marmai
Free Admission Days at Boston Museums
Boston's Museum scene offers interesting venues for all interests, from art & history to science and nature, and everything in between. Many museums offer free admission days for kids, so it's helpful to know how & when you can take advantage of that.
Lawn on D
The Seaport area has enjoyed significant development in recent years. We always recommend stopping by the Lawn on D to play in Boston's community 'backyard'. This park and playground oasis for children and adults is just a short walk from the seaport area, over near the Boston convention center.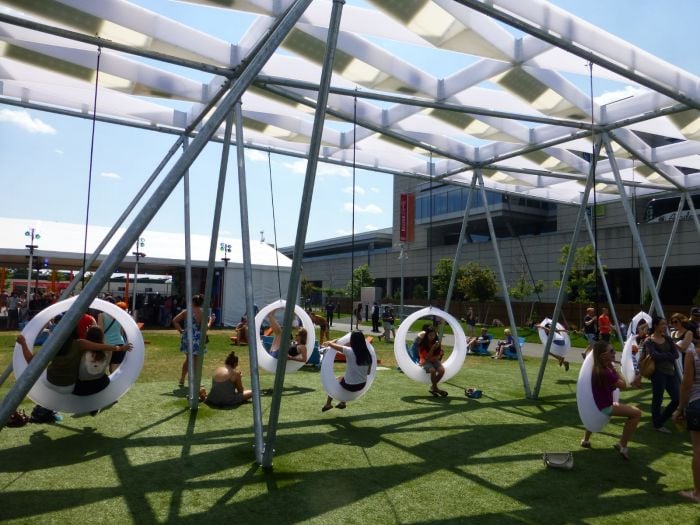 Photo courtesy of The Lawn on D
Well known for their giant circular swings (and yes, they DO glow at night!), visitors are welcome to come play popular backyard games like cornhole, ping pong, bocce, Jenga and more, while listening to live music and enjoying the outdoors.
Rose Kennedy Greenway
One of our favorite things to do is to visit the Rose Kennedy Greenway - one of the most welcome results of the famous post-Big-Dig transformation.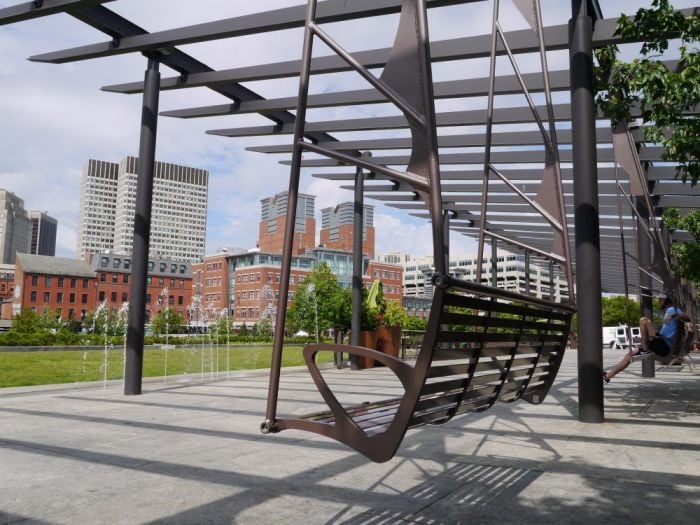 There's always something wonderful to enjoy; from the open green spaces, artisans' markets, well-manicured gardens, revolving art installations, splash fountains, coloful murals, food trucks — and of course the Greenway Carousel This one-of-a-kind carousel features uniquely designed animals native to Boston, and it's a terrific photo op.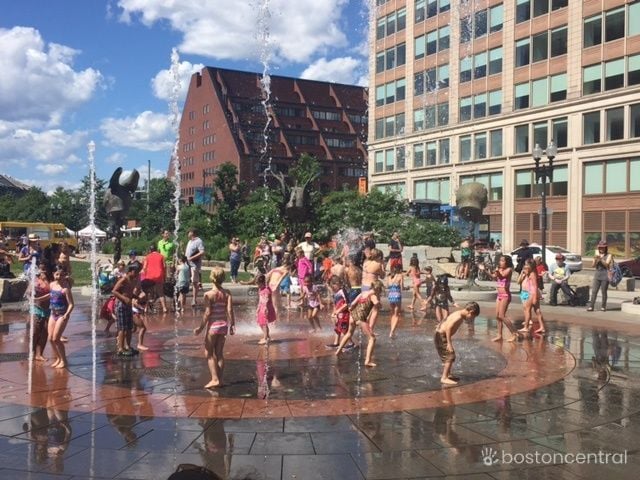 Just steps away, kids of all ages can walk the labyrinth maze at Armenian Heritage Park. The maze represents the journey of life. The park also includes an abstract sculpture of a split dodecahedron, that sits on a reflecting pool. Every spring, the sculpture is taken apart and reassembled into a new shape.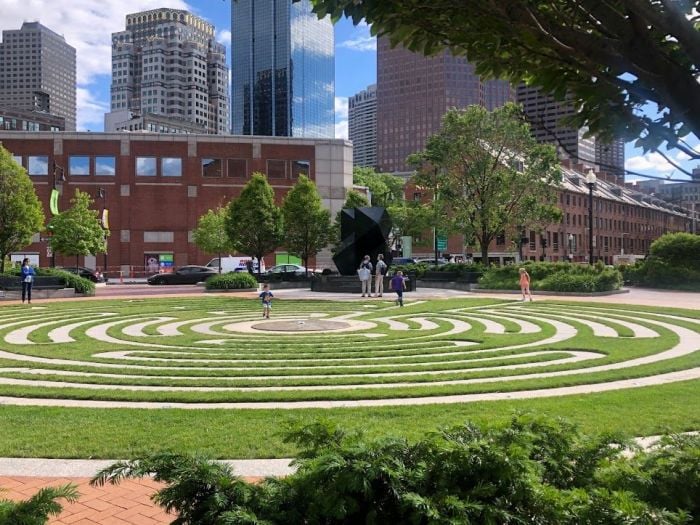 photo courtesy of Rose Kennedy Greenway
Historic Venues & Downtown Markets
Quincy Market is right across the street. Quincy Market is great destination for shopping, grabbing a drink or a snack, people watching, and of course enjoying a an entertaining busker performance.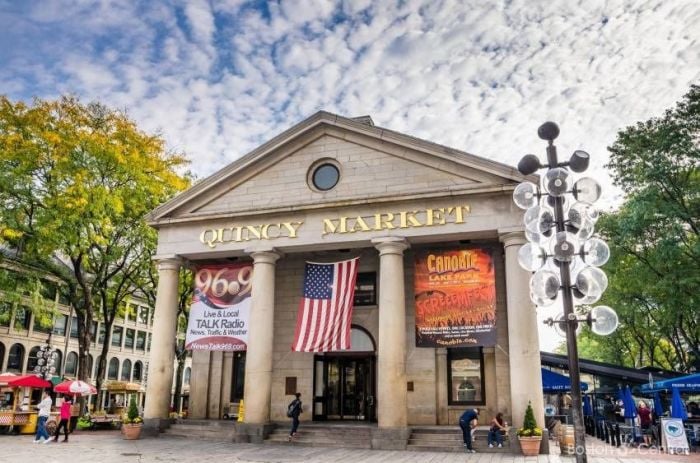 Boston Public Market, is another a great showcase of local fare. Fresh and local grocery items, gourmet treats, specialty items, and a food court can all be found here.
Grab some fresh seafood at Red's Best, noodles at Noodle Lab, baked goods, meats, cheeses, and sandwiches. It's like a high end farmer's market. A wide variety of cooking classes are also available for all ages at the Boston Public Kitchen.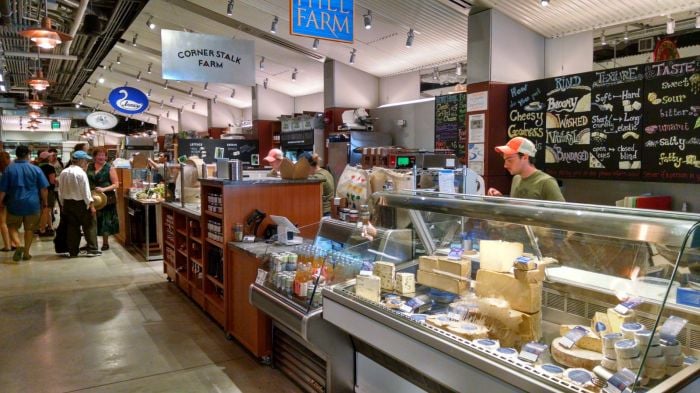 And don't forget Faneuil Hall — Boston's 275 year old meeting hall. Take a step back into history within the Great Hall as you sit and imagine the lively debates that took place here.
This free site features National Park Service rangers who give 15- to 20-minute daily talks on the building's history. Hidden upstairs is The Ancient & Honorable Artillary Museum another free, and historical venue work checking out.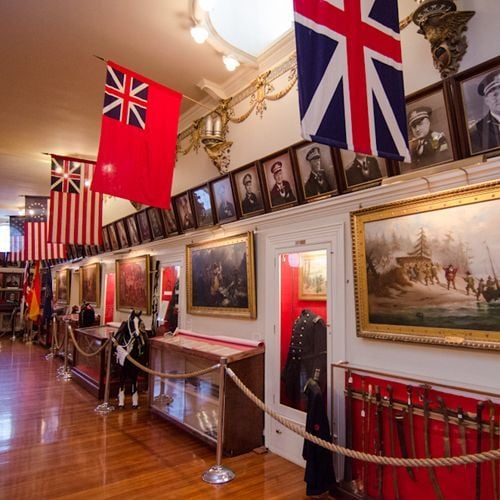 Holocaust Memorial
Just a short walk from Faneuil Hall brings you to the Holocaust Memorial, a series of glass towers with a central path, inscribed with seven-digit numbers, evoking the numbers tattooed on the arms of the concentration camp prisoners.
In total there are 2,280,960 non-unique numbers listed on the 132 panels representing the six million Jews who perished during the Holocaust. The walkway passes over metal grates that emit steam, emulating smoke and embers.
Located in Carmen Park on Congress Street near Faneuil Hall and Quincy Market, on Boston's historic Freedom Trail, it is a particularly moving memorial, this outdoor space is open and accessible to the public at all times
The North End
Cross back over to Atlantic Avenue and take a left - the North End awaits you with old world charm, a cannoli at Mike's Pastry or Modern Pastry, or a pizza pie at Pizzeria Regina. (In August & September you can enjoy weekend festivals).
Charlestown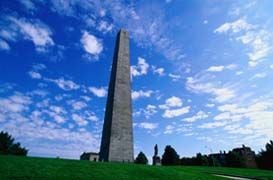 For kids with lots of energy – make the trek over the bridge to Bunker Hill Monument and take the challenge of climbing the 294 steps to the top. It's not that far – just over the bridge in fact (1 easy mile from TD garden) and quite an accomplishment and the views are your reward. Reward yourself with an inexpensive ferry ride back from Charlestown pier.
On your way back make your way over to the Charlestown Navy Yard where you can visit the USS Constitution Museum and take a tour of the historic "Old Ironsides", America's oldest warship still afloat. Visit our guide to visiting Charlestown for some great ideas on how to spend a fun day.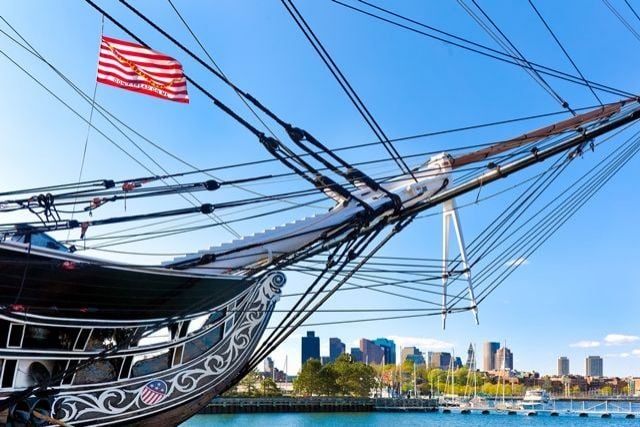 (Insider tip) If you walk the Greenway into the city from South Station – walk along the Harborwalk on the way back and take in the majestic views of Boston Harbor and the many boats, ferries and water taxis.
Speaking of ferries – you can add another layer of goodness to your Boston experience by taking a ride on a Boston Harbor Ferry or a water taxi. For between $3 - $10 you can ride to & from Charlestown, the Airport and the Seaport. Spectacular views of the skyline day, or night.
Piers Parks & the ICA Watershed
Another quick water taxi ride from the ICA will bring you the ICA Watershed, a free art exhibit open seasonally in East Boston. The ICA transformed an abandoned warehouse into a cool artspace that features all sorts of contemporary art pieces.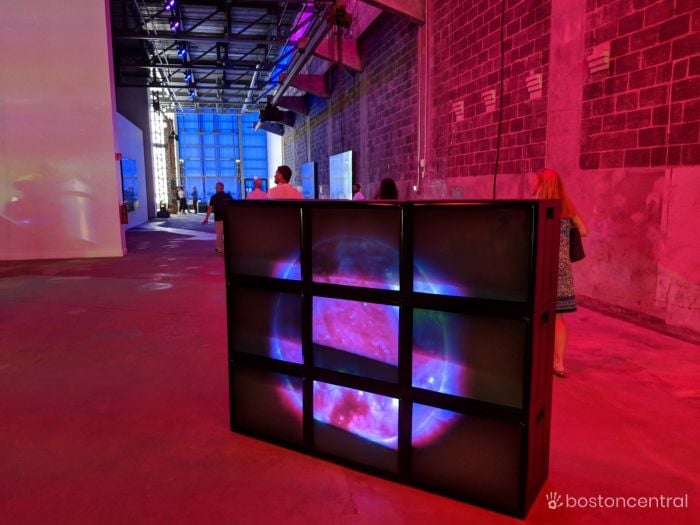 The water taxi departs from the ICA dock and drops you off across the harbor at beautiful Piers Park. In addition to a boat landing and sailing center, the park features amazing views of the Boston waterfront, a wide tree lined pier with walking paths, benches and a pavilion. The breezes here are divine - a perfect spot to stroll, sit, read, and chat.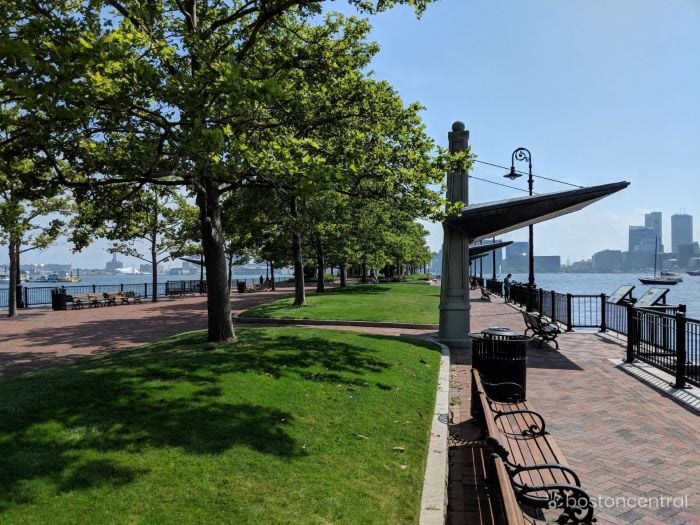 The park itself has lots of open grassy space, a nice playground, bathrooms, workout equipment, lots of shade trees, an amphitheater and benches that face the water.
This is an off the beaten path adventure that you will surely want to return to again and again. A terrific way to enjoy a day in East Boston.
Castle Island and Fort Independence
Often missed by tourists and locals alike, Castle Island is a great place to walk or roller blade, along Boston Harbor. This 22 acre land-bound island (it's the site of an old armory), features a number of interesting and entertaining sites including:
Terrific walkways (great for rollerblading); Unrivaled views of Boston Harbor and Logan Airport – a great place to watch the planes take off & land!
A shoreline string of parks and beaches includes a large playground, picnic tables and grassy areas. T
The famous Sullivan's Snack Bar that features burgers, fries, clam strips, drinks & ice cream; and of course,
Fort Independence, the oldest continually fortified granite site on British North America, having played a variety of roles in colonial and revolutionary times.
Free tours of Fort Independence run every Saturday & Sunday from 12:00 noon to 3:30pm. Tours last approximately 30 minutes, but can be longer depending on your guide. Strollers can not be accommodated on the tour.
Marriott Boston Customs House Tower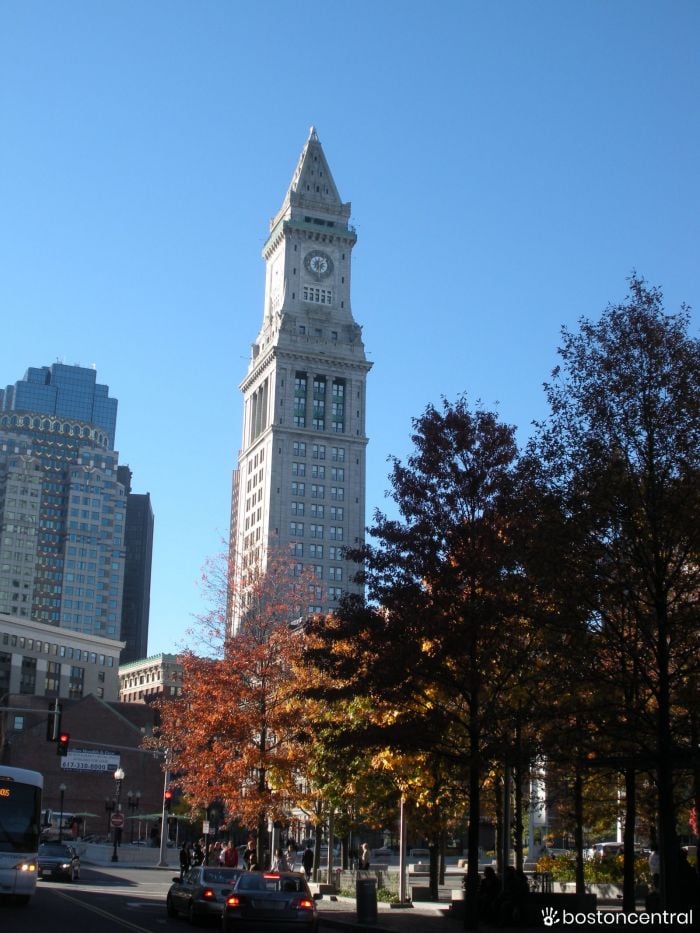 The Marriott Boston Customs House (aka "The Boston ClockTower") is actually one of the city's very first skyscrapers.
This iconic 492-foot structure was the tallest building in Boston from 1915 to 1965 (which was the year that the Pru was built, and then took over that reign).
Timing is everything when visiting this venue, as the 26th-floor observation deck is only open once daily (2:00 pm 6 days a week with the exception of Fridays), and weather permitting, so its a bit of a roulette play, but well worth it.
Registration is required 48 hour in advance by calling 617-310-6300, no back packs are allowed, and there are now only 8 ppl allowed per reservation.
Nonetheless, this is a gorgeous building with a lot of history and great views of the city. The tower is also pretty spectacular to look at from the ground up via the Greenway and the Waterfront.
Visit Boston's Historic Graveyards
Boston is home to plenty of historic and Revolutionary War-era gravesites. You can find a number of historic cemeteries in the middle of bustling downtown, boasting aged marble and slate slabs some with epitaphs that you can still read, and others that are now blank from the winds of time.
Granary Burying Ground, named for a former grain storage building that once stood at the spot of Park Street Church, holds an estimated 5,000 people. Its most notable citizens include Samuel Adams, John Hancock, Paul Revere. The towering obelisk at center of the cemetery honors the tomb of Benjamin Franklin's mother and father.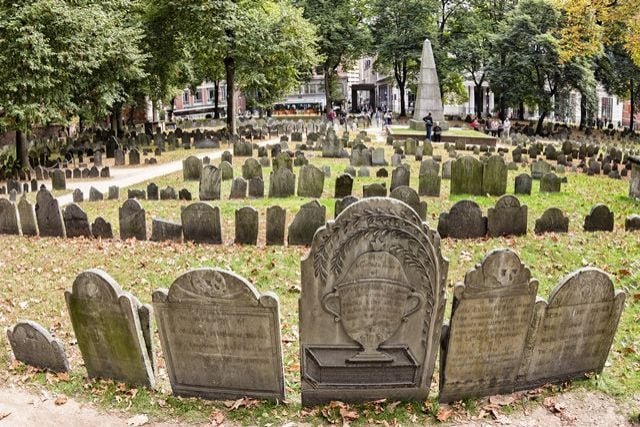 Established in 1630, King's Chapel Burying Ground is officially Boston's oldest cemetery, so it was rather a hodge-podge when it was first created. King's Chapel was built later on part of the land, and in the late 1800s, a cast-iron fence was built around the property.
After King's Chapel, Granary, and Copp's Hill Burying Grounds all became too crowded, Bostonians resorted to Central Burying Ground. Locals considered this burial ground the least desirable because it was farthest from the market center of the town.
You can also explore the Commonwealth Museum for free. The Commonwealth Museum shares the rich history and treasures of Massachusetts and is free to visit and park.
Boston Common & The Boston Public Garden
Boston Common is Boston is the oldest city park in the United States, dating as far back as 1634. It includes 50 acres of open park space with sports fields, a spray fountain & ice rink and access to popular Boston locations.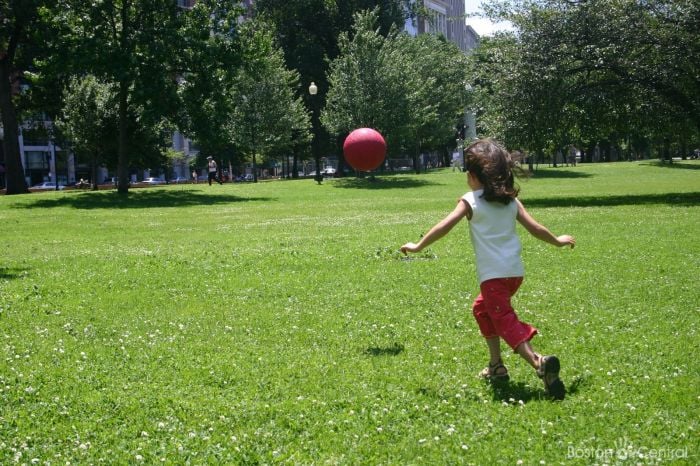 Events such as concerts, protests, carousel rides, softball games, keeping cool in Frog Pond's giant spray fountain & wading pool on hot summer days, and then ice skating in winter are popular activities and events.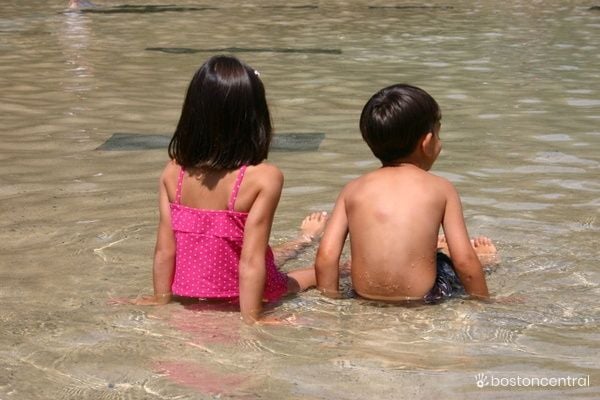 Another city stroll worth taking is through the Boston Common and the Public Garden. Grab a carousel ride, play on the playground or splash/skate (depending on the season) in the Frog Pond wading pool.
Don't miss the annual Out of the Park Event on the Boston Common. Sponsored by Highland Street Foundation this a popular, free summer event open to all, "Out of the Park" screens a Red Sox away game on the big screen, so guests can enjoy ball park snacks & activities while enjoying the baseball game streamed live.
Right next to the Frog Pond is a wonderful playground for children of all ages to enjoy.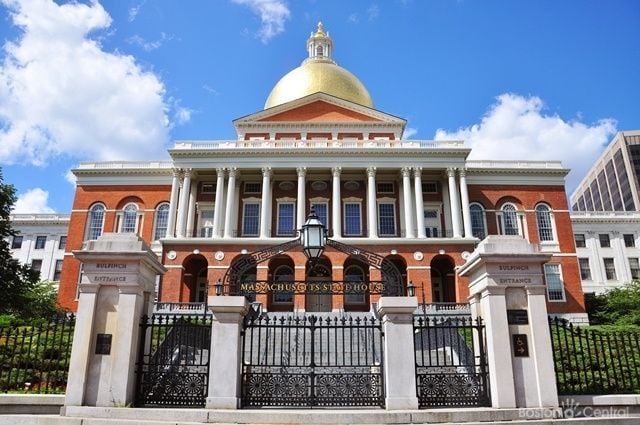 Boston State House
Turn around and you'll see the famous Gold Dome of the Boston Statehouse across Beacon Street. Public tours are available weekdays year-round from 10:00 am to 3:30 pm, and are free of charge. The building is open from 8:45 am to 5 pm. The Massachusetts State House is closed on weekends and holidays.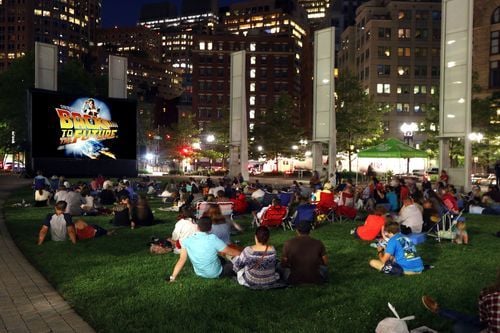 photo courtesy of Rose Kennedy Greenway
Additional summer activities include a long list of free summer movies in parks all around the city of Boston. It's a rite of passage during the summer to watch a movie outside under the stars.
Boston Public Garden
Central to the city of Boston and a most beautiful botanical park, is Boston's Public Garden. The Public Garden is a lush, meticulously maintained botanical garden space of nearly 4 acres, with enormous trees that are hundreds of years old shading wonderful walking paths, beautiful sculpture fountains and lots of benches to sit and take it all in.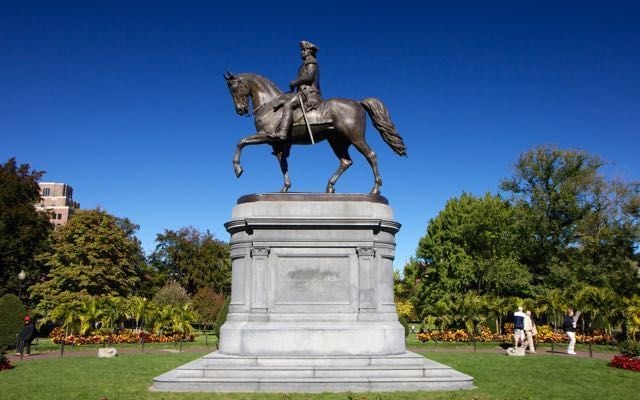 Historic statues and fountains adorn the greenery and the illustrious swan boats float peacefully by on the middle lagoon. Got kids? You'll definitely want to check out our ultimate guide to things to do in Boston with kids.
Swan Boats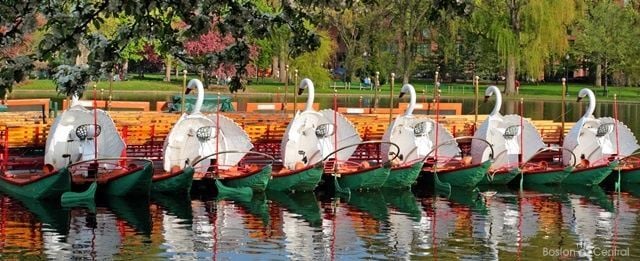 While not free, the swan boat rides are very inexpensive and well worth the unique experience. The park also contains a delightful photo-op for the young at heart; the Make Way for Ducklings bronzes sculpted by Nancy Schön, a tribute to the 1941 classic children's story by Robert McCloskey.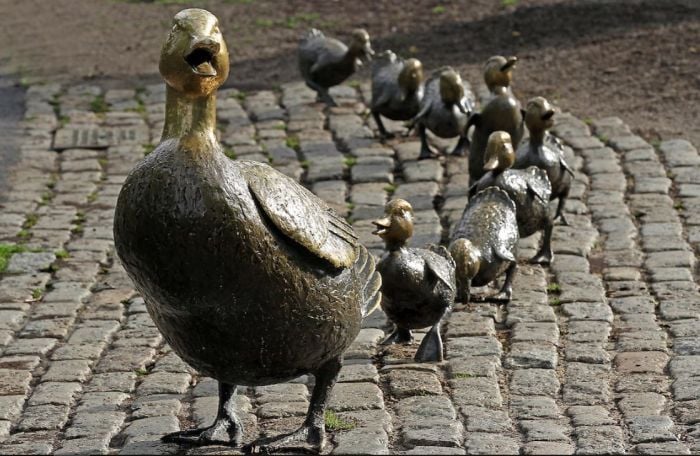 Charles River Esplanade
From the Public Garden - you can either walk down Charles Street through Beacon Hill (cool shops and eateries) to the Charles River Esplanade featuring playgrounds, waterfront walkways, the Hatch Shell, and lots more...) or head over to Newbury Street for larger scale shopping and dining.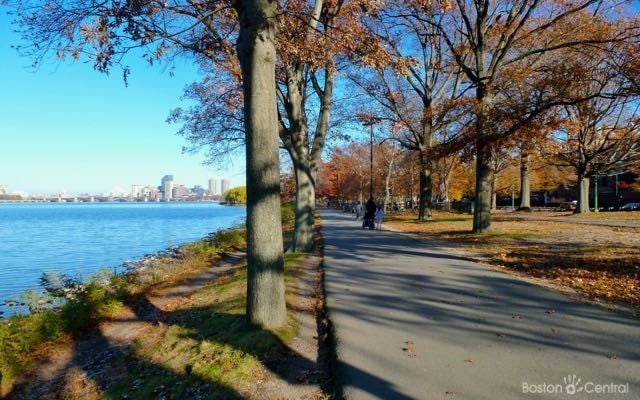 photo credit: BostonCentral
Walk the Freedom Trail
Take a self guided tour of The Freedom Trail. There are 16 official stops along this 2.5 mile red brick trail that leads you throughout historic Boston. You can also opt for a guided tour, but a self-guided tour allows you to take you time, and/or start and finish wherever you want. We think it's fun to reverse the tour and start from Bunker Hill Monument.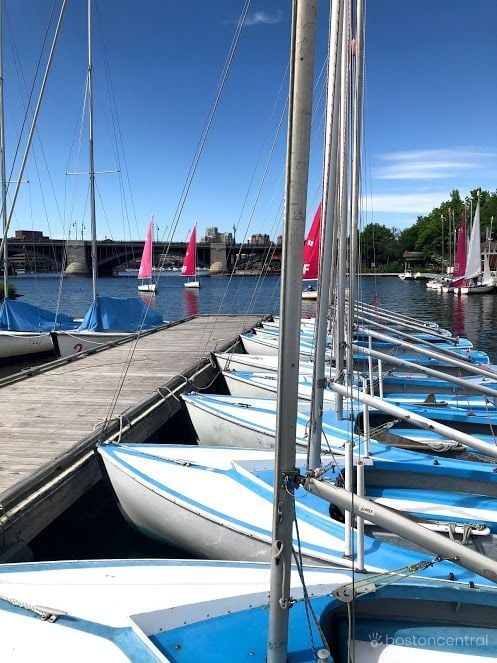 Community Boating & Sailing
Interested in a water excursion? Stop by Community Boating & Sailing Center along the Charles River Esplanade. It's right over the Charles Street pedestrian bridge.
In addition to fabulous learn-to-sail programs in the summer, you can also rent paddleboards, kayaks and windsurfers to enjoy river in a multitude of ways.
Visitors can rent for a few hours or by the day. You might even consider getting a membership for extra perks and access.
Courageous Sailing, located in Charlestown, offers similar access to sailboats where you can sail (and learn to sail) around in Boston Harbor.
You can also reserve kayaks on the Charles River with outfitter Charles River Kayak. It's fun to paddle past birds, Harvard, MIT, brownstones, and skyscrapers.
The ICA Watershed in East Boston is free for all, no pass needed, and you can enjoy a day at Piers Park, (photo guide) which is right next door. Piers Park features wide open waterfront walkways, beautiful views of downtown Boston, a large playground, lots of green space and shade, as well as benches and a pavilion.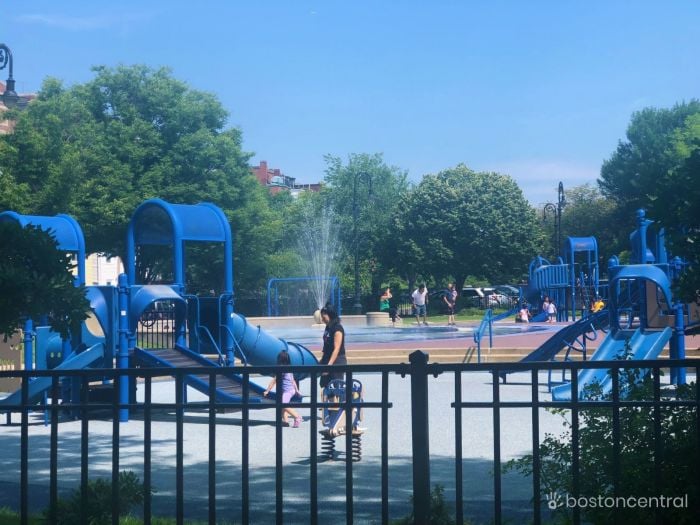 Looking for something off the beaten path? Try the Mapparium at the Mary Baker Eddy Library. It'll only set you back about $6 per person, and that three-story stained glass globe is a truly memorable sight. The Christian Science plaza fountain is right outside and you can walk over to Prudential Center shops for a bite to eat.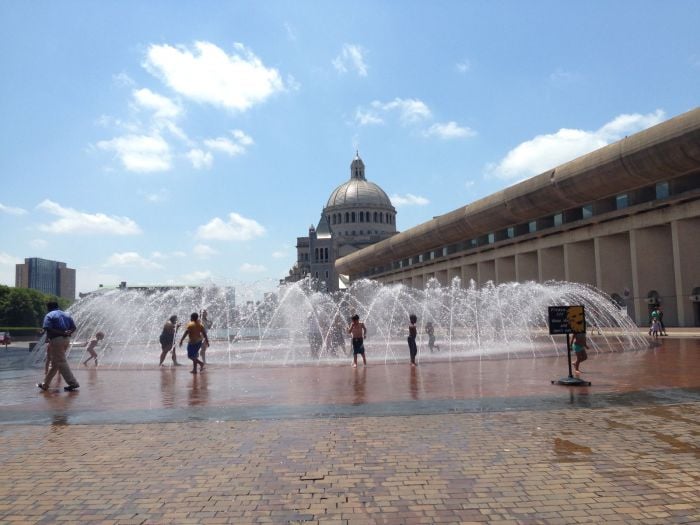 photo credit: Sarah Nichols
Boston Public Library Museum Passes
One of the better kept secrets to visiting higher profile attractions like Boston Museums and the New England Aquarium on the cheap is to take advantage of the discounted and free museum passes at the Boston Public Library.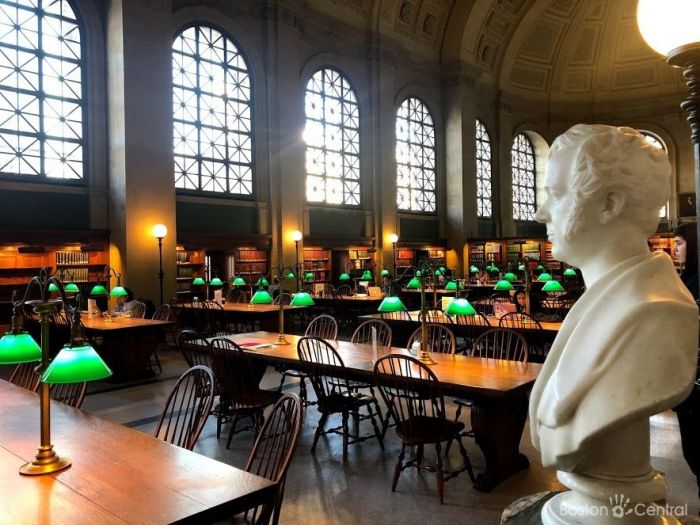 photo credit: BostonCentral
BPL library card holders can reserve passes over the phone, in person, online or on one of the library's computers. (The Minuteman Library Network also offers discounted museum passes out in the suburbs).
The Museum of Science pass will admit up to four people free, as will the New England Aquarium pass (available from September-June only.)
Now that you are captivated by Boston, here's our guide on some additional must see things to do in Boston whether you are visiting for the first time or a longtime local.
Cheap & Discounted Attractions
Several museums offer library pass discounts that net big savings. For example, (as of 2020) you can get up to four people into the Isabella Stewart Gardner Museum for $5 each on weekdays (two people on weekends and holidays), and $10 gets two folks into the Institute of Contemporary Art; while $10 per person (with a limit of two people) will get you into the Museum of Fine Arts.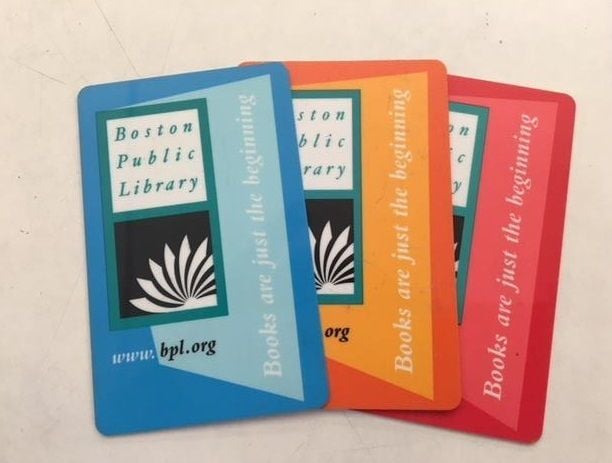 In addition to library passes, the Boston Children's Museum also offers $1 admission of Friday evenings, courtesy of TJX companies.
The Boston Fire Museum is open and free on Saturdays from 11-6pm with a suggested donation. This is right near the Boston Children's Museum for an easy before or after stop.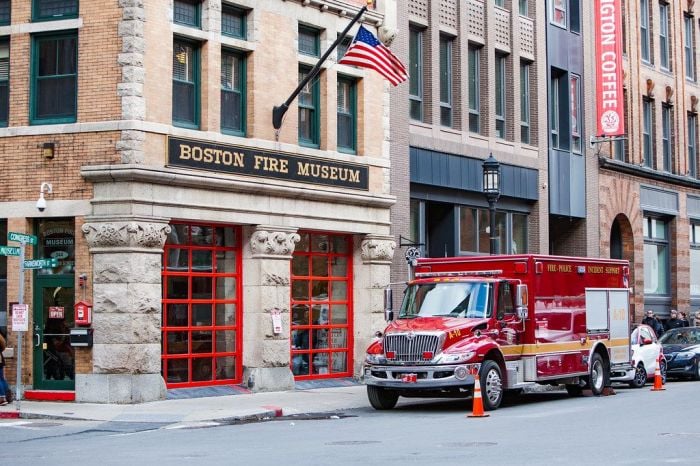 Additional Free & Cheap Things to Do in Boston
Free Stargazing at the Museum of Science and Boston University
Free Fun Fridays in Boston (now know at August Adventures) provide free admission to over 100 popular venues on summer Fridays. Visitors can choose from up to 10 specific places to visit. Sponsored by the Highland Street Foundation; this program has provided countless families with free access to some of Boston's favorite destinations.
Open House Days at the MFA are annual events where visitors can visit Boston's Museum of Fine Arts for free throughout the year. Most notably, you can visit on Martin Luther King Day, Lunar New Year, Memorial Day, and their annual Fall Open House.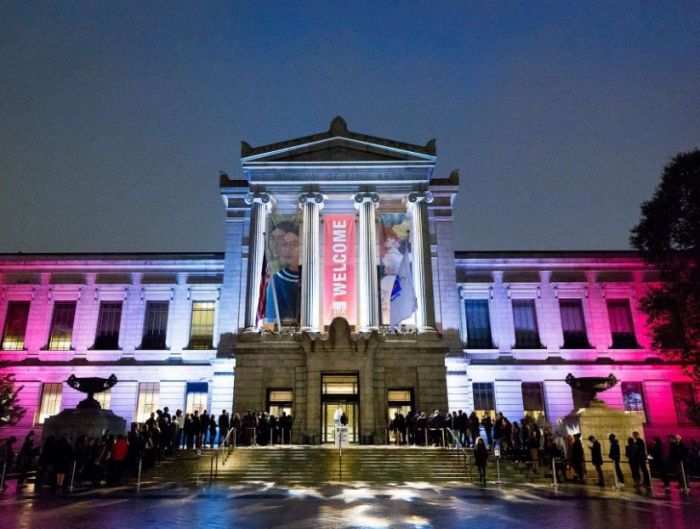 photo courtesy of Museum of Fine Arts Boston
Isabella Gardner Museum - Visit Free on your Birthday, or if your name happens to be Isabella, you can visit free all the time. *For reservations please contact the box office at (617) 278-5156 at least 24 hours in advance. Valid ID required at visit.) Kids visit Free! There is no admission charge for children under 18. Visitors wearing Red Sox apparel of any kind also get $2 off admission. Go Sox! (This used to be the case before COVID - best to check).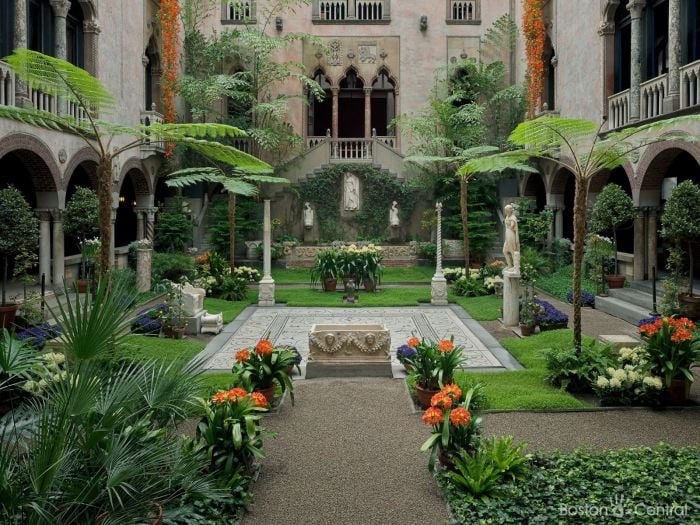 From activities and events to picture book authors and costumed characters, storytellers and hands-on entertainment, the Boston Book Festival is sure to keep you and your family busy from morning to late afternoon. This event now takes place in 2 Boston locations
The Boston Public Library's Copley Branch, which is a museum in and of itself, features amazing architecture, a puzzle room, a tea room, and outdoor courtyard and a multitude of art including a gallery from John Singer Sargent.
For more ideas about Free Things to do in Boston, visit our handy guide to saving money in Boston without sacrificing fun!

Seasonally, you can enjoy free summer movies at Boston area parks, as well as free summer concerts - both involve summer outdoor fun for the entire family.
If it's raining, never fear - we've got a guide to having fun in Boston on a rainy day as well.
Many venue also host open houses on certain holidays, so you can always stay in-the-know about holiday happenings in Massachusetts in our helpful guide to family fun.
We hope that this list of Free things to Do in Boston has been helpful to you. There is certainly so much more to explore - check out our Boston Events Calendar here, or our Rainy Day guide to finding fun ways to be entertained in Boston when it's raining.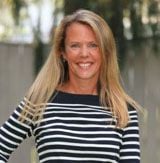 Stacey Sao has been the Managing Director of the family-friendly events and activities website, BostonCentral for over 20 years. She continues to enjoy discovering and exploring new places to visit in the Greater Boston area.