Faneuil Hall Marketplace
Other Ideas:
Old South Meeting House
;
Louisa May Alcott's Orchard House - Home of the Alcotts
;
Old North Church - North End
;
Walden Pond State Reservation
;
Old State House Museum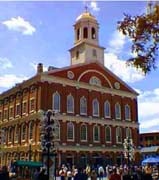 Faneuil Hall Marketplace encompasses four historic places in one location — Faneuil Hall, Quincy Market, North Market and South Market, all set around a quaint cobblestone promenade where jugglers, magicians and musicians entertain the visitors.
View The Faneuil Hall Event Calendar
History
For over 250 years, the marketplace has played an integral role in the life of Boston's residents.
In 1742, Boston's wealthiest merchant, Peter Faneuil, as a gift to the city, built Faneuil Hall. The edifice was home to merchants, fishermen, and meat and produce sellers, and provided a platform for the country's most famous orators. It is where colonists first protested the Sugar Act in 1764 and established the doctrine of 'no taxation without representation.'
Firebrand Samuel Adams rallied the citizens of Boston to the cause of independence from Great Britain in the hallowed Hall, and George Washington toasted the nation there on its first birthday. Through the years, Faneuil Hall has played host to many impassioned speakers, from Oliver Wendall Holmes and Susan B. Anthony to Bill Clinton and Ted Kennedy, always living up to its nickname, 'The Cradle of Liberty.'
To better accommodate the merchants and shoppers, Faneuil Hall was expanded in 1826 to include Quincy Market, which was designed in the then-popular Greek Revival style and later dubbed for Boston Mayor Josiah Quincy. The market remained a vital business hub throughout the 1800's; but by the mid-1900's, the buildings had fallen into disrepair and many stood empty.
The once-thriving marketplace was tagged for demolition until a committed group of Bostonians sought to preserve it in the early 1970's. Through the vision of Jim Rouse, architect Benjamin Thompson and Mayor Kevin White, the dilapidated structures were revitalized, thoroughly changing the face of downtown Boston. The 1976 renovation was the first urban renewal project of its kind, one that spawned imitations in this country and abroad.
Today, what is known as Faneuil Hall Marketplace is still Boston's central meeting place, offering visitors and residents alike an unparalleled urban marketplace. The unique and burgeoning array of shops, restaurants and outdoor entertainment have made it a premiere urban destination that attracts more than 18 million visitors annually.
The Marketplace is a five-minute walk to the New England Aquarium, The Children's Museum, The Old State House, and Paul Revere's House. Other attraction that are between 7-15 minutes away include The New State House, The Museum of Fine Arts, Boston Public Gardens, Old North Church, The USS Constitution, and Fenway Park.
---
Quincy Market Colonnade, Boston, MA
map
From The South - Drivers coming into Boston
Take 93 North to Exit 23 (Gov't Ctr.) and follow the signs towards 'Aquarium'. Follow Atlantic Ave to left on State Street (to get to State Street Parking Garage) or go straight to Clinton Street (Dock Square Parking Garage)
From The West - Drivers coming into Boston on the Masspike (I-90) East
Mass Pike to 93 North take exit 23(Goverment Center) and follow signs towards 'Aquarium'. Follow Atlantic Ave to left on State Street or go straight to Clinton Street.
From the North - Drivers coming into Boston on 93 South
Take exit 24A (Government Center) - stay to the right and follow the sign for Faneuil Hall. Immediatly off the exit turn right and Faneuil Hall Marketplace is directly in front of you.
From Logan Airport
Take the Sumner Tunnel to downtown. At the end of the tunnel take the right, pass through lights and take your second left (Do not get on I-93 South - the construction areas are confusing). Bear left to Surface Road south. Follow Surface Road south (Faneuil Hall is on the right-hand side). At the third set of lights (you are going around Faneuil Hall) take a right onto State Street. Take a second left onto Broad Street, and garage entrance is on the right-hand side.

Blue line to Aquarium/Faneuil Hall, Green Line to Government Center, or Orange line to State Street. Ride the T


---
Be sure to check out the original grasshopper weather vane that still sits atop of Faneuil Hall.
| | |
| --- | --- |
| Related Links | Top |
---
We make best efforts to update information, but it changes frequently, so we cannot warrant it. Please call to check Faneuil Hall Marketplace schedules, fees, and directions before making the trek. We help you, please help us. Report an Error if you find one.