Old Manse House
Other Ideas:
Old State House Museum
;
Swan Boats
;
Boston Tea Party Ship & Museum (for kids and adults)
;
Freedom Trail Tours
;
Castle Island, Fort Independence and Sullivan's Snack Shack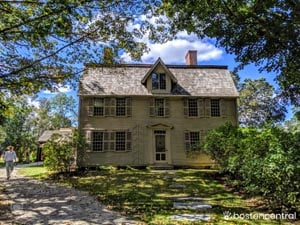 The Old Manse has one of the richest histories anywhere. It has witnessed the beginnings of the American Revolution, April 19, 1775; and the lives of great 19th century
American writers
and the beginnings of transcendentalism.
No house in Concord has a more evocative atmosphere or a greater variety of historic associations than The Old Manse. A visit to this historic home and grounds takes visitors back in time for a firsthand view into the the lives of its famous literary residents.
Tours
Tours run every half hour and last approximately 45 minutes. The guides are extremely friendly and knowledgeable about the history of both the home & surrounding grounds, and its long line of residents.
Much of the original furniture is still inside the house, so you really get a true sense of what it must have been like to live there over 200 years ago.
Some striking elements of the tour include actual etchings on the original window panes from the likes of Nathanial & Sophia Hawthorne. The verbage was etched into the window panes with Sophia's diamond wedding ring.
Facilities
The Old Manse does not have public bathroom facilities; however bathrooms are available at the National Park Service parking area less than .25 mile from The Old Manse.
Trails
The grounds are open year-round, daily, sunrise to sunset. A short network of footpaths connects the Old Manse to the North Bridge and boathouse on the Concord River. Easy walking.
Historic Inhabitants of the Old Manse
:
The Old Manse property has been inhabited by humans for over 4000 years. The Native Americans used the land as seasonal camp and later it was part of the second land division by the General Court of Massachusetts and deeded to English settler, James Blood. He deeded the property to his son who lived there for 30 years and built a house and barns, and planted his fields and orchards. In 1770 a 22 acre parcel was sold to William Emerson.
Reverend William Emerson
had been ordained as Concord's minister in 1765 and in 1766 he married Phebe Bliss, the daughter of his predecessor, Reverend Daniel Bliss. In 1770 William and Phebe built the house, barn, and outbuildings; and renewed the fields and orchards. The house was built to Phebe's specifications: she preferred little box-like rooms, deeming them more comfortable and warm than the large house she grew up in with its' barn-like proportions. The Emersons were to raise their five children here.
This peaceful scene was not to last. William was a fiery preacher, known as much for his political preachings as for his religious ones and he was very much in favor of the coming conflict. Whatever role Rev. Emerson played at the conflict at the North Bridge, scant yards from The Manse (whether he was in the house as Hawthorne reported or outside with his parishioners as his family said) he played a pivotal role in Concord's reaction to the rebellion. In 1776 Harvard College was looking for a place to move 'for the duration' because General Washington's Continental Army had taken over their Cambridge campus. William was instrumental in having the town of Concord allow his alma mater to move here.
In 1776, William joined the Continental Army as a chaplain and left for Fort Ticonderoga in August, just ten days after the birth of his fifth child, Rebecca. Shortly after arriving, he fell ill with dysentery and was granted a medical discharge. William died and was buried in West Rutland, Vermont, never making it home again and leaving Phebe with a house, a 22-acre working farm and five children under the age of eight.
Phebe took in boarders to help support here young family and one of them was
Ezra Ripley
. Ezra had been chosen as Concord's new minister in 1778 and would remain so for 63 years. In 1780 he and Phebe were married which caused a bit of talk in town, because Phebe was ten years older than her new husband. The Ripleys had three children who were raised alongside with the five Emerson children in The Old Manse.
Ezra Ripley was the last of a dying breed, the old New England Puritans, strict in their Old Testament beliefs, 'who thought the universe existed only...for their church and congregation.' He was a stabilizing influence in Concord and urged his fellow neighbors to employ the new farming practices such as crop rotation and the introduction of new crops. He also urged his fellow Concordians to embrace education of the young as an important goal of the New Republic of America and introduced a singing society and a strong Sunday School to his congregation.
William and Phebe's eldest child William II, was raised to be a minister just as his father had been. At the age of six, he watched the battle at the North Bridge from an upper window of the Manse. The family never had much money but their strong belief in education is what mad e William II go to Harvard. After graduation he married Ruth Haskins and had seven children of which two died in infancy. Among these children was
Ralph Waldo Emerson
who was born in 1803 in Boston where his father was the pastor of the First Church.
William Emerson II died at 41 after a long illness , thus leaving his widow to raise their five boys. Ezra Ripley offered whatever help he could, often inviting the boys to spend time at The Manse in Concord. Ralph remembered the old house, the Concord River, the 'fields of his fathers' with fondness. He often would stay a school or summer term here and there as he grew up but it was the time that he spent at The Old Manse as a young man in 1834-35 , that became a significant moment in our cultural and literary history.
It was here in the upstairs study that Ralph completed the first draft of his first published work, Nature. The ideas embodied in the essay had been brewing for a long time in his fertile and unsettled mind. He too was raised to be a minister, but his ideas were often too radical for the church and thus he resigned from his post at the Second Church in Boston in 1832. This occurred shortly after the death of his first wife Ellen and right before he made his first journey to Europe. This trip spurred truly new ideas and he urged a new philosophy on his colleagues and fellow thinkers, transcendentalism.
Samuel Ripley
, the eldest child of Ezra and Phebe, was also raised to be a minister and was ordained in Waltham, Massachusetts in 1809. He was the minister there for 38 years and was also founder of a boys school which educated many a future statesmen, educator, and businessman. His partner in this venture was his brilliant wife,
Sarah Alden Bradford Ripley
. Sarah was the archetypal New England woman and wife; she raised nine children while cooking, sewing and nursing all their students for 40 years. She was also the primary teacher in that school and taught Latin and Greek, mathematics, and English grammar.
However, Sarah was also an excellent botanist, collecting specimens and data for
Dr. Asa Gray
, the renowned botanist of Harvard. She influenced to a great degree many of the literary figures of her day, especially her nephew Ralph Waldo Emerson, and her dear friend
Henry Thoreau
. Sarah and Samuel Ripley finally retired to The Old Manse in 1846--'I wonder if my first experience of a morning in Concord can ever be repeated - the bright river which I welcomed as my own, the trees covered with chattering blackbirds, good as rooks, the feeling that I had at last a home.' In later years she excelled at many languages and was considered to be one of the most eminent women of Massachusetts.
When Ezra Ripley died The Old Manse stood empty for a year before Samuel decided to rent the house to probably its' most famous inhabitants,
Nathaniel and Sophia Hawthorne
. Hawthorne married Sophia Peabody on July 9, 1842 at her sister Elizabeth's book shop in Boston, and then drove out to Concord to begin their life at The Old Manse that same day. Hearsay related that the several women from town came out to freshen the house and place flowers for the newlyweds were;
Mrs. Abba Alcott
, Louisa's mother;
Mrs. Cynthia Thoreau
, Henry's mother; and Elizabeth Hoar, Sarah's friend. Henry Thoreau planted the vegetable garden that year as a wedding gift for the newlyweds.
The Hawthornes spent the three happiest years of their live in this 'Eden', Nathaniel wrote and Sophia painted and their eldest child, Una, was born here in 1844. Hawthorne wrote much about the house and surrounding landscape which later appeared in his American Notebooks and Mosses form an Old Manse. It was he who first names the house The Old Manse meaning minister's home. Mosses from an Old Manse was first published as a two volume set in 1846, it contained many of the short stories and essays that he wrote in that same study on the second floor that Emerson had used.
In 1845 the Hawthornes left The Old Manse as the Ripleys returned to Samuel's boyhood home. The Emerson-Ripley descendants owned the house until 1939 when their heir sold it to The Trustees of Reservations.
Visit our Listing on FamilyZip
for photos, insider tips and more information.
---
Open mid-April through October 31 Monday through Saturday, 10:00 a.m. to 5:00 p.m. Sundays and holidays 12:00 noon to 5:00 p.m. Guided tours. Museum shop.
---
Members Admitted Free | Nonmembers: Adult $10; Child (6-12) $5; Senior $9; Student (with valid ID) $9; Family (2 adults and up to 3 minor children) $25 (25% savings). For information, please call 978-369-3909.
---
---
269 Monument Street, Concord, MA, 01742
map
Phone: (978) 369-3909
From Concord center (Monument Square) take Monument Street north .5 mile Entrance on left; ample parking. Borders North Bridge and Minute Man National Historic Park.
---
This tour is somewhat lengthy (45 minutes) and not recommended for young children. The home is over 200 years old and is not wheelchair or stroller accessible. House Tours run about 45 minutes. Protective shoe coverings are distributed upon entry and required while inside the home.


No flash photography, cam corders, food or drink is allowed inside the home.


Make a day of it


Bring a picnic lunch (you can get great sandwiches at the Wine & Cheese shop in Concord Center, which is across from the post office about 1.5 miles down the road). There are a few picnic tables in the parking lot of the Old North Bridge. Be prepared to take your garbage with you, as there are no refuse cans around.


After your tour, be sure to walk the trail over the Old North Bridge up to the visitors center at the top of the hill. You'll learn all about the history of the 'Shot Heard Round the World' and the start of the American Revolution.
---
Info changes frequently. We cannot warrant it. Verify with Old Manse House before making the trek. If you find an error, please report it...