Boston Bowling Alleys
Best Places for Bowling in Boston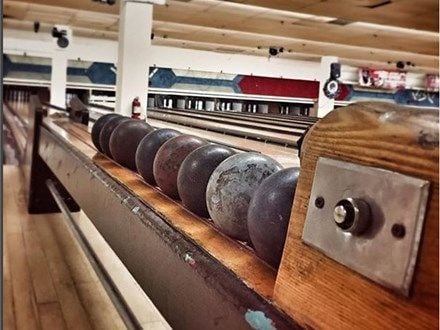 Bowling is a great indoor pastime any time of the year, especially during the long winter months in Boston. Some popular bowling alleys in Boston include Kings Bowling, Boston Bowl, Southie Bowl for candlepin, and many more. Whether it's getting together with a group of friends, family or event co-workers, bowling can e a lot of fun.
Kings Bowling
Kings bowling locations feature upscale, retro-inspired décor and executive-chef designed menus. With varied entertainment options, themed nights, and state-of-the-art audio visual equipment, Kings sets itself apart as an unparalleled social scene for all occasions.
Boston area locations include Boston (Back Bay), Boston (Seaport), Dedham, Burlington, and Lynnfield.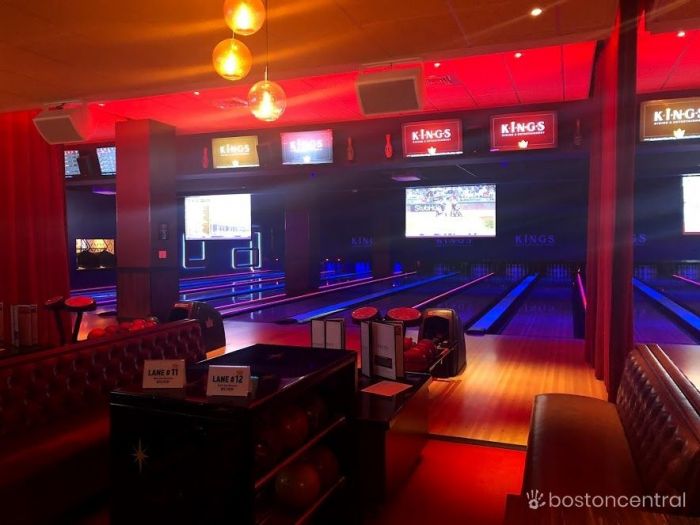 photo credit: BostonCentral


Boston Bowl
Open 24 hours, and featuring 30 Tenpin and 14 Candlepin lanes, you never have to wait long to enjoy bowling at Boston Bowl. You also never have to worry about keeping score - all bowling lanes are equipped with state of the art touch screens that automatically score your game. Boston locations include Dorchester & Hanover, MA.
820 Morrissey Blvd.
Dorchester, MA 02122
(617) 825-3800
https://www.bostonbowl.com/


Southie Bowl
Southie Bowl is a community bowling alley that has been family run for over 20 years! Candlepin Bowling is a regional bowling experience that can be enjoyed by everyone.
543 E Broadway
Boston, MA 02127
(617) 464-4858
https://www.southiebowl.com/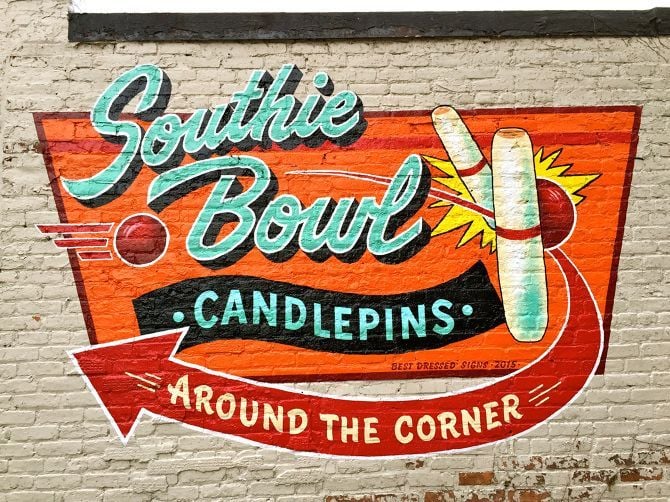 photo credit: BostonCentral


Brighton Bowl
Brighton Bowl offers nine candlepin bowling lanes that serve as great fun for family and friends of all ages. Conveniently located in Boston Landing, Brighton Bowl is the perfect spot to hang out and enjoy fresh, delicious food and drinks while enjoying some friendly competition on the lanes.
While walk-ins are always welcome, reservations are a better bet. Whether you're bowling solo or with a group, Brighton Bowl is a uniquely fun experience!
76 Guest St, Boston, MA 02135
(617) 903-4595
https://bowlbrighton.com/bowling/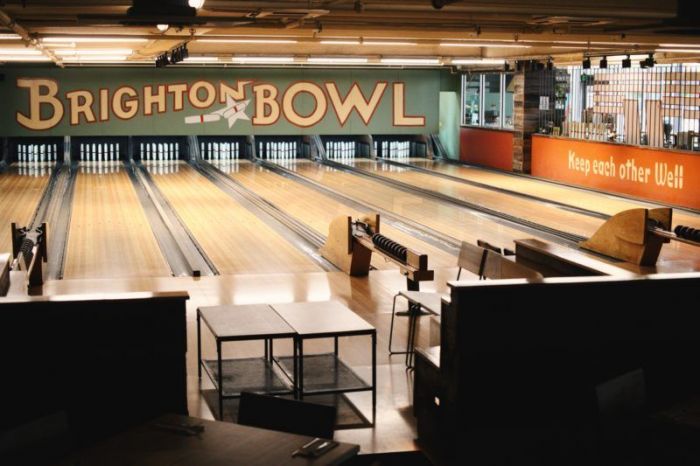 Lucky Strike Social Boston Bowling
A Boston staple, located behind historic Fenway Park, Lucky Strike Social Boston is part of a 70,000 square foot, multi-dimensional entertainment complex that spans over three floors.
Vintage vibes with a modern feel, this bowling spot offering 16 lanes, lounge, dancing & regular DJs, with 21+ policy at night, and is just a 4 min walk from Fenway Park.
145 Ipswich St, Boston, MA 02215
(617) 437-0300
https://jilliansboston.com/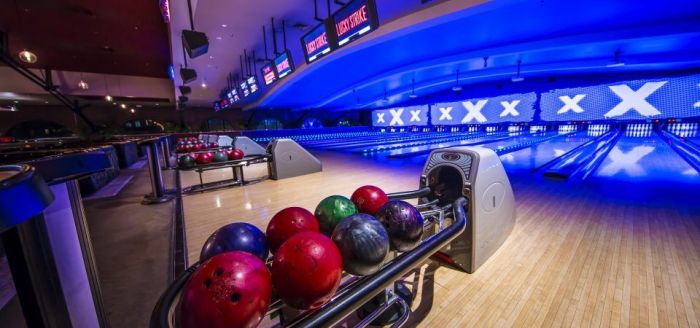 photo courtesy of Lucky Strike Social Boston

Sacco's Bowl Haven & Flatbread Company Davis Square
45 Day Street
Somerville, MA 02144
(617) 776-0552
Mystic Bowling
Mystic Bowling...A State-of-the-Art Light and Sound Show to accompany your bowling FUN is offered by Ryan Family Amusements at five MA locations, incuding Buzzards Bay, Cape Cod Mall, Falmouth, Millis and Raynham .
1067 MA-28
South Yarmouth, MA 02664
(508) 394-5644
https://ryanfamily.com/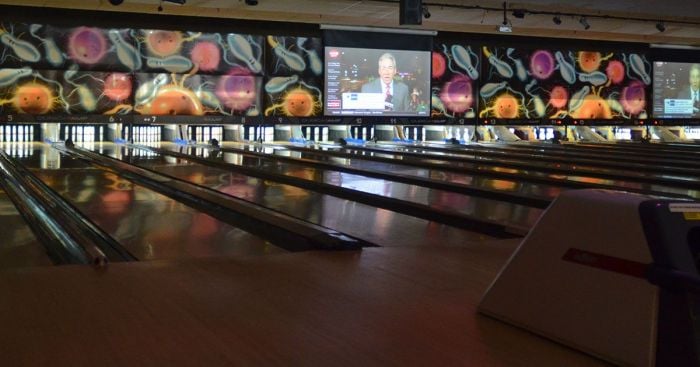 photo courtesy of Mystic Bowling


Needham Bowlaway
The Needham Bowlaway features eight lanes of Candlepin Bowling. A game well known in New England for being more fun and more challenging than it's contemporaries. All of our lanes have bumpers available for the little ones at no additional cost.
16 Chestnut Street
Needham, MA 02492
(781) 449-4060
http://www.needhambowl.com/

Acton Bowladrome
Acton Bowladrome & Arcade is a family-friendly mega-plex with candlepin bowling, an enormous arcade & retro burger joint. The family owned venue has been entertaining in Acton, MA for more than 35 years. They have bowling for every age and skill level, a large arcade and a pool table.
257 Main St, Acton, MA 01720
(978) 263-7638
http://www.actonbowl.com/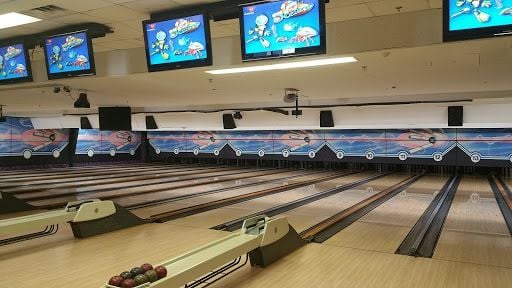 photo courtesy of Acton Bowlodrome


Ron's Gourmet Ice Cream and Bowling - Hyde Park
This retro 10 lane alley in Hyde Park has been offering candlepin bowling since 1979, hosting leagues and bowling parties for generations of Bostonians. All lanes are open to the public (walk-ins warmly welcome – no reservations needed), *except on Tuesday and Thursday evenings which are reserved for leagues starting at 6:15pm. You can also check availability or book at lane by calling (617-364-5274) before you come. Don't forget to grab some ice cream to enjoy before or after you bowl!
Westgate Lanes
Featuring bowling, a pub & grill, arcade & billiards, Westgate Lanes is a staple in South Shore family entertainment. The facility includes a total of 62 bowling lanes including 50 Ten pin and 12 Candle pins; an extensive arcade with over 45 games and a full redemption center and 13 Pro Brunswick Billiards tables.
A full service snack bar with a full menu from the Westgate Pub & Grill which is located in the Entertainment Center.
65 Westgate Drive
Brockton, MA 02301
(508) 583-1297
https://www.westgatelanes.com/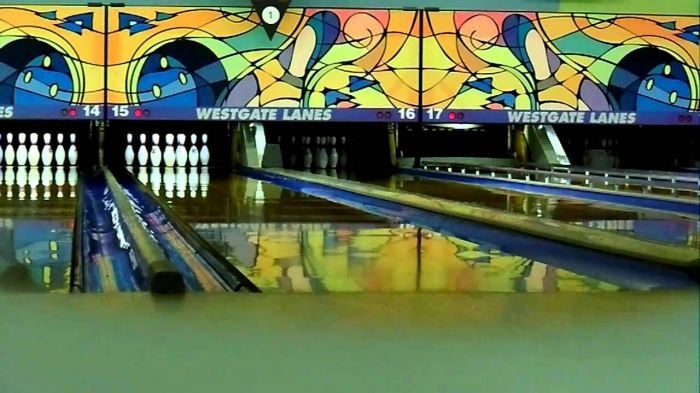 photo courtesy of Westgate Lanes


Woburn Bowladrome
Providng hours of family fun since 1940, the Woburn Bowladrome, Inc. the Alleys have grown from its original eight candlepin lanes with a pin boy setting up each rack of ten pins, to over forty candlepin lanes with fully automatic pin setters and automatic scoring.

Glow bowling is a family favorite - the perfect way to spend a Saturday night out. The alley turns off all the lights on one side of the building and turns on black lights, disco balls, and cranks up the music for an immersive bowling event.
32 Montvale Ave,
Woburn, MA 01801
(781) 933-1709
https://www.woburnbowl.com/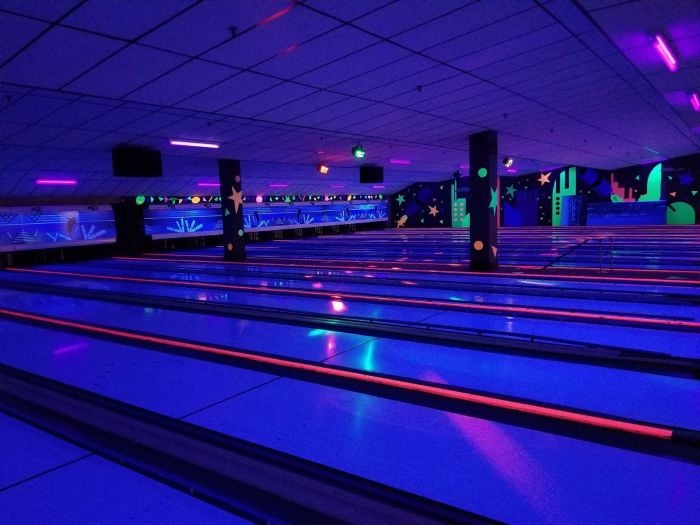 photo courtesy of Woburn Bowladrome


Cape Ann Lanes
Enjoy 16 candlepin bowling lanes with automatic scoring technology. Cape Ann Lanes is a family owned and operated small business since 1959. Featuring Rock the Lanes with local rock band music and cosmic bowling with funky lights, bowling on the North Shore has never been more fun.

photo courtesy of Cape Ann Lanes
53 Gloucester Avenue
Gloucester, MA 01930
https://www.capeannlanes.com/


You can find lots more things to do with kids near Boston all year round in our handy guide to family fun! You might like to check out some mini-golf venues near Boston, or find a new playground for your family to explore. Find more great ideas for things to do on a rainy day in Boston in our helpful guide.