Best Places to Play Miniature Golf In the Boston Area
Mini Golf Courses Near Boston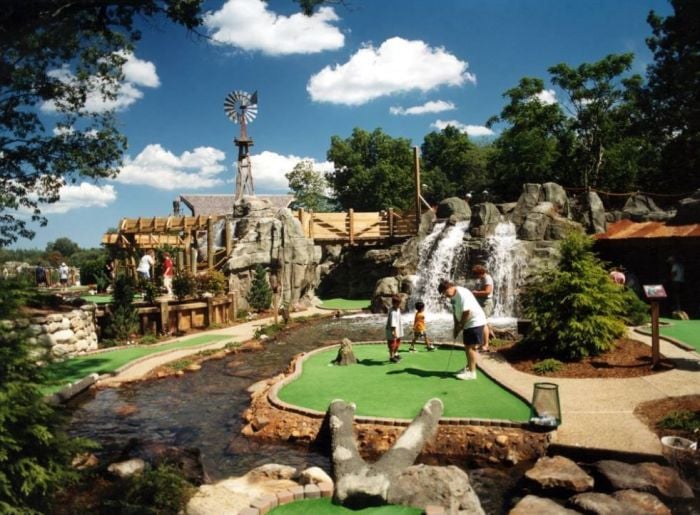 photo courtesy of Kimball Farm
Whether you fancy streams, caves, animated monsters or traditional windmills, the Greater Boston Area has something for everyone when it comes to Miniature Golf Courses. Surprise, adventure and tons of family fun are all within a 30 minute drive of the city, even when the weather isn't perfect.
Crystal Caves - Auburn
Dodge water hazards and sand traps as you meander skillfully through 18 holes at the pristine Crystal Caves miniature golf course.
Enjoy the 50 flavors of ice cream made on site and expand your adventure by hitting some balls at the batting cages and bouncing on the 2 trampolines! There is fun for all ages at Crystal Caves.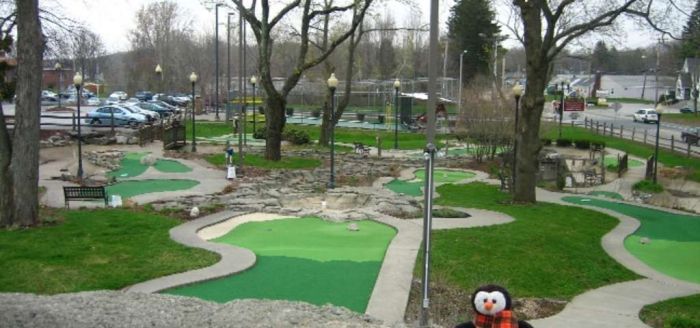 Trombetta's Farm and Mini Golf - Marlborough
Visit Trombetta's Farm and Mini Golf for a unique 18 hole miniature golf course that is creatively built inside of a greenhouse. The beautifully landscaped course is lots of fun for all ages to enjoy and includes obstacles like the traditional windmill, a gristmill and and the most challenging hole, the "volcano." Great for something fun to do in all sorts of weather! Top off your outing with an ice cream cone.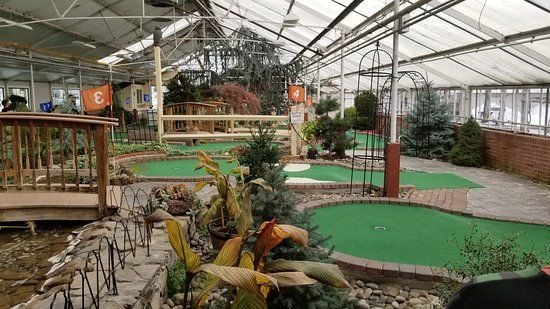 photo courtesy of Trombetta Farm
Castle Creek Adventure Land - Salem
There is guaranteed family fun to be had at Castle Creek Adventure Land in Salem. Voted best miniature golf course on the North Shore, the 18 hole course features cascading waterfalls, fountains, caves, castles and bridges.
The course is even fully lit in the evening so you can enjoy your game even after the sun goes down. Continue the family fun on the speedy electric go carts and finish the night with a sweet treat of some ice cream.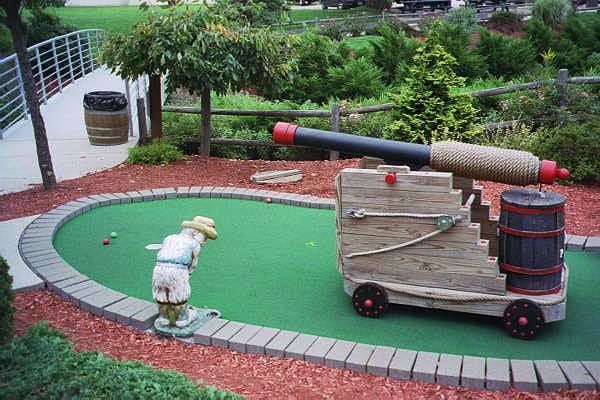 photo courtesy of Castle Creek Adventures


Family Funway - Foxboro
Putt around through caves, past ponds, and across streams as you meander through the 18 holes full of fun challenges and obstacles.
Family Funway provides fun for everyone in the family with even more activity offerings to enjoy on site. Thrill seekers can take the plunge on the bungee jump while speed demons take to the track in the go karts. There are also batting cages and bumber boats to add to the variety.
Monster Miniature Golf - Norwood
When the weather is too hot or too rainy to enjoy outdoor activities, drop in at Monster Mini Golf for monstrously silly fun. Enjoy a round of miniature golf on the mildly spooky 18-hole glow-in-the-dark course. Wear white clothing and add to the effect of the black lights which illuminated the fluorescent golf clubs, balls, walls, and special effects throughout the experience.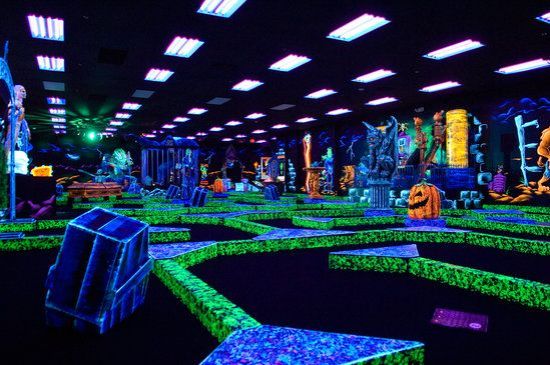 photo courtesy of Monster Mini Golf

After you complete a round of golf, play some arcade games, challenge a friend at the glow in the dark air hockey table, and play a variety of other ticket redemption games such as glow Skee Ball.


Hago Harrington's Miniature Golf - Stoneham
Vist the North Shore's largest miniature golf course which spans a full acre of land. Adorned with charming old fashioned obstacles, the course is quite manageable to maneuver for all ages and levels of players.
The classicly themed mini golf course is well kept and features some local favorite putting holes which add to the course's appeal. . Be sure to hit the snack bar for a sweet treat of some ice cream to top off your outing.


Golf on the Village Green - Natick
Take in a little of Boston's Revolutionary history on your next miniature golf outing. At Golf on the Village Green, learning and fun go hand in hand!
The course has a patriotic and educational theme and is a great place to take fun photos with the family. The hand crafted, miniature historical buildings, life size statues, and colonial replicas make this a unique miniature golf experience.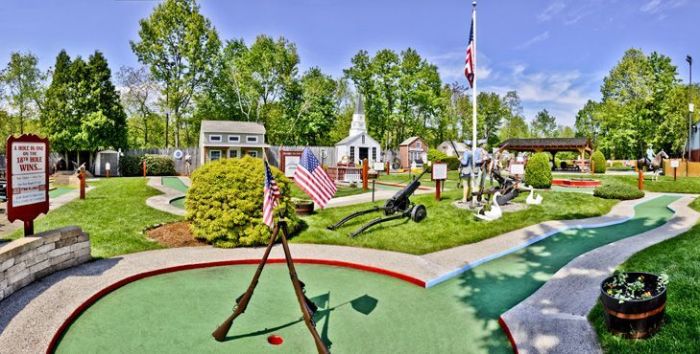 photo courtesy of Golf on the Village Green
Kimball Farm - Westford
For the ultimate in fun, get your adventure on playing a round of miniature golf at Kimball Farm in Westford. Rope bridges. caverns and cascading waterfalls are just some of the unique features that will greet you on the course.
Enjoy the many other amenities offered at the farm. Have some family laughs on the bumper boats, practice your golf swing at the driving range, or hit some homeruns in the batting cages and participate in even more memory making activities.
Finish off your family outing with overflowing cups or cones of the Farm's award winning homemade ice cream.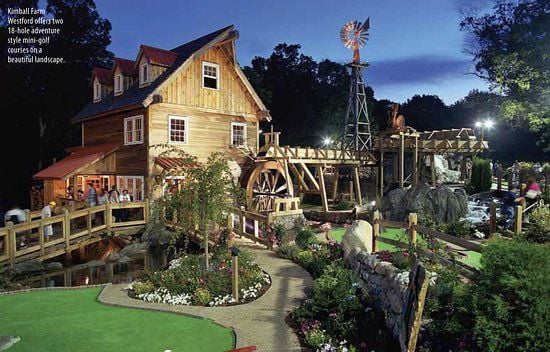 photo courtesy of Kimball Farm, Westford
For more ideas on things to do in Boston with Kids, visit our handy guide to help you navigate the best family-friendly places to visit.