Free Summer Concerts in Boston 2023
Summer Concerts Boston and Beyond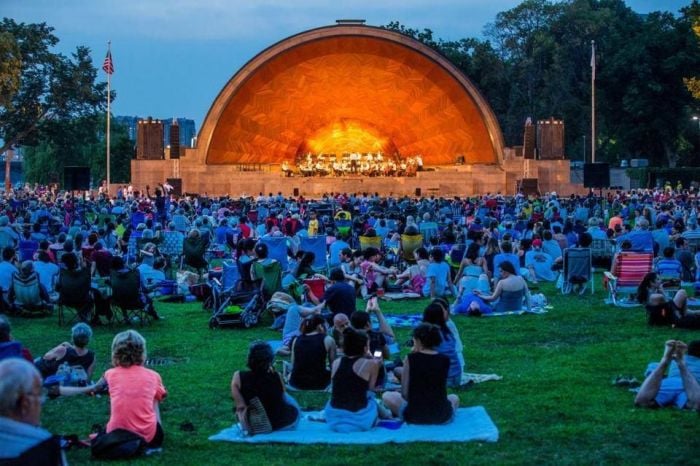 2023 Boston Summer Concerts
The sounds of summer are pretty sweet in Boston. Outdoor concerts are a summer staple and Boston provides a plethora of opportunities to spend warm summer evenings outside with friends, enjoying food and drinks and your favorite tunes.
As the temperatures soar, so does the summer concert calendar. Read on for our picks for free concerts of Summer (unless otherwise noted).


Boston ParkARTS Citywide Neighborhood Concerts 2022
Throughout the summer, join in on Boston Neighborhood Summer Concerts held all over the city with many different performers in Roxbury, Dorchester, Brighton and Roslindale!
The ParkARTS outdoor neighborhood summer concerts are free of charge in local City of Boston parks. The concert series begins at 7:00pm.
CX Summer Nights continues with free outdoor concerts at Cambridge Crossing, featuring live music, craft brews, food trucks, and lawn games! Proceeds to support the Cambridge non-profit community.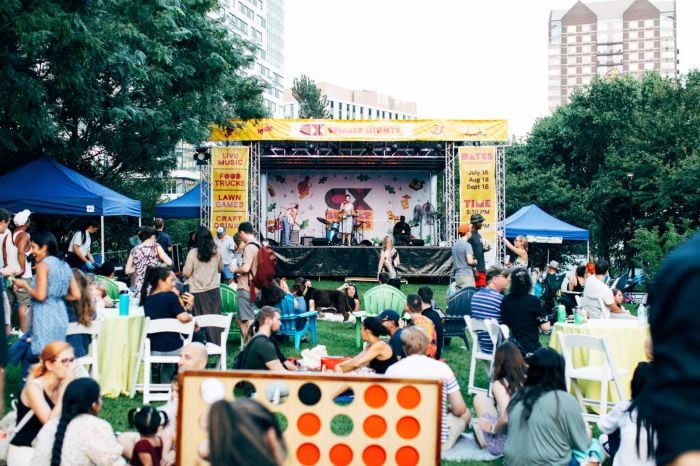 photo courtesy of CX
Top off your week with the Lexington Summer Concert Series on Friday evenings from 6:30pm to dusk. Bring your blankets and chairs and head to Emery Park, (Depot Square, Lexington MA) and enjoy a different genre of live musical performances each week in July & August.
Summer nights come alive with tantalizing sounds of the 215th Army Band, The Rhythmix Band, Boston Blackstone and even a family concert with Ben Rudnick and Friends.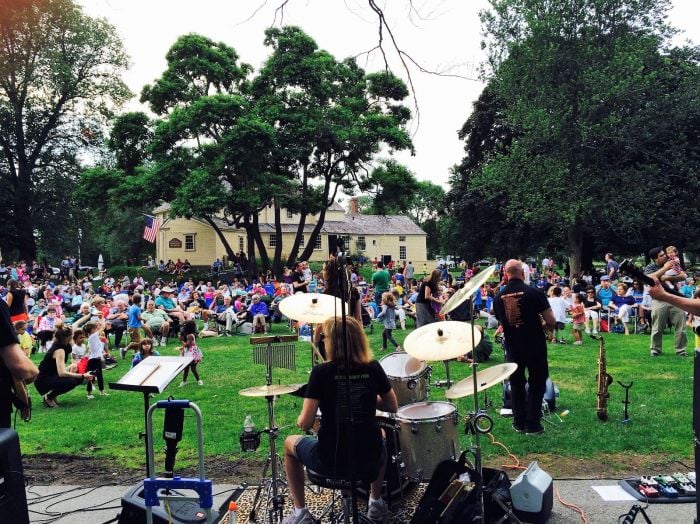 Jazz in the Park - North End Greenway
Jazz in the Park will be returning to the North End Park on The Greenway every Thursday from 6:30p-8p from July 21 to August 11, 2022.
This free outdoor concert series welcomes all to enjoy the sounds of the world from the comfort of the Rose Kennedy Greenway. Experience a new and unique artist each week!
Jazz in the Park is a recurring concert series hosted by the North End Music and Performing Arts Center (NEMPAC).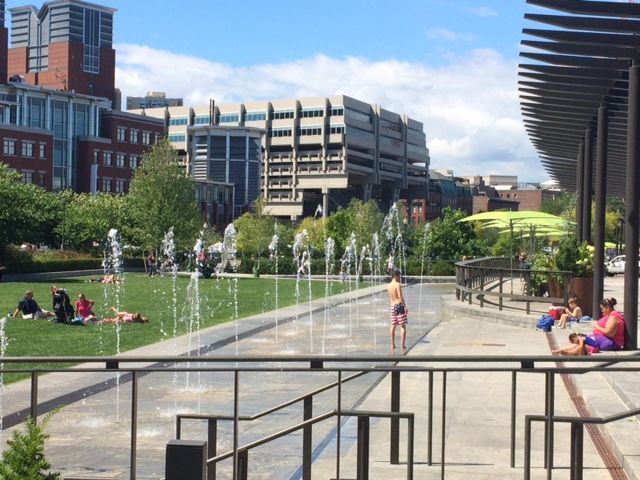 Summer in the City: Concerts at Boston Harbor Hotel
From June 9th – August 26th, 2022, watch the sun set on the Atlantic Ocean while listening to live entertainment and enjoying al fresco dining at the 23rd annual Summer in the City Entertainment Series.
Join us at the Harborwalk Terrace and Rowes Wharf Sea Grille as the temperatures rise for one of Boston's most anticipated summer traditions.
Bostonians and visitors can look forward to different nightly themes including Pop Soul Tuesdays, Rat Pack Wednesdays and Blues Thursdays.
Cool breezes, passing yachts, and Chef David Daniels award-winning cuisine all paint a lively summer scene not to be missed.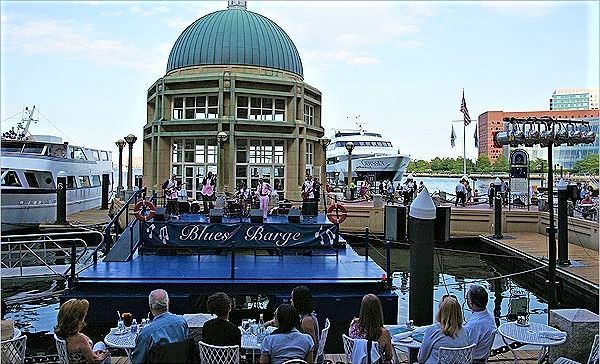 New England Conservatory Summer Concert Series
Enjoy the delight of classical musical performances by students at the New England Conservatory at the Annual Summer Concert Series/ New England. All concerts are free and open to public with a suggested donation of $10 at door. Please note that children under 6 are not admitted to these concerts.


Zumix Summer Concert Series in Piers Park
ZUMIX, a local nonprofit providing creative opportunities for young people, will kick off its annual Summer Concert Series at Piers Park on Sunday, July 10, in Piers Park in East Boston.
All family-friendly concerts will take place from 6-8pm at Piers Park, which is located at 95 Marginal Street in East Boston. The concerts will open with talented young musicians from ZUMIX's programs.
The 2022 lineup this year includes:
July 10 - Local Eastie band Don't Be Denied;
July 17 - Hip-hop artist Seefour;
July 24 - R&B artist and singer-songwriter Ava Sophia;
July 31 - Samba Jazz Project
August 7 - Local funk band The Dope Lotus;
August 14 - Reggae musicians Jahriffe and the JAH-N-I Roots Movement;
August 21 - World music ensemble Kotoko Brass;
August 28 - La Pura Vida salsa band at the final show.
The concert coincides with ZUMIX's annual Walk for Music, a major fundraiser and joyful celebration of the ZUMIX community, and the launch of Eastie Week, an annual celebration of cultural and musical heritage and organizations in the East Boston neighborhood.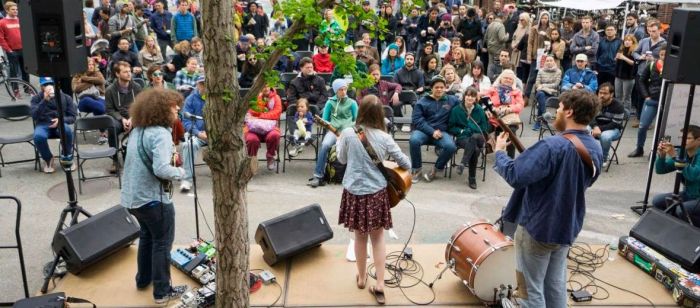 BPL Concerts in the Courtyard
Spend Wednesday and Friday evenings taking in the sounds of the city at the Concerts In the Courtyard at the Boston Public Library. The courtyard of the Central Library in Copley Square comes alive with music with free one hour concerts throughout the summer months.
Settle in at one of Boston's most beautiful spaces and enjoy music in the courtyard that plays host to music that ranges from jazz to classical and from world to folk. Note that concerts are moved to Rabb Hall in the event of inclement weather.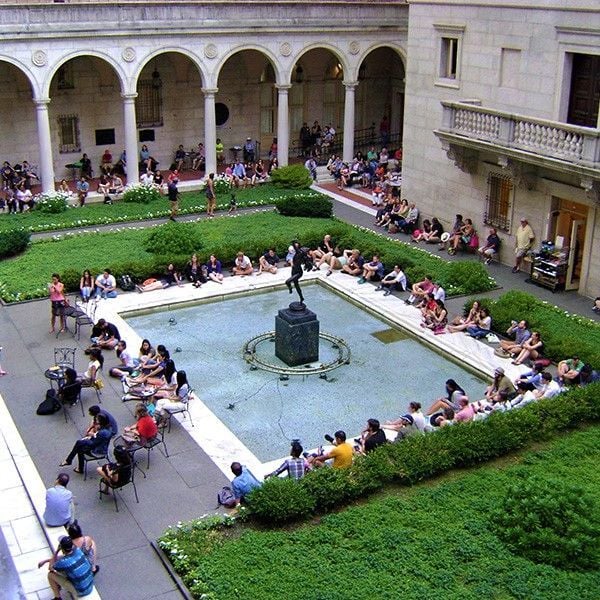 Celebrate our Nation's birthday with top guest performers at the July 4th Sailabration Fundraising Concert with the Boston Pops. Join Boston in one of this country's largest and oldest public Fourth-of-July events and one of the biggest annual outdoor concerts anywhere in the world! Plan to be wowed July 4 (concert and fireworks, 8-11 p.m.) at the Massachusetts Department of Conservation and Recreation's (DCR) Hatch Memorial Shell on the Charles River Esplanade.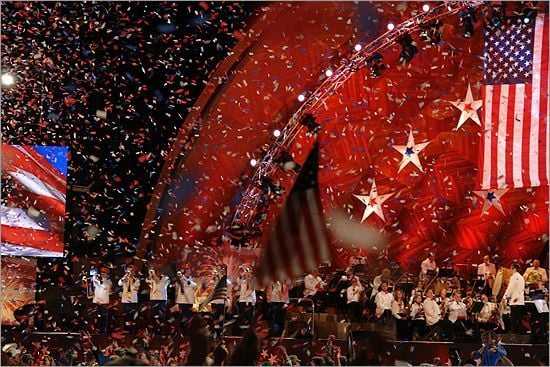 NARA Park Amphitheater Summer Concerts - Acton
Round up your family and friends, pack the picnic baskets, blankets, lawn chairs, and bug spray, and spend a musical evening at the free Thursday evening concerts at the NARA Amphitheater Concerts in Acton.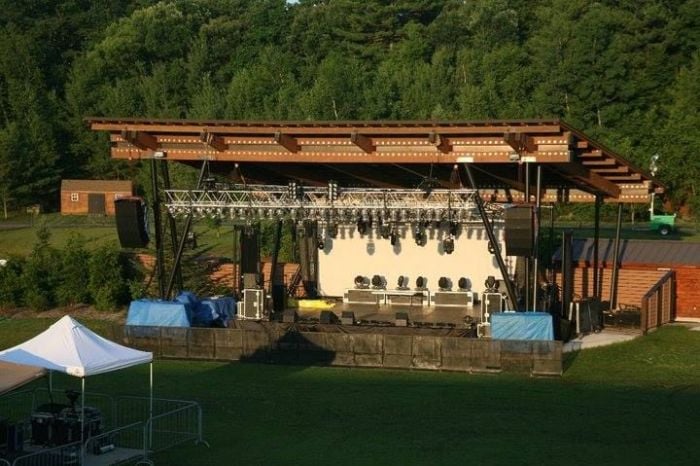 Berklee Summer Concerts - Boston
Soothe your soul with musical talents of the rising stars of Berklee at the Berklee Summer Concerts. Enjoy a summer music series which celebrates a partnership between Berklee and the City of Boston. You can view the 2022 concert schedule by date here.
Every Wednesday until July 27th from 12pm-1pm you can stop by Prudential Center's South Garden to enjoy a complimentary performance by Berklee students; Boston's premiere institute of music.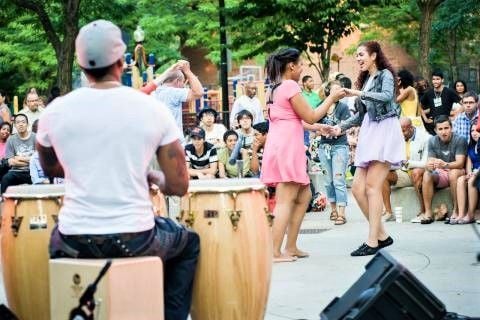 Join the National Park Service, the Dorchester Heights Associations, and Boston Harbor for FREE summer evening concerts on the Heights at Thomas Park. The fun runs from 6-8pm on select dates throughout the summer months!
Boston Landmarks Orchestra Summer Concerts at the Hatch Shell
Bring a chair or blanket and a picnic and enjoy the tradition of symphonic musical entertainment with family and friends. Relax and enjoy free summer concerts under the stars all summer long at DCR's Hatch Shell in Boston performed by Boston Landmarks Orchestra. Take in the music of summer at free Hatch Shell concerts are generally held every Wednesday evening (7 p.m.).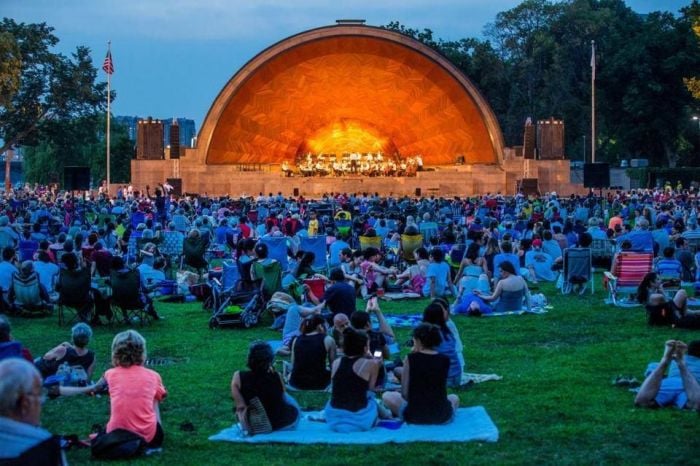 Boston JazzFest
Get your groove on at the Boston Jazzfest. Gather with friends at Boston Maritime Park in the Boston Seaport for a ground-breaking festival featuring a musically diverse array of jazz artists performing on Boston's Waterfront on August 30th and August 31st. Stroll through the festival and enjoy great music, delicious food and shop among the unique vendors who have set up shop at the event.
Salisbury Beach Summer Concerts
Grab your chairs and blankets and enjoy some fun summer tunes, Saturdays at 7:30PM on at the Salisbury Waterfront Stage. Benches and picnic tables available and plenty of dancing room for everyone!
Enjoy takeout from local restaurants, beach pizza, ice cream and more, while you listen to live music from one of the region's hottest bands! Saturday, June 25, we welcome Way to the River to the Salisbury stage!

Sat, Jun 25
Way to the River on the Oceanfront Stage
Sat, Jul 2
Lisa Love Experience on the Oceanfront Stage
Mon, Jul 4
Joppa Flatts Beachfront 4th of July Concert
Sat, Jul 9
Beatlejuice on the Oceanfront Stage
Sat, Jul 16
STEELFINGERS on the Oceanfront Stage
Sat, Jul 23
Fast Times - 80's Dance Party on the Oceanfront Stage
Sat, Jul 30
What A Fool Believes: A Tribute to the Doobie Brothers on the Oceanfront Stage
Sat, Aug 6
All Summer Long – Musical Tribute to the Beach Boys


Summer Music Series at Patriot Place
The Summer Music Series at Patriot Place returns with live music on the Dean College Stage every Friday (5-8 p.m.) and Saturday (4-7 p.m.) throughout the summer. Guests will enjoy live music from local artists while dining outside at surrounding restaurants or in the Designated Outdoor Refreshment Area.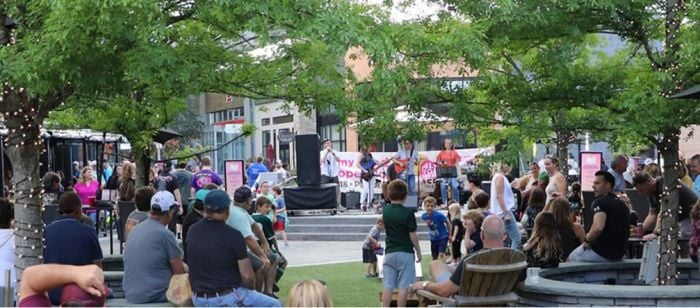 photo courtesy of Patriot Place
In addition, Summer Staycation will feature recurring weekly events, special activities including musical bingo, summer movie nights, chess lessons, guided hikes and more.

Tanglewood Concerts 2022
Tanglewood concerts are back! This summer, for the first time since 2019, Tanglewood will offer a full season of concerts and events.
With Ozawa Hall and the Linde Center for Music and Learning reopening to the public alongside the Koussevitzky Music Shed, the 2022 season will bring you an entire summer of breathtaking music, eye-opening learning experiences, and restorative rest in the beauty of the Berkshires.
From June 17-September 4, Tanglewood will present a wide range of programs that spotlight favorite returning musicians and repertoire and introduce dynamic new performers and eclectic programming.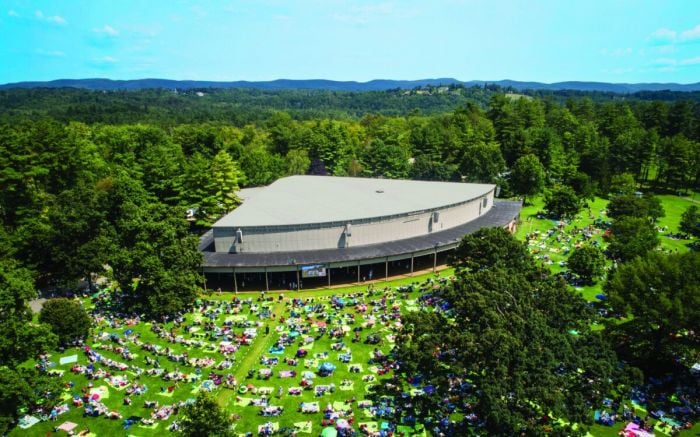 photo credit: Aram Boghosian


Lowell Summer Music Series
Lowell Summer Music Series is proud to present the very best in blues, folk, roots and rock music in the most beautiful and intimate outdoor amphitheater in New England at the very best prices possible.
In addition, families are invited to enjoy free performances for kids at Lowell's Boarding House Park, with free snacks, crafts & trolley rides at every show. In case of rain, shows move across the street to LHS auditorium.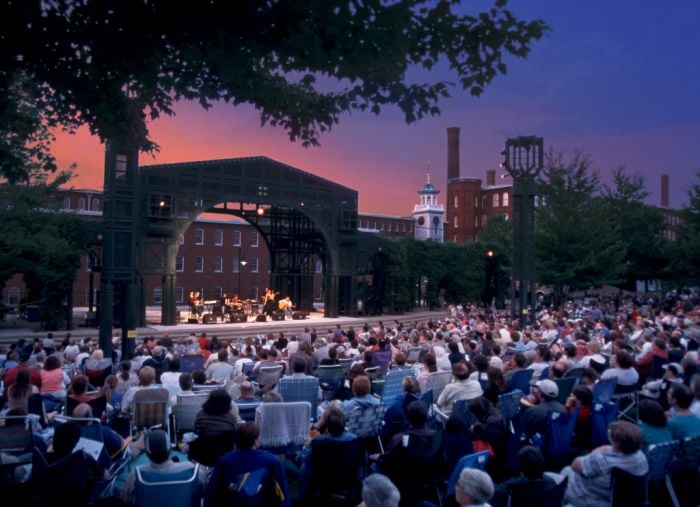 photo courtesy of Lowell Summer Music Series
Summer Concerts in the Suburbs
In addition, there are lots of summer concert series that take place out in the 'burbs. Take a look at this roundup of town sponsored summer concerts and enjoy a summer evening of music and family fun.
ACTON
Wednesdays at NARA Park at 6:30 p.m.
ASHLAND
Tuesdays, 7-9 p.m. (June and July) and 6:30-8:30 p.m. (August), Stone Park Gazebo, Summer Street
BELLINGHAM
Concerts on the Grass, Wednesdays, Town Common
CAMBRIDGE
Tuesdays, 6-8 p.m., Danehy Park, 99 Sherman St.
CANTON
Wednesdays, 6:30 p.m., Canton High School (front lawn of Rodman Building). In case of inclement weather, call 781-821-5030.
DEDHAM
Wednesdays, starting with opening acts at 6:30 p.m., followed by the main attraction at 7 p.m., lawn of Endicott Estate.
DOVER
Tuesdays from 7-8 p.m. on the Common. Knucklebones returns with children's activities.
FRAMINGHAM
Fridays, 6:30 p.m. (6 p.m. starting July 26), Village Green, Edgell Road and Oak Street
Cancellations will be announced by 4:30 p.m. on Framingham Parks & Recreation Facebook page and on the cancellation line, 508-532-5962.
HOLLISTON
Tuesdays, 6:30 p.m., Goodwill Park.
HOPKINTON
Sundays, 5 p.m., Common. Sponsored by Hopkinton Parks and Recreation.
IPSWICH
Castle Hill Picnic Concerts are back! Pack a picnic supper and enjoy an evening of live music on the magnificent Grand Allee.
Stroll the grounds and explore the newly restored gardens while you enjoy a night out on the estate. Gates open at 5PM for picnicking. Advance ticket reservations are recommended but not required.
Don't have time to pack a picnic? Purchase supper from one of our onsite vendors--Riverview Pizza and Down River Ice Cream.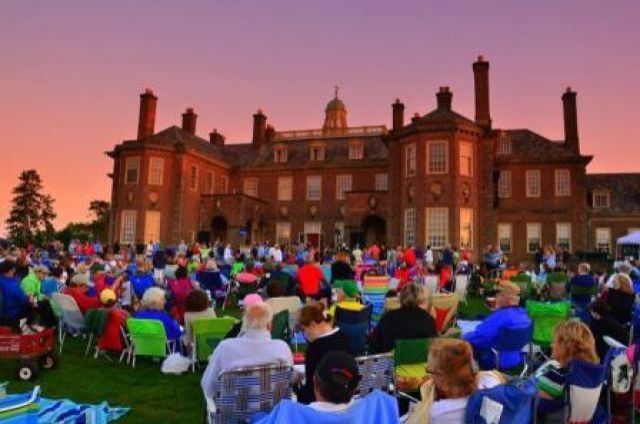 photo courtesy of Trustees of Reservations


LINCOLN
Wednesdays, 6 p.m., Codman Pool, Ballfield Road. Sponsored by the Recreation Department. Admission is free; pool use for nonmembers is $5 per person. Concerts will be canceled or rescheduled in the event of rain.
MARLBOROUGH
Thursdays, 7 p.m., Union Common, intersection of Route 85 and Main Street. Sponsored by the Mayor's Office and the Recreation Department.
MEDFIELD
Thursdays, 6-8 p.m., at the gazebo next to the library. Cancellation Info: medfieldmemo.org.
MEDWAY
Mondays, 6-8 p.m., Choate Park.
MILFORD
Family Night on the Bandstand, Tuesdays, 6:30-9 p.m., Milford Town Park, corner of Congress and Walnut streets. Information: claflinhill.org, 508-478-5924.
NATICK
Concerts on the Common, Mondays, 7 p.m. (except for June 24 concert). In case of rain, call 508-647-6530 after 5 p.m. for cancellation information.
*Family Performance Arts Series*, Wednesdays, 6:30 p.m., Natick Common. In case of rain, performances will take place at the Community-Senior Center, 117 East Central St.
NEEDHAM
Thursdays, 7 p.m., Memorial Park Gazebo. In case of inclement weather, concert will be performed at Newman Elementary School. Bring dinner, lawn chairs or a blanket, and enjoy the music.
NEWTON
*Sundays on Newton Centre Green 6-8:30 p.m (corner of Langley Road and Centre Street) canceled in case of rain — no rain date.
NORTHBOROUGH
Sundays, 5-7 p.m., Ellsworth-McAfee Park, Route 135. Sponsored by the Northborough Community Affairs Committee. Free face painting and balloon art.
NORWOOD
*Carillon Concerts on the Common, Mondays, 7-8 p.m., Tilton Memorial Carillon, Washington and Nahatan streets. All concerts rain or shine.
*Summerfest Concerts, Wednesdays, 7-9 p.m., Gazebo. Presented by the Norwood Arts Council.
SHARON
Lakeside Concert Series, Wednesdays, 7-8:30 p.m., Veterans' Memorial Park Beach
SHERBORN
Wednesdays, 6:30-8 p.m., lawn at the Unitarian Universalist Church, corner of Washington and Sanger streets. Sponsored by the Friends of the Sherborn Library.
SOUTHBOROUGH
Wednesdays, 6-8 p.m., Neary School grounds. Information: Southborough.recdesk.com
SUDBURY
Mondays, 6:30-8 p.m., Haskell Field.
UPTON
Wednesdays, 6-8 p.m., 99 Kiwanis Beach Road. Upton Recreation Department runs a grill so visitors can purchase food.
WALPOLE
Tuesdays, 6:30-8:30 p.m. (6-8 p.m. in August), on the Common.
WALTHAM
Tuesdays, 7-8:30 p.m., Common. Information: walthamarts.org
WATERTOWN
Wednesdays, 6:30-8 p.m., Salstonstall Park
WAYLAND
Thursdays, 7 p.m., Town Building Courtyard. In case of rain, the concert will be held in the Large Hearing Room.
WELLESLEY
Wednesdays, 7-8:30 p.m., Town Hall Green. Kids games provided by Knucklebones.
WESTBOROUGH
Wednesdays, 7 p.m., The Willows at Westborough
WESTWOOD
Mondays, 6:30 p.m., Westwood Senior Center lawn, 60 Nahatan St.
More Ideas for Summer Fun!
Find Fun Things to Do on our events calendar as Summer Begins in Boston. From a myriad of Boston Beaches, Spray Parks & Pool, Waterparks and more, you'll find lots of ways to stay cool during a Boston Summer.
Enjoy your summer nights with these free evening concerts, and you can mix things up with our list of fun options for free summer movies in the Boston area as well.
In addition to summer concerts and movies, there are many other fun things to do for free in Boston - check out our handy guide to free family fun for more ideas.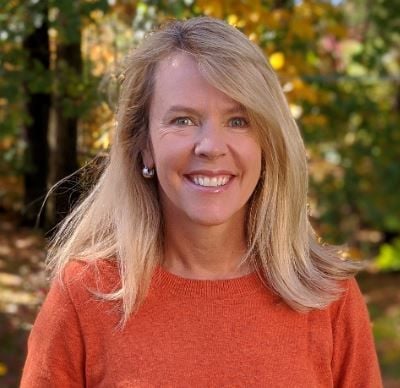 Stacey Sao has been the Managing Director of the family-friendly events and activities website, BostonCentral for over 20 years. She continues to enjoy discovering and exploring new places in the Greater Boston area.