Boston area Spray Parks, Wading Pools and Fountains
Fun Spots to Cool Off in the Summer in Boston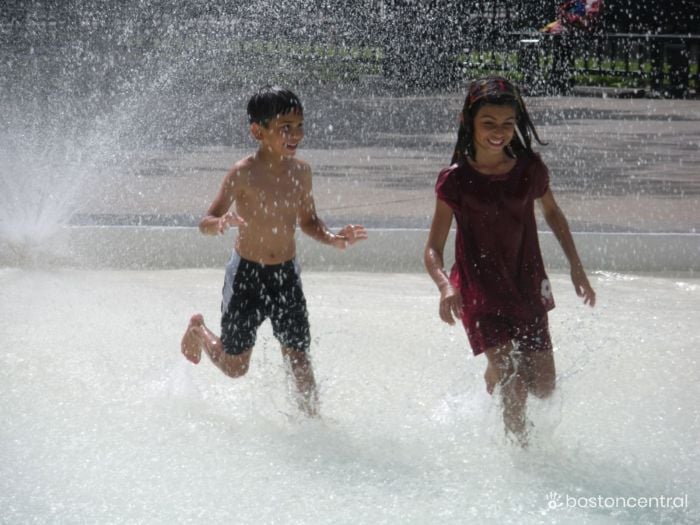 Summertime in Boston is so much fun when kids are skipping through fountains and splashing in shallow pools of water throughout the city. There is plenty of water fun to be had in neighborhoods all around Boston, and we've rounded up some of our favorite spots.
With warmer weather upon us, water fun is a must for families and kids! From splash pads, plenty of sprinklers and fountains to wading pools, here are some of the best places to get in the water and have a splashing good time in and around Boston.
Most locations are open on weekends after Memorial Day, and then open daily from the end of June through Labor Day. All are free to enjoy on a hot summer day! View Map for more locations.
Frog Pond - Boston Common
From the opening day festivities in late June through Labor Day weekend, children ages 12 and under can cool off in the Frog Pond Spray Pool, open daily at 11am. The area also features a fun playground adjacent to the water as well as a carousel (far left) for kids to enjoy once they cool off.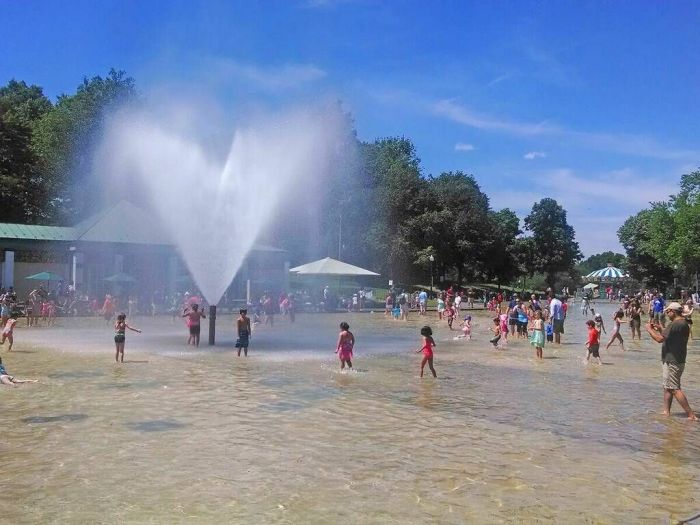 Frog Pond, Boston Common - 40 Beacon Street, Back Bay
Frog Pond Tot Lot - Boston
Enjoy this shaded play area that includes spray jets for colling play. Hop over to the adjacent Frog Pond wading pool and fountain for even more water play & spray. Open seasonally from 9:00am - 8:00pm.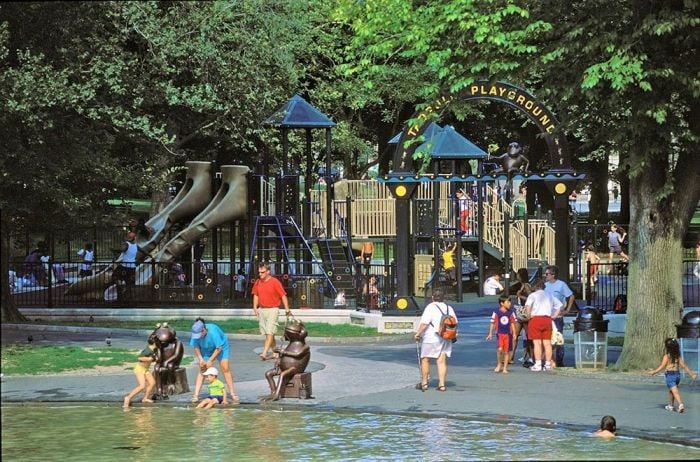 Frog Pond, Boston Common - 139 Tremont Street, Back Bay

Rings Fountain on the Rose Kennedy Greenway - Boston
The magical Rings Fountain is the centerpiece of Greenway fountains and certainly our favorite. 64 nozzles shoot up in the air and create circles of vertical water. It's available for splashing and cooling off from late May through early October from 9am-11pm daily.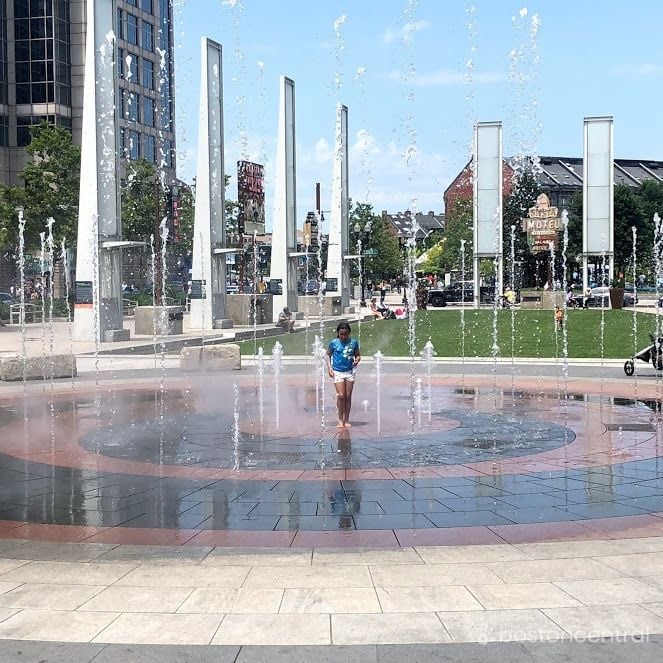 Charles Bank Playground & Wading Pool - Boston
Situated along the banks of the Charles River, Charles Bank Playground & Wading Pool is a bit of a family's dream; a spot where the kids can swing, run, climb, and pretend, while parents enjoy the sun glimmering on the Charles. In the summer, there is a decent-sized wading pool with a fountain that is perfect for cooling off. 280 Charles Street.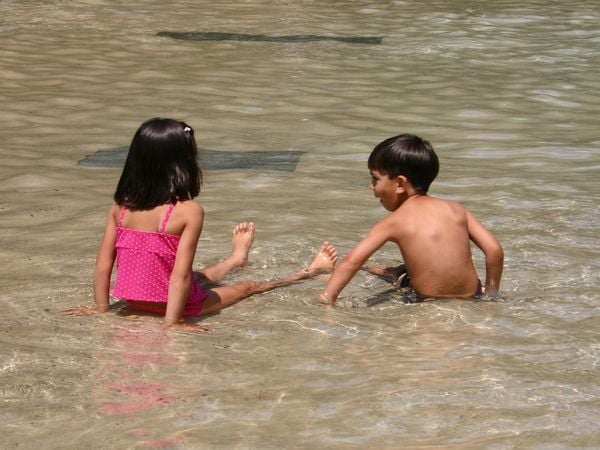 photo credit: BostonCentral


Artesani Playground Spray Deck and Wading Pool - Brighton
Artesani Playground is a nicely-maintained DCR playground has a spray deck and wading pool for cooling off. The spray deck and wading pools are open daily, 9:30am-7pm, late June - early September.
The Sneaky Sneaker literally does what it says the bell-shaped tipping buckets spill and dump water at random intervals, essentially sneaking up on water players to create bursts of excitement on the play pad. Additional spray elements such as the Gusher ground spray feature a GIANT spray effect!
The Spray Deck is safe and you will find lifeguards here and benches too, so sit back and relax while the kids wade in the water on a hot sunny day.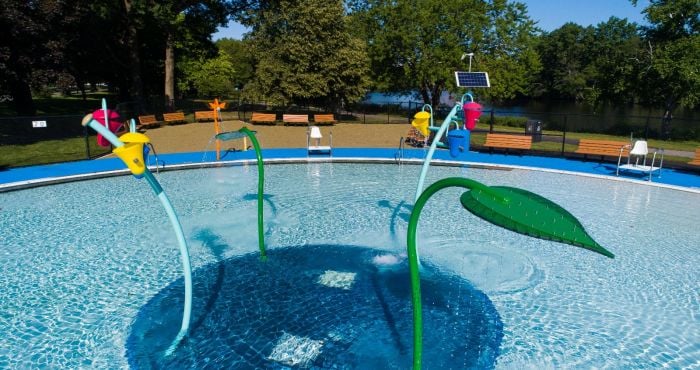 Artesani Spray Deck & Wading Pool - 1255 Soldiers Field Road, Brighton, MA


Beaver Brook Spray Deck and Playground - Belmont
Enjoy lots of fun water features in the Beaver Brook Spray Deck. There's a playground and lots of green space and paved walking trails to explore in the Beaver Brook Reservation. Street parking on Trapelo Road or parking in the lot on Mill Street. The rocks in the water area tend to get slippery, so have little ones wear water shoes with tread. Open daily from late May - early September from 9:30am-7pm.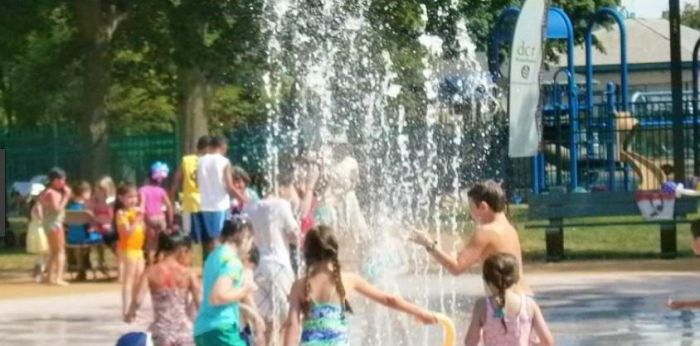 Photo Courtesy of Mass DCR


Martin's Park Water Garden - Fort Point Channel
Enjoy this interactive playscape with cooling mists for summer months. Controlled by accessible buttons, children can control the sequencing of the fountains for added fun. During cooler months, the boulder area provides opportunities for creative play and games of chase in a robustly natural environment.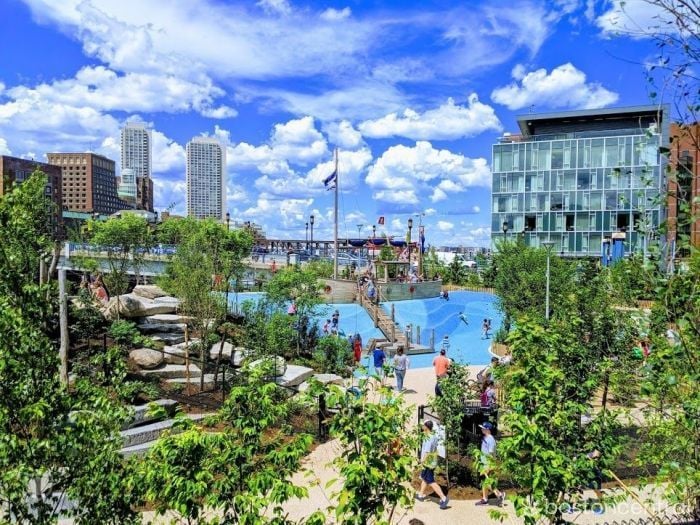 Martin's Park - 64 Sleeper Street, South Boston
Stony Brook Spray Deck - Jamaica Plain
This small neighborhood spray deck is part of the Stony Brook Playground. It's a fun place to play for small children, especially in the summer when they can splash in spray deck to stay cool. Open daily late May -early September from 9:30am-7pm.
For information on more swimming pools, wading pools, and spray decks in Boston, see the Department of Conservation and Recreation's website.


Splash Fountain, Christian Science Plaza - Back Bay
Enjoy a fun splash pool area in the center of the fountain as well as the evening lighting system which creates a wonderful atmosphere. The Splash Fountain at Christian Science Plaza is open daily from 9am-9pm, weather permitting.
The fountain is located on the Belvedere Street side of the plaza, not far from lots of eateries and the free movie series at The Pru.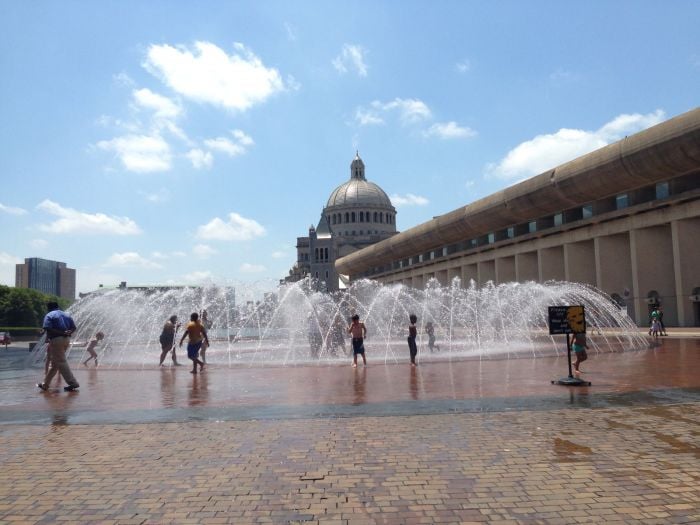 Christian Science Plaza Fountain
The Fountain includes a cast iron gate that allows nearly 200 jets to shoot up directly out of the ground. There is even a splash pool at the epicenter of the fountain for visitors of all ages to enjoy. The fountain is open daily from 9:00 a.m. to 9:00 p.m., weather permitting.
Menino Park - Charlestown
In addition to a sprawling playground with lots of inclusive structures to climbing and exploring, Menino Park has sprinklers in the grassy area at the top of the playground. This is a fun area for young kids to stay cool on hot summer days while they run, splash & play.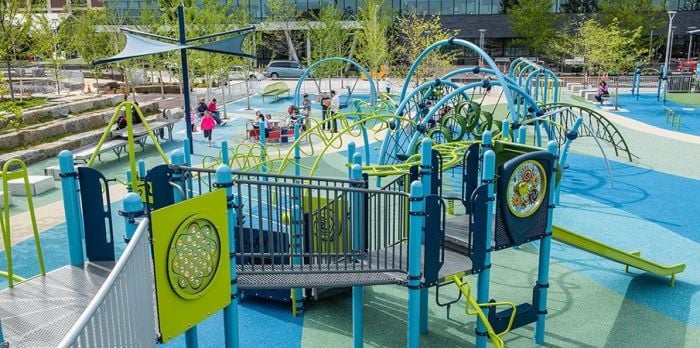 Menino Park - 300 First Ave., Charlestown

The playground sits right beside the Spaulding Rehabilitation Center and is about a 10 minute walk straight down 1st Avenue from the U.S.S Constitution Museum.

Danehy Park - Cambridge
Danehy Park is the perfect spot for cooling off on hot days at the expansive spray pad. While at the park, take advantage of the playgrounds, green space and paths which are ready and waiting for families to explore.
Chuckie Harris Park - Somerville
Built on an old parking lot, Chuckie Harris Park features a water spray feature with a rain wall that doubles as a giant platform for a movie screen. Playgrounds at the park are separated by age and divided up between passive and active recreation to suit any and all visitors. This innovatively designed park is sure to become your family's favorite.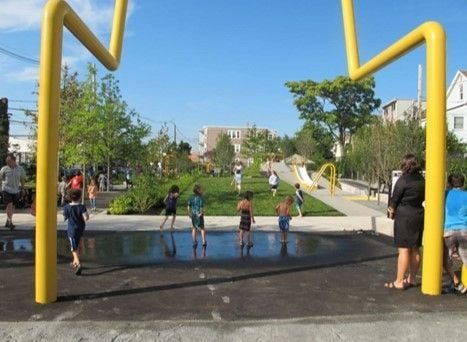 Chuckie Harris Park


North Point Park - Cambridge
Escape the heat and join the fun at the awesome spray deck at North Point Park! Open daily from 9:30am to 7:00pm, families will enjoy surrounding beautiful green space, playgrounds and fantastic views. The spray deck is unguarded and children must be accompanied by an adult at all times.
Rose Kennedy Greenway - Wharf District
There is plenty of water fun to be had with the variety of Rose Kennedy Greenway fountains. These family friendly water destinations are available for splashing from late May through early October from 9 a.m. to 11 p.m. daily.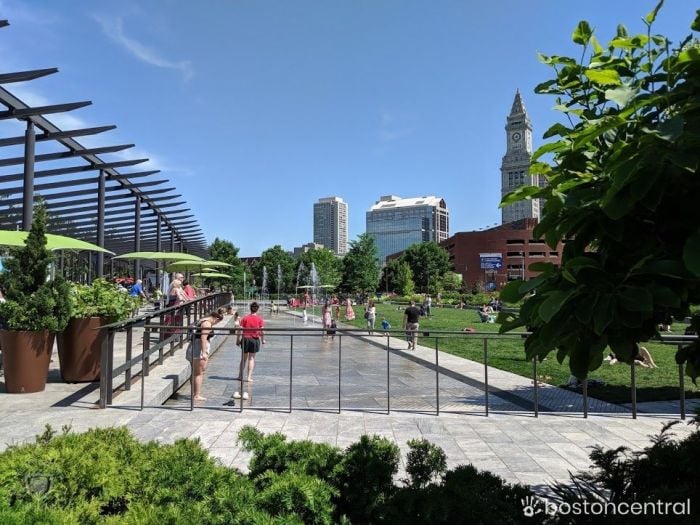 Rose Kennedy Greenway North End Park Fountains
Head over to Rings Fountain, Wharf District Parks—Milk Street where 64 nozzles shoot up in the air creating playful patterns of refreshing vertical splashes, day or night.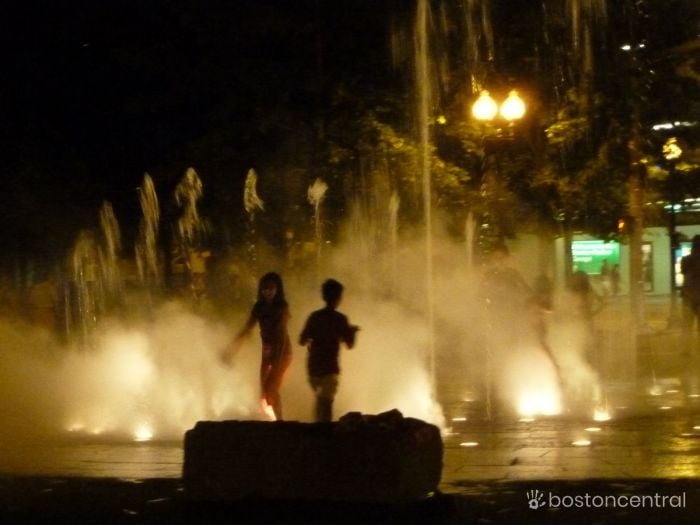 Greenway RIngs Fountain
Cool down in the Canal Fountains, North End Parks—New Sudbury Street and North Street which run along the North and South lawns of the Parks. These fountains are perfect for smaller children, who just want to get their toes wet and splash around.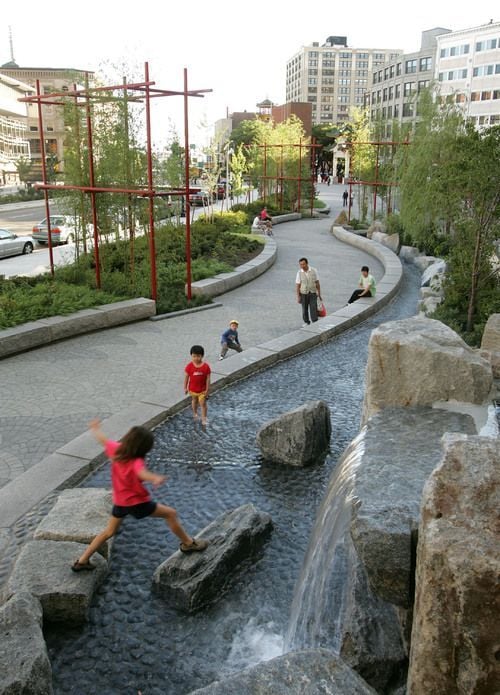 Canal Fountains at Chin Park, Greenway
Another highlight of the Rose Kennedy Greenway is the River Stream Fountain, Chinatown Park—Surface Road and Beach Street. This fountain is lined in bamboo and caters more to older children. The River Stream Fountain features a rocky stream to explore and frolick in while iin Chinatown.
Dorothy Curran Playground - South End
Be sure to check out this nautically themed playground with tons of whimsey. Four towering seaweed structured water fountains draw visitors in and offer a refreshingly fun aquatic wonderland perfect for summertime fun.
Johnson Playground and Stonybrook Spray Deck - Jamaica Plain
Have fun on the playground, and chill out with the spray of the Spray Deck at Johnson Playground in Jamaica Plain. It features play structures for young children ages 2 to 12, as well as the largest splash park in Jamaica Plain. This is a top spot to frolick and cool off in the warmer months.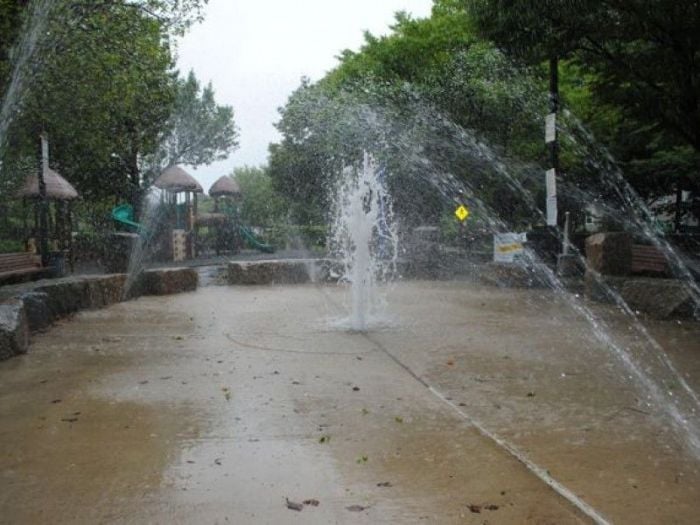 Stonybrook Spray Deck
At the Johnson playground, there are separate splash areas for big and little kids, and Stony Brook is smaller but worth a visit for the centralized gurgling fountain.
Alexander W. Kemp Playground - Cambridge
Head over to the Common and cool off at the splash pad and enjoy hours of entertainment interacting with the fascinating water wheel and water tables. The playground features lots of natural elements throughout the park. Little ones will enjoy wooden climbing structures and a pirate ship perfect for active and imaginative play.
Olsen Swimming Pool and Spray Deck - Hyde Park
If you are searching for a wet and wild day with the family, there is an array of water sprayers at the Spray Deck at Hyde Park to cool you off as the temperatures skyrocket. With brightly colored spray features, this splash pad is big enough for everyone in the family who needs to cool down on hot days. The spray deck is open from late June to late August with extended hours during the hottest months of July and August.
More Ideas for Summer Fun!
Find lots more fun things to do in Boston during the summer in our July & August guides to family fun. And since summer is a great time to be outside, check out our guide to Boston outdoor activities, featuring lots of cool places to enjoy a beautiful summer day.
Boston actually boasts a large number of public pools for locals to stay cool and have fun all summer. Find one near you and enjoy.
Other great ways to stay cool in the summer include a spending a day at the beach. You can also explore a wide variety of Beaches near Boston in our Boston Beaches guide..
There are so many more fun things to do in Boston - check out our Boston Events Calendar for ideas on specific events, or if you are looking for a deal, check out our popular article about free things to do in Boston!
And on the occasion of a rainy day in Boston - here are some ideas for indoor things to do until the sun returns. You can find many more things to do in Boston with kids in our handy guide for families looking for fun things to do all year round.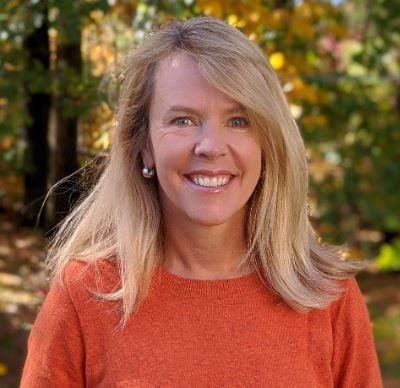 ~~~
Stacey Sao has been the Managing Director of the family-friendly events and activities website, BostonCentral for over 20 years. She continues to enjoy discovering and exploring new places to visit in the Greater Boston area.