Outdoor Activities in Boston
Boston Outdoors - Things to do outside in Boston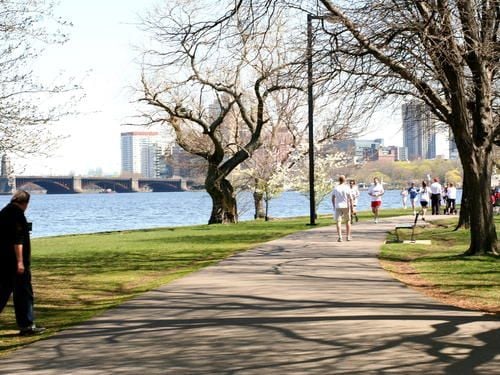 Boston Parks & Recreation COVID-19 Updates
Mayor Walsh Guidelines for Social Distancing
Boston is a four season city, with all sorts of wonderful things to do outdoors. This list of popular outdoor activities in Boston include both urban and suburban venues, like parks, playgrounds, walking trails, water activities and more. Get outside!
Boston Walking Trails
The Charles River Esplanade
The Charles River Esplanade is a 17-mile stretch of land runs along the banks of the Charles River. There are paths that span the entire stretch that make for a glorious place to walk, jog, rollerblade, bike or just get some sun and people-watch.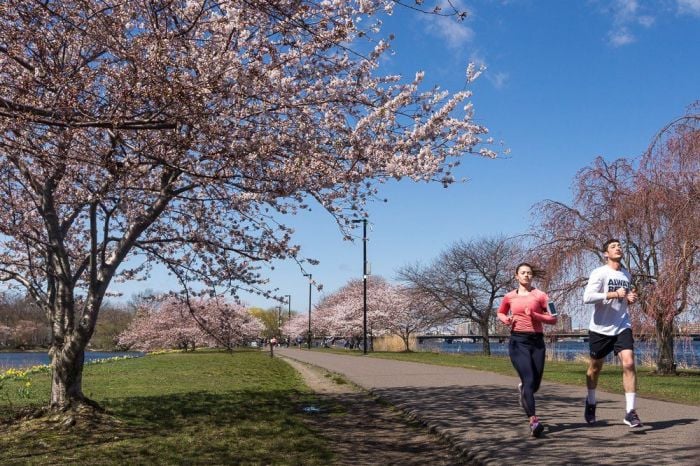 photo credit: Heather Kang
The Rose Kennedy Greenway
The Rose Kennedy Greenway is made up of 15 acres of vibrant, public parkland. When Boston's Big Dig project plunged previously elevated roadways underground, the city found itself rich in prime urban land.
The Greenway encompasses gardens, plazas, and tree-lined promenades. Offering beautiful places for relaxation within the rhythm of the urban environment, the Greenway is a key feature of the modern reinvention of Boston.

photo courtesy of The Greenway Conservancy
For those of you who can safely enjoy The Greenway, we invite you to:
Boston Public Garden
The Boston Public Garden is the oldest public park in the country, with beautiful winding paths surrounded by antique trees and impressive gardens; and lots of benches to sit and relax. Don't miss the famous Ducklings sculptures, along with the many hidden fountains and statues within the park. It's quite beautiful any time of year.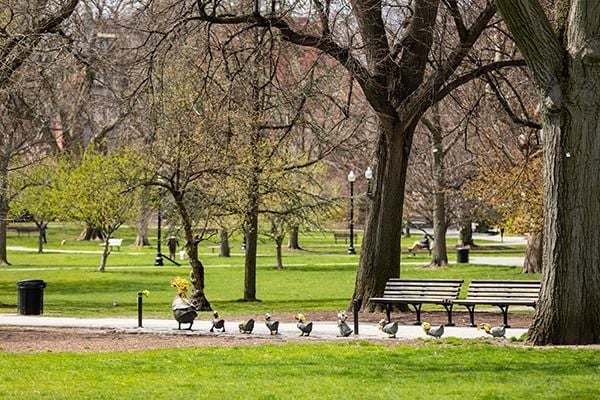 The Boston Harbor Walk; Charlestown's Pier 7
Boston Harbor Walk - This near-continuous, 43-mile linear park along Boston's shoreline, the Harbor Walk connects Boston's waterfront neighborhoods to Boston Harbor and each other.
The walkway stretches from the Neponset River in lower Dorchester to Constitution Beach in East Boston via Charlestown, thorugh the North End, Seaport, and South Boston. It's a really lovely way to spend time in Boston - strolling along and enjoying the views.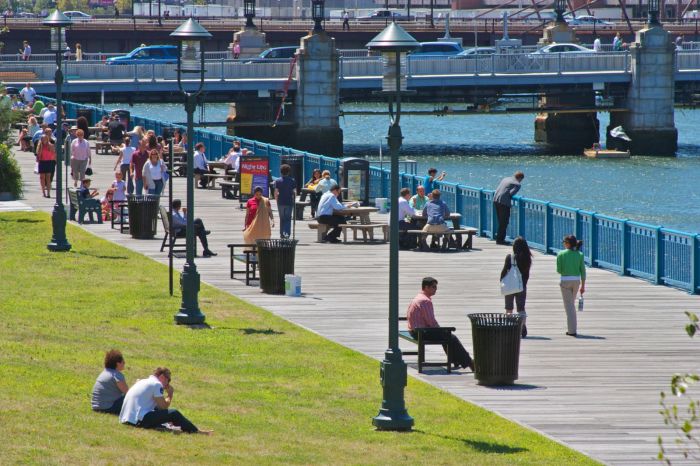 photo courtesy of Boston Harbor Now
Castle Island
Castle Island Loop - Often missed by tourists, Castle Island is a great place to walk along Boston Harbor. Refreshing breezes, fantastic views of planes taking off and landing from the airport, and lots of wide open space compliment this venue - with the added bonus of the popular Sullivan's snack shack. This 22 acre land-bound island (it's the site of an old armory), features a number of interesting and entertaining sites. View our Castle Island photo guide here.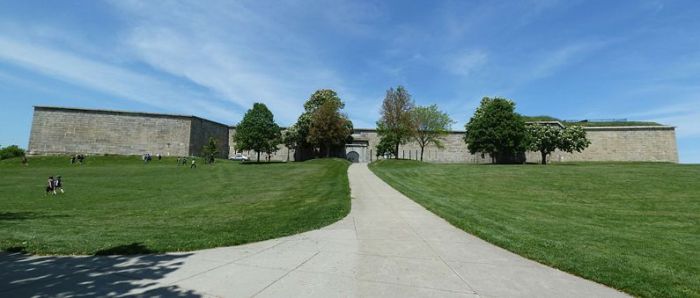 Boston Freedom Trail
Take an unforgettable walk through history as you follow the 2.5 miles of Boston's Freedom Trail. Follow the famous red brick path with the kids to 16 historic sites through Boston's most historically well known neighborhoods that provide a fantastic way to introduce kids of all ages to Boston's rich history and America's path toward liberty.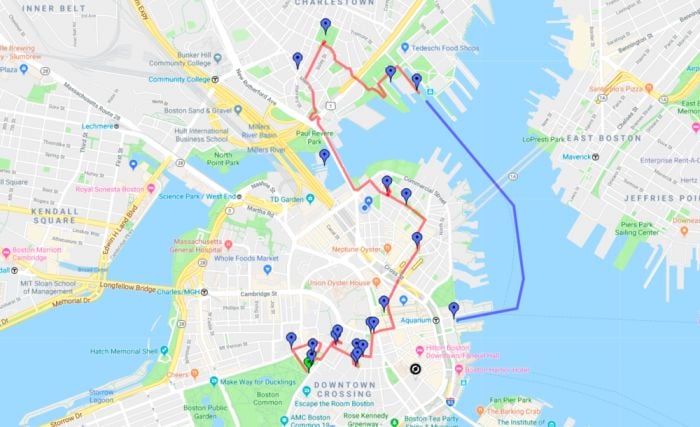 Underground at Ink block
Underground at Inkblock is an 8-acre underpass located between Boston's South End and South Boston neighborhoods that has been transformed into an active urban park, full of colorful murals, walking & biking paths, fitness classes and activity.
This is a cool alternative to a conventional park, with the added bonus of colorful art murals and whimsy.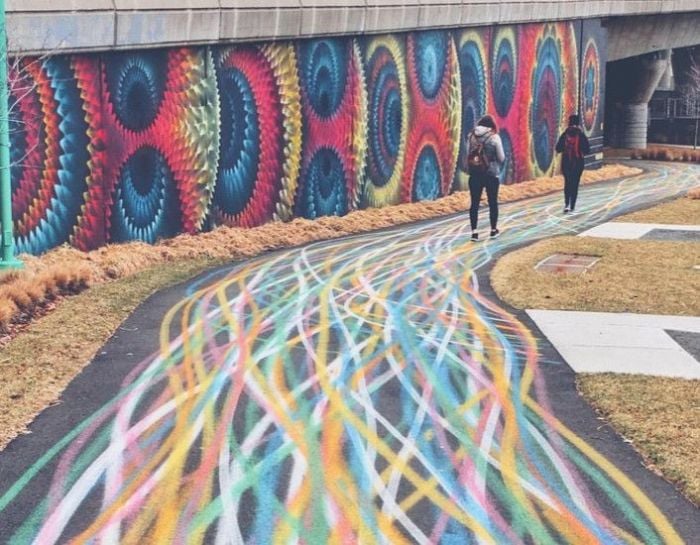 This urban park, cultural attraction and mixed-use parking facility is a space unlike anything seen before in this region.
Boston Beer Gardens
Outdoor beer gardens have taken the city by storm lately, so there are lots of terrific choices for beer garden mingling in Boston. From the Seaport District to the Greenway, to the Esplanade to Charlestown - grab some friends and a brew and enjoy the outdoors.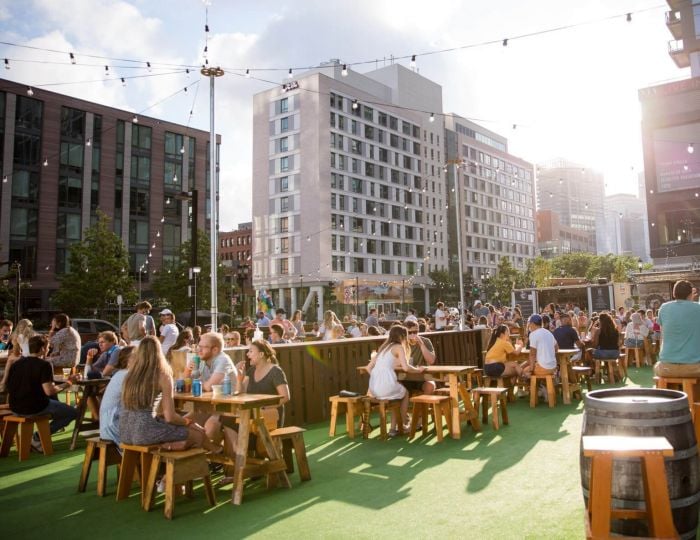 photo courtesy of Cisco Brewing


Franklin Park
Franklin Park is home to Boston's largest forest, walking trails and lots of wide open green space. It boasts an 18-hole public golf course, tennis courts, baseball fields, old stone ruins, and New England's largest Zoo.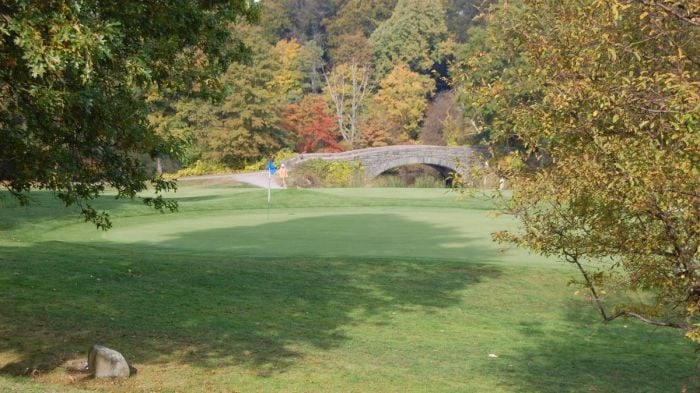 photo courtesy of Boston Parks & Recreation
Piers Park
Piers Park is a beautiful waterfront space in East Boston that features wide open grassy spaces, spectacular views of the Boston skyline, a sailing center, a playground, benches and a long pier to catch an afternoon breeze.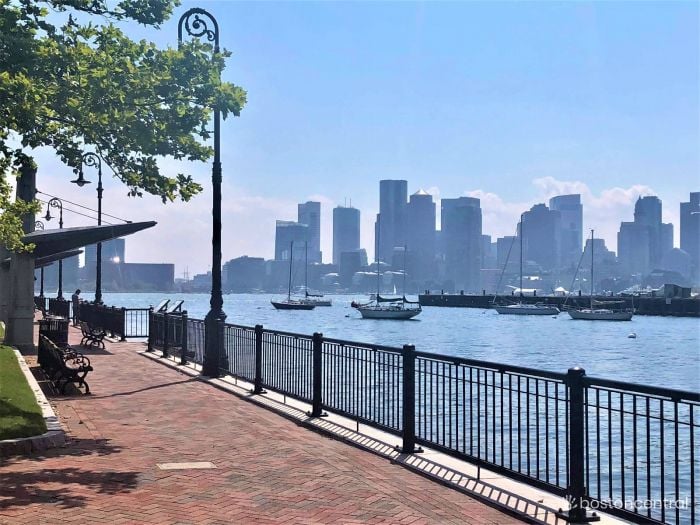 photo credit: BostonCentral
Recreation Sundays
Recreation Sundays on Memorial Drive (Seasonal) - Every Sunday, from the last Sunday of April to the second Sunday of November, Memorial Drive (Mem Drive to locals), is closed to traffic between Western Avenue and Mount Auburn Street., and open to recreation!
Bring your bikes, scooters, inline skates, running shoes, strollers or walking feet to take advantage of the unique access to this normally busy road with views of the Charles each summer Sunday. When you are done, go grab lunch in Harvard Square.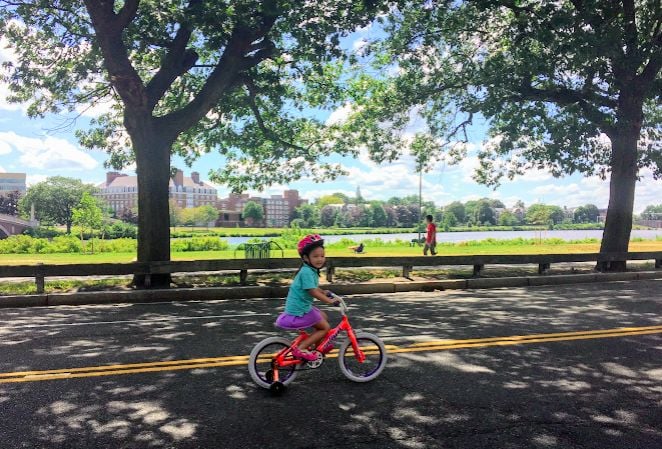 Community Boating & Sailing
Community Boating & Sailing (Seasonal) - Boasting a fleet of many sailboats, membership at this popular non-profit entitles one to unlimited use of the boats, free instruction at all levels from beginner to advanced, with guest privileges once a member has passed a skills test. Visitors can also rent sea kayaks, stand-up paddleboards, and windsurfers for a daily fee.
Arnold Arboretum
The Arnold Arboretum is one of the area's truly great places to get away during the spring, summer and fall. The two-mile-long main walking trail is paved and allows for leisurely stroller walks. Plant, flower and woodland life is labeled according to species.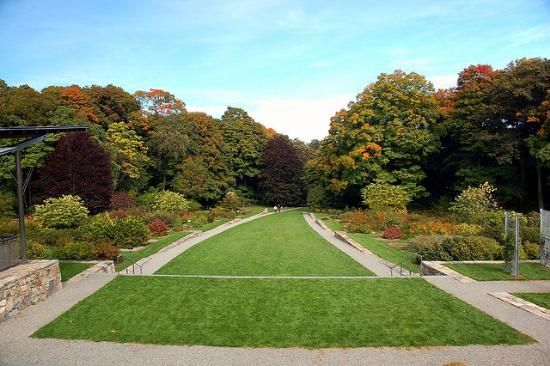 photo credit: unknown
Jamaica Pond
Jamaica Pond - Jamaica Pond is a good place to learn rowing and sailing. You can also fish there, and it is a fun place to go to walk around all year round. There is no swimming at Jamaica Pond at any time.
Forest Hills Cemetary
Not only is this garden cemetery a National Historic Place, Forest Hills also a 172-year-old burial ground where you can find the gravestones for late notables, such as poet e. e. Cummings. Elaborate mausoleums, an abundances of sculptures, pretty walkways, and even a small lake can be found within the 275-acre arboretum.

photo courtesy of Walk Boston History

Boston Suburbs Walking Trails


The Minuteman Trail (Arlington, Lexington, Concord)
The Minuteman Trail National Park is a 10.5 mile paved path that begins at the Alewife Red line T-Station and runs all the way through to Bedford. Families and individuals can enjoy biking, running, walking, and rollerblading along this well maintained paved path.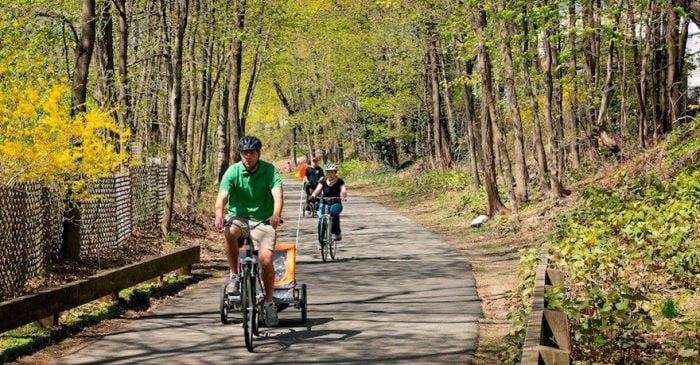 deCordova Sculpture Park (Lincoln)
The decordova Sculpture Park, encompassing 35 acres of rolling woodlands and lawns, is the largest park of its kind in New England. A popular site for families and picnickers, the Museum hosts rotating exhibitions of contemporary art , and offers lovely grounds to walk and enjoy art amid natural surroundings.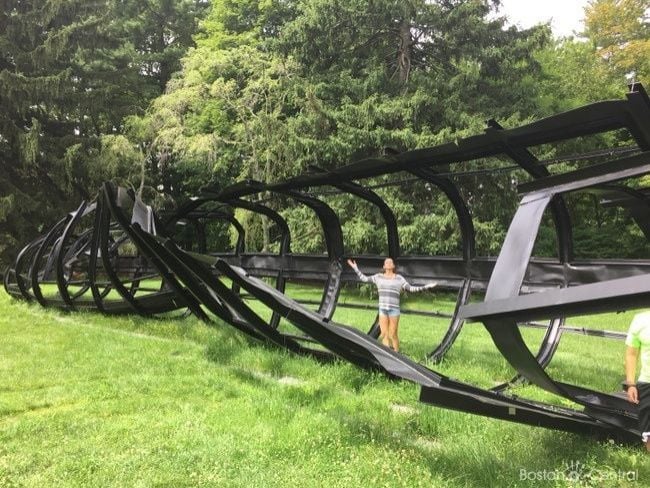 photo credit: BostonCentral


Walden Pond
Waldon Pond (Concord)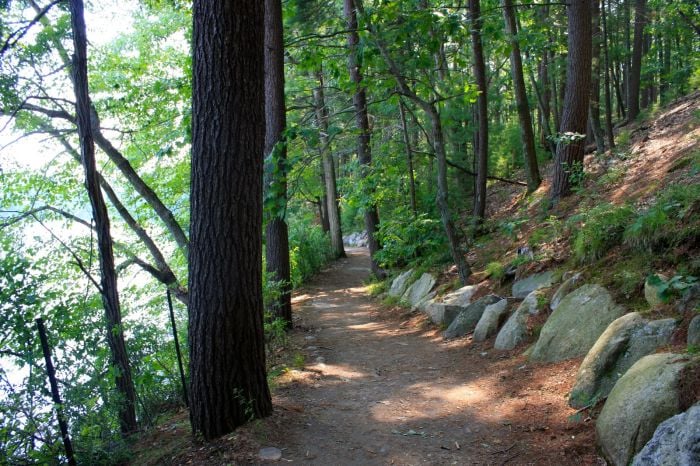 Stonehurst, the Robert Treat Paine Estate
Experience Olmsted's naturalistic approach to landscape design on the rolling meadows, curved terrace and rocky outcrops of the Stonehurst estate grounds or hike across easy, well, marked woodland trails that wind through over 100 acres of surrounding conservation land. The house crowns a spectacular rise selected by F.L. Olmsted, founder of the parks movement nationwide.


Fruitlands (Harvard)
Take a stroll over the land of Fruitlands Museum. Enjoy a peaceful walk through Fruitlands' varied landscapes on 3.2 miles of well-marked walking trails.
Fruitlands Walking Trails allow visitors to experience meadow habitats on your way to the most stunning view of the Nashua River Valley. View bluebirds and butterflies up close with views of Mt. Monadnoc and Mt. Wachusett rising in the distance.
Founded in 1914, the museum takes its name from a utopian community created by Bronson Alcott and Charles Lane in 1843 and includes the original farmhouse used by its members, a Shaker Museum, a Native American Museum and an American Art Museum.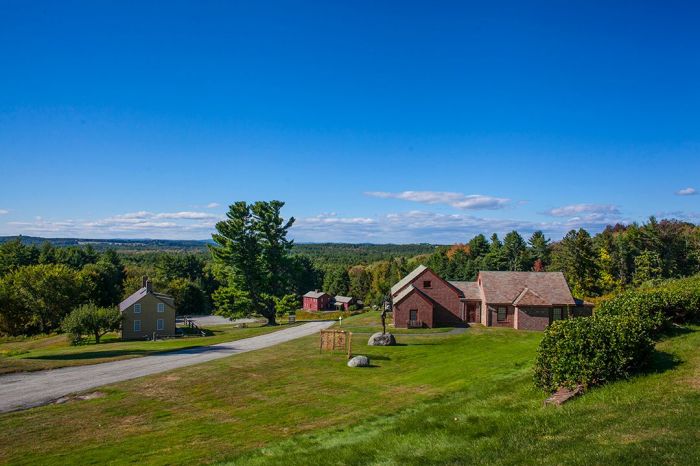 photo courtesy of Trustees of Reservations


Acton Arboretum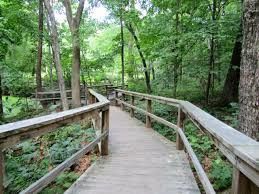 Garden in the Woods
Garden in the Woods (Framingham)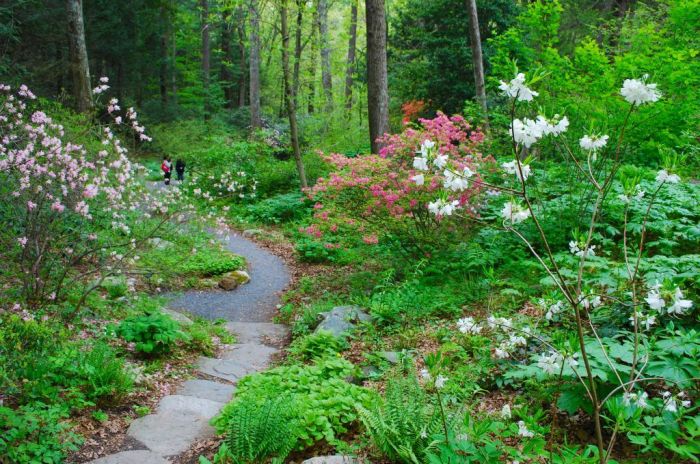 Tower Hill Botanical Garden
Tower Hill Botanical Garden (Boyleston)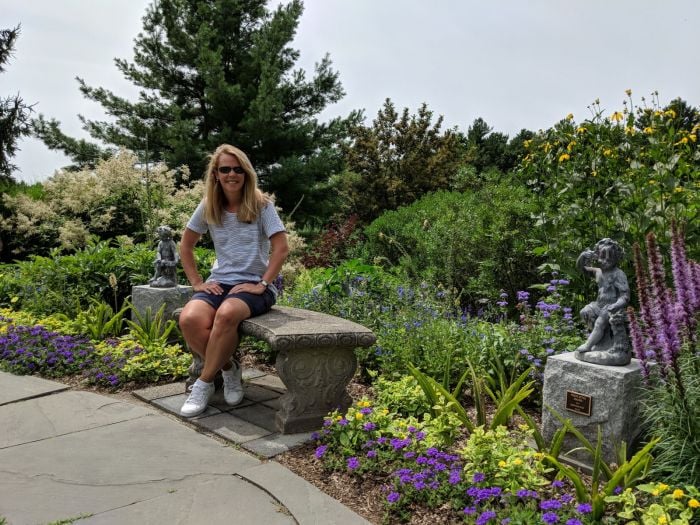 photo credit: BostonCentral
Local Parks & Playgrounds
Martin's Park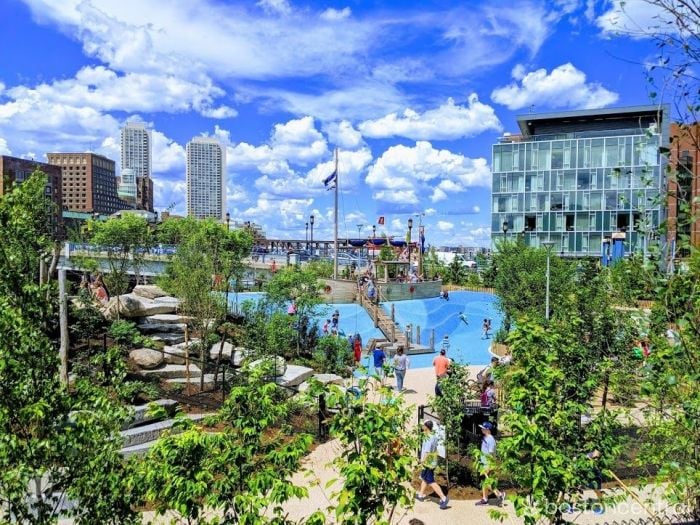 photo credit: BostonCentral
Charles River Esplanade Playground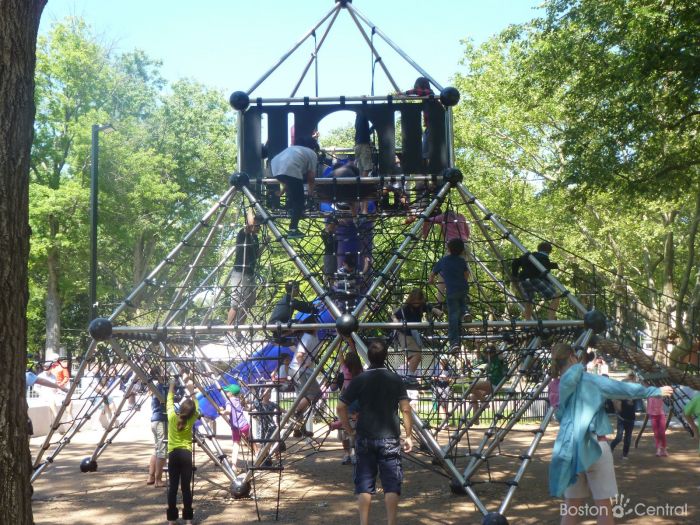 photo credit BostonCentral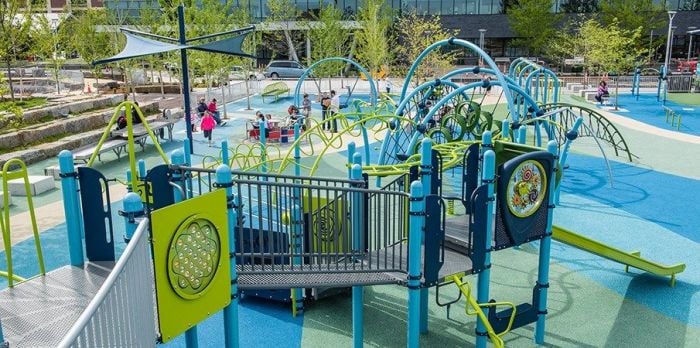 Lawn on D (Seasonal)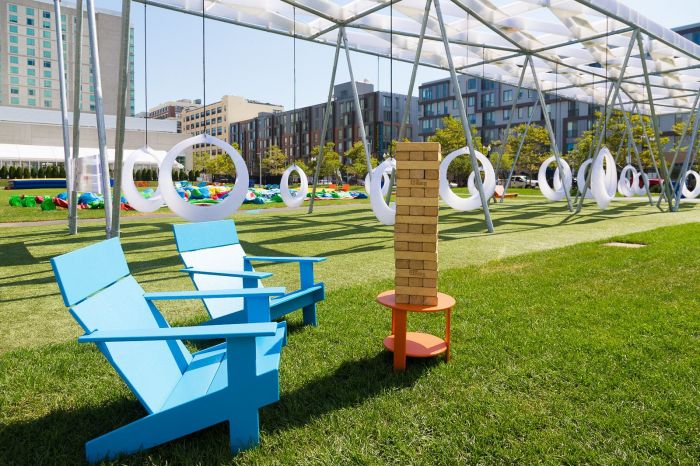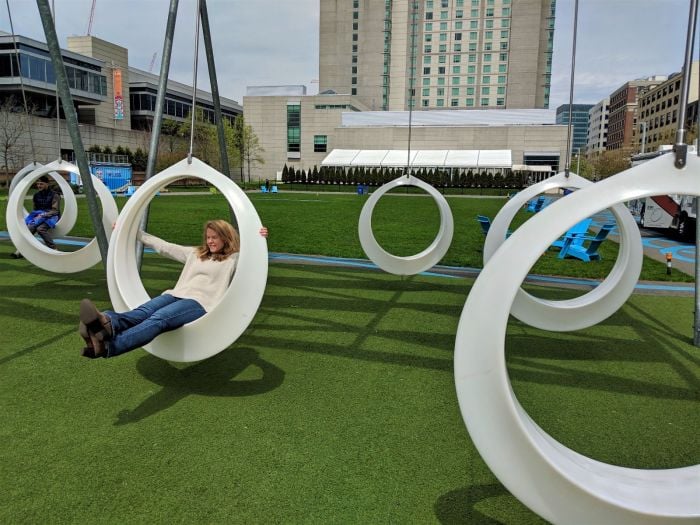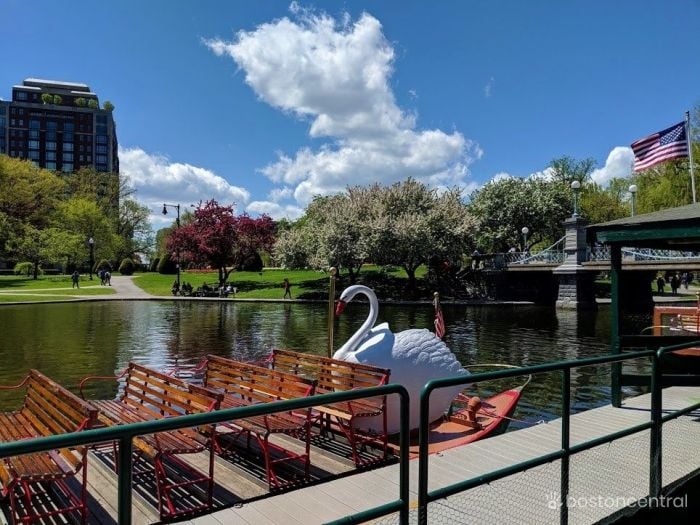 photo credit: BostonCentral
State Parks & Reservations
Purgatory Chasm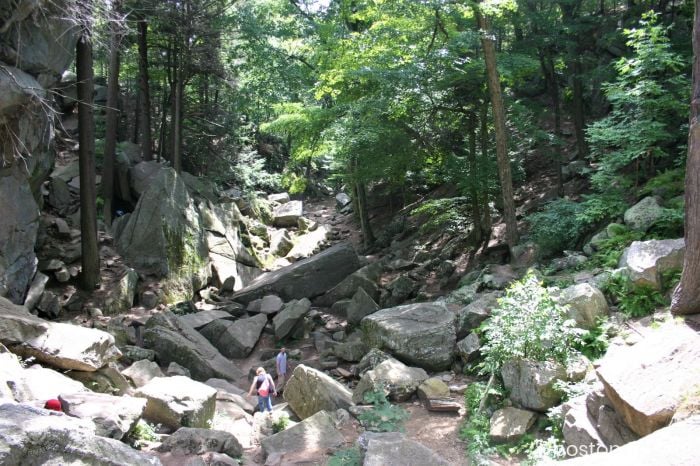 photo credit: BostonCentral
Hale Reservation, Westwood
Rustic cabins and lodges, pristine ponds with quiet beaches, roaring waterfalls, and rugged hills make this sprawling space feel more like something in New Hampshire or Maine than in suburban Boston, which is what helps make this wilderness area so special.
And because it is so large—Hale is one of those places where even on the most beautiful day, you can find yourself far, far away from the nearest person. A few of the more isolated spots are Storrow Pond, the cabins east and south of Noanet Pond, and Worthington Lodge, a completely remote structure overlooking Powisset Pond.
(source: DigBoston)

Cochituate State Park - Framington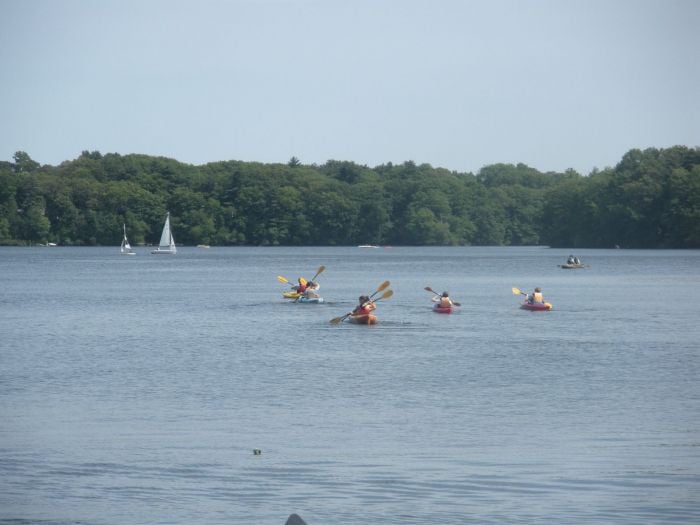 photo credit: BostonCentral
Beaches
Crane Beach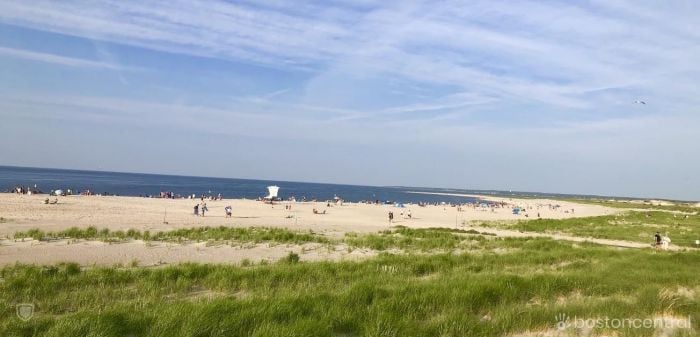 photo credit: BostonCentral
Good Harbor Beach

photo credit: BostonCentral
Nahant Beach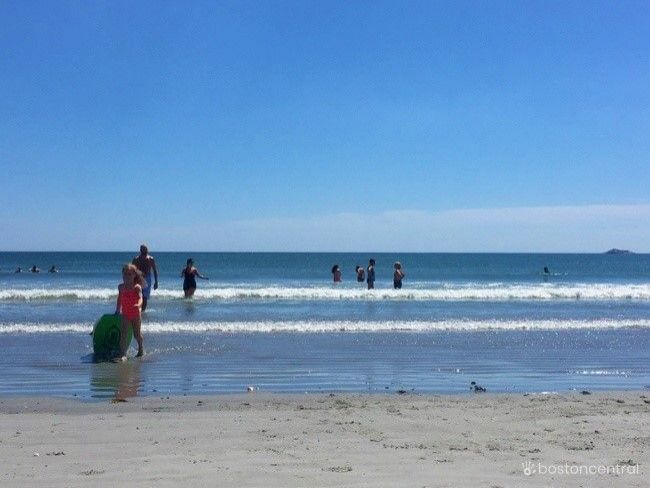 photo credit: BostonCentral
Carson Beach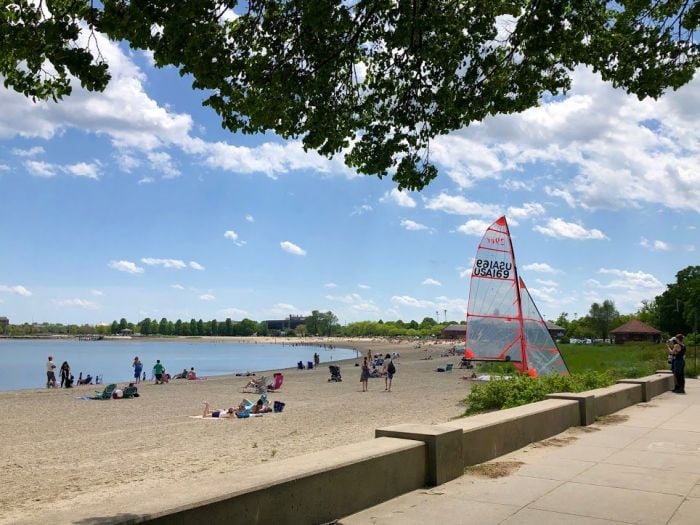 photo credit: BostonCentral
Constitution Beach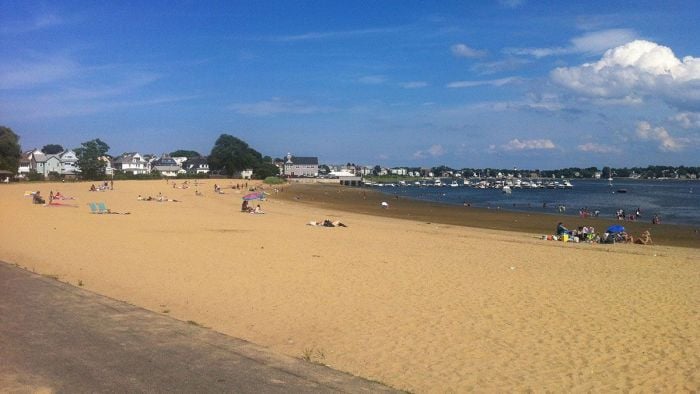 photo credit: BostonCentral
Worlds End - Hingham MA
This 251-acre coastscape includes rocky shores, broad hillsides, and open fields bracketed by pockets of woodlands. The Worlds End property, managed by Trustees of Reservations, is ideal for walking, picnicking, jogging, horseback riding, cross-country skiing, or simply enjoying nature and the outdoors. It's just a short drive to Nantasket Beach if you are looking for additional summer fun.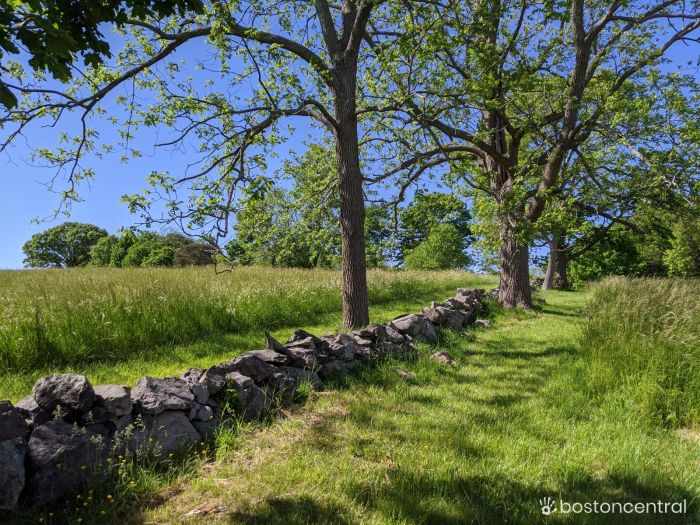 photo credit: BostonCentral
We hope that this list of outdoor Things to Do in Boston has been helpful to you. There is certainly so much more to explore - check out our Boston Events Calendar here, or if you are looking for a deal, check out our popular article about free things to do in Boston!
This year, drive-in movies are popping up in lots of places near Boston. Check out our growing guide to the re-emerging trend for socially distanced family fun & retro entertainment.
Since travel is somewhat limited these days, you can take advantage taking one of many Daytrips from Boston. Some of our favorites include (to the north) Halibut Point State Park, (to the east) Provincetown via fast ferry, (to the south) World's End in Hingham, and (to the west) Tower Hill Botanic Garden.
And if you are looking for outdoor fun during the winter - visit our guide to Skiing Near Boston for tips on the best places to ski in New England including several that are just a short drive from Boston.
Finally, our site's specialty is helping people find fun things to do in Boston with kids - so we've got all sorts of resources on hand to help you do just that.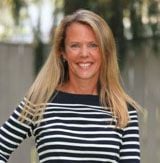 Stacey Sao has been the Managing Director of the family-friendly events and activities website, BostonCentral for almost 20 years. She continues to enjoy discovering and exploring new places to visit in the Greater Boston area.