Castle Island, Boston - Things to Do
Sullivan's Takeout, Walking Paths, Picnics, Beaches, Playground, & Fort Independence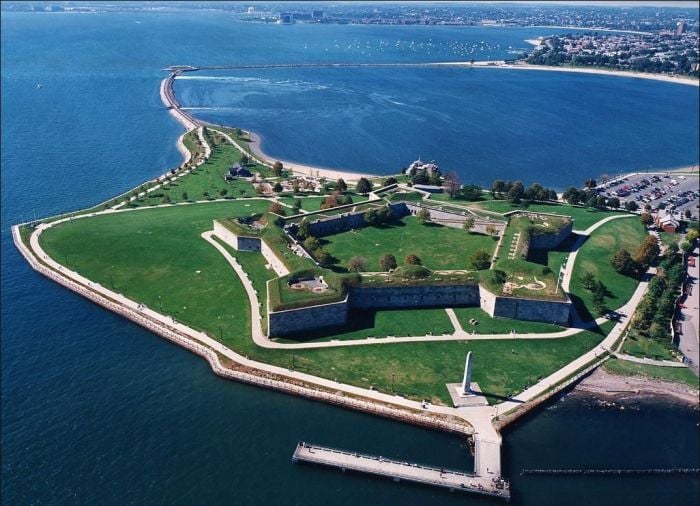 Often missed by tourists, Castle Island is a great place to walk or scooter, along Boston Harbor. This 22 acre land-bound island features a wide variety of interesting and entertaining things to do including: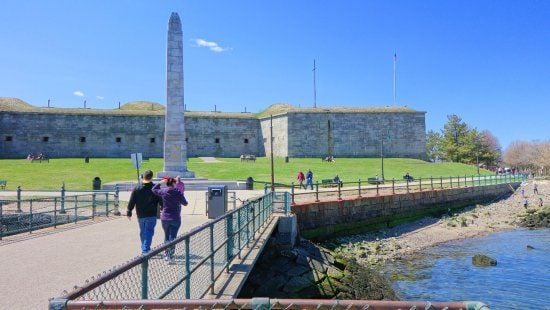 photo credit: BostonCentral
Terrific walkways (great for rollerblading)
Views of Boston Harbor and Logan Airport - watch the planes take off & land!;
A shoreline string of parks and beaches with a large playground;
Picnic Tables, Benches and lots of green space
Harry McDonough Sailing Center - a great place for kids to learn to sail
Great views of Boston Harbor, complete with refreshing breezes
Sullivan's snack bar that includes burgers, fries, clam strips, drinks & ice cream;
Fort Independence: the oldest continually fortified granite site on British North America, having played a variety of roles in colonial and revolutionary times.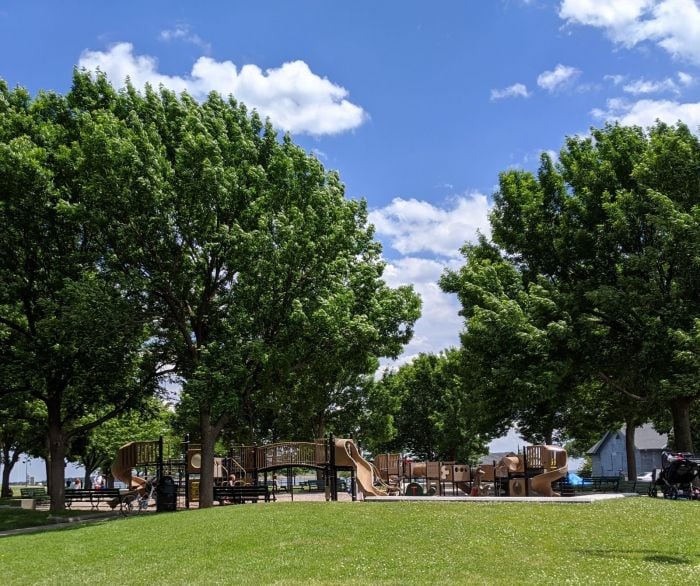 photo credit: BostonCentral
Below is a helpful birds-eye walking map that shows the loop and the fort path. Depending on how far you want to go,, there are four different options (including the crazy 8 route) for visitors to choose from.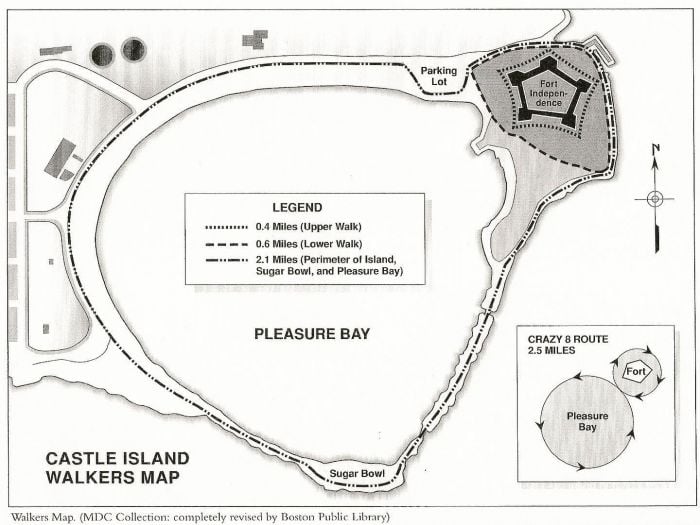 Generally, (in non-COVID-19 times), free tours of the Fort run every Saturday & Sunday from 12:00 noon to 3:30pm. Tours last approximately 30 minutes, but can be longer depending on your guide. Strollers can not be accomodated on the tour.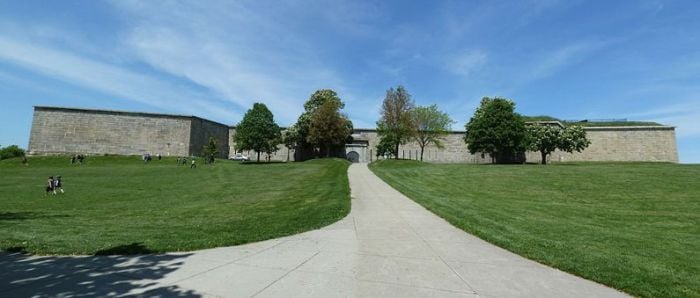 photo credit: BostonCentral
Castle Island is a great destination to just stop by to walk around and enjoy the sea breezes, or you can plan ahead and bring picnic supplies and make a day of it.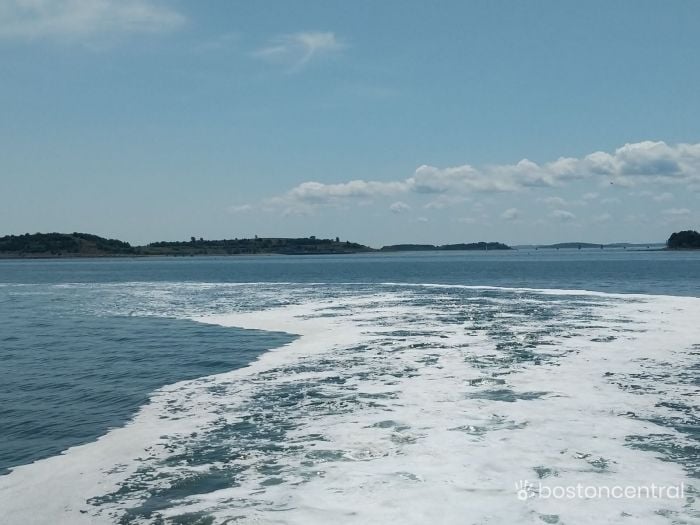 Don't forget that Sullivan's is right there with delicious seaside eats lobster rolls, fried foods, ice creams and cold drinks. They also serve breakfast for the early bird walkers and visitors. Portable restrooms and drinking fountains are also available near Sullivan's.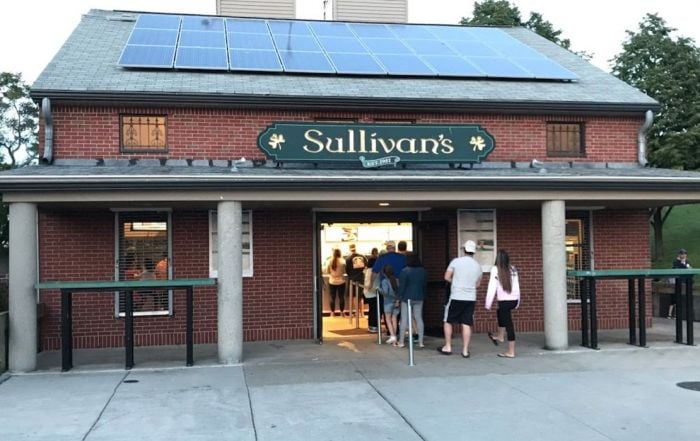 photo courtesy of : Sullivan's Castle Island
Another awesome feature of this location is that you can actually walk an entire loop around the Carson Beach area. There are actually several great beaches in Boston that are not only within city limits, but also accessible by public transportation.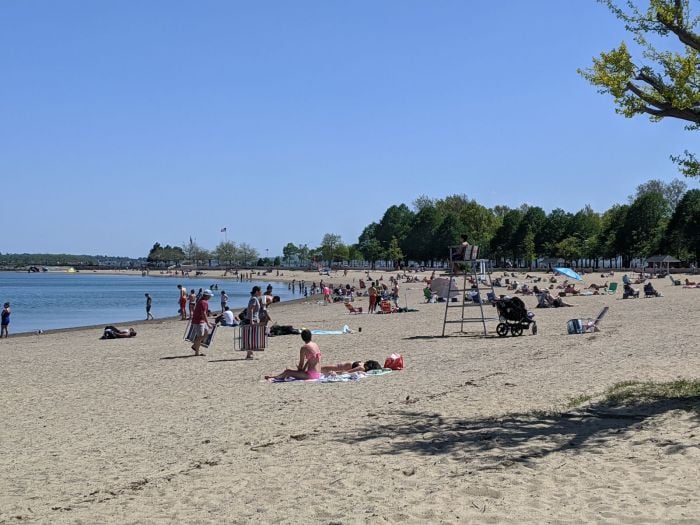 photo credit: BostonCentral
M Street Beach is within sight and a short walk down the stretch, and across from the beach area are large shaded parks to enjoy. You can usually find a variety of Food Trucks or an Ice Cream Truck on hand during peak months.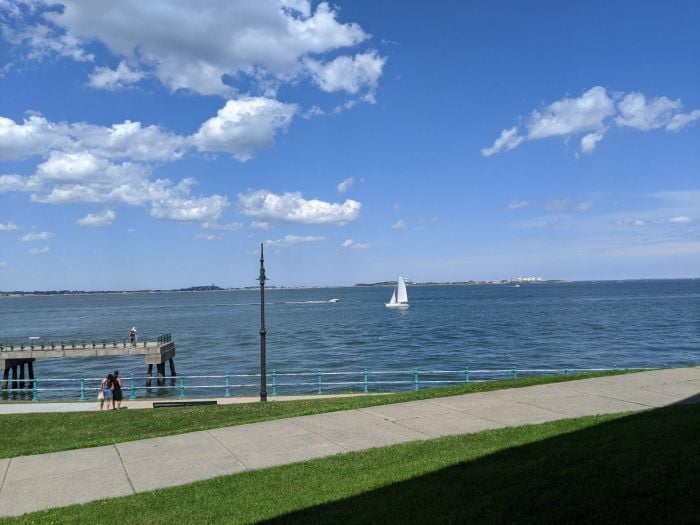 photo credit: BostonCentral
It's probably a bit more than a mile full circle with a paved walkway along the rocks. Strollers work well, and little ones can bring a small bike or a scooter, rollerbladers are welcome as well as runners and walkers. There is also a pier to go fishing for for striped bass, cunner, bluefish, winter flounder, and more right off of Fort Independence in South Boston at Castle Island.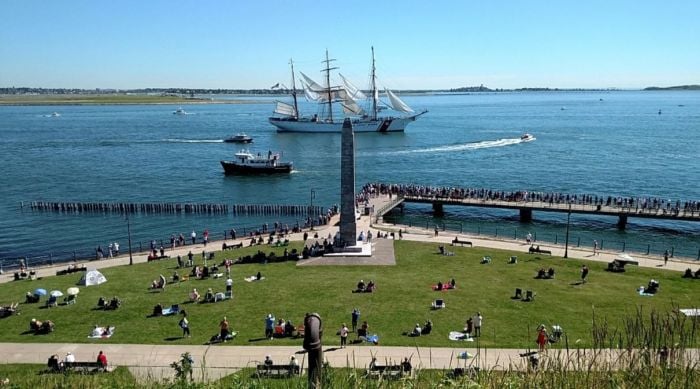 Both metered and free parking is available along the entire stretch of Day Boulevard and near Sullivan's, as well as back a few streets in the surrounding neighborhoods.
There are so many more fun things to do in Boston - check out our Boston Events Calendar for ideas on specific events, or if you are looking for a deal, check out our popular article about free things to do in Boston!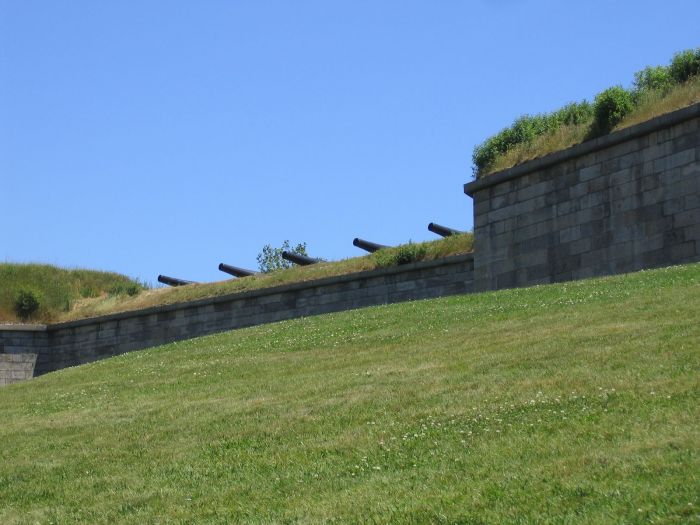 And if you are looking for outdoor fun during the winter - visit our guide to Skiing Near Boston for tips on the best places to ski in New England including several that are just a short drive from Boston.
Stacey Sao has been the Managing Director of the family-friendly events and activities website, BostonCentral for almost 20 years. She continues to enjoy discovering and exploring new places to visit in the Greater Boston area. World's End is one of her new favorites.
You can find many more things to do in Boston with kids in our handy guide for families looking for fun things to do all year round.