A Visit to Halibut Point State Park in Rockport, MA
A Great Daytrip from Boston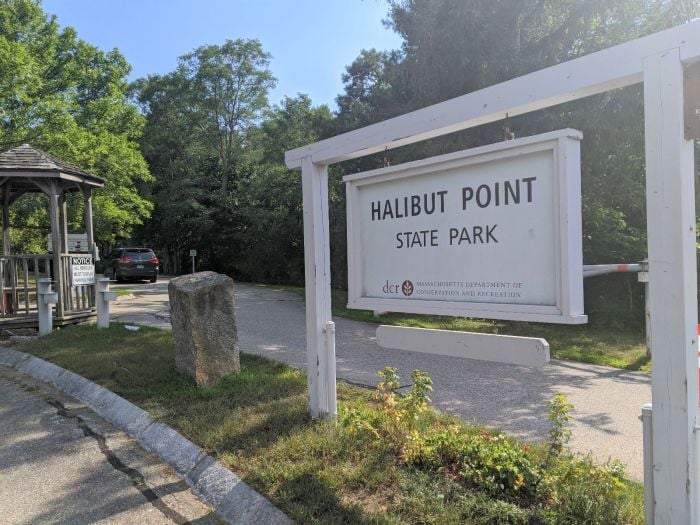 Halibut Point State Park & Reservation is located at the tip of Rockport, MA, and the site of an old granite quarry. The location is rather exquisite as it overlooks the Atlantic Ocean with stunning views and refreshing sea breezes.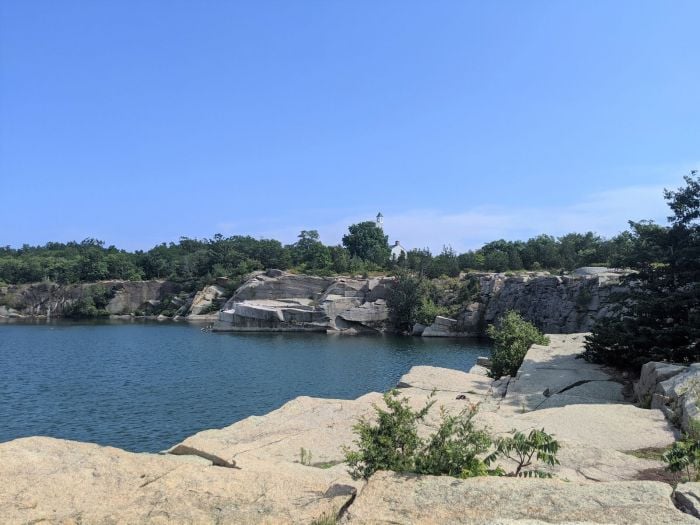 photo credit: BostonCentral
Here's an overview of our recent visit. Upon arrival, the parking area looks to allow for about 50 or so cars at a time. A kiosk is located in the center for paying the parking fee.
The Trustees of Reservations own 12 acres of the park, and 60 acres of the park (including the parking lot, visitor's center, programming, and restrooms) are managed by the state's Department of Conservation and Recreation (DCR).
The DCR state park operates a small visitor center and museum devoted to Halibut Point's natural history and Cape Ann's historic granite quarrying industry. The visitor center has public restrooms.
Daily parking fee charged Memorial Day weekend through October 31
MA resident $5
Non-MA resident $20
Trustees of Reservations Members Free
MA State Parks Pass Members Free
Trail Maps
In the parking lot, you will find a posted map that you can take a picture of, or you can download the maps to your phone in advance. (Recommended, since the signal isn't great here).
Halibut Point State Park Map (PDF)
Halibut Point State Park Self-Guided Walking Tour (PDF)
Get a State Parks Annual Parking Pass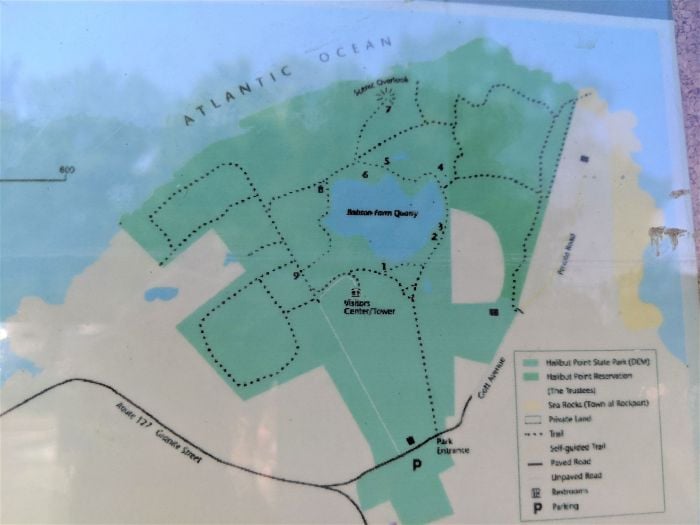 Entering the Trails
Trails begin to the left of the parking area. There is some signage to follow, and you can follow the map. We chose to just kind of wing it to see where we ended up, which was fun.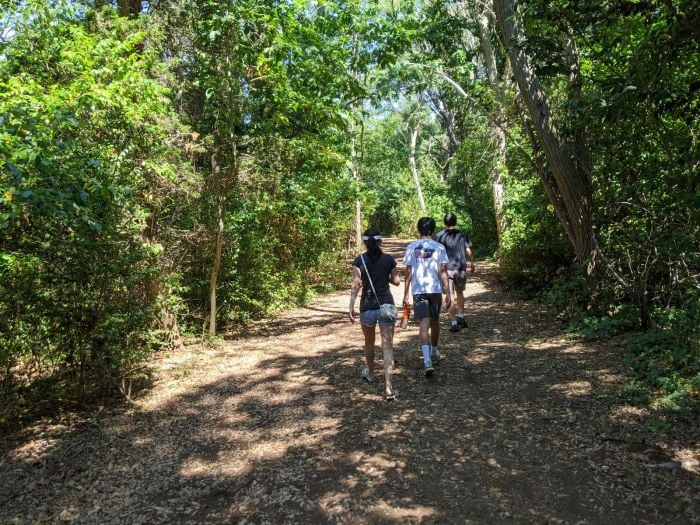 photo credit: BostonCentral
First, we came upon the quarry. It's a beautiful, serene mini-lake where birds enjoy a peaceful existence. You can see where the granite slabs had been cut out over many years, back in its quarry heyday. Just over the tree line, you can see a bit of the ocean.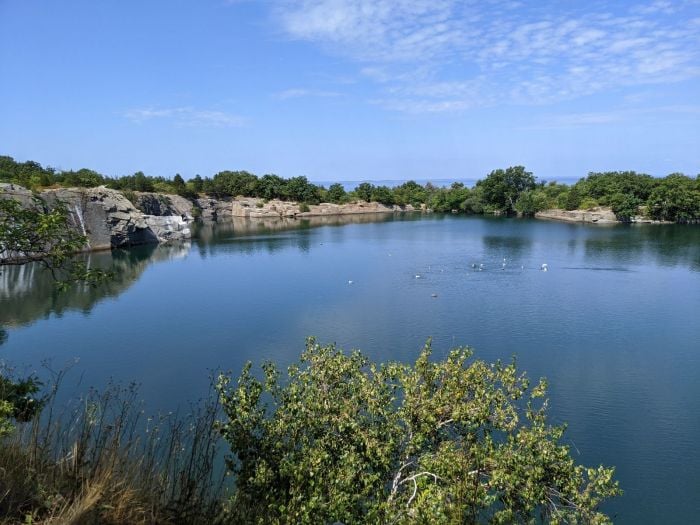 photo credit: BostonCentral
Obviously, for safety reasons, there is no swimming in the quarry. How on earth would you climb out? No worries though - it isn't far to the ocean, which is just past the quarry area, and where we headed next.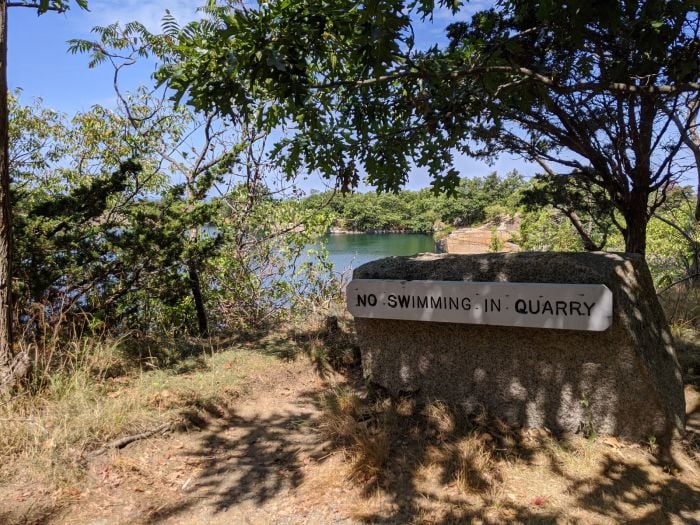 photo credit: BostonCentral
As we continued through the trails, the ocean views began reveal themselves - along with the most refreshing of breezes. Trails aren't necessarily marked, but they are fairly established. We chose the ones that took us furthest to the right on our course.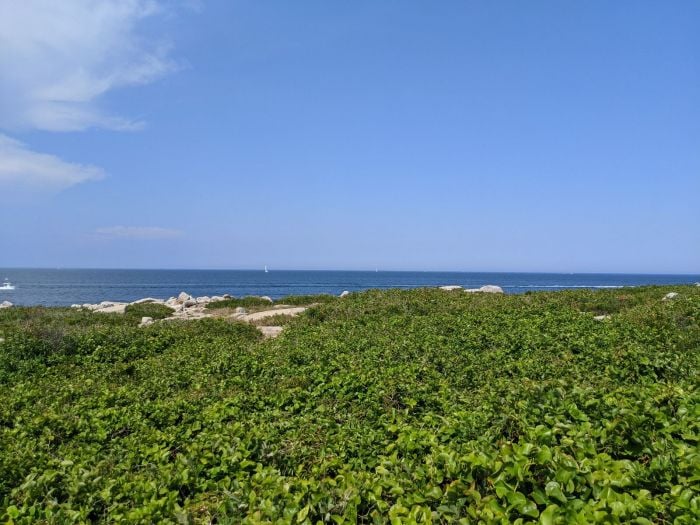 photo credit: BostonCentral
The outer trails are flat, wide, and easy to navigate. Some of the inner trails are thinner and more suited for single file. We chose to head over toward the right side of the park trails to get to the ocean.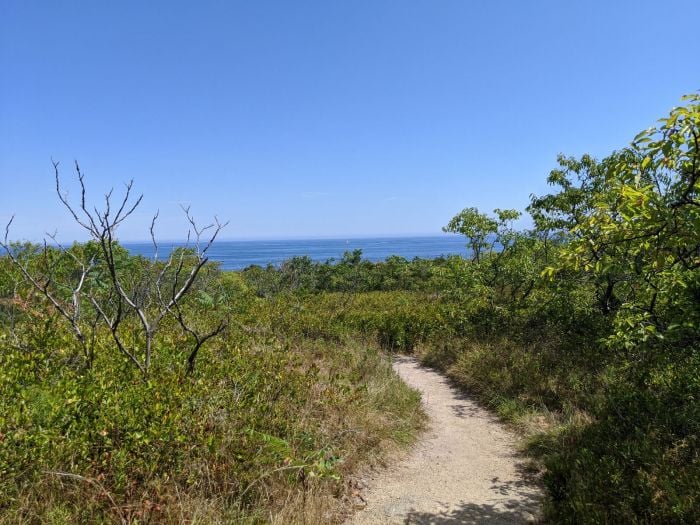 photo credit: BostonCentral
And we were so glad we did, because we stumbled upon the "Sea Rocks", which is essentially a granite beach where we spent a few hours basking in the sun, dipping our toes in the tidepools and enjoying the best sea breeze on a hot day.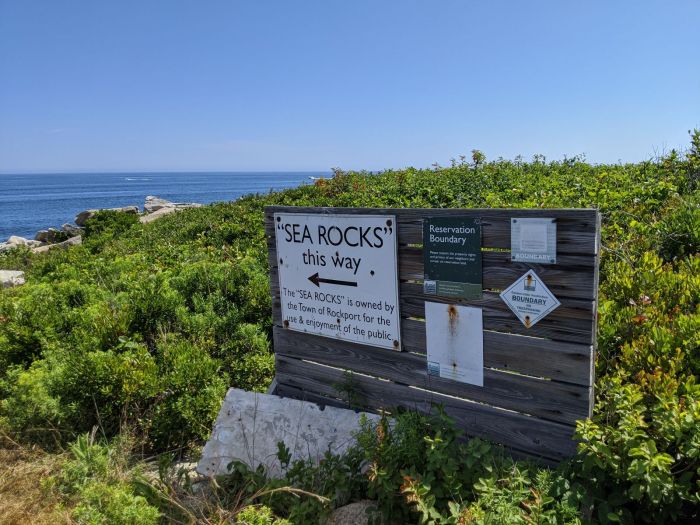 photo credit: BostonCentral
It was not crowded at all, so plenty of room to spread out and social distance. You can bring beach chairs, an umbrella, a picnic, whatever you might need at the beach.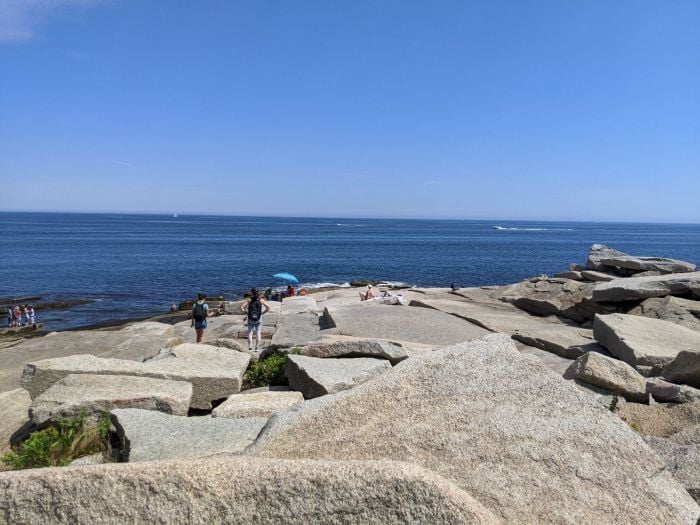 photo credit: BostonCentral
The rocks are large and most sure-footed people should be able to navigate them pretty easily. We'd recommend wearing sneakers or sturdy sandals for maximum stability.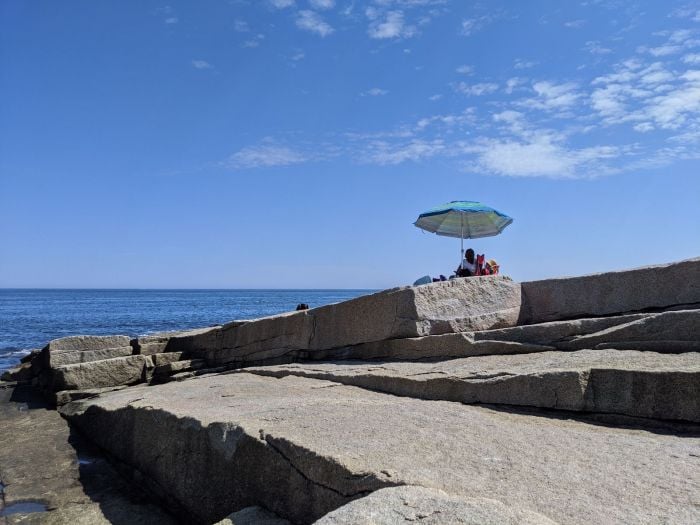 photo credit: BostonCentral
We found a great spot for a home base and enjoyed exploring the area. The day we visited, the tide was on it's way in, so it was interesting to see the tide pools and how they disappeared as the tide came in.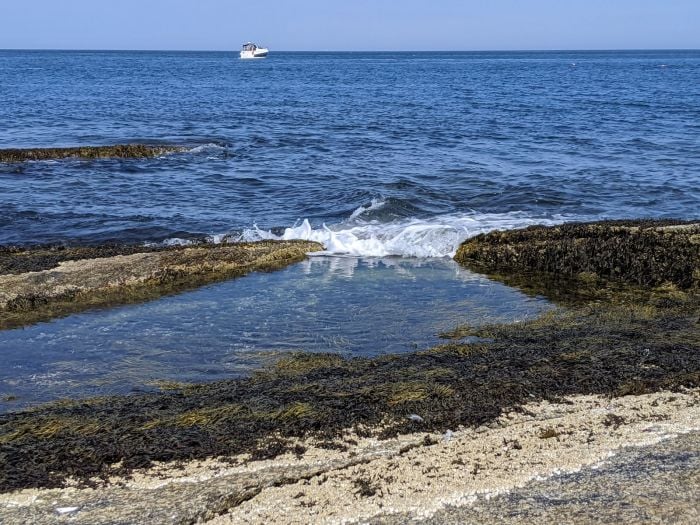 photo credit: BostonCentral
I really felt like I was in my own little slice of heaven here. Such a unique topography, near my happy place, which is and always has been the ocean.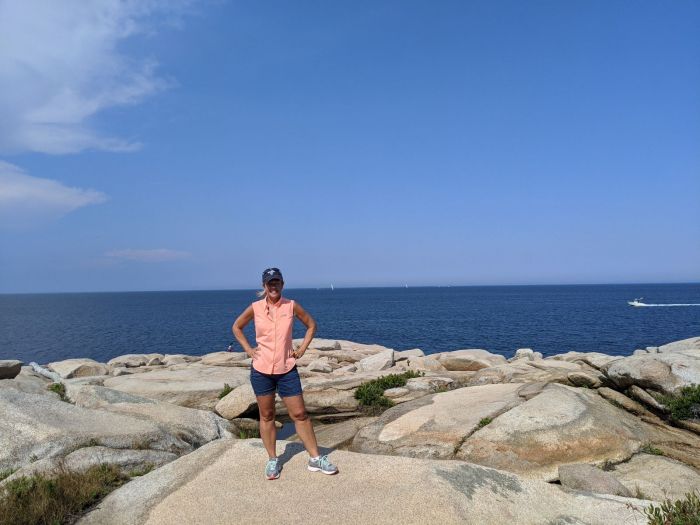 photo credit: BostonCentral
Several industrious guests brought some fishing gear in - so that was fun to watch. Not much was caught, but it was exciting when they got the few they did. You'll also likely see a good number of boats (sailboats motor boats, pontoon boats, kayaks) go by which ads to the ocean experience.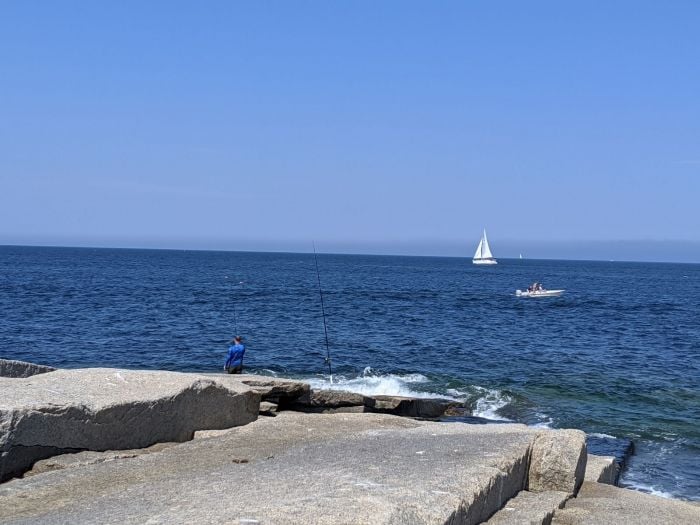 photo credit: BostonCentral
Once we were done hanging out on the granite beach, we decided to head over to the left side of the park to see what else we could find. We traversed the rocks along the water to find an overlook ahead that looked like a giant pile of granite blocks.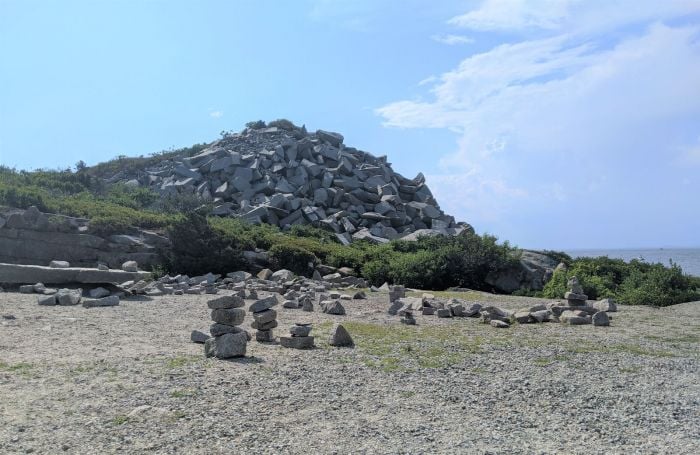 photo credit: BostonCentral
A short trail later, we made it to the top. (You don't have to climb the rock pile, there is a gently sloped trail to get you up there easily).
The terrain on the trails is actually very desert-like, even though it looks lush and green. I think the plants are called Graminoids. Whatever they are, they gave me the sense that I was visiting Costa Rica vs. Rockport.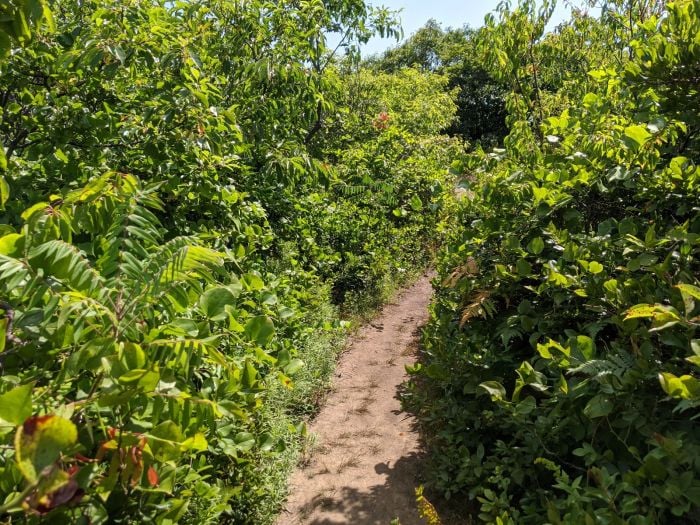 photo credit: BostonCentral
Views from the top. Here we are looking off to the right, where we had just been on the granite beach (Sea Rocks). Can you just hear the ocean wind?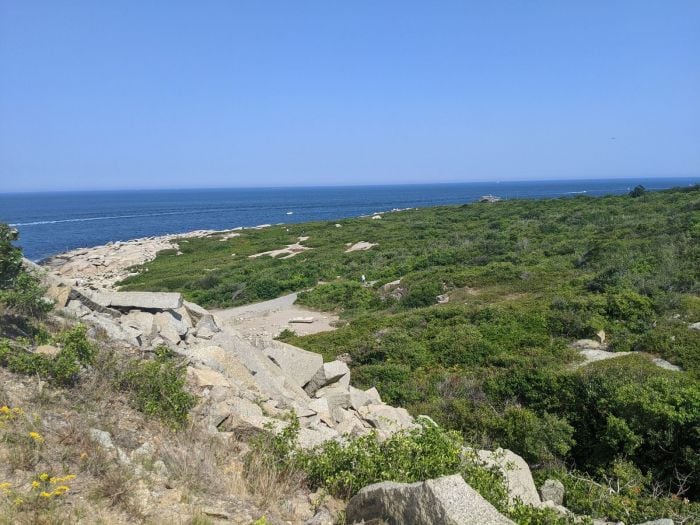 photo credit: BostonCentral
The view below looks off to the left, and offers more points of interest if you look off into the distance. Just past the peninsula, you can see a mound, which is The Crane Estate at Castle Hill in Ipswich, MA. To the left of that is Crane Beach; as well as some points over to the right, including Mount Agamenticus, in York, Maine - about 81 miles north.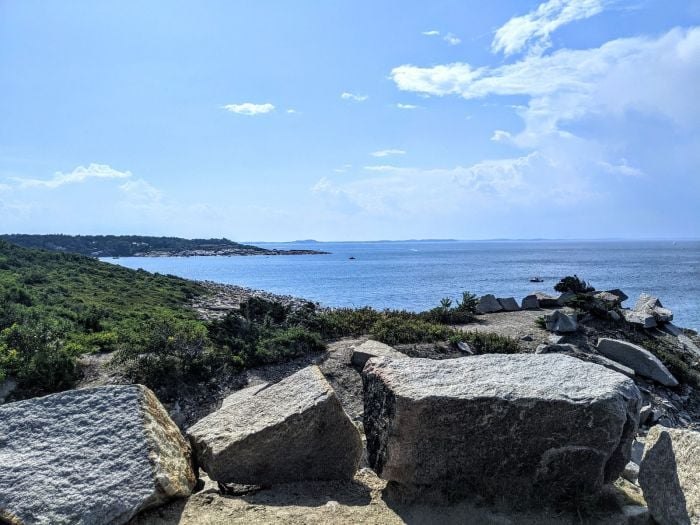 photo credit: BostonCentral
Below is a map that shows what each point is on the horizon, and can be found at the very top of the overlook affixed to a granite boulder.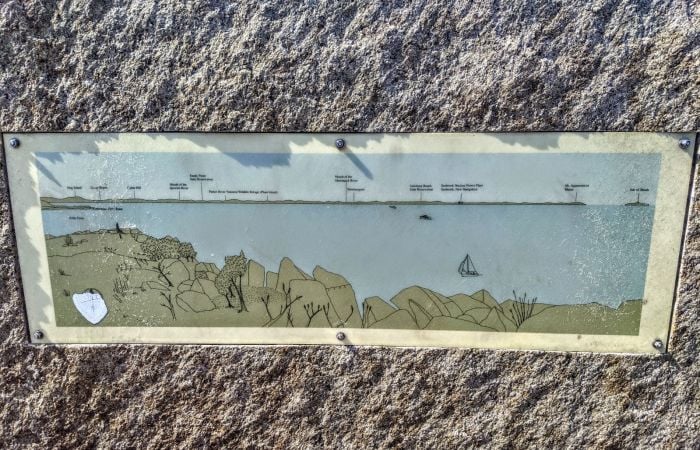 photo credit: BostonCentral
As we made out way back to the quarry, we took the opposite route from where we came in around the other half of the quarry circle to get back to the parking area. The large visitor center was closed when we visited due to COVID-19, as were the restrooms. However there is a single compost restroom in the parking lot.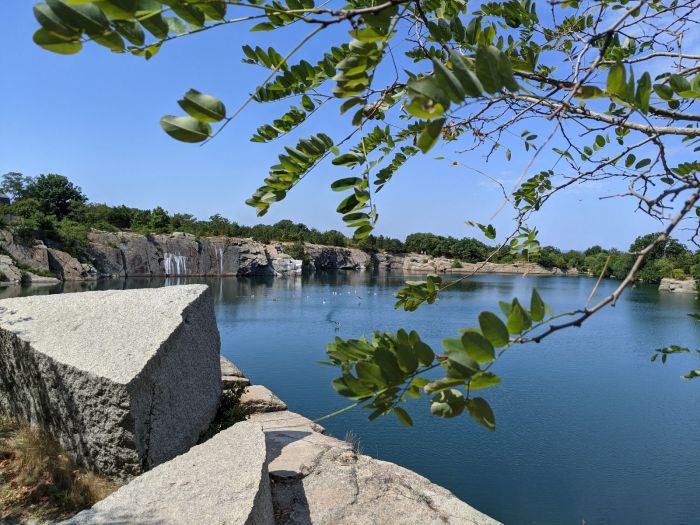 photo credit: BostonCentral
Overall, I was really impressed by this park. Quite interesting to explore, and so very enjoyable to be able to socially distance near the ocean when beaches have often been full during this crazy pandemic.
Depending on your itinerary, plan to spend about 2 hours here at minimum, if you want to just walk around; or you can make a day of it and pack a picnic punch, beach chairs or a blanket to sit on and really just take it all in.
*Editor's Note: The Halibut Point Park quarry pictured above was actually featured in a number of scenes the movie CODA, which is now available to stream on Apple TV.
Halibut Point State Park
Gott Ave, Rockport, MA 01966
Adventure Date: August 23, 2020
You can find more ideas for great Daytrips from Boston in our handy Boston Daytrips guide. Some other fun summer adventures might include a visit to Stage Fort Park in Gloucester, a daytrip to Castle Island in South Boston, enjoy some summer fun at Spectacle Island in Boston Harbor, Castle Island in South Boston, or World's End in Hingham.
Visit the BostonCentral website for great ideas for family fun events in Boston.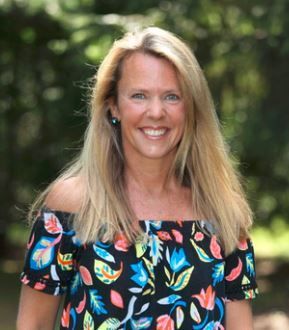 Stacey Sao has been the Managing Director of the family-friendly events and activities website, BostonCentral for almost 20 years. She continues to enjoy discovering and exploring new places to visit in the Greater Boston area.