Daytrip to Spectacle Island
Ferry rides to Boston Harbor Islands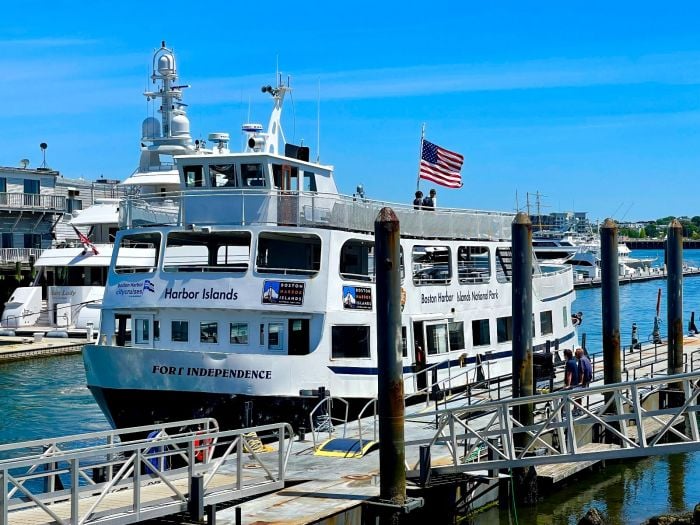 Looking to head out and explore the outdoors? You can take a ferry to Spectacle Island to spend some time on the beach, hike the North Drumlin hill, and enjoy panoramic views of Boston on your trip.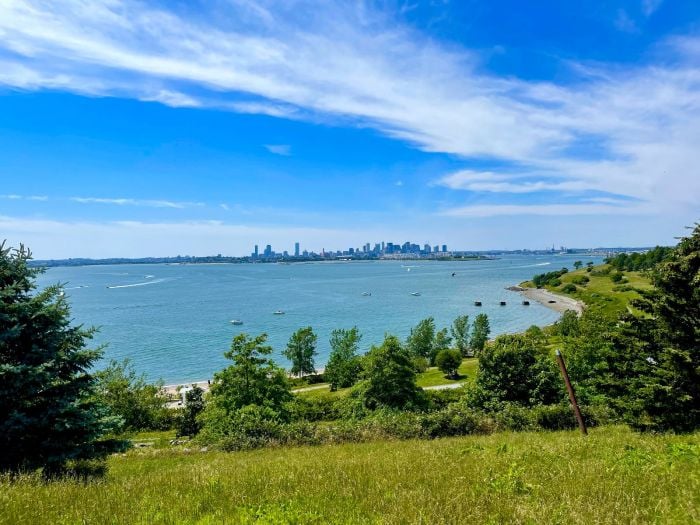 photo credit: BostonCentral
Bring a beach towel and swimsuits, for a day at the beach; or a pack a picnic and comfortable walking shoes to enjoy a fun day of exploring. (Tip: *There are currently no food options available on the island, packing a picnic is a great idea).
We grabbed some Lobster Rolls and drink from James Hook on Atlantic Avenue, but you can pack your own picnic from as well. (Tip: *Alcohol is not permitted on the island, but you can indulge in a beverage or snack purchased on the ferry on your ride over.)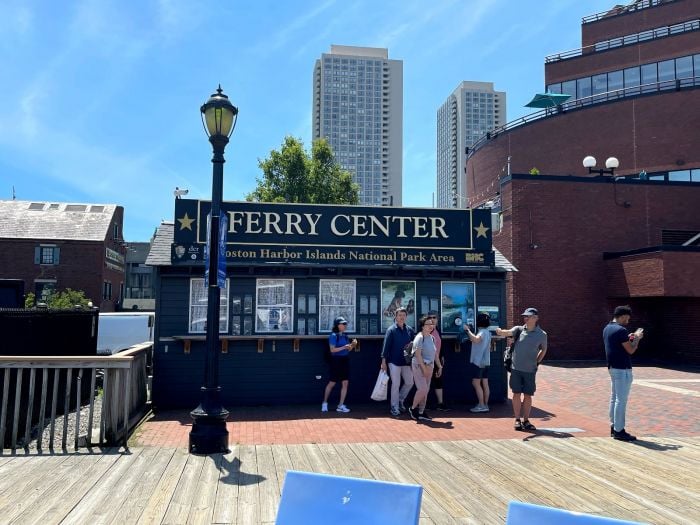 photo credit: BostonCentral

Two ferries (10:30am & 12:30pm) depart daily from Boston's Long Wharf at Pier A-2. Return ferries run at 1:30pm & 3:30pm.
(The departure dock from Boston is on the opposite side of the Marriott Hotel from where Codzilla, and the Aquarium are. Just cut through the lobby of the hotel and take a right to get to the proper departure dock.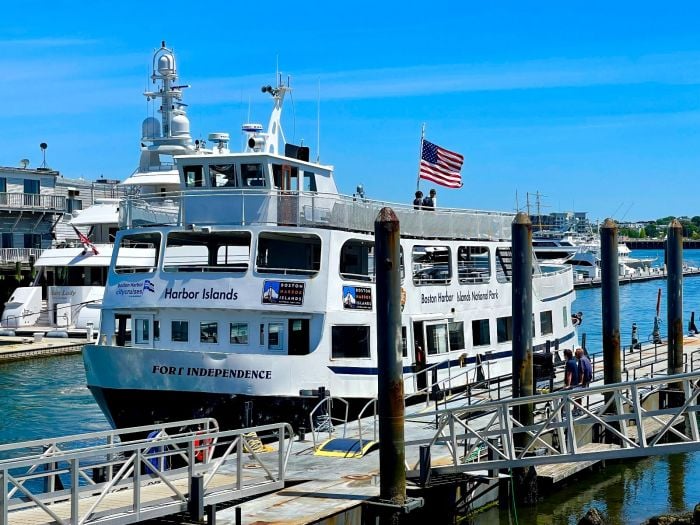 photo credit: BostonCentral

The ferry starts the boarding process 15 minutes prior to departure. It's easy to book your ticket in advance and show your receipt, or you can also purchase same-day tickets at the ticket booth. The ferry loads passengers right up to the departure time, but we, as type A personalities, prefer not to cut it that close.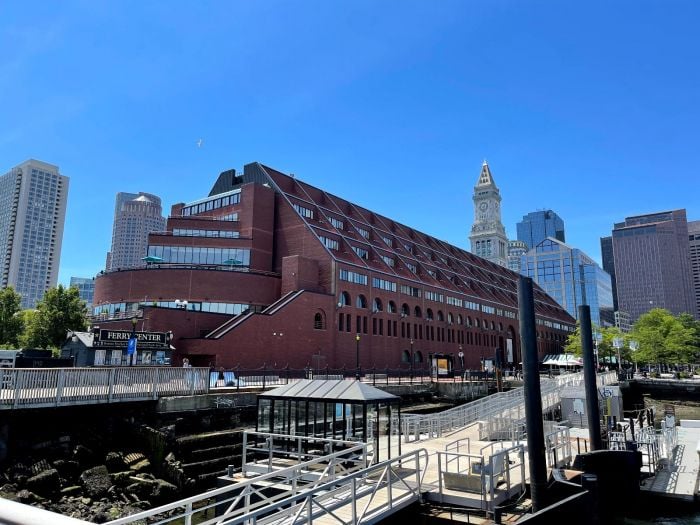 photo credit: BostonCentral
The ferry ride takes about 35-40 minutes, and you get to see some spectacular views of the Boston skyline, Castle Island, and Boston Harbor. Departures run on time, and the ferry ride is half the fun!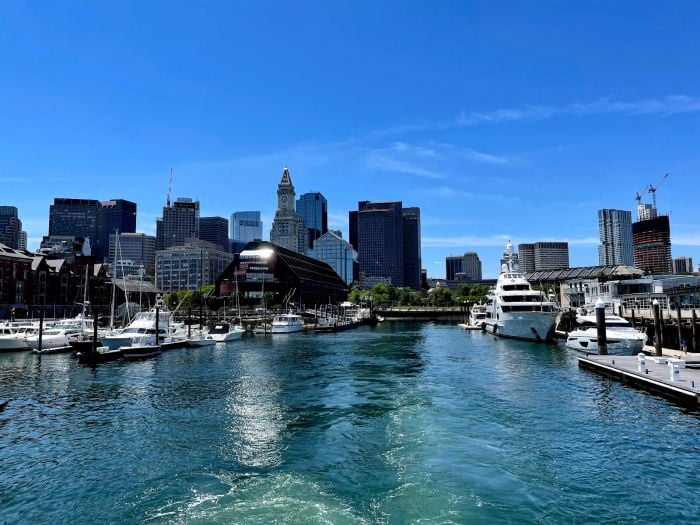 photo credit: BostonCentral
The breezes on the ferry ride are heavenly on a hot day. We like to sit at the front of the boat so we are facing forward. Bottom or top deck accomplishes this. If you prefer indoor seating, there are lots of booths, and you can enjoy the air-conditioned cabin.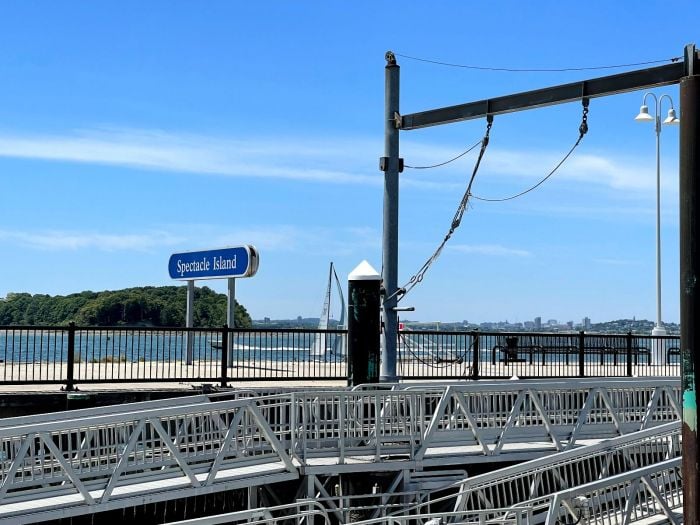 photo credit: BostonCentral

Once you arrive and disembark at Spectacle Island, you can stop in at the visitor's center pictured below, scout out a beach spot, or you can just start exploring the walking trails. There are restrooms available inside, and a tented area with picnic tables to the right of the visitor's center if you prefer to eat your packed lunch there.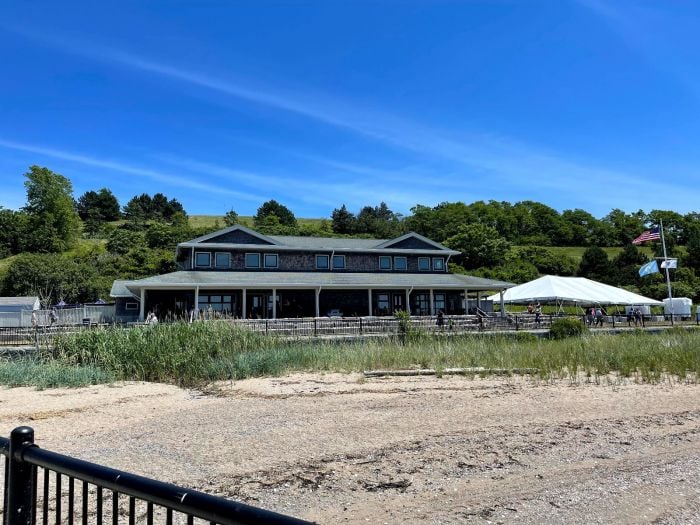 photo credit: BostonCentral

If you are exploring, the beaches to the right of the visitors center are somewhat less traveled, than the one to the left of the docks, and you can often find some great sea glass here. We enjoyed discovering a number of tucked away nooks of shade and seating here and there.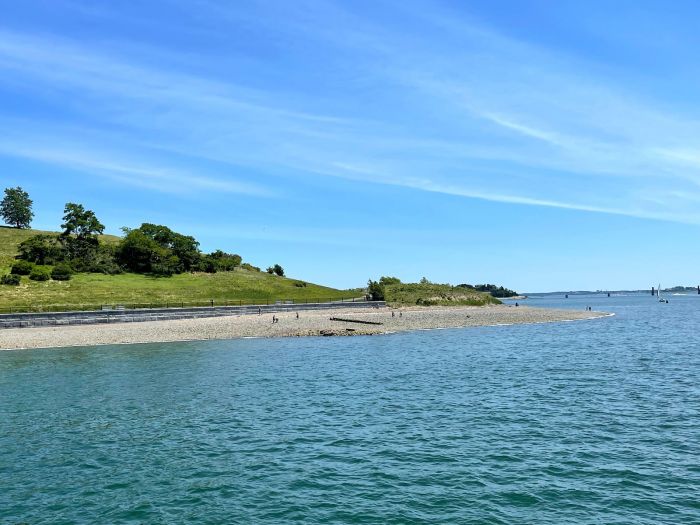 photo credit: BostonCentral

The primary beach sits to the left of the visitor's center and provides an excellent view of the Boston Skyline. The beach is on the smaller side, but does the job if you are looking to swim, sunbathe, or dip your toes in the ocean for a bit.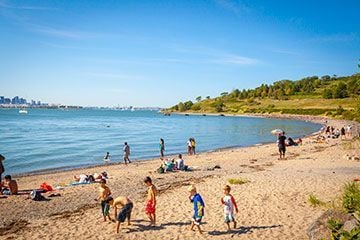 photo courtesy of Boston Harbor Islands
There are several of scenic trails to walk around the island, and you can easily find them on marked maps. Along the way you'll encounter some benches to rest and enjoy the breezes and views; a tent with picnic tables, tucked away shaded nooks plus a nice wooden pavilion that overlooks the harbor.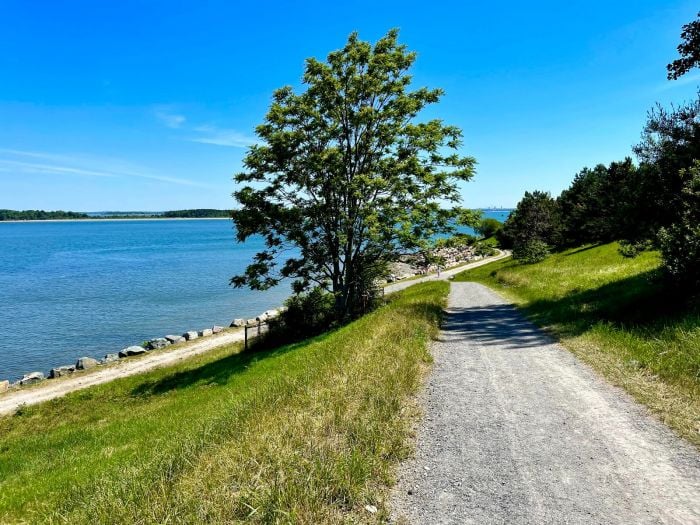 photo credit: BostonCentral

The main trail (flat) is about 2.5 miles takes you all the way around the island. There are some inner trails that take you to the top of the island, not too difficult, but an uphill climb.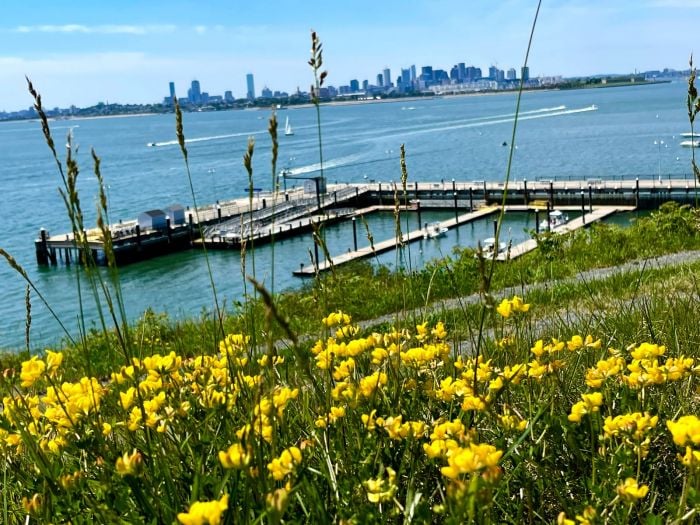 photo credit: BostonCentral

But it's well worth the views you'll get of the Boston skyline, and of course, the breezes. This spot overlooks the dock area for the ferry. Some other areas to the right of the visitor's center are even more secluded.
It's so relaxing to just sit and watch the boats and ferries go by with the Boston skyline in the background. You really feel like you are away on a mini vacation.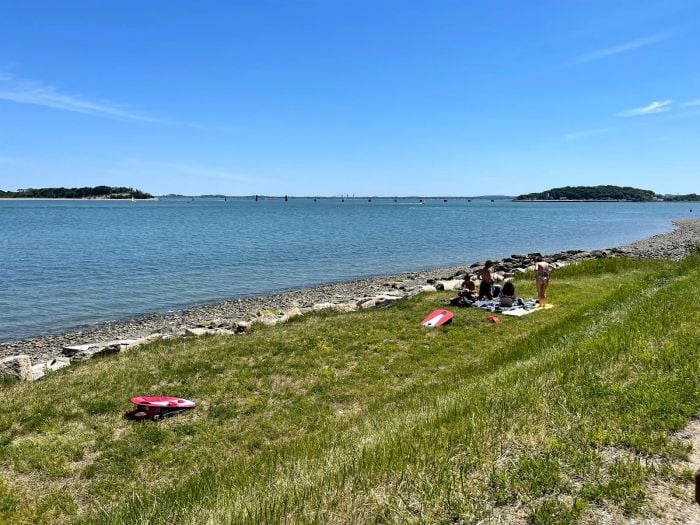 photo credit: BostonCentral

It's fun to hike around a little to get the lay of the land. You can find some cool secluded spots to set up your picnic spot. This group found a great grassy area and set up a game of cornhole and enjoyed the day.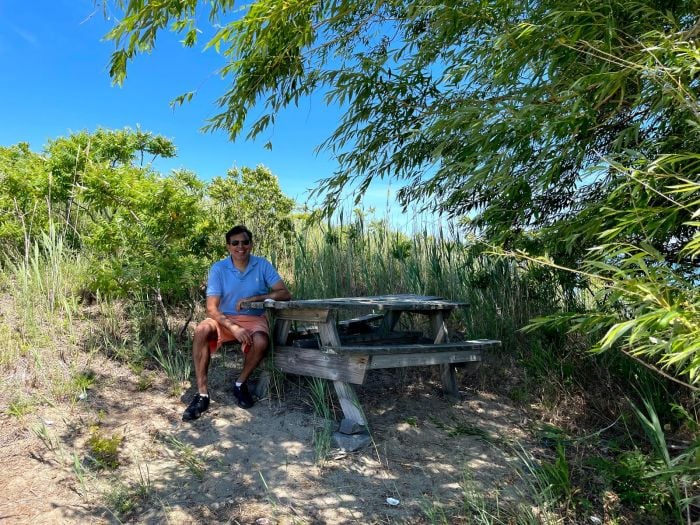 photo credit: BostonCentral

You can also find hidden gems like this shaded table right off the beach area. Secluded, shady and a great spot to enjoy a picnic or to get out of the sun on a hot day.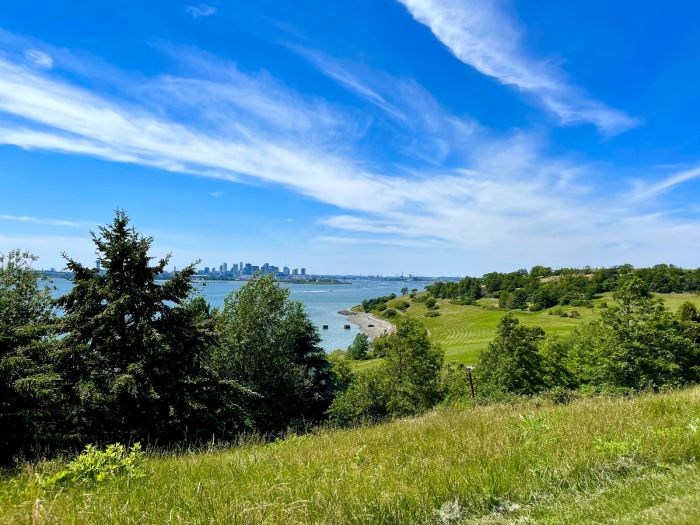 photo credit: BostonCentral

Hike to the top, and perhaps you'll be lucky enough to score this special Adirondack chair under this lone tree. What a perfect place to sit, read, and enjoy the spectacular views.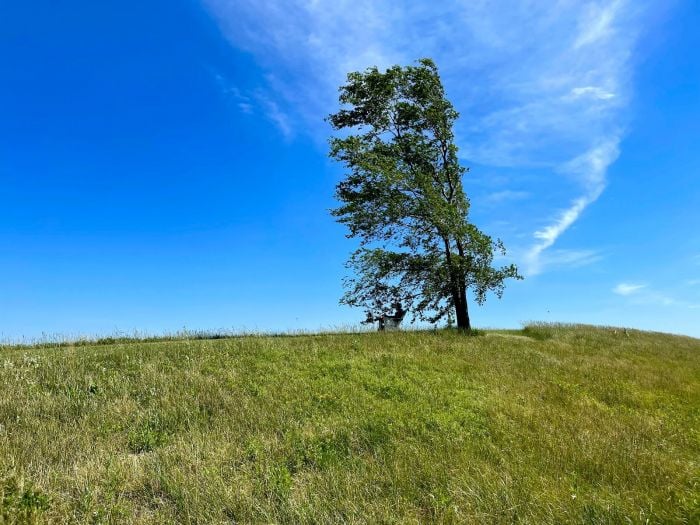 photo credit: BostonCentral

The views really are amazing, and the sea breezes so refreshing. It's a great way to spend the day, or even just a few hours if you are short of time.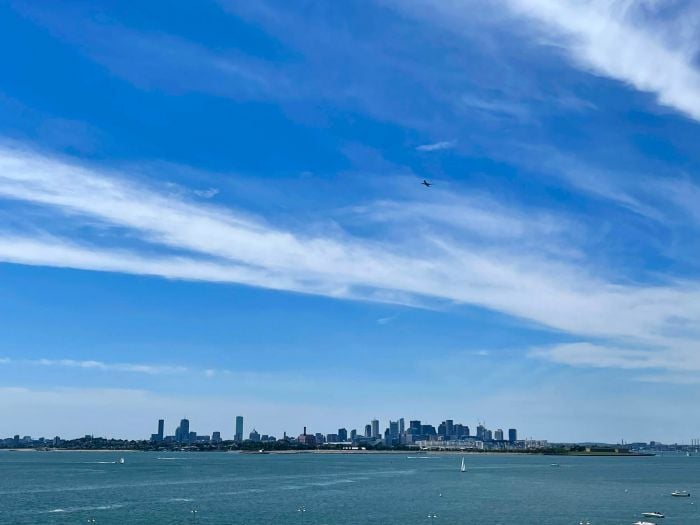 photo credit: BostonCentral

Stop by the visitor's center for a spell and take in the views from comfortable green Adirondack chairs, or from the air-conditioned lobby. Restrooms are also onsite.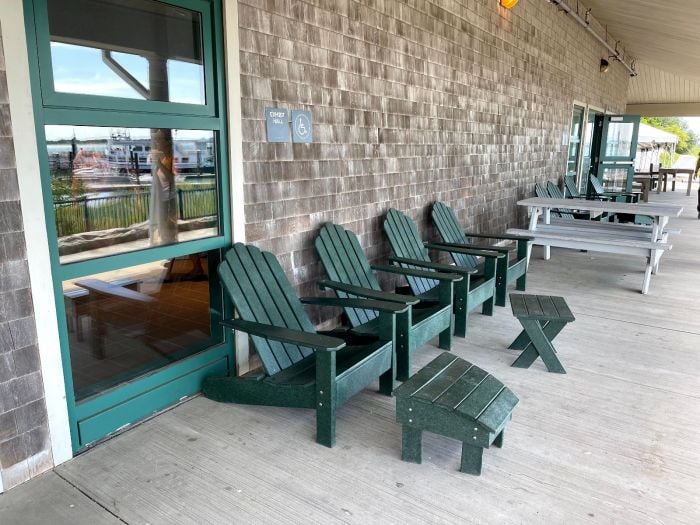 photo credit: BostonCentral

This wooden pavilion is a popular place to stop and rest as you make your way back to the dock area toward the end of the day.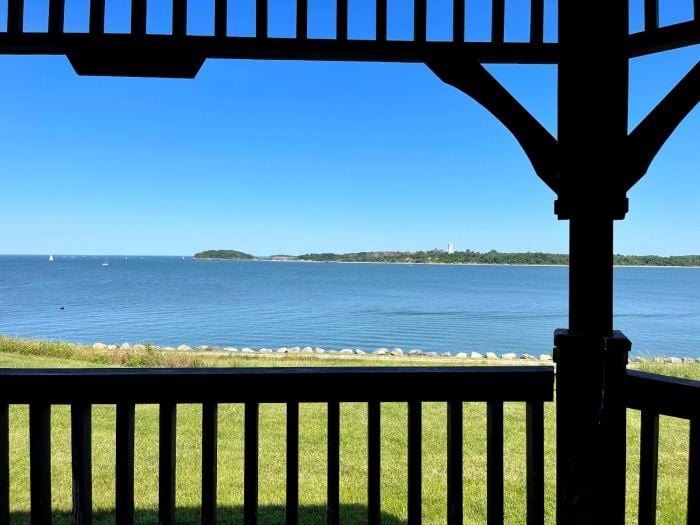 photo credit: BostonCentral

The return ferry trips back to Boston depart at 1:30pm and 3:30pm. The last ferry is the last ferry off the island so its important to keep an eye on the time. Rangers generally four-wheel around to remind folks that it's time to leave.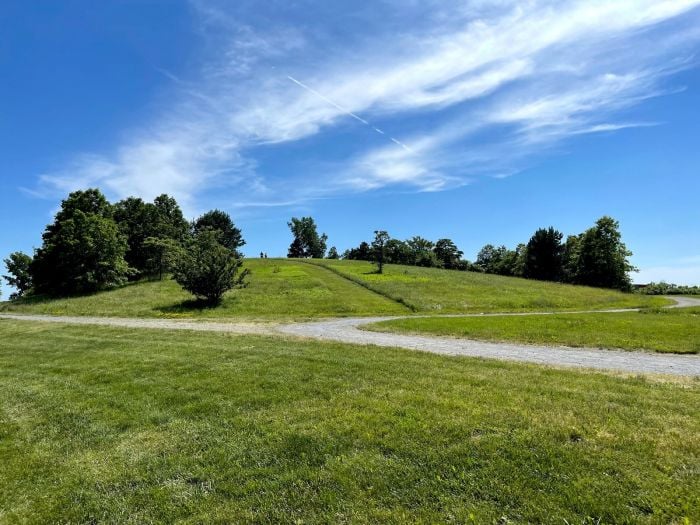 photo credit: BostonCentral

Spectacle Island is accessible by public ferry from mid-May through Columbus Day. View the ferry schedule and plan your adventure today.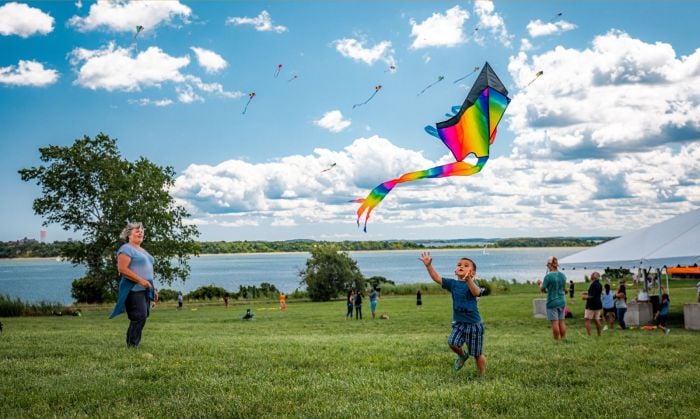 Check the schedule for 1/2 price ferry days and Free-kite Fridays. Early birds can get a free colorful kite to fly upon arrival. Or you can bring a kite of your own to fly!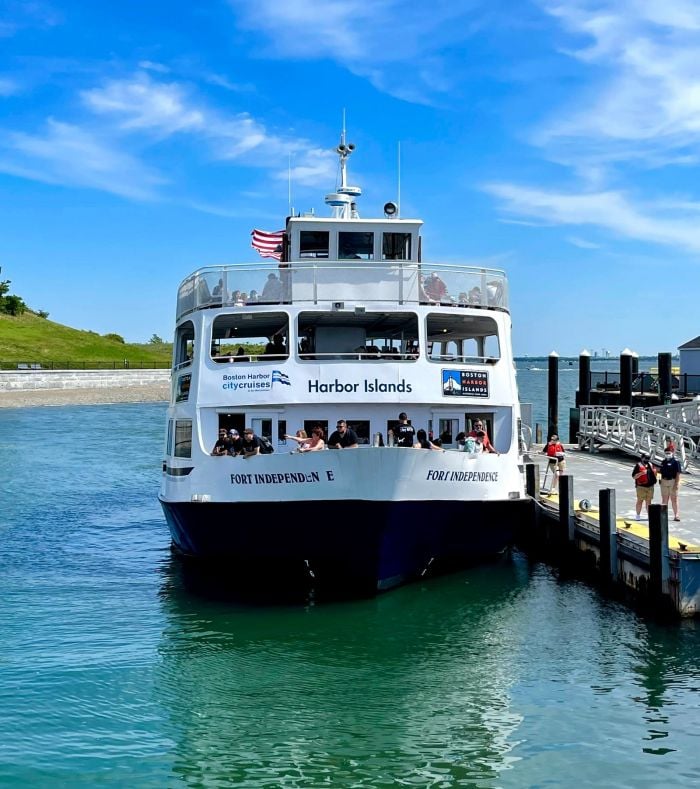 photo credit: BostonCentral

For more information about trips to Spectacle Island by ferry, please contact [email protected] or 617-223-4666.
More Ideas for Summer Fun!
Find lots more fun things to do in Boston during the summer in our July & August guides to family fun. And since summer is a great time to be outside, check out our guide to Boston outdoor activities, featuring lots of cool places to enjoy a beautiful summer day.
Find more ideas for great Daytrips from Boston in our handy Boston Daytrips guide. Some other fun summer adventures might include a visit to World's End in Hingham, a daytrip to Halibut Point State Park in Rockport, enjoy some summer fun at Stage Fort Park in Gloucester, Castle Island in South Boston, or Tower Hill Botanical in Boylston.
Boston actually boasts a large number of public pools for locals to stay cool and have fun all summer. Find one near you and enjoy.
Other great ways to stay cool in the summer include a spending a day at the beach. You can also explore a wide variety of Beaches near Boston in our Boston Beaches guide..
There are so many more fun things to do in Boston - check out our Boston Events Calendar for ideas on specific events, or if you are looking for a deal, check out our popular article about free things to do in Boston!
And on the occasion of a rainy day in Boston - here are some ideas for indoor things to do until the sun returns. You can find many more things to do in Boston with kids in our handy guide for families looking for fun things to do all year round.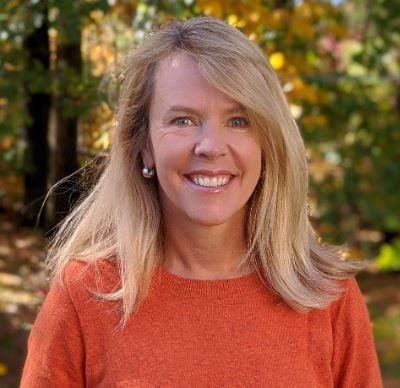 ~~~
Stacey Sao has been the Managing Director of the family-friendly events and activities website, BostonCentral for over 20 years. She continues to enjoy discovering and exploring new places to visit in the Greater Boston area.