Waterparks Near Boston
Fun Summer Waterparks for Kids and Families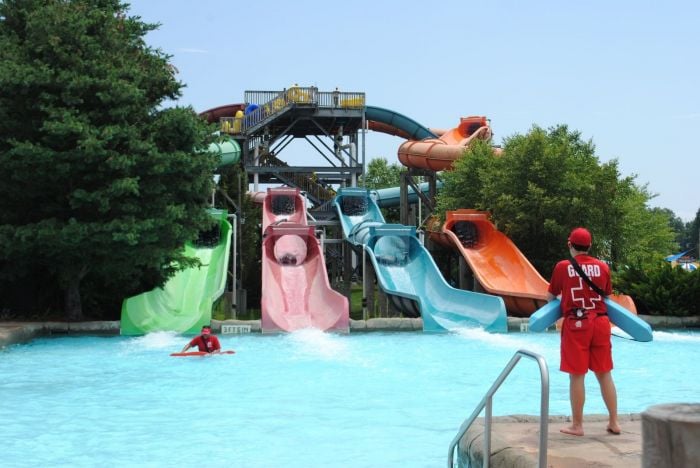 Boston Area Water Parks
Within just 2 hours (or less) by car, you can get to any of the following outdoor water parks to cool off and have a blast this summer with your kids. Each water park offers a wide variety of splash-worthy rides and pools.
In addition to giant slides, you'll find are play areas for young children, wave pools, family raft rides, and lazy rivers for those of us seeking a relaxing way to cool off.


1. Hurricane Harbor at Six Flags New England—Agawam
Six Flags is home to New England's largest water park, Hurricane Harbor, with everything from one of the largest wave pools in the country to multi-passenger rafting adventures. Good to know: The water park is pretty serious about enforcing its rules.

Photos 1 & 2 Courtesy of Six Flags Hurricane Harbor
2. The H2O at Cape Cod Inflatable Park—West Yarmouth
This splashy addition to the inflatable fun park has become a must-stop for many Cape-bound families. There's a lazy river and lily pad "walks," at The H2O, but thrill seekers will head straight for the four large, inflated slides.
3. Water Wizz—East Wareham
Fun for the whole family, Water Wizz has something for everyone, including a giant wave pool, toddler areas, super slides, and a relaxing river float.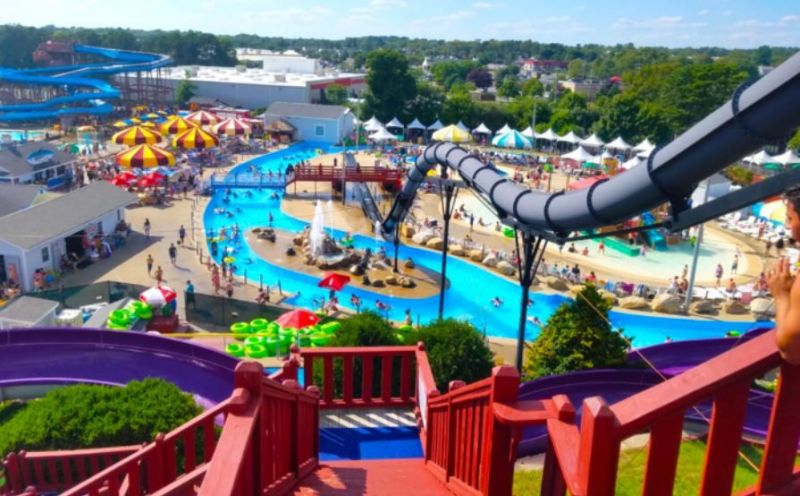 Photo courtesy of Only in Your State
4. Breezy Picnic Water Slide & Grounds—Douglas, MA
A family-owned 'old-school' recreational water facility complete with sandy beaches, alpine water slides, picnic areas and a snack bar, Breezy Picnic Water Slides is fun for all ages. The three 300-foot slides abut a swimming lake and spacious, grassy, beautifully maintained picnic grounds.
5. Water Country—Portsmouth, NH
Cool off this summer and enjoy the thrills and chills of Water Country's super slides, giant wave pool, adventure rivers, rafting and more! Thrill seekers are challenged by the breaking waves and speed slides, while others can relax in the sanctuary of Adventure River, swimming pools, and shady lounge areas.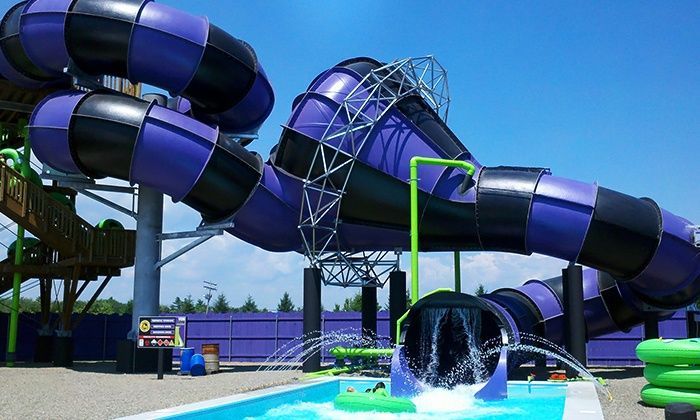 Photo Courtesy of Water Country
6. Whale's Tale Water Park—Lincoln, NH
There are a lot of bells and whistles at this White Mountain-area favorite, including a wave pool with "flow boarding" (sort of like surfing), loads of speedy slides and flumes, and a 360-degree tube slide. Whale's Take Water Park also rents cabanas for a more private experience that includes instant shade.
7. Castaway Island at Canobie Lake Park—Salem, NH
Castaway Island at Canobie Lake Park has over 180 ways to get wet, and features water cannons, nine water slides, waterfalls, zero depth entry pools and more. As for drying off, the Xtreme Frisbee can handle the job. Parking is free.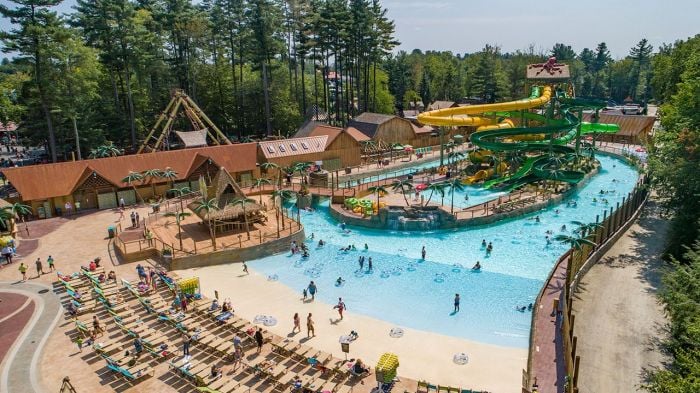 Photo courtesy of Canobie Lake Park
8. Yawgoo Valley Water Park—Exeter, RI
The Yawgoo Valley Water Park is a ski area that transforms into a summertime fun-filled water park with crazy slides, pools, and a Tiki Bar with food and drinks. This water park is small enough that you can sit at the bar with an adult beverage while watching your kids go on the slides - a win-win for all.
9. Water Wizz of Westerly—Westerly, RI
Water Wizz of Westerly is right across the street from the beach and makes for a fun afternoon break from the sand scene. Fun for the whole family, Water Wizz has something for everyone, including a giant wave pool, toddler areas, super slides, and a relaxing river float.


10. Crocodile Cove at Lake Compounce—Bristol, CT
Lake Compounce's Crocodile Cove is home to multiple wave pools, water slides, and special areas designed for young children. Come splash in the surf, jump in and bob on the waves of Bayou Bay. There's even an actual lake.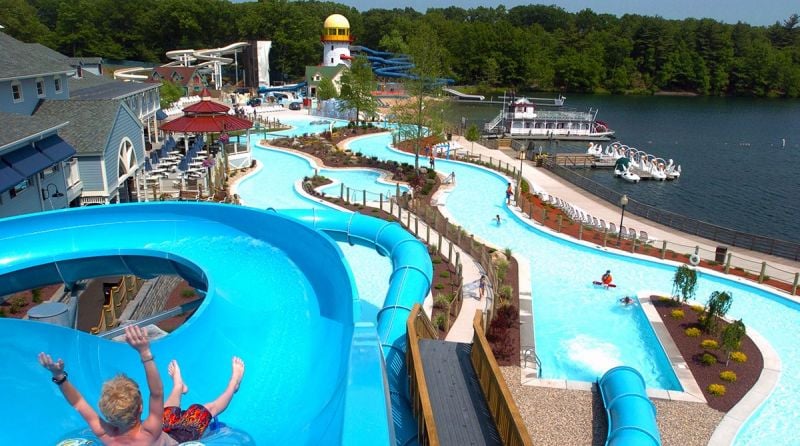 Photo courtesy of Lake Compounce


11. Funtown Splashtown USA—Saco, ME
If you're headed up the Maine coast for a family vacation, Funtown Splashtown features a Family Fun Lagoon, thrilling slides, and pirate-themed play area. Parking is free.


12. Liquid Planet, Candia, NH
Liquid Planet Water Park is a locally-owned and family-run, inspired by New Hampshire's great outdoors. Enjoy slides, a lake with a beach, mini golf, a zip-line, and more.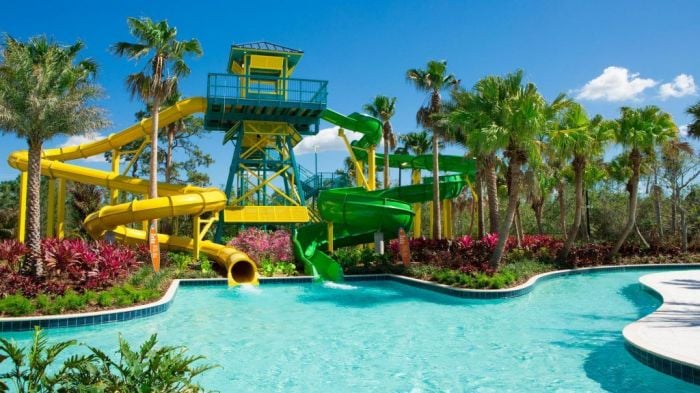 Photo courtesy of Liquid Planet


A waterpark at Santa's Village you say? Indeed! Santa's Village is a popular destination for families, and despite the wintery theme, their waterpark is a great way for young kids to stay cool during a visit to the park during the summer.
The Water Park is typically is open every day from late May through early October, provided the air temperatures reach at least 65 degrees (the water is not heated). Visitors can enjoy a few small water slides, a splash park and more.


Some nearby Indoor waterpark options include:


This indoor water resort is a fun way to enjoy a waterpark during the colder months in New England. Fully equipped with slides & attractions for all ages, families can enjoy a lazy river, fun tube slides, water basketball, obstacle course and a playscape with a giant water bucket that dumps a cooling splash every few minutes.
Your family's Great Wolf Lodge New England adventure will begin in this massive, 84-degree indoor water park with over 68,000 square feet of water-packed excitement. Formerly a Coco Key Resort, Great Wolf Lodge is not far from Wachusett Mountain, so it's a great option to stay if you are skiing with near Boston with kids. Ski by day - splash in the waterpark by night.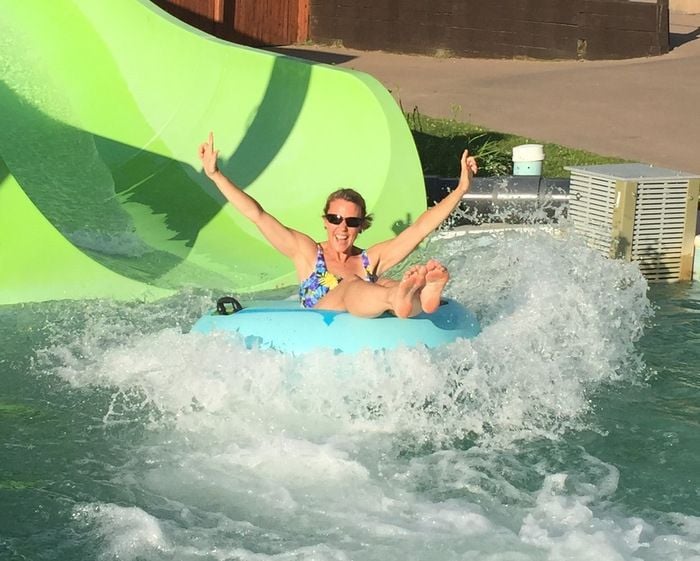 Photo courtesy of Boston Central


Dive into a tropical adventure at Kahuna Laguna, northern New England's first indoor water park at the Red Jacket Mountain View Resort & Spa in family-friendly North Conway, NH. With 40,000 square feet of activities and a constant temperature of 82 degrees, it's splash-tacular fun all year long!


Probably the furthest venue from Boston (almost 4 hours by car), but also one of the largest, Jay Peak's indoor Waterpark (The Pumphouse) is open year round and offers hours of splashy fun for the whole family. Enjoy 4 large slides, a steep chutey chute, an artificial surf ride (the double barrel flowrider), a lazy river to tube around, and lots more.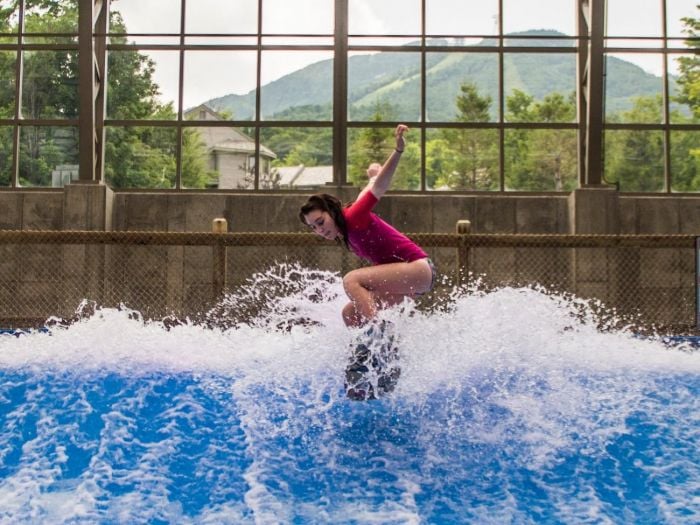 Photo courtesy of Jay Peak Waterpark


More Ideas for Summer Fun!
Find Fun Things to Do on our events calendar as Summer Begins in Boston.
Find more ways to cool off during the summer in Boston in our Guide to Boston Spray Parks & Fountains.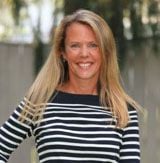 Stacey Sao has been the Managing Director of the family-friendly events and activities website, BostonCentral for almost 20 years. She continues to enjoy discovering and exploring new places to visit in the Greater Boston area.