CoCo Key Indoor Water Resort
Other Ideas:
Wingaersheek Beach
;
Salisbury Beach State Reservation
;
Crane Beach
;
Frog Pond Spray Pool & Fountain
;
Goldfish Swim School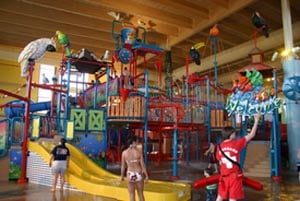 Whatever the weather outside, itís always Florida inside CoCo Key Water Resort.
Inspired by historic Key West, CoCo Key combines the relaxation and enchantment of the Keys with the wild excitement of a 65,000-sq. ft. indoor waterpark.
There is really something for everyone here. Zero-entry depth wading pool with slides to thrill the toddler/young preschool set. Water depths run from zero to 2.6 feet in most areas.
Deepest water is 3-4 feet. and that's only in the bigger kid sports pool, where you'll find basketball hoops and a challenging rope climb over 4 feet of water.
Plenty of vigilant lifeguards are also on hand to put parents' minds at ease.
Itís got it all: a game arcade, family-friendly restaurant, comfortable rooms and much more. Visit
www.cocokeywaterresort.com
for specials and to book your getaway.
Spectator passes are available
for non swimming adults for $20.
Featured Highlights
Parrot's Perch Play Structure
:
An interactive adventure with slides for younger children, zero depth entry area, water cannons, and a huge bucket that dumps hundreds of gallons of water every few minutes. Fun for all ages - even moms & dads!
Coconut Grove Adventure River
:
A fun tube ride around the water island with splashy coconut surprises along the way.
Loco's Lagoon Wave Beach
:
A zero-depth entry into a pool of waves, with small slides offering the perfect thrill for the under 5 set.
Shark Slam, Gator Gush, Barracuda Blast & Pelican Plunge
:
4 thrilling body- and raft-waterslides that'll drive you wild! You must be 48 inces or taller to ride this ride, and they've got a measuring stick up there so before you make that big climb, make sure you hit the mark.
Palm Grotto Indoor/Outdoor Spa
Giant whirlpools for a relaxing, sultry tropical experience. Kick back and catch a few scenes from your favorite kids movie here. You can even get to the outdoor whirlpool via our swim-through passage.
Dip-In Theater
Enjoy video entertainment a whole new way: floating in your own tube in our waterpark!
Coral Reef Cavern
:
An exciting activity pool that features lily pads, water basketball and an animated coral reef backdrop that changes as you look at it. This pool has the deepest water in the park at 3-4 feet.
Outdoor Splash Pad
Cascading towers of water to cool off after enjoying the large outdoor tanning deck.
Rusty's Dive Shop
Conveniently located within the water resort, Rusty's Dive Shop serves as a Lifeguard Station as well as a pick up point for complimentary towels.
Can I bring my own food and drinks into Coco Key
Outside food or beverages of any kind are not permitted inside the park.
Find more
outdoor waterparks near Boston
in our handy guide to splashy fun!
And if it's a rainy day you are looking to escape from, here are more ideas for
things to do on a rainy day near Boston
in our handy guide.
---
View Calendar for Daily Hoursm
---
Buy day passes online. 0.
Reserve an Overnight Stay
---
---
50 Ferncroft Road, Danvers, MA, 01923
map
Phone: (978) 777-2500
FROM LOGAN AIRPORT
Route 1A North to Route 60 West to Route 1 North to Route 95 North. Take Exit 50, Topsfield exit. Bear left to Route 1 South, Danvers. Take first right onto Ferncroft Road.
FROM SALEM, MA
Route 114 West to Route 1 North. On Route 1 North, stay right past exit for Route 95 North and take your next exit on left for Route 1 South. Take first right onto Ferncroft Road.
FROM THE NORTH
Route 95 South to Exit 50. Follow signs to Ferncroft Road (first right).
FROM THE WEST
Mass Pike to Route 128 North to Route 95 North. Take Exit 50, Topsfield exit. Bear left at Route 1 South, Danvers. Take first right onto Ferncroft Road.
FROM THE SOUTH
Route 93 North to Boston. Take Route 128 North to Route 95 North. Take exit 50, Topsfield exit. Bear left at Route 1 South, Danvers. Take first right onto Ferncroft Road.
---
Foam life jackets are on hand for young kids, so that's a few less things to carry. We recommend bringing extra suits and cover ups - those come in handy if kids get cold after playing. Plenty of vigilant lifeguards are also on hand to put parents' minds at ease. I felt fine letting my 5 1/2 year old go off on her own in most areas.
---

Overall Experience
Not a very good place if your child is not between 8-12. Food it ridiculous and not a good place if you are on a budget. For lunch a salad, hot dog, turkey wrap, fruit cup and 2 life waters for the low price of 34 dollars. Room was nice. Warning, if you are Active Duty military and ask for a discount it is more expensive than if you book as a civilian. Also 1 day is more than enough time and no need for the second day. To save some money there are plenty of restaurants outside of the resort. The water is also not that warm my son had to get out of the water every 30-60 minutes to warm up. If you child is too small to know how to hold his/her breath, the life guards will not allow you to go down the slide with him/her. All and all, my recommendation, plan a trip somewhere else...
---

I regret going to this place
I would never suggest this place to anyone. First of all rooms are in bad conditions, noisy and the park leaves a lot to be desired. Imagine a poopy diaper exploding in the water.... now would you like to swim in that??
---

Coco Key Weekend
I am sorry to say that our weekend at the Crown Plaza North Shore / CoCo Key resort was not an enjoyable experience. The room at the Crown Plaza had a bathtub that continued to fill with water even after maintenance came to clear the drain. Security was summoned to our floor four (4) times on our second night to quell the partying and door slamming that kept my wife, my 10yr old, my 3yr old, and myself awake. Finally at 1:30 am, management decided to change our room, giving us the Presidential suite. An accomodating gesture for certain, but one without very much concellation since we didnt get to sleep until nearly 3am and had to check out of the hotel by 11am. One highlight was the very nice, professional, and friendly arcade worker that we encountered on our final nights stay. She deserves a pat on the back for being a genuinely good employee. I unfortunately wasn't as impressed with the rest of the Crowne Plaza / CoCo Key staff. All in all, I would not recommend this resort to any friends or family. Wait until summer for a water park or choose another venue.
---

Dont GO
Our children have gone to at least 2 locations with other relatives. Lifeguars are rude.. The rooms are mediocre and unsanitary. Lines are long and when you buy a pass all attractions should be available. This is not the case at Coco Key.
---

A Nice Time For 4 Kids
We just spent an evening at Coco Key Water Resort last night. It was nice a place to spend three hours in the winter. We, two families of nine, got the $25 day passes instead of stay at the hotel package. I read that the water resort only open at 4PM weekday and all day weekend. We had a nice time as it was not crowded and all indoor activities were open. It's less expensive 3-hours family entertainment than Celtics or Bruins games.
---

Mixed Review
We just got back from an overnight at the Crowne Plaza North Shore. We took advantage of the Spring Break special, which included 4 passes to the water park, 4 personal pan pizzas and sodas, bkfst for 4 and two $5 passes to the arcade, for $179. We were very disappointed with the water park; our kids (ages 10 & 13) only spent 15 min. there. It was extremely crowded (Sunday afternoon / evening). It was body to body in the swimming pool and long lines (that moved fairly quickly) for the slides. Lilly pad pool and tube / river attraction were closed due to a lack of lifeguards (a shame ... if they were open it might have helped disperse some of the crowds). The pan pizzas were good. The arcade was fairly small but uncrowded and the young man running it made up for any problems with machines or questions by liberally handing out tickets or replacement tokens; he made it a fun experience. Breakfast in the morning was pleasant, but we were surprised it was merely continental (the ad implied it was full service). Our room was adequate and reasonably clean (although a little dusty and we wiped the place down with some of the disinfectant wipes we brought). We were surprised we received a small conditioner but no shampoo; glad we brought our own. Room service was prompt, good food and reasonably priced. Staff was courteous and surprised us at checkout by deleting the charges for two movies we watched in our room. Good thing we had managed kids' expectations by telling them only that we were staying at a hotel with a pool. Although the water park was a dud, we still had a fairly good time during our stay. Overall, it was a decent deal for the price. It would have been much better had the water park not been so over-crowded. Our expectations were low because of the reviews we read. If the price or our expectations had been higher, we would have been very disappointed.
---

Overnight Hotelwaterpark Package
Not a very good time..its not worth the money..we paid $279 for 1 night and it was extremely noisy all night.People were arguing and yelling in the hallways until 3 am..there was no continental breakfast..ive never paid nearly $300 for one night and didnt have a continental breakfast...the waterpark area was sooo small,there was a never ending line to go in the lazy river and it was so narrow and crowded the people were nearly all squished together..the basketball water attraction was closed,the water was dirty and had trash floating in it.The hot tub was as big as a teacup and had way too many people in it to even think about sitting down..the lifegaurds were rude and i was literally yelled at by one because he felt my daughter whos 7 was too close to me going down the slide..i wouldnt recommend this place for an overnight stay..its just not worth the amount of money they charge.Six Flags Motor Lodge and Indoor Waterpark in upstate NY is a much better choice all the way around..we usually go there but there was no available reservation so we chose CoCo Keys..never again!! Maybe other locations are better but this one was not good.
---

Coco Key
I stayed at the Crown plaza and it was very dirty and the service was terrible I would never refer anyone to stay there. I called to complain and never got a call back. The coco keys water park was a great time. I would only go back for the park.
---

Not Worth The Money
We went to stay overnight and celebrate our daughters birthday. We arrived on a Saturday, immediately as we entered our room I noticed the bathroom was dirty. We proceeded to go to the waterpark where it cost us $40 for 3 personal pan pizzas and a burger because they had run out of large pizzas before 7pm. I paid for cheesy fries only to find out that they ran out of those too. Lazy river water was freezing. The worst part of all came Sunday morning when we found a bug in the bed our daughters slept in. Not sure what type of bug it was but I fear bed bugs after I called a local pest control and described what the insect looked like. Bottom line, lousy hotel severely overpriced with accomodations that wouldn't even be suitable for a dog. Manager did try to save face by refunding us our nights stay but too late the damage was done.
---

Loved It
I brought my 1,3 & 4yr olds here and they all had a blast! So excited we have someplace like this to go all winter! The only problem we had were obnoxious life-guards, they actually rotate from post to post and when they are in the bigger kids section (the place where the bucket of water tips over), they actually walk away till the water is done spilling!!!! So, waiting there in line don't know when its ok to go down the slide...But besides that oddity, it was all very fun!
---
Info changes frequently. We cannot warrant it. Verify with CoCo Key Indoor Water Resort before making the trek. If you find an error, please report it...