This In-Active Profile Has Been Archived
The following profile has been archived in our database and is
no longer active
. Click the
here
to view similar profiles that are currently active and up-to-date.
---
A Girl's Place, Party Boutique & Spa
Other Ideas:
The Painting Place
;
Connors Farm
;
Simons IMAX Theatre Birthday Parties
;
Clay Dreams
;
Longfellow Children's Center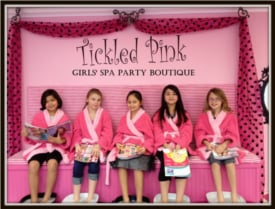 Spa-tacular Spa parties!
Our award winning spa birthday parties are great fun for girls ages 3-13. Spa party package includes manicure, hairstyle & make up. Face painting party includes face painting and manicure. We welcome Girl Scout Troops and any special event.
Parties are approx. 2 hours in duration. We serve the greater Boston area and will travel to your home or venue. We have a catering menu available as well as goody bags and cupcakes to make your party complete & effortless! Let our stylists make your girls look fabulous!
Check out our website for more information at
www.a-girls-place.com
or call us ate 978-335-5586.
---
Prices start at 25.00 per child
---
---
Serving Greater Boston, Boston, MA, 01915
map
Phone: 978-335-5586
---

Highly Recommended
We had A Girl's Place come to our house for our 15-year old's birthday party. The two young women from A Girl's Place were lovely, very relaxed and friendly. The girls loved getting their nails done, and most had their hair styled as well. Some got pedicures, too. The party didn't feel rushed, and they took their time with everyone. My younger daughter already wants to book her birthday party with them for November! I would recommend this to everyone. Tracy G.
---

Extremely Dissatisfied
It truly was the WORST birthday party I have ever hosted. The girls (teenagers) they sent to my home were extremely polite and pleasant but the actual nail art and polish was amateur. The final product looked nothing like their photos on their website. The polish was globbed on and there wasn't any nail art. the polish was peeling off of the girls within an hour of their staff leaving. I was truly disappointed with their service and would not recommend them especially for the amount of money I was charged. I would have been better off hiring the two teenage girls up the street or better yet doing it myself. Save your money!
---

Best Party Ever
May 22, 2012 Oh my gosh, great party! Your girls were so nice and my girls and all the girls had such a great time. It was so great to have someone to get the games started and all three were just so sweet with the kids. It was truly the best birthday party we have had and my girls will remember it always. Thank you so much! Bobbie Basta
---

fantastic
The party for my daughter this past Saturday was a fantastic success. The girls you sent were professional and fun. My daughter and her friends LOVED every minute of it. We would definitely consider your services again and HIGHLY recommend them to anyone! Thank you so much! Sue Passacantilli
---

What a great business
Thank you Kerri. The girls were lovely and could not have been better suited for my group of girls. They loved Jessica and Alex. The comments;' they were so pretty and so nice'. I made sure I took several business cards as well. What a great business you have with wonderful young ladies. They totally related to my girls. Thanks. Judy
---

What a blast
Kerri, We had a blast, the girls loved it!!! SO fun!!! The girls were fabulous! Highly recommended by myself and my kids! Thanks again! Happy Holidays! Sincerely, Abby LeCompte
---

GREAT TIME
Gabriella had a GREAT TIME!! The girls were awesome and did such a great job with the hair/face painting & nails!! Alex did a great job entertaining the kids with Games, etc and getting the girls organized for their turn to 'SPA.' They were certainly deserving of that Gratuity!! It made my day that much more enjoyable and Gabriella was so excited, she really liked them!! It was a pleasure & worth it, I would recommend you HIGHLY! Thanks Again Kerri. Best Regards, Sharon
---

thank you
What a great party! All the girls were so happy and pretty when they left. It couldn't have gone any smoother. Sweet girls you have there who interact so well with the younger ones. It was quite a haul out there for them and it was appreciated. They were great and certainly earned their gratuity! I made sure to pass your business cards along as the guests left. Thanks so much! Sheila Lufbery
---

So great
Hi Kerri, The girls loved it and the girls you sent her were unbelievable! So great. Lots of moms were asking about your service, so I took a bunch of cards. Thank you. I will be in touch soon for another one.
---

Best party yet
I just wanted to thank you for the party for my daughter, Alyssa today. She had so much fun & all of her friends did too! It was her best party yet! The girls that came were excellent, I can't stress enough how happy we all were with the day. Thank you so much! Sarah Yore
---
Info changes frequently. We cannot warrant it. Verify with A Girl's Place, Party Boutique & Spa before making the trek. If you find an error, please report it...