CLOSED: ArtBeat (Art Kits can be purchased Online)
Other Ideas:
The Painting Place
;
Indigo Fire - Clay and Glass Art Studio
;
ActonArt Drawing School
;
Brush and Easel Art Studio
;
Danforth Art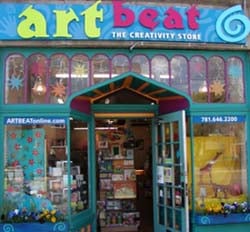 This location has permanently closed. Art supplies and projects can still be purchased on their website


The Artbeat store/studio houses a unique collection of fun and creative gifts, do-it-yourself kits, and specialty arts and crafts materials such as rubber stamps, watercolor supplies, and weaving looms.

A great idea for kids and adults to try the drop-in open studio for craft projects. The Artbeat hands-on art studio is open to the public every day and serves artists from ages 4 to adult.

View Workshop Schedule

Birthday Parties:
Artbeat also hosts birthday parties for children ages five through the teens. Parties include one hour of craft time to complete a project from Artbeat's list (beaded jewelry, sand art, rolled beeswax candles, and more). Children receive guided instruction. One half hour is allotted for refreshments.

Refreshment Recommendations:
Because the studio is small, refreshments should be relatively simple. Cake works, but there is no freezer for ice cream. We suggest you bring ice cream cups or pops in a cooler, if ice cream is a must-have. Juice boxes are handy and keep clutter to a minimum.

Invitations & Favors:
Party planning is made simple. Artbeat provides the invitations (you send them out), helium balloons, and party bags with favors.

Age Considerations:
Party goers should be old enough to focus on a project for the full hour. (Ages 5 thru teens is recommended). All birthday activity takes place in the studio; wandering out to the store area is not permitted.


---
Monday - Thursday 10:00am - 6:00pm
Fri day - Saturday 10:00am - 8:00pm
Sunday 12:00 noon - 6:00pm
---
---
212-A Massachusetts Ave., Arlington, MA, 02074 map
Phone: 781-646-2200

Get Directions


---

Great local resource

My kids have grown up in the studio at Artbeat. We love the experience, have also had Birthday parties there. The staff is very helpful. I notice that some reviews have an issue with the priceing and monitoring of materials. I for one appreciate that they teach kids not to waste materails! And I think the price is fair, although we can't afford to go there every day.
---

I had the same experience

The creativity came in during the pricing. No matter what I wanted to do, I was told it was extra -- okay, I'm willing, just give me a price! Then there was strenuous calculating. I was also told to be careful with the colors as they could be poured back in bottles. Is paint really a big line item in running a business? I just wanted to flee. I can do the same projects for the price of admission (or with a library pass) at some museums.
---

Art Beat What's With The Supplies

You pay a $10 fee to use their supplies then the owner and employee watch your every move to make sure you are not using a drop more than necessary. While I understand times are hard it becomes really weird after a while. Heaven for bid your 4 year old uses a bit more glue than they deem fit. You will be schooled in exactly how much to use and why. Be prepared that they are 'out' of certain colors as well. Stock up gals! We pay the fee for the supplies so please keep your shelves fully loaded. Other than that, it is a nice place to create crafts...


---
Info changes frequently. We cannot warrant it. Verify with CLOSED: ArtBeat (Art Kits can be purchased Online) before making the trek. If you find an error, please report it...