Duxbury Beach Park
Other Ideas:
The Charles River Esplanade
;
Walden Pond State Park
;
Stage Fort Park Beaches
;
Boston Public Garden
;
Garden In The Woods: Native Plant Trust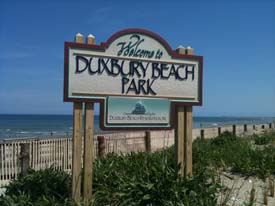 Two beaches in one as the beach is sort of a thin pennisula with a parking lot in the middle:
Outer Beach
offers a great spot for sun-bathing, walking and swimming. At
Inner Beach
you'll discover protected clam beds, kayaking, & a boat launch and some ideal bird-watching opportunities.
Overall, the beach is a long thin stretch that is somewhat 'stoney' along the shore. Fun for collecting in buckets as you walk along. There are waves for boogie boarding in the beautiful clear green surf.
No Dogs, Glass, Fires, Or Alcohol!!!
Lifeguard on Duty
9:00am-5:00pm daily
Concessions
The concession stand inside the Bathhouse is a favorite daytime spot for ice cream, hot fogs, burgers and more.
Facilities
The Duxbury Beach Park Pavillion offers restrooms and showers. Facilities are open from 9:00am to 8:00pm and are located on the side of the building nearest the parking lot.
Blakeman's at Duxbury Beach Park Now Open for Dinner!
From 5:00pm - 8:00pm on weekends (Friday - Sunday), they heat up the fryer for seafood, popcorn shrimp, and chicken fingers to go. You can sit down at an indoor table for a steamed lobster dinner..
View Menu
June Through Labor Day Weekend
Come as you are, dressed for sunset dinner, or right off the beach.
---
LIfeguard on Duty 9:00am - 5:00pm daily
9AM-8PM, Weather Permitting
---
Daily Parking Cost: $20 daily parking per car
---
---
Gurnet Road, Duxbury, MA, 02332
map
Phone: (781) 837-3112
Coming from the north or south Rt 3 to exit 11- take a right off the ramp- go straight onto Rt 139 past the Duxbury police station at the fork in the road bear left for 2 miles. At the intersection go straight across, go 3 miles- there will be a large green highway sign on your right with an arrow pointing to Duxbury Beach- go right- follow to the end of the road.
---

Blakemans At Duxbury
very disappointed claimed to be all fresh, but didnt taste that way. clamstrip plate $15.95....clams were tiny, battered with this tiny strip inside and the portion of clams was ridiculous small for the money. i swear they were frozen..... fishermans platter $23.00.... tiny piece of fish,scallops were not good, shrimp were the tiny ones ( the size of your pinky nail) clams were terrible dwarfed by a lot of french fries and a few onion rings. fish sandwich was the biggest joke of all. tiny piece of fish not even the size of my palm served on what tasted like a no name tiny hamburger bun, that was hard on the edges a stipe og romaine lettuce and iit diddnt even come with fries ( not that they were good anyway) but, get this the charged $12.95...... what a joke, actually its a disgrace.... we also had chowder , that was pretty good and 3 soft drinks. my bill was $67.00.... I feel totally taken, for what I consider the worst fried food I ever eaten. to bad the atmosphere and the setting is really nice, what a waste of space............
---

The Blackcrab
grab those last days of summer at Duxbury beach and don't worry about packing a picnic - The Black Crab has is all! We just discovered it was open for dinner and have had been back often(for lunch,too). Lobster dinners have yummy big lobsters (they look like 11/2lb to me.).They don't skimp on the lemon wedges & butter. A 3oz ladel full in a big cup gives you room for dipping) and the sweet local corn, chips and cole slaw made this a big memorable meal.. We also love the toasted butter ro;; filled with fried clams. They do it just right. The chowder or lobster bisque with a salad (I pick lobster again) is a great meal,too. The kids can always find plenty to choose from and the staff is friendly and helpful. I like that they ask if you're familiar with The Black Crab. Sunsets are amazing! The casual feel and warm welcome will bring us back again and again. I know The Black Crab will become a summer tradition for our family.
---
Info changes frequently. We cannot warrant it. Verify with Duxbury Beach Park before making the trek. If you find an error, please report it...