Endicott Park
Other Ideas:
Rose Kennedy Greenway
;
Garden In The Woods: Native Plant Trust
;
New England Botanic Garden at Tower Hill
;
Maudslay State Park
;
The Charles River Esplanade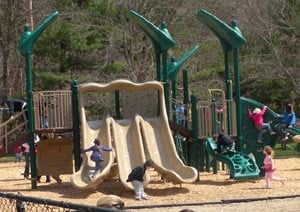 Endicott Park in Danvers offers a large playground, animal farm and nature hiking path. Picnic tables are available throughout the grounds. Bathrooms and soda machines can be found in the main building.
Park & Open Areas
Botanical/Horticulture - Important features of the Endicott Estate are the formal gardens at Glen Magna and the apple orchards at Endicott Park.
The gardens and orchards of the Estate contain many of their original and now rare flower and plant species. Efforts have been made over the years to restore planted areas with historically accurate plant materials.
Sliding Hill
This large open hillside on Whipple Hill offers both scenic vistas and an area for informal winter sports such as sledding.
Dean Street Pasture
A large open area just of Forest Street that is used and maintained for passive, unstructured recreation.
Kidstown Play Area
Located within the Dean Street pasture, a site with wooden play structures and sand areas designed for unstructured, imaginative play.
Activities Field
An open area for a variety of informal recreational activities. It also offers the visitor unobstructed views of the surroinding landscape.
Fitness Trail
A 1.8 mile exercise trail winding through woods, fields, and along existing roadways, this trail offers something for the athlete, as well as the passive walker.
Goodno Pond
An open space for informal recreational opportunities such as skating and fishing. In order to keep the pond as a viable fishing area it is restocked an necessary.
Orchards
The orchard areas are maintained and restored. Where possible, replacements are historically accurate. This area is used for large permitted gatherings, as well as for informal passive enjoyment.
Beech Tree Trail
A short trail established by an Eagle Scout project to provide a handicapped accessible trail leading to an observation platform on the edge of the swamp.
Whipple Hill
An undisturbed forest that offers visitors a peaceful area for quiet walks, exercise or ecological study.
Community Gardens
Formerly part of the Ingersoll pasture, this area is now used by close to two-hundred families for vegetable gardening. This is one of two actibe agricultural ares within the Park. It is also referred to as the 'Victory Gardens' commemorating their origin during the second world war. For a nominal fee and on a first-come, first-served basis, members of the community can lay claim to a plot of land for the growing season
---
Small parking charge for non-Danvers residents.
---
www.danversrec.com/endicottindex.htm
---
Forest Street, Danvers, MA, 01923
map
Phone: (978) 777-0001
---

Something For Everyone But Bring A Trashbag
There are plenty of family options at Endicott Park, from outside at the Children's Barn and rolling lawns, to the indoor nature displays at the Carriage House. But do note that the unshaded playground seems to be the hottest place on the North Shore, on even a mild day. There are no trash cans anywhere except in the (very clean) bathrooms, so be prepared to 'carry in & cary out.'
---

A Lot Of Fun
I went here with the two children that I babysit for (2.5yrs, and 10mo.). They both enjoyed the walk around to see the animals (take a stroller). We saw a horse and its baby, 2 very noisy roosters walking around the road, and some chickens that were also running along the yard. Inside the barn, there was a pig and some bunnies. There were also some geese and ducks. The playground was ok, it was just too hot to stay and play. The animals were a lot of fun to see for the kids, we would go back.
---
Endicott Park, Grade 5 Student
Endicott Park is an amazing place to see animals or do fun activities such as sledding or a lot more. In my opinion, I think Endicott Park is the best place for families to come and enjoy. It has tables where you can eat and perhaps do a picnic. There is a playground inside the Endicott Park which includes swings, slides and a lot more fun stuff. It will be good for kids to play in the playground. There are lots of animals to see and also a lake. There is a big ground which will be an awesome place do sledding when there are snows on the ground. Lots of the kids come to Endicott Park during the winter to sled. During the summer, families visit Endicott Park to do a picnic or for their kids to play and have fun. Endicott Park will be a fantastic place for families to enjoy.
---
See animals and have lots of fun, Grade 2 Student
Endicott Park has a barn, a carriage house, and a really cool field and playground. It's really fun because you can see animals at the barn. You can go to Little Lizards for camp in the summer. It's a fun camp because it's not crazy, it's fun, you learn outdoor things and go on a field trip to catch frogs and crabs. When you're done seeing the animals, you can then play at the park!
---
My Visit to Endicott Park, Grade 2 Student
This summer I got to visit Endicott Park. At the park I got to do a lot of things. I went to see animals like chickens, a horse, pigs, turkeys, goats and a rabbit. The animals all live in the barn. I also went to the playground and I made some new friends there. We climbed up on the spider web, went down the slide and had a race around the park! Finally, I went to see the pond. I threw some rocks into the water to try to make a big splash. I collected a big rock to bring home and paint it. I think other kids would have fun at Endicott Park and they could make some new friends!
---
Info changes frequently. We cannot warrant it. Verify with Endicott Park before making the trek. If you find an error, please report it...