Teamworks Acton
Other Ideas:
Boda Borg
;
Big Sticks Indoor Golf
;
SkyVenture New Hampshire Vertical Wind Tunnel
;
Central Rock Gym (CRG): Watertown
;
South Shore Sports Center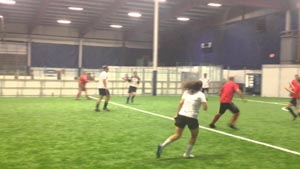 TEAMWORKS Youth Programs are designed to give participants an opportunity to play with others in a fantastic sports environment.
The programs are designed to develop basic skills, increase self-esteem and group dynamics and most importantly have FUN!!
View Clinics & Schedules
The three main sporting arenas at Teamworks Acton (Formerly Acton Indoor Sports) features a tempered glass surrround (much like a hockey rick) that is fully netted for safety. Each arena uses either astroturf or multipurpose flooring.
Turf Arena 1
is equipped with artificial turf. Suitable for soccer, football, lacrosse and field hockey.
Turf Arena 2
is a fully netted plexiglass arena with Astroturf. It is designed primarily for soccer, but hosts field hockey, lacrosse, and footbal as well.
Arena 1
is a a multipurpose flooring suitable for: hockey, roller hockey, basketball, volleyball, soccer, and lacrosse. Surrounded by plexiglass and fully netted. The flooring is Sportcourt, Outside Turf is a turfed, well-lit outdoor field.
Party Area w/Video games & Jumphouses
provides your kids with a space to eat and video games to play for a birthday party.
Learn more about booking a birthday party
at Teamworks.
---
Annual membership is $10. Additional rates apply to camps and sports programs.
---
www.teamworksacton.com/home/index.php
---
Rte 2A, Great Rd, Acton, MA
map
Phone: (978) 287-5533
Located on Rte 2A, Great Rd, about 6/10 mile from the Concord Rotary and Route 2. If you are coming from Route 2, we will be on the left side. Our sign by our driveway is roadside between Ginger Court Restaurant and Lennox Nursery.
Rt 2 from the east
Proceed down Route 2 West until you get to the Concord Rotary.
Go 1/3 of the way around, take Route 2A West
After about 6/10 of a mile, you will see our sign on the left. Turn into the driveway.
Rt 2 from the west
Proceed down Route 2 East towards Concord
Soon after passing Rte. 495 and the Acton traffic lights, you will arrive at the Concord Rotary
Go 3/4 of the way around. Take Rte 2A West
We will be about 6/10 of a mile, on the left. Take the driveway which is next to our sign.
From I95 & 128
Get off Route 95/128 (either North or South) at exit 29, Route 2 West.
Head west for about 10 miles.
You will arrive at the Concord Rotary (There will be a prison on the right). Get off at the second right, 2/3 of the way around, onto Route 2A West
We will be on the left, about 6/10 of a mile after the rotary. Our driveway is right behind the Acton Indoor Sports sign.
I495 from the north
Take Exit 31 to Rte. 119 East.
In Littleton, Rte. 119 becomes Rte. 2A at the traffic lights. (Mobil gas station on the left).
Drive down Route 2A East for about 6.5 miles.
Our facility will be on the right.
I495 from the south
Take Exit 29 East onto Rte. 2
Drive about 7 miles until the Concord Rotary
Go about 3/4 of the way around (Enter at 12 o'clock, exit at around 2) onto Route 2A West
Go straight for about 6/10 of a mile.
Turn left at our sign on the left side of the road.
---

Acton Indoor Sports
My 5 year old son has been taking soccer classes at Acton Indoor for two years and LOVES it. Not only are the classes very very reasonable, the coaches aren't simply high school or college kids but actual professional players. The quality of the classes is just incredible! We have taken soccer classes through other means, such as Westford's Recreational Department, and found them to be, well, simply sad compared to Acton Indoor. Added bonus: your child is playing indoors, so no chance of getting rained and you can play all winter!
---
Info changes frequently. We cannot warrant it. Verify with Teamworks Acton before making the trek. If you find an error, please report it...