The Whale Center of New England
Other Ideas:
Isabella Stewart Gardner Museum
;
Louisa May Alcott's Orchard House - Home of the Alcotts
;
Boston Tea Party Ship & Museum (for kids and adults)
;
Discovery Museum
;
Boston Children's Museum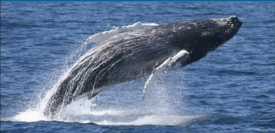 On June 1, 2004, The Whale Center of New England opened its doors for one of the most exciting events in its history: Their new, free, public Visitor's Center. Located near the Gloucester Maritime Heritage Center, the new exhibit is easily available to thousands of people each year. Visitors will come away with a new appreciation for marine mammals and the threats that they face in the world today.
Location
:
The Center is on Harbor Loop, on the historic waterfront of downtown Gloucester.
Hours & Admission
It is open to the public from 11:00am - 7:00pm daily, 9:00am - 7:00pm on Saturdays. Admission is free, but donations are much appreciated.
Exhibit Highlights
:
The exhibit is based around the skeleton of Inland, a 28 foot (8.5 meter) young female humpback whale. Inland was first sighted during the fall of 2000, when she spent months living far inside harbors along Boston's North Shore. Hundreds of people daily braved the cold to watch her lunge feeding off of Pickering Wharf in Salem, or next to the famous 'fisherman at the wheel' statue in Gloucester. She was sighted on a daily basis far inside the harbors of Salem, Beverly, and Gloucester, Massachusetts.
Sadly, Inland died after becoming entangled in a gill net in April, 2001, off of Virginia Beach, VA. With support from the Stellwagen Bank National Marine Sanctuary and the Virginia Marine Science Museum, Whale Center staff retrieved the skeleton. Working in conjunction with Dan Dendanto of Allied Whale, a program of the College of the Atlantic in Bar Harbor, ME, the skeleton has been repaired and mounted for our exhibit.
Learn About Whales in Local Waters
While Inland's skeleton is the focus of the exhibit, there is far more to the facility than it alone. Whale Center staff, who are experts in the marine mammal field, have written a series of educational panels that deal with a wide variety of subjects. Visitors can learn about the abundance, behavior, and biology of marine mammals in local waters, as well as world-wide efforts to research and conserve these animals. Common questions like 'Why do whales breach?' or 'Why do whales and dolphins become stranded?' are answered. Special artifacts like a 9-foot long bowhead whale baleen plate, old whaling tools, and radio tags, and hundreds of photos and illustrations displayed throughout the exhibit.
Art and Literature Displays
In addition to the display, the visitor center also includes a gallery of marine mammal related art and literature. Here you can both view and purchase some of the finest photographs, painting, and sculpture of these special animals. Whale Center staff has also chosen a special selection of the best books on marine mammals for all ages. We have chosen those books that are accurate, informative, fun to read, and often written by colleagues that are leaders in the field. All of the proceeds raised by gallery sales will help our programs to study and conserve whales, dolphins, seals, and other marine mammals.
Donations are Appreciated
The Visitor Center is free, although donations are appreciated. We hope that you will come and see this exciting facility for yourself. If you live nearby, and would like to become more involved, we will even be accepting volunteers to help us staff the exhibit; feel free to get in touch with us at your convenience.
The skeleton of Inland, a special female humpback whale, serves as the core of the exhibit. Inland was first sighted in September of 2000. For the next several months, she was sighted on a daily basis far inside the harbors of Salem, Beverly, and Gloucester, Massachusetts.
---
---
24 Harbor Loop, Gloucester, MA, 01930
map
Phone: 978-281-6351
---
Info changes frequently. We cannot warrant it. Verify with The Whale Center of New England before making the trek. If you find an error, please report it...