Mystic Drumz
| | |
| --- | --- |
| Hours: | Anytime - we come to you! |
| Ages: | Toddlers, Kids, Teens, Adults |
| In/Outdoor: | Indoor, Outdoor |
| Cost: | $$ |
| Category: | Birthday Parties |
Other Ideas:
Goldfish Swim School
;
Connors Farm
;
Honey Pot Hill Orchard
;
The Painting Place
;
Windkist Equestrian Centre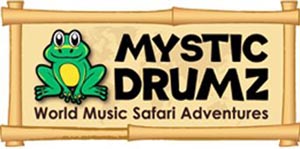 WELCOME TO MYSTIC DRUMZ
We are an international leading provider of World Music education, specializing in bringing interactive percussion experiences to your door. We are happy to be severing Boston and the surrounding areas since 2011 and worldwide for almost 20 years.
Our unique rhythm and sound programs excite, enlighten and engage audiences of all ages.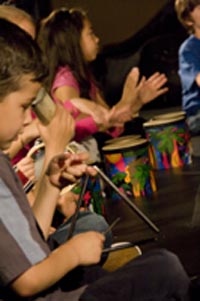 We have two types of programs, Hands-on world beat drumming workshops (ages 4-up) and Interactive Shows (ages 2-11) that feature eclectic percussion instruments sourced from around the globe. We link geography to sounds, rhythms to science, and laughter to learning.
Each show is a 'World Music Safari Adventure' that takes participants around the globe in search of amazing instruments and sounds. We travel to African jungles, South American rainforests and the Great Wall of China to discover clues from animal friends and learn about ecology.
'The Legend of Marshmallow Island'
Features a magical island that rises from the middle of a mystical pond. Larry the Frog and friends go off in search of Marshmallow Island and the legendary dance party that takes place there. Featured instruments include Nigerian Talking Drum, Brazilian Quica, Vibraslap, Flextone, Chinese Gongs and more.
'The Button People'
Takes "Larry the frog" and "Slappy the Dolphin" deep below the enchanted sea to find the fabled Buttonville metropolis. Larry and his friends navigate the under-sea world to find the amazing button people. Featured instruments include Trinidad's Steel Pan, Cuban Bongos, Spanish Castanets, European Xylophones to mention a few.
'The Safari Dance Adventure'
Large crowds love this "Safari Dance Adventure" which takes them on a journey of movement and imagination. Children are invited on stage to dance and sing to their favorite popular tunes including "Move it, Move it", "Who Let the Dogs Out", "Olé Olé" 'Gangnan Style' and many more. Also featured are tracks from the Mystic Drumz Parents Choice Award Winning CD, "Zoodlebee Zoup". Adding to the excitement are instrument prize giveaways and animal dance-off contests.
We specialize in Daycares, Camps, Birthday Parties, Schools, Libraries and Community Events.
---
---
Greater Boston Area, Boston, MA
map
Phone: 1-888-638-5949
---

Now if you want a real treat for your classroom book these guys
We were lucky enough to have Mystic Drumz come into our class the other day for a morning and afternoon show. We have seen a lot of acts come through to entertain/educate the kids. WE have had animals , bubbles , story tellers , and music makers. But Mystic Drumz was by far the best! They bring the kids on a adventure of laughs and it is truly funny for not just the kids but the teachers as well. Do your class and your kids a favor and book those guys right now!
---

Great fun for a 4yo birthday party
Phil put on a great show for my son's 4th birthday party. The kids (3-5yo) were really engaged and bouncing around. They all loved the story but mostly all of the different drums and noises. We used the small wooden frogs from Mystic Drumz as party favors and I have received positive reviews on those from other parents. Mystic Drumz was a great choice for our party and I would definitely recommend them.
---

Make you kids fell truly special with a perfect party
We saw Mystic drumz listed on the Boston Central site and did not know what to expect. We made the call for the booking as our kids love music and the staff on the phone were extremely polite and easy to talk to. They booked us for a show for our 6 year old son Peter. Phil from Mystic drumz showed early to set up set up but immediately from the time he walked in the door he was 'on' entertaining everyone and being a magnet for the kids. They loved everything he did . He would make a silly face or do something funny and the kids would explode with laughter. Then the show started and it was amazing. It was both educational and entertaining to both the adults and the kids. After the show phil did not just take off as some people we have booked for parties have. But he stayed around for a few and talked to all the kids and even played a bit extra drums so the kids could dance more! We all had a great time and felt more like we watching something truly special than just a birth-party show. This is an entertaining show for all ages, it should be on TV. He mentioned they do events, schools and camps etc.. ANyone would be lucky to have Mystic Drumz perform for them. It is truly a special event!
---

Book this show now
At the last minute we needed to get someone to entertain our 4 year old for his birthday party. We came across Mystic Drumz online and fortunately they had a available slot for the afternoon of the party. It really was the best decision we ever made. Phil (the performer) was amazing. He came in and captivated a group of kids and adults for an hour. The show is excellent and good for both kids and adults. Perfect for a birthday party! One parent said she had not laughed that hard in years and my kids are still talking about the show and my other son wants Mystic Drumz to come for his birthday as well. Book this company for all your kids party or event needs , you will not regret it!
---

Mystic Drumz is Great for any School Assembly
About a week back we had Phil from Mystic Drumz to our school to entertain our kids. It was truly a great show! Filled with both education and laughs for everyone. Phil was able to control a large group of of young chidden who were all in a very small room. Trust me i teach and here and that is no easy task! The kids age ranged from 4-9 and all the kids of all ages enjoyed the the performance. After the show he let all the kids line0-up and hit his big drum. And he evn stayed and posed for a few pictures. Every school should book Mystic Drumz and Phil!
---

An Excellent Choice for Any Event
We had the pleasure of having Phil from Mystic Dumz perform at our 5 year olds birthday party last weekend. He was extremely entertaining for both the kids and the adults that were there! The kids kept talking about the show hours after he left. We decided to get a few of the wooden frogs he after the show. They are really cute and well made! I highly recommend Mystic Drumz for any party or event!
---

Three year old boy birthday party
Phil was awesome. All the kids loved the show, and were completely captivated for the entire hour. The instruments and the storyline were great, but Phil was the one who made it all come to life. I would have him come every year if I could!
---

Son's 9th Birthday Party
My son's 9th birthday party was a success due, in large part, to Phil! He was perfect. He had just the right energy to captivate a bunch of 9 year old boys for a solid hour!Phil has the perfect blend of entertainer and educator. The kids loved the story, jokes, information on the various drums etc. The jam session at the end was probably their favorite part of the show. I would absolutely recommend Phil! I might even re-hire hi for my daughter's 7th birthday...she was also entranced.
---

Three year old son's Birthday
A week before my son's 3rd Birthday, I decided to hire an entertainer to perform. I found Mystic Drumz on the Internet. They were recommended from a local Boston children's website. They were very prompt in returning emails and phone calls to set up the event. Phil was the performer. The kids at the party loved his energy and enthusiasm! Phil did a great job holding their attention during the story and his explanations of the different musical instruments was entertaining for the adults as well. My son is still talking about the drums and having fun with the drums. I would recommend Phil from Mystic Drumz if you are looking for a performer at a child's party.
---

Fabulous Elementary School Event
Phil kept the kids (grades K-3) laughing and engaged the whole time! Not only did he show the them a whole slew of new and exciting instruments, he kept them involved and moving. This is a fun, high energy, interactive program. His recovery time was amazing! One minute he'd have over a hundred kids up and dancing and the next minute they'd be sitting quiet and attentive! Several parents reported their kids talking about the different instruments days after the performance. Bpoking the event was a breeze! When I saw that the main office is in Canada, I thought it would be lots of hassle, but Lorne (Chief Drumming Officer) was quick to respond to each of my (several) calls and emails and made every effort to make the whole experience positive. Also, the price was excellent. I'd recommend Mystic Drumz for a great Cultural Enrichment event!
---
Info changes frequently. We cannot warrant it. Verify with Mystic Drumz before making the trek. If you find an error, please report it...