Mystic Bowling
Other Ideas:
Acton Bowladrome & Arcade
;
Boston Bowl
;
Lucky Strike Social Boston Bowling (Jillian's)
;
Ron's Candlepin Bowling Alley & Gourmet Ice Cream
;
CLOSED: Lanes and Games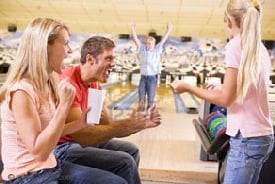 Mystic Bowling...A State-of-the-Art Light and Sound Show to accompany your bowling FUN is offered by Ryan Family Amusements at five Cape Cod locations. The normal lighting gives way to a special illumination that reveals a kaleidoscope light show. Fog machines belt out a blanket of haze, the kickin' stereo system blasts out your favorite tunes. You have to experience it to believe that bowling can be this much fun!!!
History of Ryan Amusements
One-and-a-half million pairs of bowling shoes rented! Ryan Family Amusements celebrates over 46 years in the family entertainment business. In May 1958, owner James A. Ryan started his first business in Needham, MA, an eight-lane bowling alley under the Post Office.
Over the years, he has opened other bowling centers in Quincy, Falmouth, Avon, Raynham, Buzzards Bay, South Yarmouth, Malden, Hyannis, Boston and Millis, MA and in Middletown, RI and game rooms in the Cape Cod Mall, Hyannis, MA in Newport, RI and Dreamland Fun Center on Martha's Vineyard, MA.
History of Candlepin Bowling
The game of Candlepins was founded in 1880 by Justin P. White in Worcester Massachusetts as an alternative to Ten Pins, which he felt was too easy of a game. Where scores of 300 (a perfect game) was attainable in Ten Pins, since 1880 no one has rolled a 300 game in Candlepins. The pins were made of wood and varied in size since the pins need constant sanding on their ends to remain upright.
These are the 10-inch broomsticks that Justin P. White found when he purchased the alleys at 37 Pearl Street in Worcester Massachusetts in 1879. Together with a 3-inch ball, this must have been quite a challenge. It is little wonder that this experiment in bowling was short-lived. However, this discarded equipment germinated the idea of the candlepin in J. P. White's mind.
In 1894, Justin P. White invented the Candlepin that would be used for the next 100 years. Several different pins were tried after 1894. The 'Worcester' pin would generally be used in that region, in the seaboard area, the 'Boston' pin would be used. Most houses used whatever pin suited their clients tastes.
The lanes of that period varied in length from 30 to 60 feet as did the balls. In 1893, Jack Monsey devised the rules and regulations for Candlepin bowling and he standardized the equipment used to play the game.LANES - 60 feet long from the foul line to the head pin and 42 inches wide.
---
---
| | | | |
| --- | --- | --- | --- |
| Buzzards Bay | (508) 759-9892 | map | 200 Main Street, Buzzards Bay, MA » more |
| Hyannis | (508) 775-3411 | map | 441 Main Street, Hyannis, MA » more |
| Millis | (508) 376-1101 | map | 1170 Main Street, Millis, MA » more |
| Raynham | (508) 822-2304 | map | 115 New State Highway; Rte. 44, Raynham, MA » more |
| Yarmouth | (508) 394-5644 | map | 1067 Rte. 28, South Yarmouth, MA » more |
---
Info changes frequently. We cannot warrant it. Verify with Mystic Bowling before making the trek. If you find an error, please report it...