NARA Park & Playground
Other Ideas:
Castle Island & Carson Beach at Fort Independence
;
Planet Playground
;
KidSpot Playground
;
Cashman Park
;
Hardy School Playground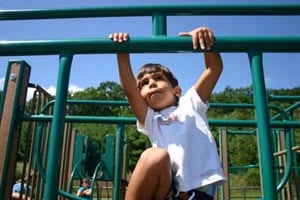 Open year round, NARA Park is a relatively new park off Rt. 27 in Acton, MA.
This is a beautiful place to bring your family for some summer fun. It's never too hot here, as there always seems to be the perfect breeze to make things just right.
Visitors can enjoy walking trails, lots of wide open spaces for kite flying; tossing a frisbee, or a pickup game of soccer or cricket; pond fishing; and more. There are also 2 volleyball nets toward the front of the park.
During the summer, the beach portion has a *daily rate for beach swimming and does also offer resident and non-residents season beach passes.
In season, a variety of boats (canoes, paddleboats) can be rented for a small charge. The remaining park & playground area is free during the summer.
There is a reasonably priced concession stand that provides hot dogs & pizza and various ice creams and snacks. There is a nice deck with umbrella'd table seating as well as covered seating. They have nice restrooms and outdoor showers for hosing off.
The Park has a playground and large area tented area in the summer which can be rented for outings along with a smaller pavilion area.
There is a natural hilled ampitheater which has many concerts throughout the summer including the weekly summer concert series and is also available for rental. The bowl of the amphitheater holds 3,000+/- people.
NARA Park has multiple-fields for sports, however, field usage would need to obtain permits. The Park has a one mile trail that goes around the perimeter which is great for running or walking.
---
Free to use the playground.

Daily Rates Acton Residents:
Single (ages 2+): $6
Family (up to 6): $24
Seniors (ages 60+): $3
Group rates (reserved ahead of time): $4 per person
Daily Rates Non-Acton Residents:
Single (ages 2+): $8 (ages 11 and under) $10 (ages 12+)
Family (up to 6): $45
Seniors (ages 60+): $3
Group rates (reserved ahead of time): $6 per person

Paddle boat and Canoe Rental: $10 per boat for 30 minutes
---
www.acton-ma.gov/index.aspx?nid=312
---
25 Ledge Rock Way, Acton, MA, 01720
map
Phone: 978-264-9608
NARA Park is located about a half mile north on Rt. 27 on your left from
the intersection of Rt. 27 and 2A when you continue through that
intersection. It's actual address is 25 Ledge Rock Way and is across
the street from Acton Monument.
---

Great Park
The park is great!! Very quite and relaxing. the fact that the park was built on some kind of industrial waste land / toxic waste dump does not bother me. I am sure they did some kind of cleanup before letting people swim in the lake.
---

Much To Love With A Little Caution
I too love Nara Park. I live close by and really enjoy looking at the scenery as you take a stroll around the fields, lake and beach area. And this time of year there's great sledding!! However, i would caution anyone who plans on swimming there. The park was built on what used to be a waste dump, so the excessive bacteria is no suprise--- it's poo. Great place to play, walk, run, and enjoy--- but swim??? I'll find a properly maintained pool! Maybe the pool store across the street, Dunk & Bubble, could help with that :)
---

Great Location For All
Tthe beach is clean and a comfortable size to be able to watch children. Something for everyone there with swimming, seperate places for fishing, a playground and a pathway for those who want to walk or run. There are picnic areas and plenty of space for volleyball and other games on the beach and in the grassy areas. They have the BEST (and most attended!!) 4th of July fireworks around and many events (most free or minmal cost ) during the Summer and Fall. Events at other times of year too, like Winterfest. The beach is RARELY closed, except for extreme weather. Had a tough summer this year (2008) though due to the frequent heavy rainstorms which caused bacteria in the water forcing them to close the beach to swimming (w/ lifeguards on duty). My family loves it there.
---

Nice Beach Frequently Closed
NARA beach is nice, but it has been closed a lot lately for poor water quality (excessive bacteria).
---

Nara Park
I love this place. Clean, lots of space for both- kids and adult swimming.
---
Info changes frequently. We cannot warrant it. Verify with NARA Park & Playground before making the trek. If you find an error, please report it...