Parkers Maple Barn
Other Ideas:
Shelburne Farm & Orchard
;
Kimball Farm
;
New England Botanic Garden at Tower Hill
;
Connors Farm
;
Belkin Family Lookout Farm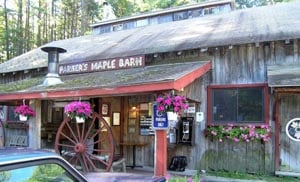 New Hampshire natives believe that they, not their neighbors to the west, produce the most irresistable maple syrup. One thing is for sure, once you've tried New Hampshire's own, going back to grocery store syrups is not an option.
Sugaring season, the time when maple producers extract sap from sugar maples, lasts between four and six weeks in late winter into early spring, when the right combination of freezing nights and armer days allow the sap to flow.
The sap is them heated intensely and reduced to the consistency of syrup, and New Hampshire produces close to 90,000 gallons of maple syrup each year.
Parkers Maple Barn makes its syrup the old fashioned way, over a wood fire, which the owners claim imparts a unique flavor. Buy a jug to take home or taste it from mid-February to mid-December with a hearty country breakfast in the dining room at Parker's Maple Barn Restaurant (a 19th century dairy barn). For those with a sweet tooth, the chocolate-chip pancakes drizzled in gooey syrup just might be a dream come true.
About Parker's Maple Baarn
:
Parker's Maple Barn has been a family establishment since the late 1960's. It began with nothing more than a small Sugar House by the Parker family and has grown to become a very popular country restaurant serving hearty breakfasts and lunch. The Corn- Crib gift shop features all of our maple products along with many unique gifts. The Sugar House still produces maple syrup following the old tradition of wood-fired evaporators.
Located just over the border from Massachusetts you will find the quiet town of Mason, New Hampshire, the home of Parker's Maple Barn. Mason is a quaint country town historically known as the boyhood home of 'Uncle Sam', a fact that this town is still proud of today!
---
Monday through Friday 8:00 AM. until 2:00 PM
Saturday and Sunday 7:00 AM. until 4:00 PM
---
---
1316 Brookline Road, Mason, NH
map
Phone: (603) 878-2308
Concord - Manchester Area:
Route 101 West, take the Milford Brookline Exit, sign says Route 13 South. Follow Route 13 for approximately 6 miles until you come to your first overhead blinking yellow light, on the right you will see Parker's sign. Take a right onto Mason Road and follow for approximately 3 miles, Parker's is on the left.
North Shore Area: (Tewksbury & Nashua included)
Route 3 North to Exit 6 to Route 130 West. Follow 130 through Hollis (being careful to stay on Route 130), and into Brookline. In Brookline Center there will be the Village Store on the right, shortly after that the road will fork - bear left following the sign to Mason. This will take you up and down a small hill to a stop sign with a red blinking light. Across the street you will see our sign. Go straight across (puts you on Mason Road in Brookline). Parker's is approximately three miles in on the left.
Boston Area: (Townsend)
Route 2 West to the Concord rotary. From there take a right to Route 119 west. Follow Route 119 through Littleton and into Townsend. At the traffic light in Townsend Center (Cumberland Farms on right), take a right onto Route 13 North. Follow Route 13 over the Massachusetts/New Hampshire border. Then at the second overhead blinking light, you will see a Parker's sign, take a left onto Mason Road (in Brookline). Follow for approximately 3 miles and Parker's is on the left.
Peterborough Area: (Greenville)
Route 101 East to Milford, take the Route 13 exit, take a right off ramp to Route 13 South following for approximately 6 miles to your first overhead blinking light. You will see a Parker's sign on right, take a right and follow for 3 miles to Parker's on left.
Or:
Take Route 124 through Sharon to New Ipswich. Go through the center up hill past fire station on right. After crossing small green bridge, take a left onto Route 123, follow to Greenville, just before stop sign bear right, follow out to next stop sign, take a right onto Route 31. Take next left back onto Route 123. Follow through Mason Center (sharp right curve, then church). Follow to bottom of hill and take next left onto Depot Road. Follow to T in road with yield sign. Take a left and follow about 2 or 3 miles to Parker's on right.
---
Info changes frequently. We cannot warrant it. Verify with Parkers Maple Barn before making the trek. If you find an error, please report it...