Salisbury Beach State Reservation
Other Ideas:
Beaver Brook Reservation Spray Deck & Playground
;
Frog Pond Spray Pool & Fountain
;
Duck Boats Boston Tours
;
Great Wolf Lodge MA (Formerly CoCo Key Water Park)
;
Rings Fountain on the Greenway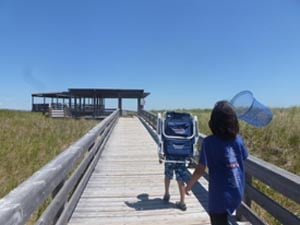 Salisbury Beach is one of the state's more popular ocean beaches stretching for 3.8 miles along the Atlantic Ocean. Great waves for boogies boarding and reasonable parking rates.
Facilities include a 481-site campground with newly renovated bathhouses, an extensive day-use parking lot, three new comfort stations for the beach going public with over the dune boardwalks, and a new playground and pavilion area.
The facility also has two boat ramps that are located on the Merrimack River at the campground's southern edge.
In the fall and winter, harbor seals often sun themselves on the jetty. The town of Salisbury has many fun activities to offer for kids of all ages; with a large amusement park and video arcades.
Check out the
DCR Parks Pass
as it can be used here for parking all year.
---
MA resident beach parking $14
Non-MA resident beach parking $20

Purchase a MA DCR Parks Pass on Yodel
Yodel FAQ

Daily parking fee charged Memorial Day weekend through October 31. Cash, credit, and debit accepted for parking fee.
---
www.mass.gov/locations/salisbury-beach-state-reservation
---
Beach Rd. Rte. 1A,, Salisbury, MA
map
Phone: (978 ) 462-4481
Salisbury Beach is located on the coast of north-eastern Massachusetts.
From Rte. 95: Take exit 58A to Newburyport and the intersection with Rte. 110 east. Follow Rte. 110 East to Salisbury and the intersection with Rte. 1a North. Turn right on Rte. 1a and follow it 2 miles to the Park entrance on the right.
From Rte. 495: Take Rte. 495 to exit 55 and the intersection with Rte. 110. Follow Rte 110 East to Salisbury and the intersection with Rte. 1a north. Follow Rte. 1a north approximately 2 miles to the Park entrance on the right.
---
If you frequent Massachusetts State Parks & Reservations, you may be interested in purchasing a DCR ParksPass. In 2023, a parking pass is $60, and Massachusetts residents can park at most DCR parks across the Commonwealth without paying daily fees. DCR ParksPasses are valid for one calendar year – January to December.
---

First Time Camping
I am a grandmother of three married to a man that has to have his sink but he allowed us to go anyway. Well, first tent etc. Neighbors were tired of watching 'the comedy show' of us trying to put up the tent, that they did it, leaving us only a few touches like screen windows and doors. My first tent had been up in father-in-laws yard for a few months being tested so of course most of the seams were weak. After we got it up, I notice many weak spots, well the funniest was when we jammed the blow-up beds to gether of course on the outside due to a weak seam was half the bed!!!! So I went to the store the next day and purchased another tent, but more sofisticated and of course we still had kind neighbors..After all was set, we noticed the tent was too close to the fire grid and would have to go without!! The weather did not go over 70 in August. My experience was enlightning but I intend to do it again, the actual reservation was great with many conveniences, beach walking distance, showers and bathrooms, store and lots of oppurtunity for bike riding for my city children. That place is so clean and comfortable and of course secure, police patroling etc.
---

Go At Low Tide
I just took my 18 month old daughter to the Salisbury Beach reservation and it was very nice at low tide. Very clear water, not too cold, and plenty of space for her to run around. It was nicer than I remembered.
---

Dirty And Horrible What A Change
My husband and I often visited Salisbury beach in the last couple years but yesterday was our first and last visit this year! It was dirty and overall the people around were not friendly - we saw several being loaded into police cars for fights or other issues. I was very upset about how much this area has changed!
---

Salisbury Beach State Reservation
Our family visited Salisbury Beach State Reservation for the first time this summer, after 10+ years of going to a popular beach in Gloucester!! Paying $7 in Salisbury sure beats the $20 we were paying in Gloucester. The boardwalks to the beach are awesome...the bathrooms were clean and well maintained-I must admit that my 12 year old daughter would not use the toliets though, as they are kind of like a porta-potty!! No smell though. A definite visit again beach!
---
Salisbury Beach State Reservation, Grade 3 Student
I like going to Salisbury Beach State Reservation. I like to play in the sand and make sand castles. I like to swim in the water and ride on my "boogie board".
---
Camp it, Grade 2 Student
The park was not like other campgrounds that I have camped at. There aren't many trees. But my favorite thing was going to the beach. You can walk the beach and then climb the rocks, and go fishing, too. There are arcades nearby to play games, and there are places to eat and get ice cream, too.
---
Salisbury Beach State Reservation, Grade 4 Student
I liked Salisbury Beach, but I did not like the State Reservation. If you are a real camper, you might not like the reservation because there are not that many trees and the roads are paved. I had fun anyway and enjoyed the beach because the tides would come and push you away. Next to the Reservation are many arcades, restaurants, places to get ice cream, and little shops.
---
Info changes frequently. We cannot warrant it. Verify with Salisbury Beach State Reservation before making the trek. If you find an error, please report it...