The Glass Bar, Glass Art Classes for Kids, Teens, & Adults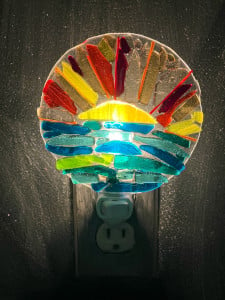 The Glass Bar is Boston's Hottest Glass Studio Offering Classes and Parties to Kids as Young as Six Years Old!
The best part about the Glass Bar is the accessibility. Our glass fusing classes are not only for kids; Our classes are for artists of all ages.
At The Glass Bar, we have developed our classes with beginners in mind and tailored our kid's classes for little hands. We know that some kids (and adults too) learn by visuals, others listen, and some are hands-on.
We have reformed our teaching style to accommodate all students' needs. Our goal is to ensure everyone will have a great time and make a one-of-a-kind project!
The Glass Bar was opened in 2013 by the mother-daughter team: Sheryl and Jordan. The pair discovered their love for glass art as they both underwent treatment for cancer. Creating art was so therapeutic for the two, they decided to open The Glass Bar to share that joy with the community.
What is Glass Fusing?
Glass fusing is the bonding of separate pieces of glass by high heat, administered in a kiln. Itís easy to learn the basics of glass fusing, itís fun, and the possibilities are endless. There is a vast range of techniques, and we are always experimenting!
Believe it or not, the art of Glass Fusing has been around since about 2000 BCE. However, glass fusing lost its' popularity as Stained Glass swept the scene during the Renaissance period. It wasn't until the 1960s that glass fusing re-emerged, now glass fusing is one of the fastest-growing art forms.
What Will My Child Learn?
At The Glass Bar, you have the opportunity to experiment with many different styles of glass fusing. As the world of glass fusing expands, so does our collection of materials. We are always on the hunt for new techniques to keep our students excited and engaged.
Glass is not a material that is often found in schools or craft stores. We're here to bring it to you! Glass art is a new art form for many kids, and we aim to reveal each student's inner artist. We are always brainstorming new classes. Keep checking back for updated listings.
What Do Classes Involve?
Join us for a kid's glass fusing class on a Saturday Morning! This class is an hour and a half long, and perfect for ages 6 & up. Students will learn the basics of glass fusing to create a sun-catcher of their own design.
Learned techniques include cutting straight lines, curved lines, and circles. Students will brainstorm ideas to create a piece they will be proud of! Pieces must left over-night to fire in the kiln and will be ready for collection in about two weeks.
FAQ
Can I stay with my child?
Due to limited space all accompanying adults must purchase and register a seat. All children ages 6-8 must be accompanied by a registered adult. There are plenty of coffee, gift shops, and restaurants within walking distance if you wish to drop off.
Can I drop my child off?
As long as your child is over 9 years of age, you can drop them off
I have two kids under 9, does an adult per child need to stay?
No - one adult per party.
Can we bring snacks?
Food is not allowed in the studio, though we do recommend bringing a non-alcoholic capped beverage. We do not have a water fountain on site.
What should I wear?
Clothes suitable for arts and crafts and close-toed shoes! We provide safety glasses and aprons.
What is the cost?
Our kid's glass fusing classes are $45 per person, and materials are included. Prices subject to change.
Can we drop in?
No,
you must register your spot in advance
.
---
Classes are scheduled on the Weekends - please see website for details.
---
$45 per person, and materials are included. Prices subject to change.
---
www.theglassbarboston.com/glass-fusing
---
60 Dedham Ave Ste. 102, Needham, MA, 02492
map
Phone: (781) 444-2909
60 Dedham Ave Ste. 102, Needham, MA, 02492 map
Exit 19B off of 128 (Toward Needham Center - Highland Ave to Dedham Ave)
Exit 17 off of 128 (Route 135 AKA Dedham Ave)
Parking in lot or on street.
---
Info changes frequently. We cannot warrant it. Verify with The Glass Bar, Glass Art Classes for Kids, Teens, & Adults before making the trek. If you find an error, please report it...