Eastie Week 2020
Dates:
Sunday, September 13, 2020 - Saturday, September 26, 2020
Ages:
Kids, Teens, Adults
In/Outdoor:
Indoor, Outdoor
Cost:
Free see below
Category:
Special Events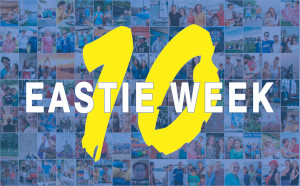 Eastie Week (September 13th – 26th) is a celebration of the rich and vibrant community of East Boston – its people, history, culture, music, and art.
The Eastie community has a long tradition of coming together and this year in the face of many challenges, representatives from over two dozen cultural organizations, private institutions, and civic partners have organized to bring much needed "safe joy" to the community.
In honor of the seventh annual Eastie Week celebration, you're invited to come experience some of the joyful activities Boston's most dynamic neighborhood has to offer.
Safety & Social Distancing
In an effort to keep our community safe and healthy, Eastie Week 2020 events have been planned in either a virtual format or with limited capacity to allow for proper social distancing in accordance with State and City mandates and the CDC public health guidelines.
Face coverings are required for all in-person events and registration must be made in advance. Please contact
[email protected]
with any questions.
Please note: Eastie Week events and activities may be subject to change based on availability and weather. We'll endeavor to keep this page up to date with any changes. It is advisable to register for activities in advance to guarantee availability and advance notification of changes.
ALL WEEK LONG ACTIVITIES
Waterfront BINGO
- FREE
This Eastie Week, support small waterfront businesses in East Boston through our new Waterfront Bingo! Cross off a box each time you place an order or stop by the business location.
Take a picture of your completed board and post it on Facebook or Instagram with #BostonHarborNow to enter to win. Good luck! One winner will be chosen per week after filling out a board.
Download Your Bingo Card Here
Free Scavenger Hunt
Come explore the unique history and culture of East Boston in a fun new way, with a mobile scavenger hunt.
Through multiple choice, short-answer, and open-ended questions, as well as photo submissions, you can play by yourself or as part of a team and explore what mysteries East Boston has to offer!
To play, visit
edventurebuilder.com/BHN
, select your East Boston, participate as much or as little as you'd like, and enter to win a prize!
Eastie Week Kids Crafts-to-Go for Children
East Boston Branch Library
Monday - Friday
FREE
The East Boston Branch Library will provide paper supplies and instructions for weekly kids craft projects. You provide the creativity(and markers). Grab a bag of supplies from the library and make the craft at home.
Email
[email protected]
or give us a call at (617) 569-0271 to reserve your craft bag. Pickup hours are Monday to Thursday from 2 to 6 and Friday from 1-4:30. If you want, send a picture of your completed project to
[email protected]
We would love to post them on our Facebook page. While supplies last!
Reserve Your Craft Supplies by emailing
[email protected]
SUNDAY, SEPTEMBER 13
Sea Walls Boston 2020 - FREE
HarborArts Boston, The Pangeaseed Foundation, presented by Linda Cabot
Kick off Eastie Week 2020 with some world-class public art in East Boston! Come view the creation of the newest Sea Walls Boston murals on the Mary Ellen Welch East Boston Greenway, produced in partnership with the Friends of the Mary Ellen Welch Greenway.
Artists will be on-site throughout the day working on the latest public art installations produced by Sea Walls: Artists for Oceans.
These murals are being painted for a purpose, to educate and empower our community to become better stewards of our oceans. There will be a total of six large-scale murals to be installed in East Boston during Eastie Week.
Locations include the Mary Ellen Welch Greenway and Boston Harbor Shipyard & Marina. Be sure to visit them all!
The public is welcome to visit the painting process. If you choose to visit the mural locations while they're in progress, we ask that you wear a mask that covers your mouth and nose, physically distance from other viewers, and respect the artists' safety by remaining at a distance.
Sea Walls Boston is presented by Linda Cabot in partnership with PangeaSeed Foundation, HarborArts, Boston Harbor Now, Ocean Havens, the Davis Companies, East Boston Main Streets, and the East Boston Foundation.
MONDAY, SEPTEMBER 14
Sound Around Town: VROCC Musical Float
Veronica Robles Cultural Center
Monday, September 14th
1:00 PM - 1:45 PM & 6:30 PM - 7:15PM
FREE
East Boston cultural icon, Veronica Robles, Boston's first female mariachi band, and special guests will be performing traditional Latin musical favorites from a moving float across East Boston.
Be on the look out for Veronica and her band, as the mobile performance serenades the streets of East Boston kicking off Eastie Week during the day followed by an encore evening performance.
TUESDAY, SEPTEMBER 15
Dinosaur Virtual Storytime
East Boston Branch Library
Tuesday, September 15th
10:30 AM
FREE
Join librarian Caitlin for books and songs about dinosaurs. Geared for ages 1-to 5 but all ages are welcome. Streamed from the branch's Facebook Page onto your screen, this 30 minutes is filled with fun, charm, and wonder.
Tune in here
WEDNESDAY, SEPTEMBER 16
Laugh Out Loud Virtual Yoga for Children
East Boston Branch Library
Wednesday, September 16th
10:30 AM
FREE
Join Joanie Woodward, the author and illustrator as she reads her children's book, Seven Little Monkeys. This program joyfully weaves laughter, yoga, mindfulness, deep belly breathing, art and reading. To register, email
[email protected]
You will be sent a link to the program ahead of time.
Eastie Paint Night
East Boston Area Planning Action Council
Wednesday, September 16th
6:00 PM - 8:00 PM
FREE
Channel your inner-Frida Kahlo and Bob Ross with a family paint night provided by the East Boston APAC team. Reserve your paint supplies with them and then tune into their live stream to learn the basics of painting. Spots are limited and on a first come first served basis. Do not miss this opportunity to pick up a new fun hobby.
Reserve Your Supplies by calling East Boston APAC at 617-567-8857
East Boston Garden Tour
Eastie Farm
Wednesday, September 16th
6:00 PM - 7:30 PM
$10 per person / FREE to East Boston Residents
THURSDAY, SEPTEMBER 17
Rosalita's Puppets
East Boston Branch Library
Thursday, September 17th
3:00 PM
FREE
Rosalita and her puppets will be joining us virtually to present her show, The Sea Story Marionette Show: Adventure under the sea with Miranda the mermaid as she saves the pirate. In this very popular show, meet sea creatures, pirates and Pinocchio. Ideal for all ages.
To register, email
[email protected]
You will then receive an email from us with all the information needed to access the puppet show.
Virtual Family Yoga
East Boston Social Centers
Thursday, September 17th
5:30 PM - 6:15 PM
FREE
Join the team at the East Boston Social Centers for a virtual yoga class the whole family can participate in.
Come unwind and ease into the almost-weekend with light stretches and controlled breathing exercises that will soothe your family from even the most hectic of weeks. Namaste it all away.
Please register in advance
for a link to the virtual class.
Farm Fresh Stand-up Comedy at Eastie Farm
Thursday, September 17th
7:00 PM - 9:00 PM
$10 Suggested Donation
Catch some FRESH stand-up comedy at Eastie Farm this Eastie Week!
Some of Boston's best workout 5-7 minute sets before hitting the big leagues...
Grab a ticket and enjoy the show.
Reserve ahead as space is limited
.
A comedy show in a pandemic means: no handshakes, masks preferred except for performers while performing. Please set up your chair in one of the designated spaced out spaces. As this is outdoors- you may want to bring bug spray, a blanket, and use the bathroom before you arrive.
FRIDAY, SEPTEMBER 18
Free Trip to Spectacle Island
Boston Harbor Now
Friday, September 18th - September 26th
FREE
Boston Harbor Now is proud to invite members of the East Boston Community to visit the beautiful Spectacle Island for a FREE day trip in celebration of Eastie Week.
Members of the community can use the special Eastie Week promo code to unlock free tickets for up to FOUR family members to visit the Boston Harbor Islands National and State Park for the remainder of the park season departing from Long Wharf North in Downtown Boston.
Spend the day exploring nature on the hiking trails or shoreline. Bring a picnic and enjoy some of the best views from one of the island drumlins, or just use the trip to get away from it all but still stay 20 mins by ferry to the city.
Simply choose the day and time of your visit and enter the promo code to begin your island trip. Please note that face coverings and proper social distancing is required on the public ferry.
Take a moment to review the Island's "Know Before You Go" page for more rip planning guidelines. Contact
[email protected]
for more information.
Learn More About Spectacle Island
Sustaining Our AdvocaSea In A Digital World – Fierce Urgency of Now!
New England Aquarium
Friday, September 18th
6:00 PM – 8:00 PM
FREE
Join the New England Aquarium for a special screening of "Anna and the Thresher Shark." The film showcases Anna's pioneering on-the-ground, community-based efforts to strengthen the Philippines' first shark sanctuary, one that she was instrumental in bringing about in 2015.
After the film, NEAQ will hold a live panel with Anna to discuss the challenges and innovative solutions for sustaining and growing community-based initiatives in what has become an even more digital world during the time of COVID. This conversation will be followed by a live Q and A with the audience.
This event is also part of the Fierce Urgency of Now Festival, a five-day series of events hosted by local businesses and organizations geared at highlighting the experiences, challenges, and opportunities for young professionals of color in our city with the ultimate goal of creating community.
REgister Here
SATURDAY, SEPTEMBER 19
Community Sailing and Kayaking
Piers Park Sailing Center
Saturday, September 19th
1:00 PM - 4:00 PM
Eastie Week founding partner, Piers Park Sailing Center, will host the annual FREE Community Kayaking and Sailing at their headquarters in Piers Park that will connect families of East Boston with the natural beauty of Boston Harbor for an afternoon of sailing and kayaking.
In accordance with Public Health guidelines, families with tickets will be taken on the water in timed slots and appropriate face-coverings will be required for all participants at all times.
*Tickets have been distributed in advance to these local East Boston civic organizations: East Boston Social Center, East Boston YMCA, and the East Boston APAC.
*PLEASE NOTE, there is no walk-up availability for this event.
Sunset Yoga
Saturday, September 19th
6:00 PM - 7:00 PM
FREE
End your day at Piers Park with a flow yoga class overlooking spectacular views of Boston Harbor. Each class is taught by an instructor local resident Casey Silva. Give your body some love with slow-flow sequences designed to stretch your body from head to toe.
Under current guidelines: Class is limited to 12 students. Masks must be worn during the class with mats placed 6 ft apart Bring your own mat or towel, and water.
No walk-ups are available during this season. Please register here in Eventbrite to secure your spot in the class! Register Here
MONDAY, SEPTEMBER 21
Bike Tour of the East Boston Waterfront
Monday, September 21st
5:30 PM - 7:00 PM
$10 Per Person; FREE to Eastie Residents
Join Alice Brown, Boston Harbor Now's "Ferry Faerie" for a small group bike ride along the scenic and historic East Boston waterfront.
The riding tour will begin and end at Maverick Square, but will showcase pieces of the neighborhood's waterfront with stops along Wood Island, Constitution Beach, the Mary Ellen Welch (East Boston) Greenway, parts of Chelsea Creek, and a sunset ride along the Harborwalk before returning to our final destination. Enjoy beautiful views of the harbor and a chance to explore new places.
As a safety precaution, the group will be capped at 10 people. All participants will be required to wear a mask or face covering and a bike helmet. Blue Bikes may be provided for guests without access to bikes. Please inquire in advance for this special accommodation.
Reserve Your Spot
.
TUESDAY, SEPTEMBER 22
East Boston By Map
East Boston Branch Library
Tuesday, September 22nd
7:00 PM
FREE
Join the Leventhal Map & Education Center and the East Boston Branch of the Boston Public Library as we explore history through maps.
In the nineteenth century, who owned the land where the East Boston Branch Library now sits? When were the roads around Orient Heights laid out? Using Atlascope, the Leventhal Map & Education Center's user-friendly portal for exploring urban atlases, we'll dive into the historical geography of East Boston.
Come learn about how the community has changed over time, and discover how to research the history of your own house and neighborhood. This event will be broadcast online at the Leventhal Map Center's YouTube Live and Facebook Live channels.
Register Here
.
WEDNESDAY, SEPTEMBER 23
East Boston Brand Library Virtual Trivia Night
East Boston Public Library
Wednesday, September 23rd
7 p.m.
Join us for our first Trivia Night and see how you stack up against the competition. You may participate individually or as a member of a team. The rounds will consist of general trivia, a picture round and a special round just about East Boston.
This program will be offered via Zoom. If you are interested, please register by sending an email to
[email protected]
Registration is required and you will be emailed a link to the zoom meeting ahead of time.
Find more Eastie Week events here
!
Eastie Week 2020 is a community initiative made possible by the support and efforts of organizations across East Boston.
---
Most events are free
---
---
Various Locations, East Boston, MA
map
---
Info changes frequently. We cannot warrant it. Verify with Eastie Week 2020 before making the trek. If you find an error, please report it...