Christmas Festival of Lights: Edaville USA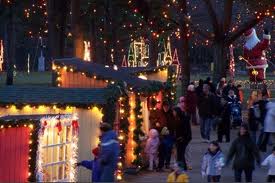 "It's the most wonderful time of the year!"
Edaville USA's most memorable New England Tradition is back this year with over 17 million lights illuminating the park!
Enjoy the old world feel of the Christmas Market at Edaville. Stroll through a variety of market stalls and enjoy the light displays all throughout the park as generations of visitors to Edaville have for the past 75 years.
• Christmas Season General Admission Pass - $36
• Christmas Season Gold Pass - $99
Hours: Operating hours vary by date; please check
www.edaville.com
prior to arrival at the park!
Free Parking!
---
Thursday - Saturday, 4:00 PM - 8:30 PM
Closed Thanksgiving Day and Christmas Day
---
Christmas Season General Admission Pass - $36 ; Christmas Season Gold Pass - $99
---
www.edaville.com/explore-edaville/shows-events/
---
5 Pine Street, Carver, MA, 02330
map
Phone: (508) 866-8190
---

great fun for the family
I think this is a great value and great fun for the family. I agree with the other posters... try eliminating one present under the tree (that's going to be looked over after a week anyway) and try spending some quality time with your kids making memories.
---

To expensive
When people consider how much they spend on toys and video games they might realize times at Edaville are priceless? My suggestion, skip black friday sales in the future and spend time with your kids doing the one thing they like most spending quality time with you, Kuddos to edaville for bringing back a good old fashioned family event. See you soon Edaville.
---

Fun if you can afford it
They have always put on a great show, plenty of lights! Fun for the kids, but it costs too much (when times are tough) for a family of 4! We only go every oher year now, thats the breaks I guess, enjoy!
---

Best Christmas Lights Ever
This is the best holiday family experience that I have ever taken my children to. So beautiful and completely catered to younger children. The train ride is a lot of fun with child friendly decorations throughout the ride. I highly recommend this holiday treat...
---

Edaville
I think it is a great value for the money. Where can you go and get a train ride, amusement rides, lights and priceless memories for $18.00. I went to a carnival and figured out it cost me an average of $4.00 per ride after paying $10. to walk through the gates. It cost me an average of $25.50 per child for a couple of hours. I will be visiting Edaville a lot more. What a great value!
---

Edaville You Need To Drop Your Prices
I guess the folks at Edaville just don't read reviews. Less money= more visitors= more $ from food, gifts, etc... and HAPPIER visitors.
---

I Dont Think Its That Expensive
Edaville is about making kids happy and lasting memories. I don't know about you, but when I take my kids to do something fun like the movies it usually costs us about $40 at least. Other parks charging $20-$30 for admission is too much. $18 and $16 isn't bad at all, plus they always have coupons and discounts, you just have to find them. Edaville is a great place to spend the holidays. Unlimited rides all night and if you spend 3 hours or more its worth it. I would like to know what the electric bill costs for 7 million lights, plus insurance, payroll, maintenance, fuel, lease, etc. I give Edaville tons of credit for what they do. I hope someone buys the place.
---

Edaville USA
I would love to take my children and my husband who has never been to see this beautiful holiday sceen (as I remember it) Only been once when I was about 8 years old...but it's way too expensive...I know they need to make $ but $70.00 plus eveything else (gift shop, food, etc). I know it would be a priceless experience, but we should not have to go broke to experience it.
---

Edaville
I absolutely love Edaville and having been going since I was a child. With four of my own it is a lot of $$$ for six. I understand people have to make $ but a little expensive especially during a recession
---

Edaville Railroad
My family has made Edaville a tradition since I was a child. I can still remember riding on the train through the cranberry bog at night with all the magical Christmas lights in the distance. Now I am an adult with a family of my own and have continued the tradition. It just wouldn't be Christmas without a trip Edaville Railroad! I am thrilled that they have evolved the train ride into the 'Polar Express' and especially pleased that the train is heated. Ticket prices seem to be expensive for some at $16 a head but I have seen train rides mimicking the Polar Express for upwards of $25 a head and that only includes a train ride whereas Edaville includes many kiddie rides, exhibits and delicious holiday fare. We hope to see you and your family there this year!
---
Info changes frequently. We cannot warrant it. Verify with Christmas Festival of Lights: Edaville USA before making the trek. If you find an error, please report it...