Holistic Winter Celebration Fundraiser
You are Viewing a Past Event
If this is a recurring event that will be happening again this year, please let us know
.
Dates:
Sun from 2/10/19 - 2/10/19
Hours:
1-5pm
Ages:
Infants, Teens, Adults
In/Outdoor:
Indoor
Cost:
$ see below
Category:
Fundraisers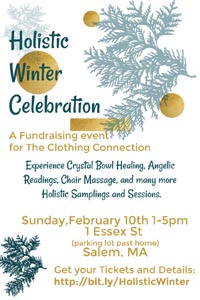 Let's bring together our community and learn and share alternative and holistic ways to keep our lives full and joyous!
All for a wonderful grass roots organization that is making a difference.
The Clothing Connection was created by parents with children in the Salem Public Schools..
They noticed that many children in the school system needed clothes.
They raise money to buy these children brand new clothing, not hand me downs.
Time is taken to find out about what the student's favorite colors are and their personal style preferences!
For more information on the Clothing Connection go to https://www.facebook.com/The-Clothing-Connection-540238666325233/
40 minute Sessions:
1:20-2pm Cord Cutting Demonstration w/ Kristin $12
Throughout our lives both positive and negative energetic cords are established between people, animals, places, situations/experiences and thought forms.
The negative cords deplete our energy, weaken our auric field and can block our chakras, causing physical, emotional and energetic issues.
In this demonstration Kristin will explain the concept of cords, thought forms, auras, chakras and other energetic terms.
She will also guide attendees to identify and release chords in their own energy fields.
This is a simple yet powerful energetic self care tool that is available to everyone, regardless of training or spiritual awareness.
2:20-3pm Sound Meditation $12
Imagine being immersed in beautiful sounds that are healing to your body, mind and spirit .
.
.
.Come and experience a Sound Meditation, intended to raise your internal vibration and to encourage relaxation and open your heart to awareness.
A Sound Meditation provides the space and sounds for you to relax at a deep level.
This allows your body to find its natural balance while creating space for insights and reflection.
Everything is vibration.
Sound vibration is a powerful tool to help recalibrate the body, mind and spirit.
3:20-4 Pendulum w/ Sandy $12
In this fun, experiential workshop learn how to assist in the search for life's answers using pendulums while incorporating them into your everyday life for guidance, assistance and business practice uses.
You'll learn steps, interpretation and understandings of pendulums and muscle testing methods.
There are many everyday uses for ideomotor pendulum.
4:20-5 Shamanic Healing with Ancient Resins w/ Kristin $12
Comes as a community to work with the spirits of the Lower World (Nature), Middle World (the here and now) and the Upper World (Spirit Guides, Angels, Ascended Masters and higher dimentional beings) to release energy blocks that may be preventing you from being aligned with your "Highest Self".
During this brief ceremony Kristin will incorporate ancient resins and bird energies to smudge the body and subtle bodies, clearing the aura and chakras.
Extras!
Chair Massage 10 minutes session $8
Solo Sessions 15 minutes w/ Kristin Bredimus $10
***(be mindful of your appointment and session times)
______________________________________________________________________________________
Learn about a Natural Lifestyle with Young Living.
Make your own personal essential oil roll on at our "Roller Bar".
Choose oils for grounding and calming, immune boosting, or just plain smell good to you!
We will also have crystals, chakra sets, abundance grids and pendulums available for purchase, through crystal-journeys.com.
Owner Phyllis Merle will be available to answer any questions.
Our VERY Talented and VERY Generous Practitioners:
Alycia Steele, Massage Therapist
Alycia is studying massage therapy at Spirit Wellness Institute, and is a Certified Yoga Teacher.
She is passionate about helping others find whole-istic health, and believes that massage therapy can greatly aid in this process when done with not just skill, but also from a place of love and compassion.
Sandra Bemis BCH,CI
Sandra Bemis, BCH,CI is a board certified hypnotist and instructor.
She is the founder of Whole Health Hypnosis.
Modalities such as clinical hypnosis and vibrational medicine produce a balanced mind-body connection.
The creator of the Symptom Relief System™ alleviates symptoms of autoimmune issues, stress reduction and motivation.
The Symptom Relief System™ is the fusion of current neuro-science, epigenetics and hypnosis.
Her practice spans more than 30 years combines functional health supporting a body-centered intelligence.
Adjunct faculty for the National Guild of Hypnotists, she is a certifying instructor for hypnosis.
Sandra's passion for living a healthy, sustainable lifestyle and thriving local is woven into a multifaceted holistic practice.
Ellen Petersen
Ellen Petersen is a Certified Vibrational Sound Therapy Practitioner with the Vibrational Sound Association, a Qigong teacher and an External Qi Healing practitioner.
She is the owner of Nourishing Life Qigong in Salem, MA.
Ellen offers sound healing techniques using a wide range of instruments with different frequencies and vibrations, including crystal bowls, gongs, Himalayan singing bowls, tinghshas and koshi chimes.
The results are waves of peace, heightened awareness, and relaxation on a deep level.
Time is suspended as you enter a world of vibration, sensation and experience.
Kristin Bredimus
Kristin Bredimus is a certified Angelic Consultant, Spiritual Counsellor and Crystal Master Teacher, trained in London at the College of Psychic Studies, School of Healing & Intuition, and through Penny King Crystals, authorised by Philip Permutt The Crystal Healer.
Kristin offers spiritual counselling, readings, space clearing, cord cutting, spirit release, energetic wellness, past life exploration, akashic records exploration, mentorship and workshop facilitation in the UK & US.http://kristinbredimus.com
All ticket purchasers will have a chance to win an amazing swag bag full of natural, holistic and fun products and services!
**When purchasing your tickets be mindful of the time you are choosing.
---
$8 and up
---
www.eventbrite.com/e/holistic-winter-celebration-fundraiser-tickets-50046101236?aff=eprofsaved
---
1 ESSEX ST, SALEM, MA, 01970
map
Phone: 508-284-9888
Parking lot right past my home OK to park in.
---
Info changes frequently. We cannot warrant it. Verify with Holistic Winter Celebration Fundraiser before making the trek. If you find an error, please report it...