'Summer Puppet Adventures' Family Series
You are Viewing a Past Event
If this is a recurring event that will be happening again this year, please let us know
.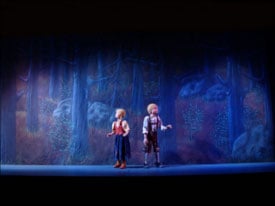 Search for buried treasure, sail the open seas, and meet fantastical creatures great and small with our annual summer puppet adventure series!
This summer, Puppet Showplace Theater invites audiences to have fun, explore new worlds, and stretch and grow their imaginations with our 'Summer Puppet Adventures' series. Eight shows travel deep under the sea, soar through the sky, and swing through the jungle, all the while learning and laughing!
Advance reservations for all events are strongly recommended. Mainstage tickets are $12/general admission and $8/members. Puppet Showplace Theater is located at 32 Station Street, Brookline, MA 02445. Tickets may be purchased by calling the Box Office at (617) 731­-6400 x101 or online at www.puppetshowplace.org.
'Summer Puppet Adventures' Mainstage Performances
'The Pirate, the Princess, and the Pea' by Crabgrass Puppet Theatre
Wednesday, July 5 - Saturday, July 8 at 10:30am and 1pm
Come on a thrilling voyage chock-full of sea monsters, shipwrecks, and mistaken pirate/princess identities. A pirate and a princess are on a treasure hunt, searching for the same clues. The princess stays one step ahead by tricking the pirate at every turn. But when the princess is in danger from a giant octopus, she quickly discovers the benefit of having a loyal crew! Featuring colorful scenery, a variety of puppets, and original pirate songs, you won't want to miss the boat on this fun adventure tale!
Recommended for ages 4+
SUMMER OPEN HOUSE
Saturday, July 8, 11:30am - 2:30pm
Celebrate the start of summer with the loyal Puppet Showplace crew! Bring your own shadow sea creature to life, learn about upcoming performances, meet the master artists of Crabgrass Puppet Theater, and enjoy FREE popsicles after every show. Does not include admission to 'The Pirate, the Princess, and the Pea.' Audiences are encouraged to buy those tickets in advance.
'Word Play' by Good Hearted Entertainment
Wednesday, July 12 - Saturday, July 15 at 10:30am and 1pm
'Word Play' uses clowning and puppetry to take audiences on an adventure through the alphabet. Words come to life in the hands of two skilled performers who clown around with sounds and letters to create dozens of interactive characters and imaginative scenes. Audiences make friends with vowels, teach tricks to a 'C-A-T' and 'D-O-G,' and visit a whole 'Z-O-O' full of surprises. Live music and hilarious sound effects complete the fun! It's the perfect blend of education and entertainment - a play on words, literally! Recommended for ages 3+
'The Pied Piper of Hamelin' by CactusHead Puppets
Wednesday, July 19 - Saturday, July 22 at 10:30am and 1pm
The town of Hamelin has a rat problem, and there's only one person who can help! CactusHead Puppets brings the story of the Pied Piper to life in this kid-friendly comedic adaptation of the traditional folktale. Not only does the town find a musical solution to pest control, but the kids of Hamelin make a new friend and teach the grownups a lesson about generosity. This production features multiple puppetry styles, a silly hat contest, and plenty of dancing rats! Recommended for ages 4+ CLICK HERE TO VIEW IMAGE
'The Great Red Ball Rescue' by Faye Dupras
Wednesday, July 26 - Saturday, July 29 at 10:30am and 1pm
Red alert! A family trip to the beach goes awry when a young boy's favorite red ball gets whisked away by the tide. Can he summon the courage to get it back? Join Jasper, a timid kid with a big imagination, as he sets out on an adventure across the ocean, under the waves, and up into the clouds. Along the way, he meets fantastical fortune tellers, thieving fishermen, and many mysterious creatures of the deep. Will he ever reclaim his favorite red ball from the clutches of the sea? Find out in this visually stunning production, featuring many different kinds of puppets, an original score, and lots of sea-faring fun! Recommended for ages 4+
Boston Debut!
'Old Mother Hubbard & Her Dog' by Mesner Puppet Theater
Wednesday, August 2 - Saturday, August 5 at 10:30am and 1pm
Mother Hubbard does her best to provide her dog with all the canine comforts he could ever want. The dog proves to have a very active imagination - every time Mother Hubbard leaves the room, the dog sets off on a variety of adventures! He imagines himself as a crooning rockstar, a cowboy in the Wild West, and even as Luke Dogwalker from Star Wars. What will he think of next? Hilarious and memorable hand-puppet characters bring this comical tale to life. Recommended for ages 4+
Boston Debut!
'Aesop's Fables' by Red Herring Puppets
Wednesday, August 9 - Saturday, August 12 at 10:30am and 1pm
See Aesop's Fables brought to life with outlandish animals, rhyming verse, large-scale puppets, and original music. Audiences of all ages will enjoy Red Herring Puppets' witty adaptations of 'The Lion and the Mouse,' 'The Tortoise and the Hare,' 'The Owl and the Grasshopper,' 'The Fox and the Crow,' 'The Crow and the Pitcher' and 'The Stork and the Fox.' These classic stories teach life lessons about kindness, creativity, and self-confidence. Recommended for ages 4+
'Tall Tales! Stories & Songs from Old New England' by Brad Shur & Chris Monti
Wednesday, August 16 - Saturday, August 19 at 10:30am and 1pm
Have you ever wanted to sing along to a sea shanty? Or dive deep into a fox's den? Then come along on this whirlwind tour of New England's tallest tales! Along the way, you'll craft the world's largest wheel of cheese for Thomas Jefferson, sail the ocean with the legendary giant sailor Alfred Bulltop Stormalong, and meet a very fashionable bear by the name of Jenny Jenkins. Drawing from three hundred years of stories, songs, and local history, there is sure to be something for everyone in this fun and interactive shadow show! Recommended for ages 4+
'The Fairy Circus' by Tanglewood Marionettes
ONE DAY ONLY!
Saturday, August 26 at 10:30am and 1pm
Join us for a dazzling display of circus acts performed in an enchanted garden. 'The Fairy Circus' is a showcase of turn-of-the-century-style trick puppetry, performed by over 20 beautifully-handcrafted marionettes. Fairies, field mice, and other small critters dance, play instruments, juggle, contort, transform, and fly through the air with the greatest of ease, all to the music of favorite classical composers. Each performance includes an interactive puppetry demonstration before and after the show! Recommended for ages 3+
---
$12/general admission and $8/members
| | |
| --- | --- |
| Related Links | Top |
---
We make best efforts to update information, but it changes frequently, so we cannot warrant it. Please call to check 'Summer Puppet Adventures' Family Series schedules, fees, and directions before making the trek. We help you, please help us. Report an Error if you find one.