Discover the Dinosaurs 2017: Seaport World Trade Center
We have Not Yet Posted This Year's Information for This Event Yet
If new information for this event is already available for this year, please let us know
.
Official Website:
Discover the Dinosaurs 2017: Seaport World Trade Center
Location:
200 Seaport Boulevard, Boston, MA, 02210 map
Phone:
(617) 385-5000
Dates:
Saturday, January 14, 2017 - Monday, January 16, 2017
Hours:
Hours Vary see below
Ages:
Infants, Toddlers, Kids, Teens, Adults
In/Outdoor:
Indoor
Cost:
$$ see below
Category:
Special Events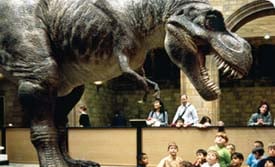 Venture back to a time when the dinosaurs roamed the earth at Discover the Dinosaurs UNLEASHED. Experience up-close encounters with a lifelike Stegosaurus, Velociraptor and the king T-Rex in this walk-thru exhibit.
Kids become junior paleontologists as they dig for fossils in the Valley of the Bones. Visit the Kids Adventure Zone filled with themed bouncy houses, crafts and more. Itís family fun of prehistoric proportions!
Discover the Dinosaurs is a unique hands on exhibit that consists of up to 60 museum quality and animatronic dinosaurs that gives you the opportunity to actually get close and touch the dinosaurs!
---
Saturday - 9:00 AM - 7:00 PM
Sunday - 9:00 AM - 7:00 PM
Monday - 9:00 AM - 7:00 PM
---
*T-Rex Ticket* $58.00 | General Admission: Child - $28.00 | Adult - $24.00 | Senior - $21.00 | Groups of 10+ $21.00 |
---

Human Cruelty at it finest
I've never been in favor of circuses because of the animal cruelty.... However, the inhumane treatment this human went through at this ridiculous event, now has me second guessing whats best for all!!

discover the dinos
It cost $8 for my 4 year old to sit on a plastic dinosaur for 20 seconds after we waited in line for 30 minutes. I also made the mistake of registering for the free trip to disney. I was called last night at 9pm and told I won. The excitement quickly drained when I learned it cost $800 (they wanted me to give my credit card number right away) and. I would need to sit through a time share seminar. I know, I am pretty dense...there is no such thing as something for nothing. I told them I do not give that info over the phone and they hung up. They have since called me again tonight at 10 pm...thankfully I missed that call. It was funny to read all the posts...I couldn't have said it better...

Awful
I agree with everyone else, it was a rip off. I actually complained to the manager and was told, sorry there was nothing they could do. There was a line for admission, then a line for tickets to do extra activities (bouncy house, t-rex rides, face painting, etc), then a line again for the activity you wanted. Soooo bummed I wasted 4 hours and about $140.

Where can I report SCAM?
The whole exhibit was a joke at best. I have to give a 1 rating because there is no negative choices.

Awful!
WAY Too many people let in at one time...no organization at any exhibit what so ever...people climbing on dinosaurs where signs said prohibited but no employee there to reinforce!So people letting thier kids climb on whatever, Cafe...six tables open for thousands of people..huh? Rides cost more than $8 a piece and lines lasting longer than exhibit opened. Sorry no matter how much my girl likes dinos..we will not return!

Stay Away
Fortunately, this event is over for this year, but just in case these reviews last until they come around again, I want to advise everyone to stay away. It cost about $50 for my wife, one child and myself to get in. Once inside, you walk down a corridor made of trade-show-dividers, where the animatronic dinosaurs are. Once that is over, your admission fee becomes useless. The remaining attractions (riding a small animatronic dinosaurs, a series of bouncy-houses, a mini-golf course, and a 'gem or bone discovery area' all cost more money (ie. $8 for ten minutes in a bouncy house). Worse than that, they don't take money at the attractions, just tickets. There was only one ticket desk for the whole place, and the line was 30 yards long (not an exaggeration. So, you get to wait in a 30 yard line so that you can wait in a 100 yard line so the kids can bounce for ten minutes, and then do it again. We gave up on the whole thing and went to the Children's Museum down the street so we could do something to take away the kids' disappointment. This was a great idea (as evidenced by the crowds), but as executed ended up being a big scam. Sad.

Awful -truly awful
Long long lines. The entrance fee doesn't cover anything, they then charge you for every ride. Waited over an hour for the 10 minute bouncy house ride. I'll never go to a kids event at the seaport again. I can't even really give it one star, but there's no zero star option.

Very disappointed!
It's a worst show/exhibit I've ever visited! Very cheap exhibits (rubber 'dinosaurs' far-far away from the 'real' one), poorly highlighted by red and blue lamps (it's a stupid! What idiot decided to do a stuff like that?!). Extremely poor organization - huge lanes to get tickets, most registry are worked for the cache only - and I know 'why'! Because many people will try to get their money back from these hoaxers! So, do not go, save your money! And I hope, some oа the public attorneys will be interested to run class action against that company!

Save your $$
Took my 4yr old there this morning. The line was too the streets! Regardless if you had bought tickets online or not. You were still going to stand in the massive line. No signs to even tell you which line was which. My husband had to make his way through the crowd inside to ask. You get inside, they dont even scan ur tickets. So whats the point of the barcbar codes? I should of bought one ticket n made copies. Get inside the dinosaurs gav e my son the smile I wanted. Towards the end it came to the rides. The line to get tickets was like a mile. One booth. No idea the price. Ended up waiting 35mins for a $20 unlimited wristbandd for rides ONLY!! so no face paintin..golf...etc. rip off! Besides the mechanical trex he got to ride...this cost me bout $120.

Awful event!
This event doesn't even deserve 1 star. No effort went into putting this together and it shows. Even our 4 1/2 year old and 3 year old grandsons who love dinosaurs asked to leave. They were not impressed by the cheap plastic dinosaurs. No educational value whatsoever. A total sham and a total shame that the organizers of this event will get away with this. Shame on the Seaport World Trade Center for allowing this event in their venue.
| | |
| --- | --- |
| Related Links | Top |
---
We make best efforts to update information, but it changes frequently, so we cannot warrant it. Please call to check Discover the Dinosaurs 2017: Seaport World Trade Center schedules, fees, and directions before making the trek. We help you, please help us. Report an Error if you find one.