Magic Beans Baby Gear
Other Ideas:
Lester Harry's
;
Marshalls
;
Fritz & Gigi
;
Land's End Kids
;
Bebénique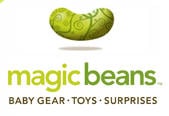 Magic Beans was created by a team of parents, and the owners have considerable expertise in the baby gear arena. They've compiled an incredible selection of the best baby gear available today. You'll find all the gold standards here, as well as many unique and hard-to-find items.
Magic Beans has already garnered a national reputation, thanks to both selection, expertise and customer service. They offer stroller testdrives, a stroller matchmaking service and complimentary assembly. For anyone looking to start a gift registry, this is the place to go.
Make an appointment for the best service and advice.
Magic Beans also offers
• Personal shopping by appointment
• Gift registry consultations
• Free delivery to local hospitals for purchases over $99.
• Gift cards
• Complimentary gift wrap
• beansPOINTS rewards on every purchase
• Birthday party packages
• Formal and informal classes on baby gear shopping, babywearing and more.
---
---
| | | | |
| --- | --- | --- | --- |
| Brookline | 617-264-2326 | map | 312 Harvard Street, Brookline, MA, 02446 |
| Cambridge | 6173000171 | map | 361 Huron Avenue, Cambridge, MA, 02138 |
| Hingham | 781-749-2321 | map | 94 Derby St. Suite 255, Hingham, MA, 02043 |
| Wellesley | 781-235-2120 | map | 200 Linden St, Wellesley, MA, 02482 |
---

Store events are great
This store is so much more than retail... they have a great play area and lots of weekly and monthly events at all the locations. Stroller Speed Dating? BRILLIANT! Gearing Up for Baby night? AWESOME! Storytimes, craft days are a hit too! they have their calendar on their website for each store so you can always see what's going on and ALL THE EVENTS ARE FREE! COOL!
---

Great Store
I think this is a great store, I do agee that the store is a little bit messy but if you are expecting your first it is still work going there as the staff is very helpful and knowledegable. They don't have the Bugabook stroller because it is a WASTE OF MONEY! The only problem is the registry and that is because you can't update it yourself. This is a great store overall and I would go back there again and again even though it isn't close to my home.
---

Great Experience
We are expecting our first and turned to the staff for some help, thoughts and such. They answered all of our (silly) questions and were VERY helpful - we will be going back for further needs of gear, toys, etc. We especially like the small business feel - the toys on the ground, kids sitting down to play with them, etc. - as compared to the mega-stores - anyone looking for a lesser experience can surely find it elsewhere.
---

A Great Store Nice To Support A Local Business
I'm a regular customer at Magic Beans and I've always been really impressed. The one time I had a small problem with a product, they were amazing. I called them and they handled it right away, no problems at all. They delivered the missing part to my door - I never even had to go into the store. Personally, I'm always amazed by how helpful everyone is, even when the store is really busy (and it does get very busy). I can't imagine why anyone would want to go online or to the Right Start when there's a great place like this right in town.
---

Item Purchased Previously Opened
Bought a baby highchair that was missing screws (clearly the package had been opened). Manager not particularly helpful. Finally gave us a new package of screws. Driving back and forth to store - NOT worth it. Next time, will buy baby gear on-line or at another local store e.g. wild child in arlington, or the right start.
---

Vastly Improved
I previously wrote a negative review, citing the lack of organization and haphazardness of the store, but they seem to have addressed these problems over the last few monthes. I have been in the store several times over the last few weeks and have been duly impressed upon each visit. It has definitetly become a top-notch Boston area toy and gear store.
---

Magic Beans Is The Only Store I Would Purchase Items
Magic Beans is so unique and has made such a difference for my baby and my family. The people working there are so knowledgable and willing to help but not pushy. The gear is top quality (even without the bugaboo) as they carry everything else. I must add that the owner is incredibly personable and always willing to put the customer first. As for the store being crowded????, I think they do a phenomenal job of cleaning up after the many children who come in and out everyday.
---

Total Mess
The store is a total mess, with hardly any room to walk, let alone with a stroller. That, combined with the fact that toys are always all over the ground, it is impossible to move around with your baby, They really need to work on the display and organization. The staff is friendly and knowledgeable but frazzled, often watching after their own children. The play area in the back is nice.
---

I Agree - a bit chaotic
Yes, this store has a great selection of really unique stuff, but it is always seeming to be chaotic and messy in there. The staff seems harried, and frazzled. They are definitely knowledgeable and they seem happy to be there. Great stuff though, they just need to keep it more organized and maybe not pack it to the brim with so much stuff.
---

NO BUGABOO's
Not sure how this store is a gear store with out the bugaboo, Store is one big mess of lots of random things.
---
Info changes frequently. We cannot warrant it. Verify with Magic Beans Baby Gear before making the trek. If you find an error, please report it...