The Butterfly Place
Other Ideas:
New England Aquarium: Boston
;
Butterfly Garden at Museum of Science
;
Magic Wings Butterfly Conservatory
;
Lloyd Center for the Environment
;
Broadmoor Wildlife Sanctuary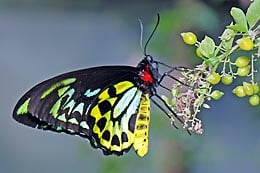 The Butterfly Place is an indoor preserve which has been carefully designed for the propagation and development of some of nature's most colorful living creations.
Within this atriumís living butterfly environment can be found a variety of colorful plants and shrubs, each of which has been selected as a source of nectar for the butterflies.
Observe butterflies sipping from flowers, basking in the sunshine and flying freely in a natural habitat. Enjoy our koi fish and quail birds which live among the butterflies. See eggs, caterpillars or other interesting creatures up close.
At any given time, the atrium may contain up to 500 butterflies representing as many as 50 different species from around the world, although butterflies which are native to the New England region are featured whenever possible.
A neat place to take out of town guests for a relaxing retreat. This wonderful man-made habitat is contained within a 3,100 sq. ft. glass atrium building towering to a height of over 27 ft. at its peak.
---
The Butterfly Place is Open Seven Days a Week.
February 14th - March 31st: 10:00 AM - 4:00 PM
April 1st - August 31st: 10:00 AM - 5:00 PM
September 1st - October 31st: 10:00 AM - 4:00 PM
(Entrance ticket sales end one half hour prior to closing time.)

View Specific Seasonal Hours
Closed Easter Sunday.
---
AAdults: $13.00
Seniors (65+): $11.00
Children (3-12 years): $9.00
Children (2 and under): Free

View a List of Discounts & Special Offers Here
---
---
120 Tyngsboro Road, Westford, MA
map
Phone: (978) 392-0955
---
The rule at the Butterfly place is that children under 3 must be in strollers, backpacks, carried or held by the hand. This may be frustrating for some little ones.
---

Price For Admission
Senior Admission should start at age 55 (AARP). There are a lot of seniors 55-64 yrs that have a lot of grandchildren and would take them to places like this more often, and would, if the price were better for them.
---

Way Overpriced
I visited this place a short while ago. It is very small and cramped. I love to take photos of the butterflies, but it was very difficult to focus when I was getting shoved and bumped by people wanting to get by. The walkways are very narrow! But, I did get some decent pics. We were in and out in under an hour, due to the crowd. In comparison, magical wings in deerfield was about the same price, but three times as large with lots of walking space.
---

I Woudn't Go Back
I thought it was horrible. My mom came with me and my daughter was about 3 years old at the time. It took us longer to get there from Medford than it did to walk through.
---

Such A Great Place For Kids
My 2 year old just loves to go to the Butterfly Place over and over. They not only have butterflies, but they have a small fish pond and several ducks and other small birds too. The staff is very friendly and willing to answer any questions. Bring a camera and have it ready, the butterflies just love to land on you to take a rest. Something my daughter just adores. have fun!!
---

Very Peaceful And Beautiful
Bring your camera, you'll get lots of close-ups...the butterflies love to pose! Before you go into the building there is a butterfly with the face cut-out so you can get a shot of your 'butterfly child'. Upon entering the staff was very nice. The exhibits on display before entering the actual 'place' were educational and interesting. There was a short repeating video in a little 'theatre' with benches that my children enjoyed watching. There are several benches throughout the tiny greenhouse to sit and observe the butterflies...there's also a tiny pond with huge goldfish. My children are 7, 5 and 3 and they lasted about 15 minutes before they wanted to go outside and run around. There are (clean!) bathrooms and a canopied picnic area but really no where else to walk or run that we could see. This trip would be a nice side trip with something else planned. For such a short trip, it was a bit pricey, but I understand that this is a family operation with no other subsidies besides our entrance fees. It is very warm inside and my kids got stuffy after a few minutes even though we had on shorts, but they understood that the butterflies needed to be warm. They did such a good job of being careful not to harm the butterflies and were delighted when some landed on my boys. My little girl was longing for one to land on her and we even stayed several extra minutes to see if one would decide to stop to visit her but no luck. I told her that she was 'too sweet' and the butterflies only landed on the boys because they did not smell as nice as she did! hee hee! I was surprised to see many adults disregarding the rules and reaching out to touch and/or try to have a butterfly land on their fingers. All in all a fun trip but I would plan something else that involves a lot of activity afterwards. We went on a rainy day so it was out to the Butterfly Place and then home again.
---

My 17 month old loved the butterflies
This is a wonderful, quick activity. My 17 month old daughter was in awe of the more than 400 butterfiles that were flying around. A couple of them landed right on her and she thought that was great. The greenhouse is not large and you can't let kids run around because there are lots of beautiful flowers all along the ground that they could step on. But it is great for about a half hour to 45 minutes (depending on your child's attention span.) Note: They keep the greenhouse at 83 degrees, so leave your coat in the car and dress appropriately.
---
Info changes frequently. We cannot warrant it. Verify with The Butterfly Place before making the trek. If you find an error, please report it...