Stone Zoo
Other Ideas:
New England Aquarium: Boston
;
Butterfly Garden at Museum of Science
;
Franklin Park Zoo - Zoo New England
;
Buttonwood Park Zoo
;
The Butterfly Place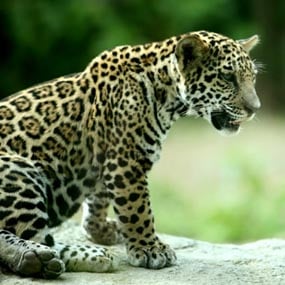 Stone Zoo, formerly known as the Middlesex Fells Zoo, is located on a 26-acre site near the sparkling Spot Pond reservoir in Stoneham, MA affiliated with the Franklin Park Zoo.
Printable Zoo Map
Visit the touchable barnyard (June & July) where children can touch and see goats and sheep. Wild animals include coatimundi, colobus monkeys, flamingos, llamas, Markhor goats, bald eagles, Mexican gray wolves, river otter, emperor tamarins, ring-tailed lemurs, snow leopards, jaguars, black bears & tortoises.
Gibbon Exhibit
Be sure to visit Iggy, a white-cheeked female gibbon, in the brand new gibbon exhibit at Stone Zoo! Iggy loves to swing and climb throughout her new space – you don't want to miss it!
Gibbons are endangered animals native to Southeast Asia. They typically weigh between 12 and 16 pounds, are monogamous (pair bonded) and are considered extremely active animals. The gibbon exhibit uses the same footprint as the former African crested porcupine exhibit.
Because gibbons are arboreal, or tree dwellers, the exhibit is 20 feet tall and provides ample space for climbing high and swinging throughout the exhibit.
While the Zoo is open year-round, not all of animals are able to be on exhibit each day during the winter. Depending on weather conditions, zookeepers may decide to keep some animals indoors to protect their health and safety. In the event of inclement weather please call us at 617-541-LION (5466).
Birthday Parties
Parties can be held between 10:30 a.m. and 4:30 p.m. during the summer every day of the week. Stone Zoo holds events at its outdoor Maple Glenn venue which offers a 30 x 30 tent, eight picnic tables and seats up to 50 people. Birthday Party availability is seasonal between April and September. See
If animals are your thing, you can find more
farms with animals near Boston
in our handy guide to family fun!. Plus, we've got lots more ideas on
fun things to do in Boston
all year round.
---
Summer Hours (April 1 - September 30)
10:00 AM - 5:00 PM weekdays
10:00 AM - 6:00 PM weekends and major holidays
Winter Hours (October 1 - March 31)*Closed Thanksgiving Day & Christmas Day
10:00 a.m. - 4:00 p.m. daily
---
View Current Rates

Adult: $21.95
Senior (62+): $15.35
Child (ages 2-12): $19.75
Children under 2: Free
Members: Free

Save money: Buy tickets online and save up to 15% or more off gate prices!
---
www.zoonewengland.org/stone-zoo/
---
149 Pond Street, Stoneham, MA
map
Phone: (617) 541-5466
From 93 North, take Exit 34 and go right at the first light. The zoo is on the right approximately ½ mile from the light.
From 93 South, take Exit 35. At the bottom of the ramp, turn left. At the first stop sign, take a right. Proceed through the intersection. The zoo will be approximately ½ mile on the right.
---
Attractions such as the Barnyard and the train are seasonal so you should call ahead to be sure that they are operating when you go.
---

We had a great time
My family and I just visited the Stone Zoo and for a smaller zoo we were extremely impressed!!! We went during April school vacation week and the zoo was packed with guests and very active! The Black Bears, Artic foxes, Gibbons, Jaguar, and wolves were some of our favorites. All the animals were out on exhibit and the Otter came right up the glass and squeaked at us as if he was saying hello! The snow leopard was amazing to see in her exhibit and the zoo keeper we talked with at the exhibit was very informative and super friendly. I grew up in the local area and remember the days when this small zoo was struggling to stay open, and with everything going on in the world today it was great to see such an improvement at this zoo that really pushes the education/conservation message to the kids. The education center was my daughter's favorite and one of the staff members took out a really cool snake for us to see and touch! We had such a great time and just signed up to become members, which by the way is a great deal and pays for itself in the first couple of visits...my family can't wait to go back and see the new Koalas and Bird Show coming this summer!!! We highly recommend this zoo, especially for smaller children - and its soo close!!!
---

Fun party in the rain
We went to a birthday party at the Stone Zoo in the rain on Saturday. It was great! We had cake and presents in a tent with sides that was quite cozy, then sloshed through the zoo. The animals must have liked the rain because they were all out and visible, and of course the puddles were fun. The staff were kind and helpful. Unexpected fun.
---

Stone Zoo Disaster
I do not take the time to write reviews. However, after my visit to the Stone Zoo, I was compelled to share my feelings in the hope that others might think twice about planning a trip there or those who direct the operations of the zoo might recognize the need for major improvements. While our toddler grandchildren visited us for a few days, my husband and I planned day trips. Our first outing took us to the Stone Zoo. My husband and I were so excited to take our grand daughters to their first zoo. The condition of the zoo was shocking. We found the zoo to be more than disappointing. The zoo lacked needed maintenance. Filthy glass enclosed some exhibits which prohibited the children from seeing the animals. The viewing areas were not child friendly for the small ones. There must exist in 'zooland' barrier designs that will allow children to view the animals from a distance. They could not see inside the enclosures. The viewing areas were also too narrow to handle groups of children. Most often only one or two animals resided in a large location, unable to be seen. The paths along the exhibit areas were far too narrow for heavy traffic, definitely not handicap welcoming. A woman with her son in a wheelchair had difficulty pushing the wheelchair along the crowded paths. Many of the trails led to dead ends, and we had to reverse our direction which then created grid locks along the paths. Even the coin rides at the entrance failed to operate. The overall condition of the Stone Zoo shocked me. At least my grand daughters had no other zoo to compare it with, so their disappointment was minimal.
---

Dissapointed
The Stone Zoo used to be my local Zoo when I was growing up as a kid. I was back in the area to visit the now grandparents with my 2 year old daughter and the place has really changed and not for the better. Here are some of the examples that I found pretty annoying: The Polar Bear died in 2000. They drained his moat and planted some weeds. Then they added another chain link fence around the land portion of his cage put in a Capybara. So now instead of seeing a polar bear swim around I have to look through 2 chain link fences and a moat filled with weeds for a distant view of a giant rat. The Sea Lion tank which had nice underwater windows into the tank was filled with concrete. They then added a chain link fence and a Yak. Not that there is anything wrong with a Yak but its a bit of a letdown. The giant Aviary well they added a chain link fence around the outside of it and as far as I can tell they demolished the aviary. The largest bird exhibit now a small pond area (no fences this time) with a display sign 'Native Birds of New England'. So whatever bird happens to show up is what is in the exhibit that day. I think I saw a couple of chickadees. The large african mammals I am not really sure but I think they were replaced with some bats or maybe it where the LLama now is. The 'Petting' zoo consisted of a tired sheep and 3 miniature goats. Petting is in quotes because they are like everything else separated from the visitors by a chain link fence. The apple orchard I got to pick apples and blueberries has about 10x the animals in their petting zoo and they appear to be in better condition. In our entire 2 hour visit the only Zookeeper I saw was the one that collected our money. Admittedly the entry fee is only $7.50 but I still feel like I got ripped off. I would rather pay $20-30 and have a real zoo.
---

Lots Of Animals Not Seen
Well, I took my 7 year old daughter to the stone zoo yesterday and she was kind of disappointed. She didn't see alot of the animals. The flamingos were nice along with the jaguars, but she really wasnt that excited about being there.
---
My day at Stone Zoo, Grade 3 Student
It was a cloudy day with a little bit of rain so it was a great day to see the animals my mom said. She said that on cooler & cloudy days the animals don't hide so much to look for the shade so you can see more of them. We did see a lot of animals like; black bears, an eagle, a roadrunner, flamingos and the baby flamingos, they were so cute and even flamingo eggs. We also saw koala bears, and monkeys with mustaches, river otters, snow leopard and my favorite, wolves. I was so excited when I saw the wolves at the top of the mountain, there were about 3 wolves, it was so awesome. What was so cool was that every year my family goes to the Stone Zoo and we've never ever seen the snow leopard, but this time he was there and we were so close. He looked like he was trying to figure out a way out of there. Oh Oh if he got out, I would have ran for it. Right before we left my mom let me, my sister, and her friend play in the playground and I had fun there too in the spider web ropes. It was a great day for the zoo.
---
My Trip To Stone Zoo, Grade 2 Student
On July 3rd I took a trip to the Stone Zoo. The first animal I saw there was a porcupine and it was sleeping in its home. Next I saw an eagle. The eagle was big and I got to take a picture in front of it. Stone Zoo also had a black bear. The bear was sleeping and I pretended to pet it through the glass! My favorite part about my trip to the zoo was seeing all of the monkeys. The monkeys were silly and "monkeying around." They were also hanging upside down from the top of their cage. During my visit to the zoo, I also got to feed the birds. I had a stick with bird seeds on it! A scary animal that I saw was a bat and the room had a funny smell to it. Finally, I saw a blue bird that looked just like Rio from the movie! I think other kids should visit the Stone Zoo if they have the chance because I had so much fun there!
---
Info changes frequently. We cannot warrant it. Verify with Stone Zoo before making the trek. If you find an error, please report it...