Farms & Petting Zoos within an Hour's Drive of Boston
Places to visit Animals with Kids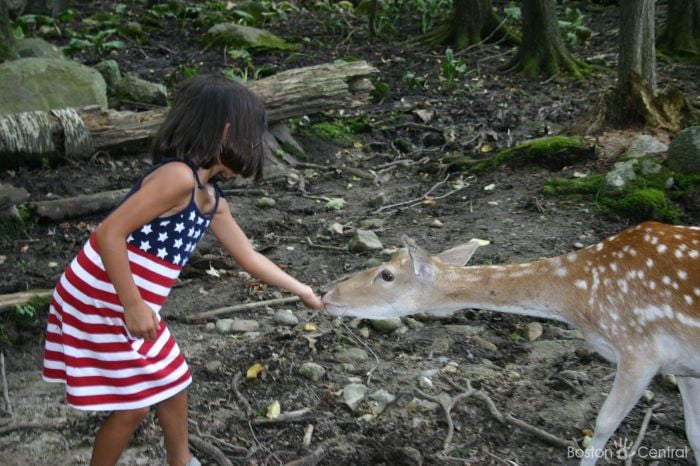 If you're looking for some of the best petting zoos and farms to visit within 45-60 minutes of Boston, here are some great options for you and your family to explore! Lots of area farms feature cows, pigs, horses, sheep, goats, chickens and more.
Some working farms offer hayrides or other more structured activities, while others are more open and self-guided experiences. Below are some of our reader favorites listed alphabetically for your convenience:
Animal Adventures - Bolton
336 Sugar Road, Bolton, MA
Official website
Animal lovers of all ages can see exotic animals from around the world at Animal Adventures. Guided tours are available to the general public during open hours including a hands-on introduction to the animals!
Kids will learn about and handle different creatures including tortoises, lizards, snakes, alligators, ferrets, skunks, and many others, as well as discover the role of each in our delicate ecosystem. Requires admission fee.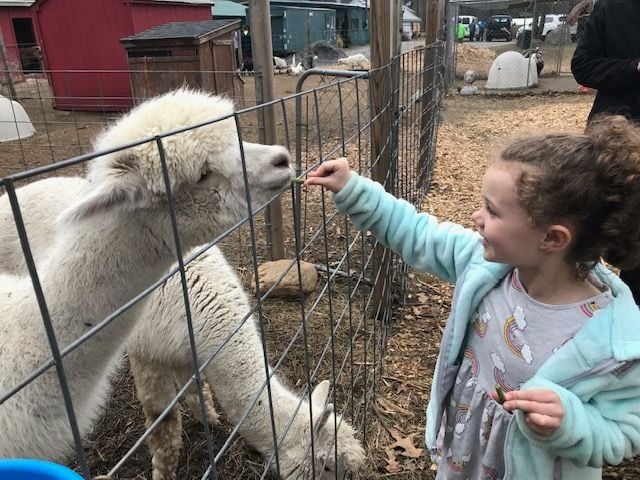 photo courtesy of Animal Adventures


Belkin Family Lookout Farm - Natick
89 Pleasant St S, Natick, MA 01760
Official website
Lookout Farm is one of the oldest working farms in Massachusetts, and the country! In addition to a farmhouse with animals near you, there are train rides for the children, and lots of fruit to pick. Sometimes the farm hosts seasonal festivals which are fun for the whole family.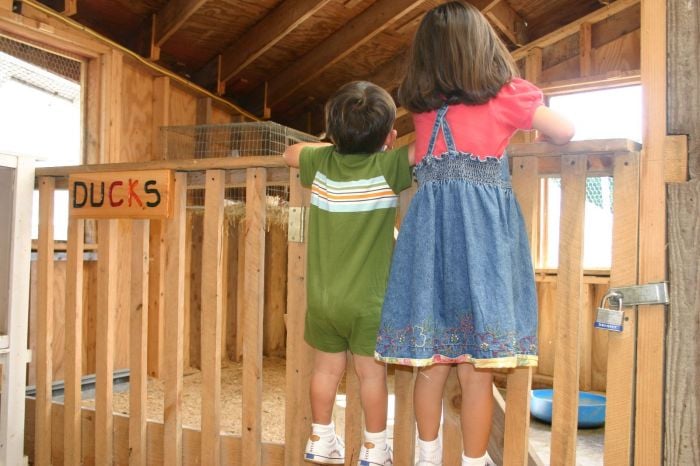 photo credit: BostonCentral


Broadmoor Wildlife Sanctuary - Natick
280 Eliot Street, Natick, MA
Official website
Broadmoor Wildlife Sanctuary features nine miles of walking trails that guide you through a variety of field, woodland, and wetland habitats. Visitors can see beavers, otters, and wood ducks in the marsh, along with lots of frogs and turtles.

Chip-In Farm - Bedford
201 Hartwell Rd, Bedford, MA 01730
Official website

You can feed the animals scraps for free and pet them! There are goats, sheep, cows, bunnies, and chickens that you can visit all year from 10 am to 6 pm. Plus get eggs and other local food while you're there! The animal farm also hosts Goat Yoga on occasion, which is a sight to behold.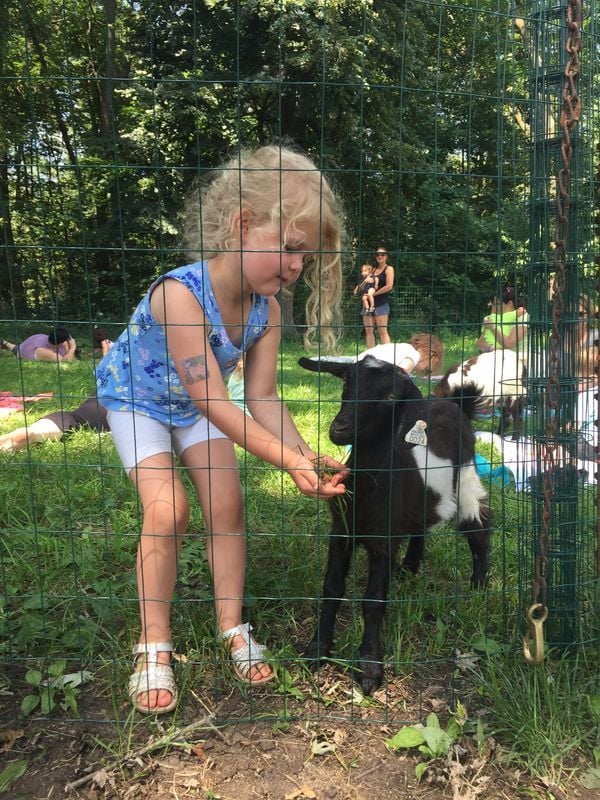 photo courtesy of Farmers Helpers


Cider Hill Farm - Amesbury
45 Fern Avenue, Amesbury, MA
Official Website
There's always a lot happening and growing at Cider Hill Farm. This is another local favorite animal farm & petting zoo. In addition to getting up to close to the animals, you can enjoy strawberry picking in the spring, apple picking & hayrides in the fall, and more!
Kids can enjoy visiting the sheep pen, playing on the animal tire swings, and romping in the hay jump to keep you busy. There are also some nicely groomed walking paths for your added enjoyment.
This 145-acre farm affords visitors the opportunity to enjoy the great outdoors. There's a picnic area where you can sit, eat, and drink in the tranquil surroundings.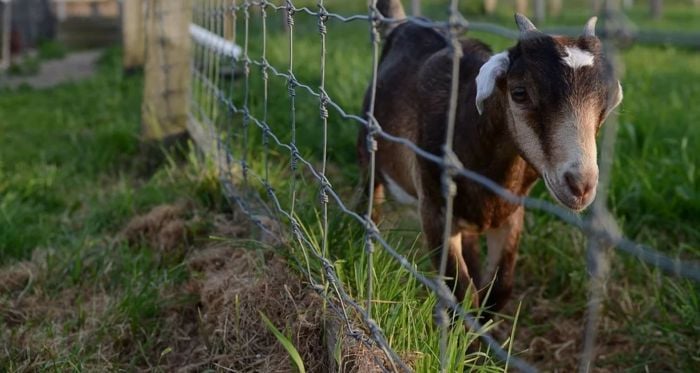 photo courtesy of Cider Hill Farm


Codman Farm - Lincoln
58 Codman Road, Lincoln, MA 01773
Official Website
Where else can you find farm animals near you? Codman Farm! Enjoy this small farm area with Dorset sheep, Devon cows, Line Back cows, Tamworth pigs, goats, chickens, rabbits and ducks, a charismatic water buffalo named Herman and a miniature albino donkey named Opal. It's a laid back local farm just 20 minutes west of Boston.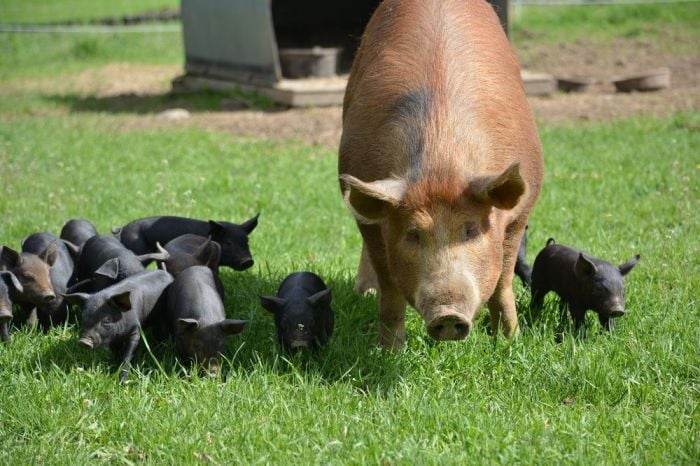 photo courtesy of Heart of Lincoln blog


Davis Farmland - Sterling
Kids can see and interact with a lot of baby animals and feed them at Davis Farmland! There are always lots of fun things to do, and it's a nice way to spend the day.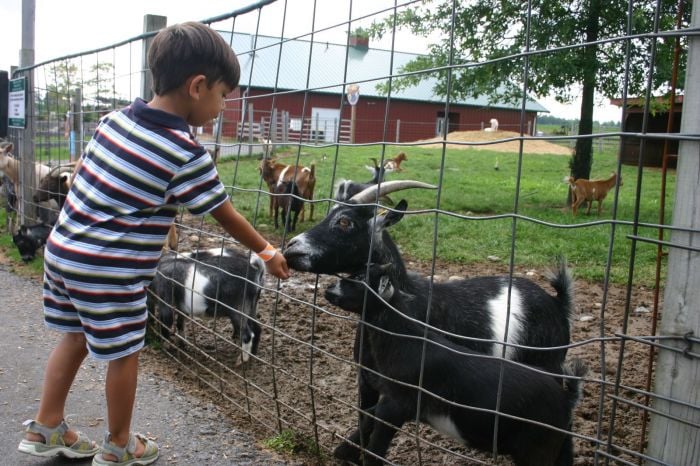 photo credit: BostonCentral
Drumlin Farm - Lincoln
208 South Great Road Lincoln, MA 01773
Official Website
This working farm allows visitors see lots of animals right up close. Kids can visit pigs, sheep, goats, rabbits, chickens and cows… and it's a fun adventure for the whole family! Drumlin Farm also has great family programs throughout the year, community supported agriculture, a community preschool, and programs for kids & adults.
There's also a native wildlife exhibit and forest to explore as well.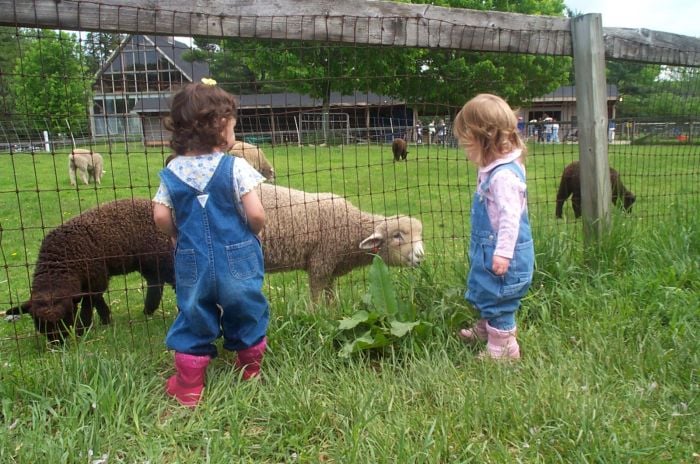 Photo Credit: BostonCentral


Endicott Park - Danvers
57 Forest St, Danvers, MA 01923
Official Website
Endicott Park features a small petting zoo and some horses & cows in pasture. There's a large area for walking, playing, and picnicking, a children's barn, and 2 big playgrounds. Spotting wildlife throughout grounds is not uncommon and can include species such as cottontail rabbits, beaver, coyote, whitetail deer, and a plethora of grey squirrels!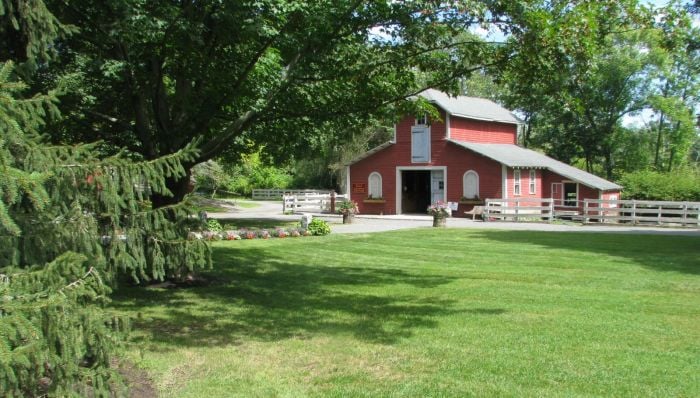 photo courtesy of Endicott Park


Franklin Park Zoo & Farm Exhibit - Boston
1 Franklin Park Rd, Boston, MA 02121
Official Website
One of many great things about Franklin Park Zoo is that it has an amazing petting zoo for the younger kiddos to enjoy. The Franklin Farm exhibit offers a perfectly safe way for the kids to get up close and personal with the animals in a safe and contained environment.
Animals on exhibit at the Franklin park Farm Area include American Black Welsh Mountain Sheep, Nigerian Dwarf Goat, Sardinian Dwarf Donkey, Guinea Hog, Poitou Donkey, Barn Owl, and Heritage Chickens. Seasonally, kids can also visit the Butterfly Hollow and frolic amongst the butterflies.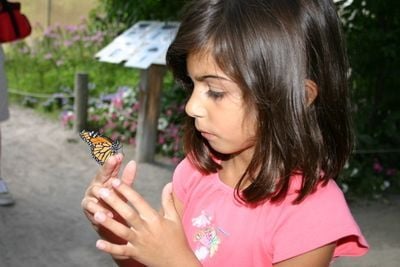 photo credit: BostonCentral


Great Brook Dairy & State Park - Carlisle
165 North Rd, Carlisle, MA 01741
Official Website
Spend a day outdoors exploring the extensive trails, a working dairy farm that offers free tours on weekends.. Animals include dairy cows, pigs, alpaca, goats and more. Be sure to get some fresh ice cream from the dairy store or you can bring a picnic and enjoy the rolling grassy area around the pond.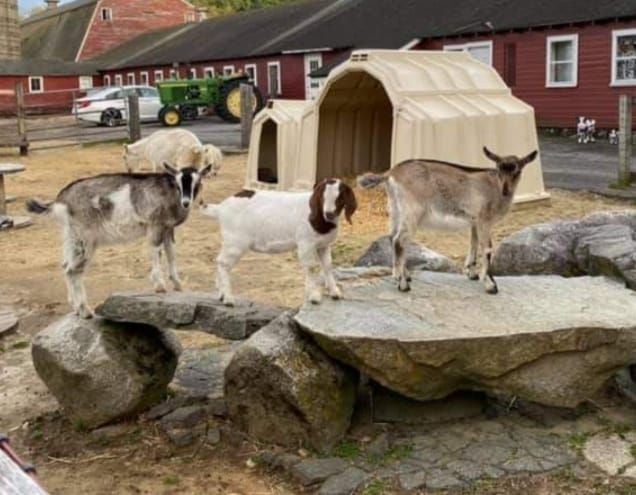 photo courtesy of Great Brook Farm
Honeypot Hill - Stow
16 Boon Road, Stow, MA 10775
Official Website
This lovely farm has a nice animal yard that includes a number of barnyard animals. You can pet and feed the goats and watch them frolic on their multi-level goat playground. Seasonally, guests can venture out into the orchard to pick your own apples, blueberries & pears, enjoy a hayride, or find your way through the hedge maze.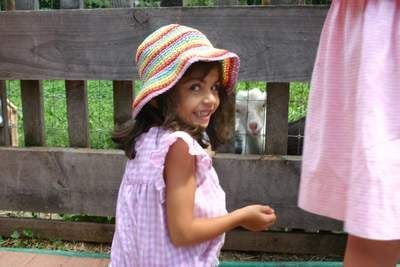 photo credit: BostonCentral


Natick Organic Farm - Natick
117 Eliot Street, Natick MA 01760
Official Website
Open from sun up to sundown every day of the year with no admission fee for visits and purchases. Kids of all ages are invited to come visit the animals, buy some food, take a class, and lend a hand.
Visitors are free to walk up to animal enclosures (but please do not enter them). It's also lovely to walk the paths to see what's growing on this working farm.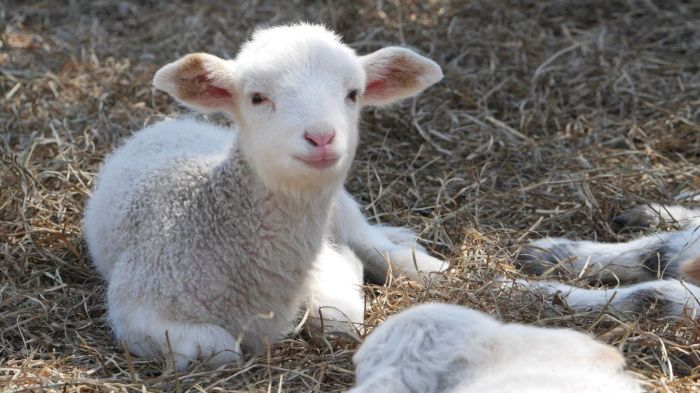 photo courtesy of Natick Organic Farm


Parlee Farms - Tyngsboro
95 Farwell Road, Tyngsboro MA, 01879
Official Website
The petting zoo at Parlee Farm is quite expansive as well and is a great place that kids can both pet and feed the animals. The farm features more than 70 different animals! The goats and sheep will sometimes eat out of the palm of your hand. The farm also has some great berry picking during the summer.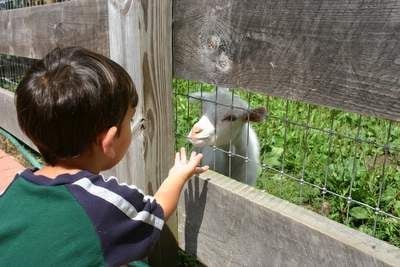 photo credit: BostonCentral


Unity Farm - Sherborn
17 Unity Lane, Sherborn, MA 01770
Official Website

Unity Farm Sanctuary is dedicated to the lifetime care of a limited population of ill, disabled, senior, orphaned or otherwise surrendered farm animals as well. For the safety of our animal residents Unity Farm is a closed farm, so unscheduled drop-ins are not allowed. Guests are welcome to schedule tours at any time.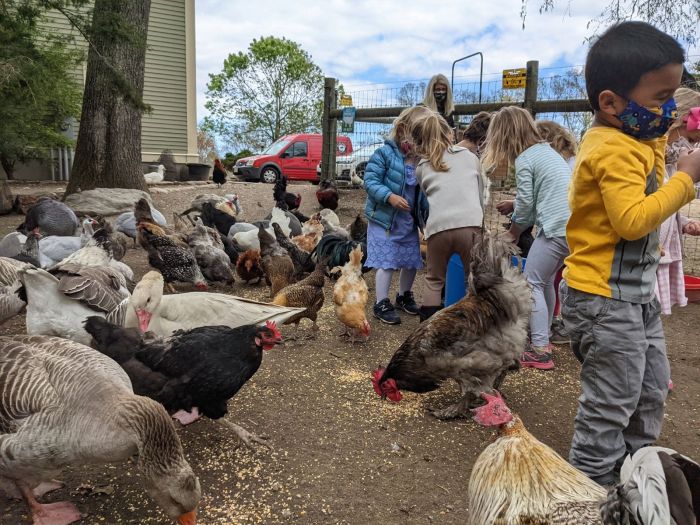 photo courtesy of Unity Farm
Winslow Farm - Norton
37 Eddy St, Norton, MA 02766
Official Website
This non-profit animal sanctuary is devoted to the rescue, rehabilitation, and care of mistreated and abandoned animals. You'll find a wide variety of animals to see, from horses, alpacas, birds, donkeys, goats, pigs rabbits and even peacocks.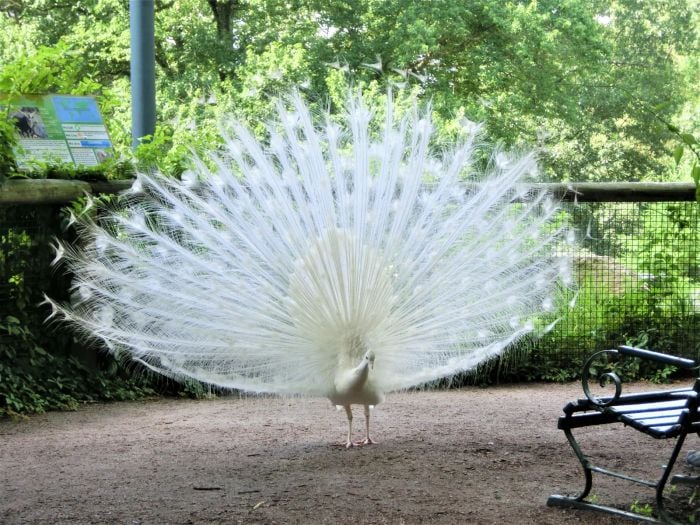 Southwick Zoo - Mendon
2 Southwick Street, Mendon, MA
Official Website
Privately owned and maintained, Southwick's Zoo has the largest collection of animals in the region. This is one of the nicest zoos in the area. The zoo offers animal & bird shows, a petting zoo and a 35-acre walk through a deer forest where you come in direct contact with the animals. The layout of the animal habitats brings visitors right up close.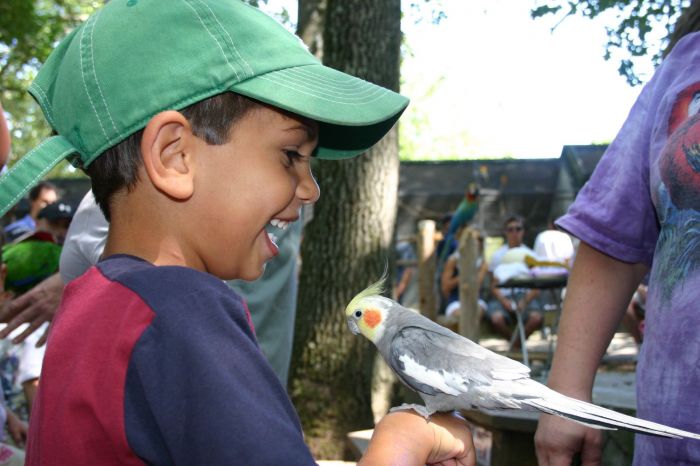 photo credit: BostonCentral
There is certainly so much more to explore - so be sure to check out our guide to Free things to Do in Boston here, or our Rainy Day in Boston guide that includes ideas for great Boston Bowling Alleys, Boston Museums, and lots more.
We also have a number of popular guides ranging from Boston Outdoor Activities, like Pick your own Strawberries near Boston, or Hiking Wachusett Mountain, to specific venue reviews like Worlds End, the Boston Public Market, and The American Heritage Museum to name a few.
In addition, you can find lots more family-friendly events near Boston each week on our Boston events calendar, and in our our popular things to do this week newsletter.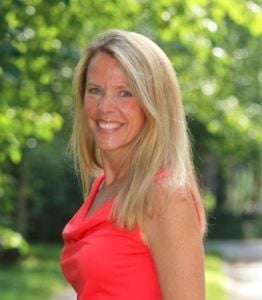 Stacey Sao has been the Managing Director of the family-friendly events and activities website, BostonCentral for almost 20 years. She continues to enjoy discovering and exploring new places to visit in the Greater Boston area.